Tulsa's bid for a Tesla factory won't be eaten by a woolly-booger, Gov. Kevin Stitt promised Wednesday.
A woolly-booger, in legislative parlance, is a sort of surprise — something put into a bill that makes it all the way to the governor, and sometimes into law, without its true intent being generally realized.
This particular woolly-booger is a provision in Senate Bill 1595 that repeals the qualifications for Oklahoma's Manufacturing Ad Valorem Tax Exemption, a business incentive particularly common in the Tulsa area and one apparently included in materials provided to Tesla.
Stitt has until Thursday evening to sign or veto SB 1595, or it becomes law at that time if he takes no action.
Either way, the governor said, the Tesla deal will not be affected.
"Regardless of what happens with that bill, Tesla and the package we put together for them is 100% safe," Stitt said Wednesday afternoon. "We will honor our commitments. ... Tesla was obviously offered that exemption in the package that commerce sent to them and then even if the bill is signed, Tesla would be safe."
Area officials have been very tight-lipped about the Tesla bid, but an industry publication reported Tulsa and Austin, Texas, are the finalists for the plant, which will build the company's new cybertrucks and could employ more than 10,000 people.
Tulsa Regional Chamber President Mike Neal sent Stitt a letter Tuesday urging him to veto SB 1595.
"The economic activity generated by the exemption has produced significant direct and indirect benefit to the state," Neal wrote.
Tulsa County utilizes the program more than any county in terms of number of participants, with 30 in 2019. The exemptions range in size from a few thousand dollars to a few million, with Holly Frontier the largest beneficiary.
Tulsa County ranks third this year in total value of exemptions, behind Mayes and Garfield counties.
Stitt's commerce secretary, Bixby banker Sean Kouplen, said he understands the reasoning behind the repeal provision but is leery of "stopping the entire program on a dime."
"We are working on a number of large projects," Kouplen said. "If (the exemption) goes away, those companies may decide to leave."
The incentive allows certain businesses, including manufacturers, distributors and high-tech enterprises, to claim property tax exemptions on qualifying capital improvements for up to five years.
The taxes foregone are reimbursed by the state to the counties in which the businesses are located, with most of that money going to schools.
The cost of the program to the state doubled, from $37.8 million to $80.2 million, between 2012 to 2016, and doubled again, to $161.2 million for 2020.
Most of that growth is attributable to two participants: wind energy and Google.
The incentive was among the factors driving proliferation of wind farms, particularly in western Oklahoma, during the 2010s. By 2013, wind energy accounted for half of all ad valorem reimbursements. The share dwindled thereafter but the value of reimbursements continued to climb, peaking at $60.5 million in 2018.
New wind turbines are no longer eligible for the exemption.
Google's facility near Pryor is the reason wind's share of exemptions declined even as the value went up. In 2020, the state reimbursed Mayes County for nearly $40 million in Google property taxes exempt under the program, or about one-fourth of the year's total.
Since 2013, the state has paid $152.7 million in foregone Google property taxes.
That has made Mayes County the single largest recipient of ad valorem exemption reimbursements. While a few other businesses in the county receive the exemption, Google is by far the largest.
In theory, the entire state benefits from the program because once the five-year exemption is up the company begins paying its own property taxes, thus raising the local tax base. Under the state school funding formula, that results in money that would have gone to those schools being redistributed elsewhere.
Lawmakers and others maintain the program needs to return to its original intent, which was to encourage manufacturing. Activities such as wind farms and the Google facility, they say, do not generate enough permanent on-site jobs to justify the exemption's expense.
Thus SB 1595 — originally an unrelated measure — was repurposed in the final days of this year's abbreviated session and presented as a safety net for exemption recipients who could not meet this year's payroll eligibility requirement.
The bill does do that, but near the end of the 15-page document is a two-line "repealer" — a section that simply says 68 O.S. 2011, Section 2902, is repealed.
Repealers don't explain what they're repealing, and no one presenting the bill in the final hectic days of the session did either.
Thus, a woolly-booger was born.
---
Property tax exemption cost to state
Year                Amount
2011           $33,482,080   
2012           $37,828,753
2013           $43,289,325
2014           $64,356,276
2015           $67,619,201
2016           $80,223,967
2017         $106,324,555
2018         $134,381,250
2019         $143,121,521
2020         $161,185,445
Source: Oklahoma Tax Commission 
---
Gallery Q&A: What Tulsans need to know about Tesla and Elon Musk
Q&A
Who is Elon Musk?
What else does Elon Musk own?
What is Elon Musk 's connection to Tesla?
What does Tesla do?
What about that popular flame thrower?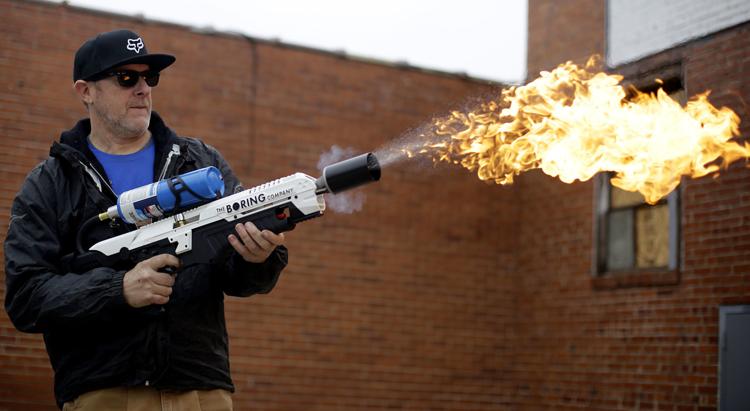 Why is Tesla talking about coming to Tulsa?
Where does Tesla have plants now?
When have we heard about Elon Musk making news before?
What's the deal with Elon Musk's baby's name?
What does Musk do with his billions?
Where does Musk live?
Why are there no Tesla dealerships here?
COVID-19 complete coverage