Governor candidates on their opponent: 'Mary Fallin lite' vs. 'bigger government and higher taxes'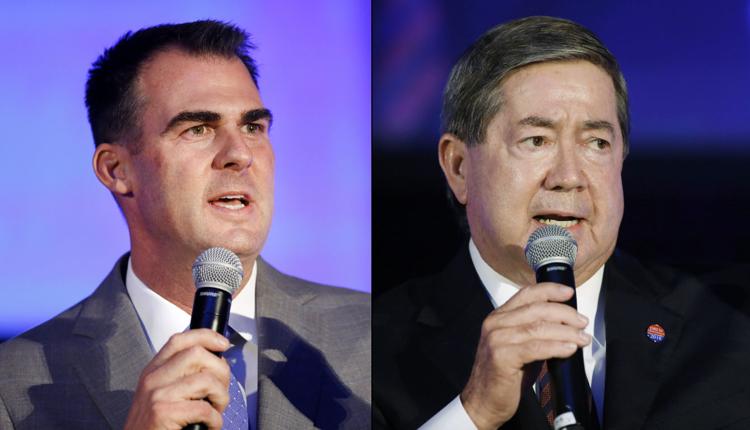 Voters sometimes complain they don't see much difference between Republican and Democratic candidates.
That's not likely to be a problem in the general election campaign for governor that began Wednesday, only hours after Kevin Stitt secured the GOP nomination over Mick Cornett.
Stitt is the political newcomer, the businessman who believes only an outsider can straighten out state government.
Democrat Drew Edmondson is the grizzled political veteran, the former attorney general who believes the state's chief executive should know first-hand how state government works.
And if neither of those suits, Libertarian Chris Powell offers a third alternative.
The big fight, though, will be between Stitt and Edmondson.
"I'm going against an opponent who's spent 40 years in government," Stitt said Wednesday afternoon. "(Edmondson) thinks bigger government and higher taxes are the answer to everything."
Edmondson calls Stitt "Mary Fallin lite."
Edmondson wants to keep the focus on the trials and tribulations of the past decade, presided over primarily by Republican Gov. Mary Fallin and a Republican-controlled Legislature.
Stitt can say he has had nothing to do with the previous administration — or anything else that's gone on at the state Capitol.
And, Stitt can always invoke the name "Donald Trump."
Trump's popularity in the state has made him an obvious go-to for Republican candidates, and a form of kryptonite for many Democrats.
On Wednesday, Stitt seemed to dismiss, or at least minimize, the notion that Trump will be a major part of his campaign message.
"We're obviously very pro-Trump," he said. "Oklahomans are very patriotic. They're constitutionalists. But running state government is different than running the federal government."
In public appearances during the primary and runoff campaigns, Stitt did not talk that much about Trump, except to assure his Republican audiences he supports the president and especially likes Trump's tax cuts.
Stitt's advertising, though, relentlessly attacked Cornett as a "never-Trump" Republican who opposed the administration's immigration policies.
There is a risk of using such tactics in the general election. Trump tends to be a polarizing figure, even in Oklahoma, and leaning too heavily on him could wind up driving more Democrats to the polls than it inspires Republicans.
Edmondson knows he'll take some hits over Trump, but said governors have to work with presidents, regardless of party.
"Whether a Democrat or Republican president, I will support the president when what he is proposing is in the best interest of the state of Oklahoma," Edmondson said. "And I will oppose the president when what he is proposing is not in the best interest of the people of the state of Oklahoma.
"Everyone knows he was not my choice for president. I am a Democrat and I supported the nominee of my party. That does not mean I can't work with him. Governors have worked with presidents they didn't vote for since statehood."
Stitt said he prefers to continue focusing on state issues and how he would apply his business experience to running the state.
"In reality we're competing against 50 other 'companies' out there called states," he said.
Edmondson said the ideological differences between him and Stitt are "stark," and used education as an example.
Stitt has repeatedly said he would not have signed House Bill 1010XX, the tax hike bill that supplied funding for a teacher pay raise that averaged $6,100. While Stitt said he supports increases, he has offered no alternative, Edmondson said.
Edmondson said he would have restored the gross production tax to 7 percent, eliminated the capital gains tax loophole for millionaires and added another 50 cents to a pack of cigarettes to get more money into the classroom to reduce class sizes, hire teachers and pay for operational costs.
Stitt has said he would appoint pro-life justices to the Oklahoma Supreme Court, which has repeatedly tossed out legislation seeking additional restrictions on abortion.
Edmondson said the Oklahoma Legislature, which doesn't have any obstetrician/gynocologists among its members, has spent far too much time on women's reproductive health.
Voters won't be hearing just from the candidates, either. Already Wednesday, a nonprofit independent expenditure organization launched an advertising campaign against Edmondson. The ad features dire warnings about Edmondson's "economic plan" and shows a wrecking ball shattering a barn into splinters and reducing an oil rig to a burst of flame.
The nonprofit, the Foundation for Economic Prosperity, is a little late to the Stitt bandwagon, having previously backed first Todd Lamb and then Cornett in the GOP primary.
Stitt, who made a point of discouraging independent expenditures in the primary and runoff, said Wednesday he had nothing to do with the Edmondson ad.
By law, candidates are prohibited from coordinating with independent expenditure groups; in practice, the walls between the two can be pretty thin.
"I've been very clear I wasn't going to set up one of those," Stitt said. "I don't know who's behind it."