Medical professionals want stricter rules on medical marijuana, others cite ignorance about benefits of cannabis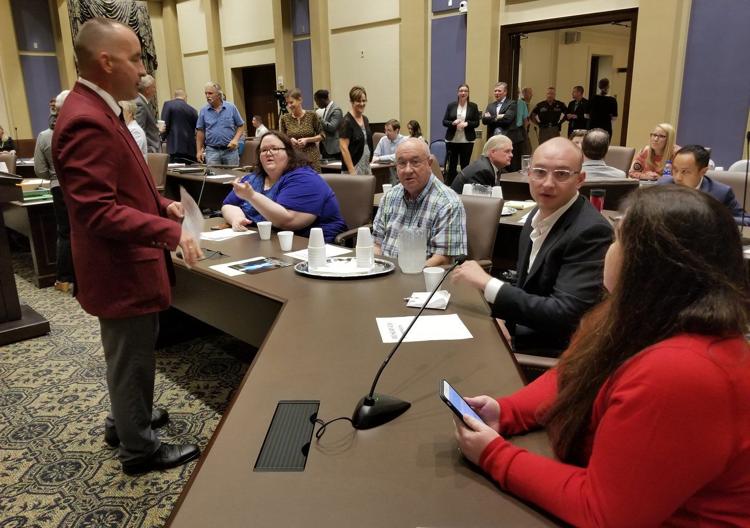 OKLAHOMA CITY — Two medical professionals — one a former state representative — told a legislative working group Wednesday that they favor stricter medical marijuana regulations.
But 11 residents who addressed the working group in public comments afterward contended that the physicians' comments prove they simply aren't knowledgeable about the benefits of cannabis.
Former Rep. Doug Cox, a retired emergency room physician who works with the Wyandotte Nation, talked about his desire to see certain language stricken from the law created by State Question 788 — and in the process drew pointed criticism from House Majority Floor Leader Jon Echols, a co-chairman of the bipartisan, bicameral working group.
Cox, speaking for himself only and not on behalf of the Wyandotte Nation, told the group he was disappointed in the state Board of Health's Aug. 1 decision to do away with controversial emergency rules he supported.
The Health Board had adopted regulations on July 10 that, among other things, banned smokable marijuana sales and required that each dispensary have a pharmacist on-site. They were among the rules that were then eliminated on Aug. 1.
In a subsequent question-and-answer session, Echols said he was "worried" about what he viewed as Cox's implication that the Legislature should override the will of voters who supported SQ 788 and who protested the board's earlier actions.
"I personally think that's dangerous," he said.
Echols, R-Oklahoma City, helped write HB 2154, also known as Katie and Cayman's Law, which passed in 2015. It legalized clinical trials using cannabidiol, or CBD, for ailments such as epileptic seizures. He credited the move with helping keep his niece, for whom the law is partly named, alive.
"I think the language of 788 is so broad that it's up to the Legislature to fill in the blanks," Cox responded. He complimented the work done to enact HB 2154 but said that bill was successful in large part because it addressed the use of a marijuana extract that does not alter moods, unlike SQ 788.
"And I support that," said Cox, who publicly opposed SQ 788 as it appeared before the June 26 election. "And I hope the Legislature will fill in the gaps in 788 and narrow it down to the non-mood-altering forms."
After spectators groaned during his negative characterization of "chronic pot users," Cox pointed to a bill he wrote while in the Legislature authorizing the use of Maridol, another such extract, by cancer patients as indicative of his support for alternative medicine.
Sarah Wilhour, a patient advocate, also asked the Legislature to take action. She said in her public comment address that a special session would help clear up outstanding issues in the law and make the process smoother for patients.
"I want to find the potential I know exists in this plant to cure people and relieve them of illness and injury," Wilhour said.
Mike Mullins, a Norman-based anesthesiologist, expressed numerous concerns about what he said was a lack of substantive language defining the physician-patient relationship.
"The way this is set up, the personal relationship with a physician is probably not going to be there. It's probably going to be more along the lines of us brokering licenses to consumers," he said.
But because marijuana remains a Schedule I substance under federal law, Mullins told the working group, "We're locked up" legally because "that forbids us from having a discussion with a patient about anything concerning this."
However, patient advocate Lawrence Pasternack noted during his public comments that a federal appeals court ruled more than 15 years ago that it is unlawful to punish medical professionals for simply discussing the risks and benefits of marijuana with patients.
Pasternack spent much of his time at the podium calling for both doctors and lawmakers alike to do adequate research on cannabis, as did fellow patient advocate Ray Jennings, a member of the Oklahoma Medical Marijuana Authority Food and Safety Board.
Cox and Mullins both said evidence on the benefits of cannabis use is largely anecdotal because, as a Schedule I substance, there isn't a lot of research on it. Pasternack countered that he found nearly 20,000 search results in a professional medical database for items containing the word "cannabis."
Both doctors appeared to share the view that SQ 788 will allow for recreational marijuana use in all but name. Although Mullins said he would take no issue with a vote of the people on recreational marijuana legalization, Cox asserted that there are good reasons for marijuana to remain a Schedule I substance.
Rep. Jacob Rosecrants, D-Norman, said he believes in the medicinal benefits of CBD and THC, another marijuana component, based on observations of family members. He asked Mullins and Cox if they believed those were ineffective treatments, to which Cox said he thinks doctors can treat people with "the arsenal (of drugs) we already have."
"I fear opening up a Pandora's box" with marijuana, as the law doesn't allow for adequate dosage control and there isn't enough research on side effects, he said.
Cox said his experiences as a lawmaker led him to believe that most people who end up in court-ordered rehabilitation or incarcerated for drug crimes used marijuana as an "entry-level" substance.
"We all know, for lack of a better term — I don't want to offend anybody — potheads lay around and smoke marijuana all the time, and that's their main goal in life is to decide where they're gonna get their next hit," Cox said. He said that didn't apply to all users but that "we all know some of those people."
He later said he was "fearful" of those who say marijuana is "not that bad," and he predicted that the state will spend more to address abuse than it will receive in revenue from legalization.
But Jennings, a stage IV cancer survivor who used concentrated oils for symptom management, urged the working group to read about a patent related to the potential use of non-mood-altering cannabinoids granted in 2003 to the U.S. Department of Health and Human Services.
"If you can't at least do that, then you have no right to represent me or anybody else in this state," he said.