Some residents returning to homes, but 'now is not the time to move back' for those behind levees, mayor says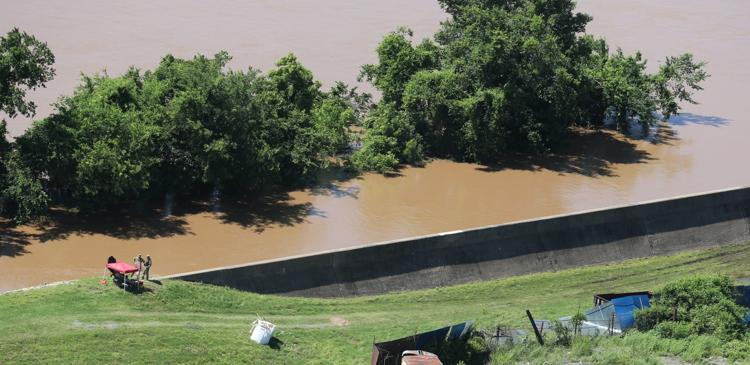 ---
Featured video
Chief Photographer Tom Gilbert went up in a helicopter to show what the flooding looked like on Friday.
As the sun shone again Friday in Tulsa and flood victims living along the Arkansas River corridor began to return home, local officials welcomed the good news but tempered it with a clear warning that dangers remain.
"We are not out of the woods completely," said John Fothergill, a member of the Tulsa County Levee Advisory Board.
Speaking at a Friday morning press conference at the Tulsa Police Department's headquarters, he said the National Guard and U.S. Army Corps of Engineers continue to work along the 20-mile levee system that protects Sand Springs and west Tulsa.
He identified three locations along the levee of particular concern: 65th West Avenue and Charles Page Boulevard, where Levees A and B meet; and on Levee B, closer to downtown Tulsa, where sloughing, or erosion, has occurred; and at Pump Station No. 1 in Sand Springs, where there is a sink hole.
Sloughing occurs when the water level in a river decreases too rapidly, exposing soil on the river side of the levee that had been supported by the high water. When the wet, heavy soil falls down the face of the levee into the water, it can destabilize the levee.
"They are not a safe place to be," Fothergill said.
Joe Kralicek, executive director of the Tulsa Area Emergency Management Agency, said after the news conference that his early preliminary estimate was that up to 2,000 homes countywide have been affected by the flooding.
He stressed that a definitive number will not be known until a thorough survey of the county has been completed, which will take several days.
"Those are people who may have had travel issues getting to their homes," he said. "But I won't know the number of homes that actually have water in them until I can get out and I can do a count."
Kralicek said the worst local concentration of damage occurred in the Town and Country addition west of Sand Springs, where he estimated there could be 50 cubic yards of debris from each of the 200 to 300 homes that were flooded.
"This is not going to be a pleasant thing," he said of the recovery effort there. "You're going to find animals have moved into some of these houses."
Town and Country residents were allowed to begin returning to their homes Friday night, and volunteers will be allowed to assist them Saturday.
"The way a muck-out procedure works, you go in, you pull everything out of that house that is beneath that water line," Kralicek said. "In this case, some of those homes have water 6 to 8 feet up, so imagine everything in your house 8 feet and down has been sitting in the Arkansas River, how much that would be ruined."
Mayor G.T. Bynum said the Corps of Engineers has indicated that if its releases from Keystone Dam continue to decrease as scheduled, the areas behind the levees should be safe by the end of the weekend.
"Now is not the time to move back," Bynum said. "That is still a high-risk area. And if you are back there, I would encourage you to find somewhere else to stay."
Bynum made his remarks as residents in Garden City and Cherry Hill Mobile Home Park in west Tulsa were learning that power had been restored to their neighborhoods and that they would be allowed to return home.
Yet he continued to urge those living behind the levees to stay away.
"Especially considering the fact, … as the engineers have told us, this is the moment when you see the most problems pop up on the levee system," Bynum said.
One area that will remain closed is Riverside Drive near the Gathering Place. Bynum said the city is pumping stormwater from the neighborhood east of the park, across Riverside Drive, into the Arkansas River.
In most parts of the city "we are moving into a recovery stage," the mayor said, adding that it would take years for all areas affected by the flooding to recover.
The elevation of the Arkansas River is the lowest it has been for more than a week but remains at flood stage, Bynum said, and Keystone Lake's capacity to hold more water remains a concern.
Those factors, coupled with the unpredictability of the weather, makes it imperative that the levees be repaired as soon as possible, the mayor said.
"We are doing all this cognizant that we can expect more rain next week," Bynum said.
Outflows from the Keystone Dam continued to decline throughout the day Friday and by 6 p.m. were at 185,000 cubic feet per second. As the dam releases declined, the Arkansas River was receding in Tulsa. The river was at 19 feet Friday evening and was forecast to fall below the 18-foot flood stage by Saturday morning, according to the National Weather Service. The river crested Wednesday afternoon at 23.41 feet.
Dr. Bruce Dart, executive director of the Tulsa Health Department, said the floodwaters have brought with them mosquitoes and that the department has already identified cases of West Nile virus.
One of the best ways to address those threats is to get rid of any standing water, Dart said.
"If you have a crinkled bag, mosquitoes can actually lay eggs on the bags and larvae can be produced," he said. "So (removing) any amount of water, no matter how big or small, helps us reduce that."
The Health Department is still receiving reports of people playing in floodwater, and it's not a vision that pleases Dart.
"You know, when we say there is crap in floodwater, we are being literal," he said. "So the exposure to infectious disease is huge — the chemical hazards and for injuries — so please, stay out of floodwater."