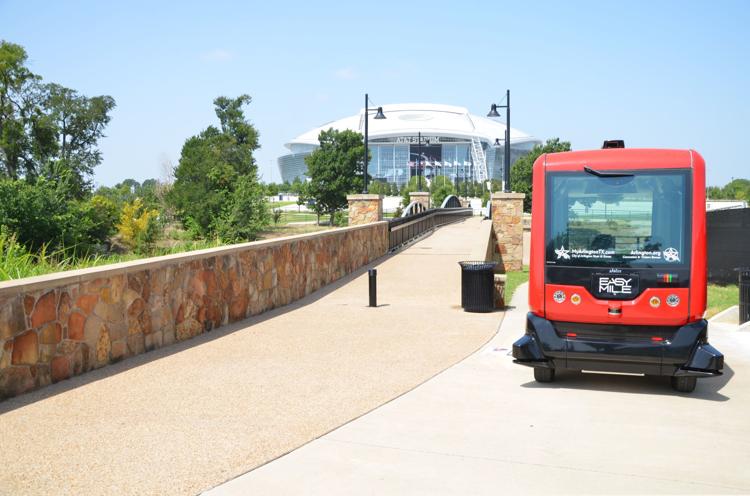 City officials are exploring the possibility of operating a driverless shuttle from Gathering Place to Philbrook Museum, with a very important stop in between.
The stop would be near the intersection of 31st Street and Peoria Avenue, providing a transfer point for riders hopping off the new Bus Rapid Transit buses that are scheduled to begin service in the summer of 2019.
The driverless, or "autonomous," electric shuttle would be the first vehicle of its kind in the state.
"A year from now, Tulsa will not only be home to the greatest city park gift in American history, but we will also be one of the first dozen cities in the nation with Bus Rapid Transit service," Mayor G.T. Bynum said. "Connecting these two world-class assets presents some exciting opportunities, and we are exploring a range of options, including the potential use of autonomous vehicle shuttles."
Planning is in the preliminary stages, officials stressed, with public safety and public input to be key considerations in whatever program is implemented — if a program is implemented at all.
"I think we need to engage the neighborhoods, the people in the area, so they are aware of this potential and get their reaction," said Ted Rieck, general manager of Metropolitan Tulsa Transit Authority.
The Mayor's Office last year initiated an Urban Mobility Innovation Team that explored, among other things, the potential impact of autonomous vehicles on the city and what Tulsa should do to prepare for the technology. The driverless shuttle idea grew out of those conversations.
Adriane Jaynes, energy programs coordinator with Indian Nations Council of Governments, said only a handful of companies, including EasyMile and Navya, make autonomous electric vehicles. A shuttle costs approximately $250,000 to $300,000, and fuel costs — to charge the vehicle's battery — are less than $2 a day.
The city has yet to determine how many shuttles would be needed. Rieck said he expects that transportation funds from the Vision Tulsa sales tax package could be used to pay for the vehicles.
The shuttles would operate within existing car lanes, travel no faster than 20 mph and hold eight to 15 people. There would be no steering wheel, no pedals, and no driver's seat. Instead, the vehicles rely on a combination of GPS mapping, cameras and LiDAR imaging to direct them.
"There are cameras and sensors all over the outside of this thing as well as on the inside for the safety of passengers," Jaynes said. "It sees everything. ... They never blink. They never check for texts. They're a computer. They are always paying attention."
Still, the plan is to have an attendant on the shuttle for at least the first three to six months of operations to greet customers and explain how the vehicles work.
The exact route is another piece of the puzzle yet to be determined. However, officials do not expect the shuttle to run along Peoria Avenue.
Philbrook Director Scott Stulen called the autonomous shuttle "a promising option" for connecting the museum, park and BRT system.
"We hope this is just the beginning of attractive and widely used public transportation options that greatly relieve parking limitations in midtown and help us serve more people comfortably," Stulen said.
Autonomous shuttles are being used worldwide. In the United States, they can be found in Arlington, Texas, and Las Vegas, Nevada. Arlington just completed a yearlong pilot program called Milo, which used an EasyRide shuttle to move people along trails in the city's entertainment district.
"We were just using it to connect from remote parking lots up to the (sports) stadiums," said Ann Foss, principal planner with the city of Arlington. "I think a little circulator loop around a series of different destinations ... is something these vehicles are well-suited for."