Tulsa school board hears recommendation for naming combined Gilcrease/Bunche school after John Hope Franklin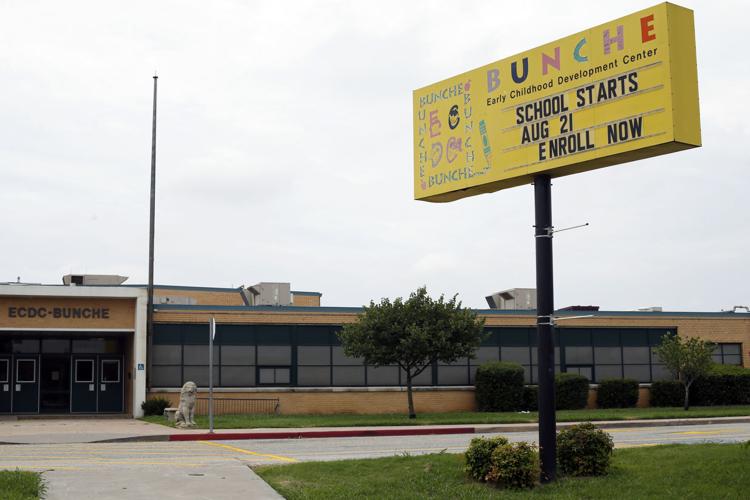 The Tulsa school board on Monday heard a committee's recommendation to name a newly consolidated school in north Tulsa after the city's own John Hope Franklin.
After about six weeks of holding meetings and gathering community input, the Ad Hoc School Naming Committee presented its explanation for why the combined Gilcrease Elementary and ECDC-Bunche school should be named after the famed historian and educator.
Board members voted to consolidate Gilcrease and Bunche, which sit next to each other near 56th Street North and Martin Luther King Jr. Boulevard, during a contentious meeting in April. The new school will be located in the Bunche building and will serve students from prekindergarten through fifth grade beginning in August.
Kelley Blakney, interim principal of the new school and a member of the committee, read a letter to the board about the name-selection process, which included three committee meetings, one community-wide meeting and two periods of community feedback.
The committee narrowed a list of about 80 community-recommended names down to five in mid-June: Maya Angelou, John Hope Franklin, Martin Luther King Jr., Barack Obama and Michelle Obama. Community members largely expressed support for Franklin during a final public meeting and online.
"Based on the feedback we received from an average of 426 individuals per potential name, we found that the majority of our community favored the name John Hope Franklin," Blakney said. "While both Maya Angelou and Martin Luther King Jr. were tied for second-highest favorability, it was clear that it is important to our community that the school be named for a Tulsan."
Franklin, a Booker T. Washington High School graduate, received the Medal of Freedom, the nation's highest civilian honor. He taught history at several prestigious universities and received international recognition for his 1947 book about African American history, "From Slavery to Freedom."
Kyra Carby, a teacher at Gilcrease Elementary School, told the board she supported naming the school after Franklin and that she appreciated the committee's selecting a Tulsan.
"I had the pleasure of meeting John Hope Franklin on a number of occasions in both high school and college, and I think he would be honored," Carby said.
Gwendolyn Morris, who was the principal secretary at Gilcrease and pleaded against the consolidation in April, said she likes the sound of John Hope Franklin Elementary School and the name's connection to north Tulsa. She considered it a small victory in an otherwise overwhelming loss.
"To be honest, this name change is about the only positive thing that this consolidation that was forced upon us has," Morris said. "I can only hope that (the school family) will receive the same support that the (Monroe Demonstration Academy) family has been receiving and we will not be left to fend for ourselves based on unfulfilled promises."
The Monroe Demonstration Academy, a middle school complex, will serve all sixth- to eighth-graders in the McLain feeder pattern starting in the fall.
The board is expected to vote on the John Hope Franklin name recommendation later this month.
During the citizens' comments portion of Monday's meeting, board members heard a request from Crossover Preparatory Academy, a Christian all-boys private school in north Tulsa, about temporarily moving into the vacant Gilcrease building.
The college preparatory secondary school has experienced extensive growth and hopes to begin construction on a larger building by the end of the year. Crossover Executive Director Philip Abode said Gilcrease is the only building that fits the school's needs in serving as a temporary home for at least 2019-20 and 2020-21.
"Believe me, I wish there was another building," Abode said. "It's literally the only place that we can fit this year and next year that won't cause serious logistical challenges. We will not need the building any more than two to three years at the most.
"As difficult as it is to make a request that we know some people in our community don't support, our students and their families are worth us making this request."
School board member Jennettie Marshall, whose district includes Gilcrease, said a private school's moving into the Gilcrease building would violate the wishes of the North Tulsa Community Education Task Force.
The community-based task force, which was formed by the district in 2018, recommended a series of changes to the McLain feeder pattern earlier this year that included the transformation of Monroe Demonstration Academy and limiting charter school expansion in the area. The school board approved the recommendation in February.
"This board and the superintendent, we made a commitment to the North Tulsa Task Force, which is representative of the community, that there would be no charter schools, no private schools, no kind of school or activity in the Gilcrease building," Marshall said. "For us to even consider this request would mean we lack integrity, and that's not some place that I or anybody on this board, I feel, would want to go. Our integrity is all that we have."
She also took issue with a statement reportedly made by Superintendent Deborah Gist during a public meeting that the superintendent planned to repair the aging Gilcrease building after its closure. Marshall said she believed allowing a private school to take over the renovated building would be a misuse of public dollars.
Gist responded that she thought Abode's proposal for Crossover Preparatory Academy to temporarily stay at Gilcrease made sense financially. However, she decided against adding the proposal to a board agenda due to the "sensitivities" surrounding the issue.
"Board leadership and I discussed it. We really wrestled with it because we understand that we have a financial responsibility to the district, and it would be the ability for us to at no cost keep the building maintenance up rather than add an expense to the district," Gist said. "But (we) decided not to bring it before the board … because of some of the concerns that have been raised."