Pawhuska's outgoing city manager unexpectedly fired the police chief. Five days later an interim manager rehired him.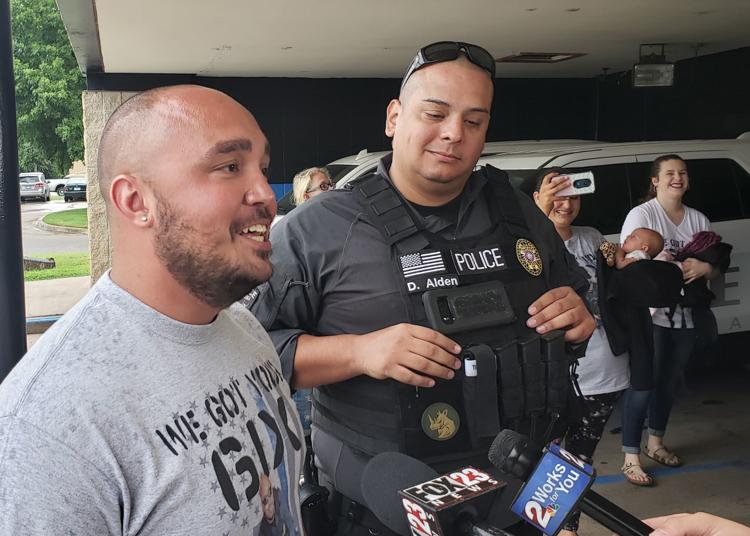 PAWHUSKA — Nick Silva led reporters to the police station's parking lot, where a dozen or so of his supporters were on tenterhooks for his first words Wednesday evening.
Only five days earlier Silva had been terminated as police chief in an impromptu meeting with two city officials who no longer are with the local government.
How did it go? one supporter asked. "Everything's good," Silva responded of his private meeting with the city attorney and freshly minted interim city manager.
How so? "I'm the chief of police," he replied, eliciting cheers and applause from the group.
The Pawhuska City Council met behind closed doors for 40 minutes Wednesday to discuss the vacant city manager's position. The governing body in a 5-0 vote approved administrative assistant Tonya Bright as interim city manager, and she then met with Silva.
"They offered me an apology in an informal manner, just we're sorry and we didn't know what was taking place," Silva said. "We just had a good conversation, the city attorney and myself, man to man. And of course Tonya and I talked and discussed the furtherance of how the department's going to go.
"They said, 'We love what you were doing. Keep it up, and just keep moving forward the way you were going.'"
The details of how the city found itself in controversy are murky.
Then-City Manager Larry Eulert and then-Assistant City Manager Rex Wikel met with Silva on Friday. Silva said they told him they didn't like the Police Department's direction since Silva took over as chief in April after Wikel's promotion.
Silva was then fired.
Specific reasons weren't provided, he said. But he said he did let go of two officers who served under Wikel.
"It was just decisions that were made that it was either best to go elsewhere or there was policy violations," Silva said.
After the council's vote, City Attorney John Heskett said there was no termination letter or discipline regarding Silva.
The Tulsa World reached Wikel by phone earlier Wednesday. Wikel declined to discuss his reason for resigning Monday nor why Silva was fired.
Wikel confirmed that he was in the meeting Friday with Eulert and Silva. Wikel said ultimately it is the city manager's responsibility to make hiring and firing decisions, not his.
Wikel's resignation letter stated that he felt it was "in the best interest of my family and I that I resign from this position."
Heskett said Eulert already had planned to retire and that Eulert considered Sunday to be his final day.
Bright is serving as interim city manager until Dave Neely, most recently Nowata County assessor, takes the post Aug. 1. That arrangement previously was in place.
Bright said Silva's reinstatement took effect immediately.
"It's my opinion that in the interest of fairness this is the right decision," she said. "Both the city and Mr. Silva look forward to a new beginning."
Silva was flanked by police Sgt. Daniel Alden, who also returned to duty Wednesday. Alden had left a larger agency in the Tulsa area to work for Silva, a former supervisor, and resigned in protest of Silva's termination.
"Bosses like that, a man of integrity, they're hard to find," Alden said. "So I definitely pursued it. And I was only here for a couple weeks when they did what they did to him. And it isn't acceptable.
"I felt like I had to do something, even if it didn't make a difference. I had to do something to show I'm sick of good ol' boy politics."
Silva said he was eager to put on his uniform Wednesday evening and get back to work. And he noted that the public forum he had scheduled for 6 p.m. July 23 at the Pawhuska Church of God remains on tap for the community to have a dialogue with police on myriad matters.
"The public's come out and made their voices heard. And the officers and dispatchers made their voices heard," Silva said. "And we're ready to move forward and past this.
"I will certainly hold myself and the officers accountable, and we will be transparent to this public."
Several people attended the special council meeting in support of reinstating Silva. Tjuana Boulanger carried a petition being circulated to recall each council member.
"Once Nick came on, we finally felt peace. We felt protected because we never was before," Boulanger said. "All these people do what they want."
Mayor Roger Taylor said he was caught off guard by Silva's firing. Taylor described the City Council as an advisory-type board, given no one is paid for the work. He said the city manager is employed to run the government.
Taylor asked for a chance to "make the best of a bad situation" and said the City Council is trying its best to make it right.
"Maybe we should have been a little more reactive with it. It wasn't us who fired him, and it wasn't us that told the man to fire him. He did it on his own," Taylor said. "Now I'm not throwing Mr. Eulert under the bus — he's a good guy — but the situation … maybe we didn't handle it quite right. I don't know; I wasn't there."
---