Is Kevin Hern's financial advantage turning Republican CD 1 runoff in his direction?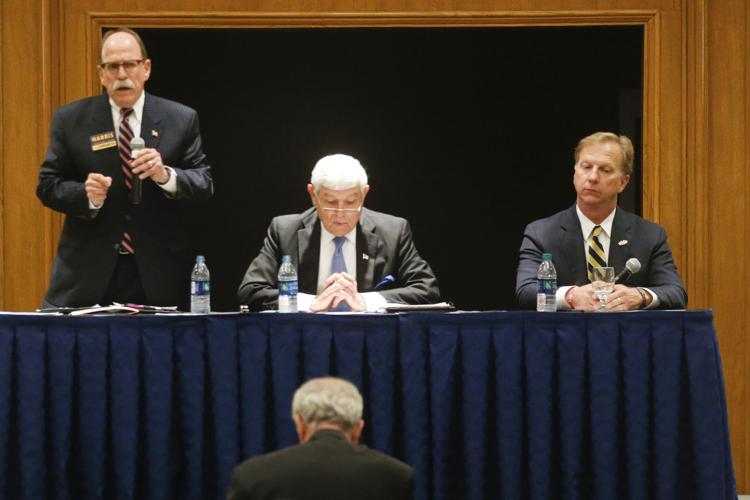 A rhubarb over conflicting polls on the Republican 1st Congressional District runoff election has highlighted a central element of the race: Can Kevin Hern's huge financial advantage overcome Tim Harris' five- to 10-percentage-point lead coming out of the June 26 primary?
Hern's total campaign expenditures through Aug. 8, according to Federal Election Commission reports filed Thursday, were approaching $1.9 million. He appears to be spending about $100,000 a week on advertising — broadcast and mail — heading into the Aug. 28 election.
Harris had spent only one-sixth that amount through Aug. 8 and hasn't been on television or radio at all. His main expenditures so far have been for some mail pieces and door-to-door canvassers, although Harris said Thursday that he expects to begin airing response ads within a few days.
That Harris led coming out of the primary is indisputable — he finished first by five percentage points. And there doesn't seem to be much argument that polling gave him around a 10-point lead just a few weeks ago.
But Hern's campaign says its more-recent polling now shows Hern up by as many as 16 points, a turnaround it attributes to its media blitz.
Independent pollster Bill Shapard has challenged that poll, in part because of the result but also because Hern's campaign has not released the survey's questions and other information considered the industry minimum for public disclosure. Hern's people say they can't do that for proprietary reasons, but the larger question is how much Hern's much-greater ability to spread his messaging affects the final result.
Hern, who became wealthy operating McDonald's franchises and expanded into several other businesses, including one that makes furniture and fixtures for fast-food restaurants, has put $900,000 of his own money into the campaign. He's also underwritten a $650,000 bank loan, bringing his total investment to more than $1.5 million.
But Hern has also raised a lot of money — more than $180,000 since the primary and $890,000 overall. That is significant, because it indicates other people have bought into his candidacy, too.
"In general terms, money is a good indicator of where you stand, especially in respect to the elites," said Charles J. Finocchiaro, associate director of the Carl Albert Center at the University of Oklahoma. "It means they think you have a chance and are willing to invest in you."
Hern's latest FEC report includes many well-known state and local business leaders. About 20 percent are from outside the state, with the McDonald's connection featuring prominently. He has also gotten some money from current members of Congress and some prominent political action committees.
Hern's campaign manager, Johnny Moyer, said the report "is another example of the continued momentum our campaign has achieved since the June 26th election. Because of the backing of people in our district, we will continue to spread Kevin's message supporting the president and against more spending by career politicians in Washington."
Finocchiaro said money usually plays a bigger role in open seats like the 1st District because none of the candidates are established. But he also noted Hern outspent the opposition by a wide margin before the primary and still finished second to Harris.
Through Aug. 8, Harris had reported a little over $240,000 in contributions and had put $115,000 of his own money into the campaign. He reported $53,000 in contributions since the primary, about 30 percent of Hern's take.
To this point, Harris' most valuable asset seems to have been the network and name recognition built up over 16 years as Tulsa County district attorney.
But Hern's media blitz is trying to turn that against Harris by labeling him a "career politician." That seems to infuriate Harris, who says he took a sizable pay cut to join the DA's Office in the late 1990s.
"I got in the (CD 1) race because public service is in my heart," Harris said. "Some people may laugh at that, but it's true."
The rest of Hern's basic message is that he's a successful businessman and a closer adherent of President Donald Trump than Harris.
Harris says he would be a "representative of the people." He says he agrees with Trump's general agenda, although he has reservations about a few aspects of it as well as some of the president's behavior.
A recent influx of cash, Harris said, will allow him to "straighten out some of the misrepresentations" about him.
But he admits he can't compete with Hern's cash.
"I'll never be able to go toe-to-toe with him," he said.