State preparing to request expanded FEMA disaster declaration aid for flood victims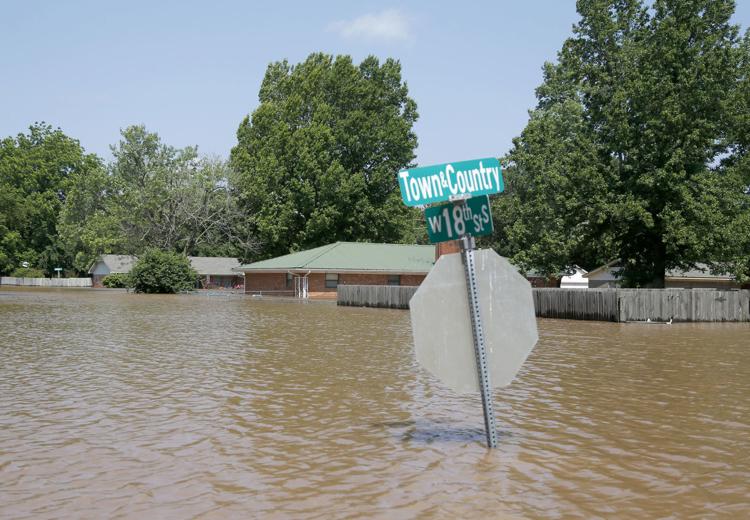 Individuals, business owners and local governments affected by flooding and other severe weather in the state will have to wait a while longer before learning whether the federal government will provide financial assistance.
That's because state officials are still gathering the data needed to make the case to the Federal Emergency Management Agency for additional federal aid for the widespread damage caused by Arkansas River flooding and other recent severe weather events.
"We're working with FEMA right now to identify damages in some of the impacted counties in order to have the governor request a major disaster declaration for individual assistance," said Keli Cain, spokeswoman for the Oklahoma Department of Emergency Management. "We know there is a lot of significant damage out there, and we are working as hard as we can at the state level to make the case to FEMA so that they will have what they need to approve that request."
Gov. Kevin Stitt has declared an emergency in all 77 counties in the state due to severe weather this month.
President Donald Trump on Tuesday signed an order declaring 10 Oklahoma counties affected by flooding to be eligible for limited FEMA assistance.
The presidential order cleared the way for Oklahoma to receive technical assistance from FEMA or other federal agencies.
The disaster designation also permits the state to quickly obtain generators and other equipment from FEMA without going through the process of purchasing or leasing it independently.
"It's an opportunity to bring in some of those federal assets a little bit faster during response," Cain said.
The presidential declaration covers areas of Tulsa, Haskell, Kay, LeFlore, Muskogee, Noble, Osage, Pawnee, Sequoyah and Wagoner counties affected by flooding beginning May 7.
Cain could not provide a timeline as to when the request for individual assistance would be submitted to FEMA.
But she said the aid requests likely will be submitted in phases, with the individual aid request receiving top priority.
If approved by FEMA, individual assistance programs would include assistance for housing, medical care and low-interest loans through the U.S. Small Business Administration, Cain said.
"Unfortunately, it is not something where we can request it without having some data to back up that request," Cain said. "So for the last couple of days, we have been working with FEMA to provide that data before the floodwaters recede."
State and local officials have been exploring alternative methods to conduct damage assessments so the process can be expedited, she said.
U.S. Sen. James Lankford said Thursday evening that "as they go through the process, they have to evaluate the damage, how widespread it is, what the cost of that is. It's my understanding that in the last few hours they have moved from disaster declaration to major disaster declaration."
Households that do qualify for individual assistance through FEMA can receive grants of up to $35,000 for uninsured losses. The average award is $5,000 per household, according to FEMA.
Currently, the state estimates that about 1,000 homes statewide have been affected in some way by the severe weather, but that number is expected to increase as more people who were evacuated return to their homes for the first time in the coming days.
Cain said FEMA doesn't have a set threshold in damage for areas to be designated eligible for individual assistance. Rather, state officials have been relying on past experience to gauge their chances of receiving that designation from FEMA.
"We think if we have 300 to 500 homes that have major damage or are destroyed, that's kind of what we are looking for to make that initial request," Cain said.
FEMA last granted aid to individuals in Oklahoma in 2015 when storms caused flood and wind damage in the southern portion of the state.
State Insurance Commissioner Glen Mulready said he would be surprised if FEMA aid to individuals is not approved.
"I can't say without any uncertainty, but I can't imagine that we do not receive the declaration and have FEMA assistance coming in, from everything that I've seen," Mulready said.
Meanwhile, he said he has learned through his tours of damaged communities that there is confusion among many as to whether they need flood insurance.
Of the approximately 1.1 million dwellings in the state that have insurance, only about 14,000 structures are covered under the National Flood Insurance Program, Mulready said.
"The vast majority of people who have received flood damage do not have flood insurance," Mulready said. "The people that I've talked to that were affected that had flood insurance I could probably count on two hands."
Many wrongly believed they didn't need flood insurance if their home was outside the 100-year flood plain and their mortgage company didn't require it, Mulready said.
"As you can see, that doesn't mean that it wasn't needed," Mulready said. "I think folks misinterpreted the requirements to have a loan to mean if it's not required then there is no chance that your home is going to flood.
"Unfortunately, that has played out not to be true."
Anyone in communities that participate in the program can acquire flood insurance coverage regardless of whether they are in flood-prone areas or whether a presidential disaster declaration has been issued.
The program caps coverage on residential structures at $250,000 and $100,000 for contents, he said. Higher coverage caps are permitted for businesses.
Both Cain and Mulready urged people who have experienced losses to report property damage at damage.ok.gov.
The resulting data help local and state emergency managers better coordinate response and recovery efforts.