About the same time that Air Force One lifted off from Tulsa International Airport on Saturday night, people in Tulsa were dancing in the streets.
One street, in particular — Greenwood Avenue, where years ago Tulsa's Black Wall Street flourished and which Saturday night was the site of a continuation of the city's Juneteenth celebration, with a block party that continued peacefully, joyfully, into the summer night.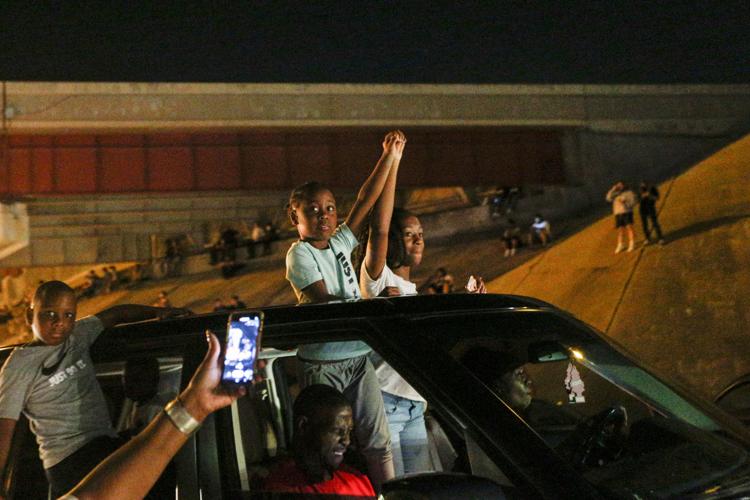 As the weekend of June 19-20 approached, many people were concerned that — with President Donald Trump relaunching his campaign rallies with an event at the BOK Center, the Juneteenth holiday commemorating the beginning of the end of slavery in the United States and the national protests that rose up in the wake of the needless deaths of several Black men and women — Tulsa would become a flashpoint of conflict and violence.
That very real possibility prompted some businesses in Tulsa to board up their establishments in advance of the weekend.
But that overabundance of caution became a catalyst for something else — one of a number of examples of Tulsans turning to the arts to bring people together.
About a dozen local artists spent much of Thursday and Friday of last week creating original murals to decorate the plywood sheets that sealed off some 14 downtown businesses.
The murals were to carry messages about hope, unity and compassion — qualities that have become more important in recent weeks.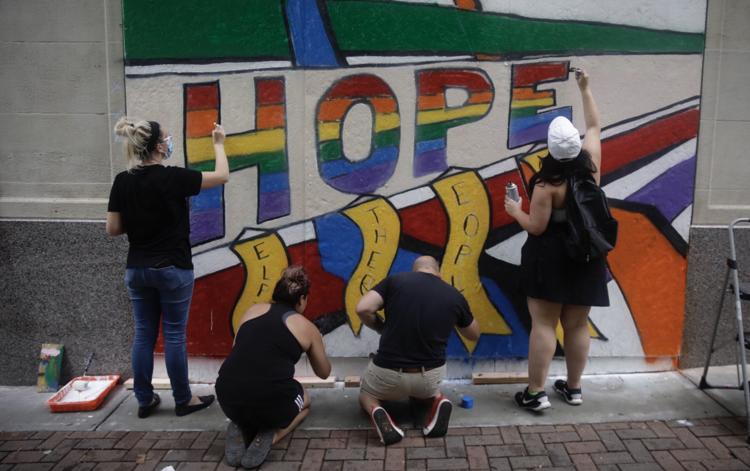 Brian Kurtz, executive director of the Downtown Coordinating Committee, which oversaw the project, said it began with a relatively small goal.
"We heard on Wednesday that one business was going to board up their storefront, and we got in touch with them about letting an artist create a mural on the boards," Kurtz said. "By Thursday, we had learned about other businesses boarding up as well, and we reached out to our partners at ahha Tulsa to put out a call for other artists."
Kurtz said more than 300 artists sought to be a part of the project.
"We knew this was going to be an unprecedented and tense time for our city," he said, "and we wanted to find a way to showcase downtown Tulsa in a positive way and get across our core values of hope, unity and compassion."
Thanks to the generosity of an anonymous donor, the DCC was able to pay artists $200 each for their work.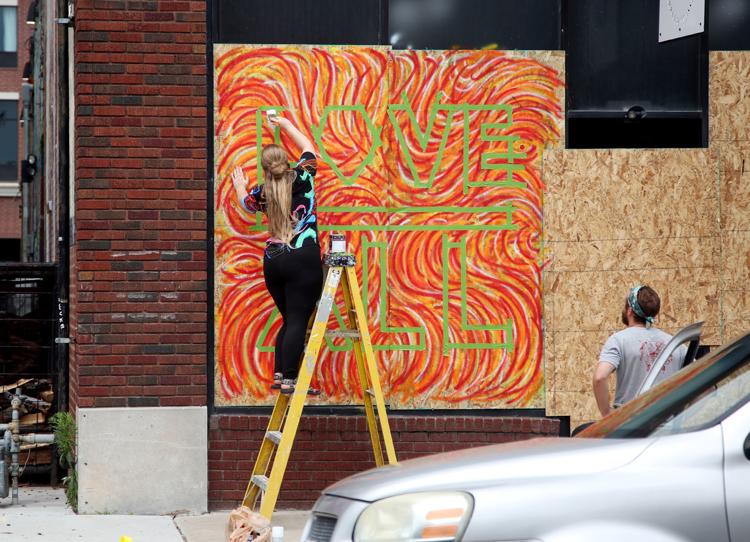 Ahha Tulsa did not board over its windows, but the rusted exterior walls of the Hardesty Arts Center have been a kind of canvas for all manner of expression. And artists responded, painting Black Lives Matter and quotes from Martin Luther King Jr.
"Artists contacted (us) directly, even stopped me on the street to ask how they could help," said Holly Becker, ahha Tulsa executive director. "It was inspiring to see artists jump at the opportunity to provide healing to our community.
"But it wasn't surprising," she said. "This is what artists do. They respond to societal needs and work tirelessly to bring hope to those who need it. It was a joy to witness and filled my spirit."
The fence at the John Hope Franklin Center for Reconciliation is the backdrop for another creative project, "And Justice for All: No More Silence" Community Art Project.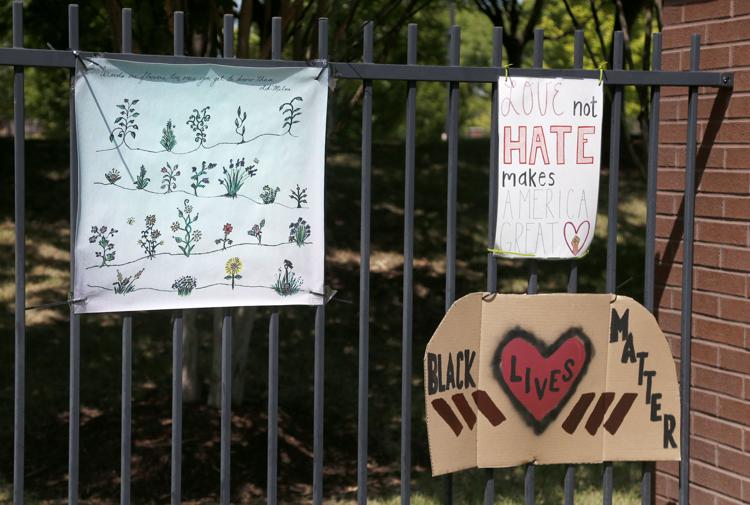 Artists of all ages have been affixing their works of art addressing the topic of racial inequality to the fence that faces Elgin Avenue since Thursday; the project will continue to accept new works at least through the end of the month.
The project is a collaboration among the Tulsa Community College McKeon Center for Creativity, the Woody Guthrie Center and the John Hope Franklin Center.
Jean Neal, the program, development and events manager for the John Hope Franklin Center, said representatives from TCC and the Woody Guthrie Center approached her with the idea.
"Within just a few days, there were about 16 other organizations that wanted to be part of this," Neal said. "They saw it as a way to let the world know that here in Tulsa we are working toward justice and toward peace."
Annina Collier, dean and chair of TCC's Center for Creativity, said the idea began as a way to give people an avenue to make their voices heard.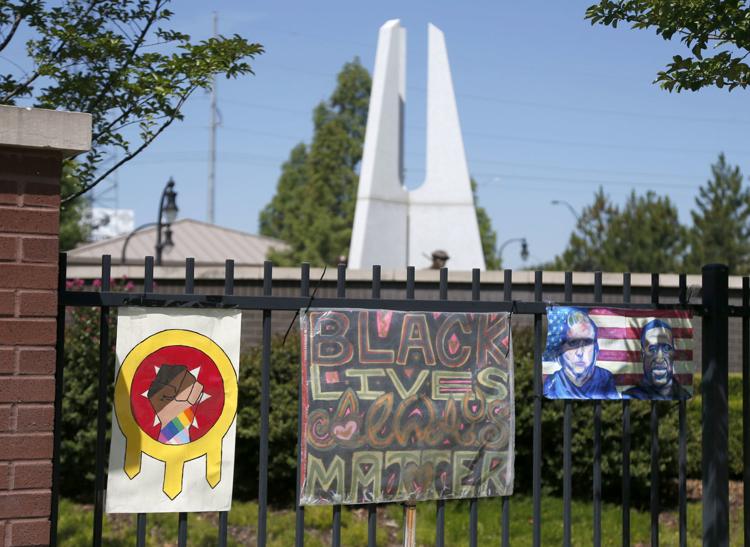 "I knew there were a lot of people who wanted to express their point of view but weren't comfortable with attending a protest or rally because of the pandemic," Collier said.
"Our goal," Neal said, "is to fill the fence with art from the heart."
While these are by nature temporary exhibits, the organizations are working to find ways to preserve the art.
"We know some people will want their art back, and that's fine," Neal said. "We're working on a plan to make use of the other artworks."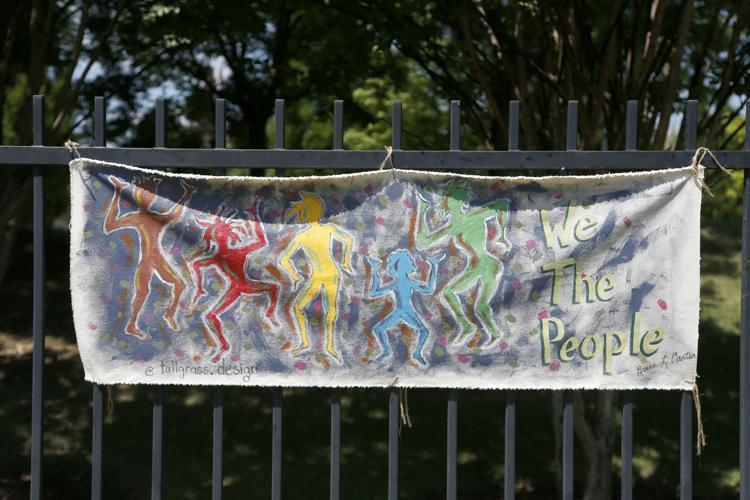 Kurtz said the Downtown Coordinating Council took possession of most of the murals once the businesses they adorned reopened. He added that a few businesses wanted to keep the mural that covered their windows and said that the council made sure to document the creative process and the finished work of each installation.
"From the start, we've had a lot of people wanting more information about the artists participating, and we've had many requests to buy the original works," he said. "We are committed to working with each artist to determine the next steps. But I anticipate there will be a public exhibit in some form at a later date."
---
Watch Now: Time-lapse from Friday to Sunday of the area around BOK during President Trump's visit.
Tulsa danced: Scenes from the Greenwood District block party following President Trump's rally