Face to face, in the heat of the moment and caught up in nervous adoration, Russell asked this question: "Elvis, how did you end up in all those horrible movies?"
Russell couldn't believe he let those words come out of his mouth.
You'll have to read the book.
Russell, a Tulsa music legend, died in 2016, but you can revisit previously unpublished autobiographical material in a new book, "Leon Russell: In His Own Words."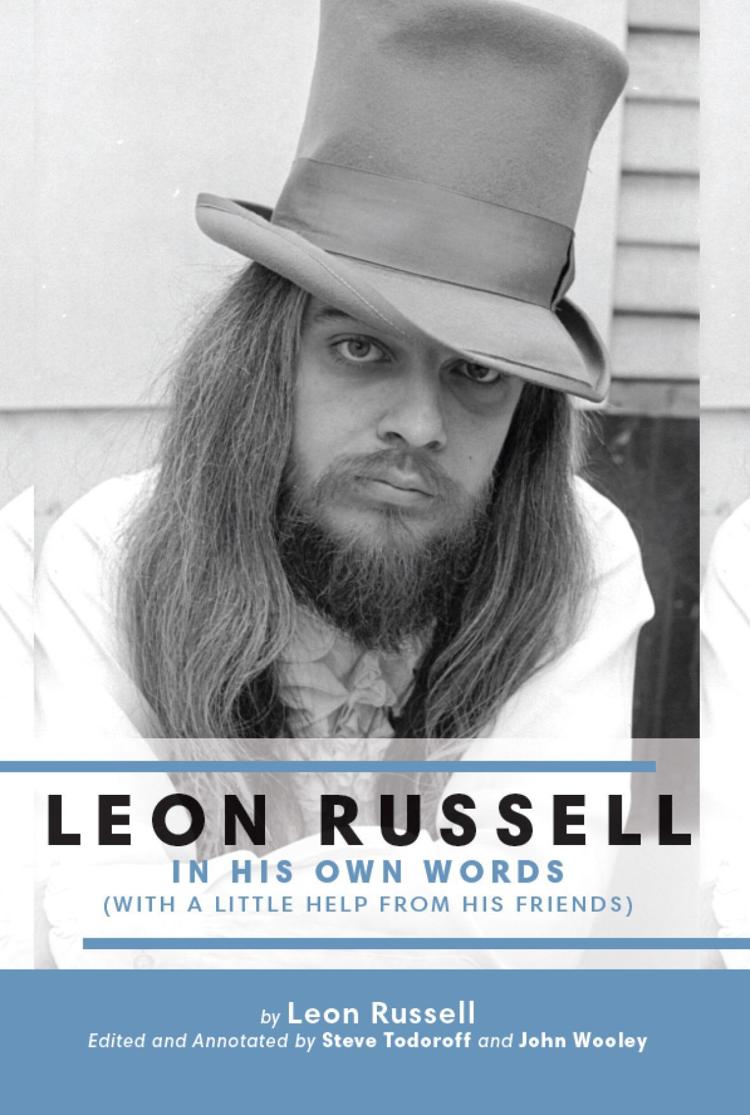 The book, released in July, carries a subtitle of "With a Little Help From His Friends." That could be a reference to a Beatles song recorded by Joe Cocker (linked to Russell by way of "Mad Dogs & Englishmen") and it could be a statement of fact that the book got completed and published with a little help from friends.
The book was edited and annotated by Steve Todoroff, a Russell historian who spearheaded the drive for a Russell monument at Memorial Park Cemetery, and John Wooley, an Oklahoma author whose knowledge of Tulsa Sound music figures is unparalleled.
Todoroff, during an interview about the book, said this about Russell's foot-in-mouth encounter with Elvis: "Leon had a greater appreciation for fans who came up to him and said stupid things after that."
It would be a shame if Russell's first-person remembrances never saw the light of day. The book, with the blessing of widow Jan Bridges, salvages Russell's experiences and viewpoints for fans worldwide to enjoy. Among "wow" stories in the book is how an English record store employee named Reg Dwight put Cocker and Russell on a collision course just by recommending an album. The record store employee now goes by the name Elton John.
Among topics in the book: the long-ago nightclub scene in Tulsa, touring with Jerry Lee Lewis, recording and performing with industry giants (Russell vowed to never cut his hair after being scolded at a Frank Sinatra session), religion, the "Mad Dogs & Englishmen" venture with Cocker and the famed Concert for Bangladesh. Russell said sharing a stage with Bob Dylan and others at the concert was "a singular high point in my life."
Russell also shared an Oklahoma-based Dylan story. They were relaxing at Grand Lake when a local resident pointed at Russell and told Dylan, "You know, this guy here is famous all over the world."
'His name is Leon Russell'
The book is dedicated to "Leon lifers," the alias of devoted members of Russell's fan base who criss-crossed the globe to see their favorite rock star.
As a kid, Todoroff had to criss-cross his way only as far as the meat counter to be introduced to Leon lore.
"My mom would go to the grocery store there in Bixby," Todoroff said. "I would hang around the butcher. The butcher would stand back there and sing and regale me with stories of the Tulsa night life."
The butcher? It was Tulsa music figure Bill Davis.
"This was in '65," Todoroff said. "He told me about this piano player from Tulsa who would sing and play on all these (recording) sessions. He played on Frank Sinatra sessions and Dean Martin sessions and Beach Boys and all this. And he was from Tulsa."
If this guy is so good, wondered Lil' Steve, why doesn't he do his own albums?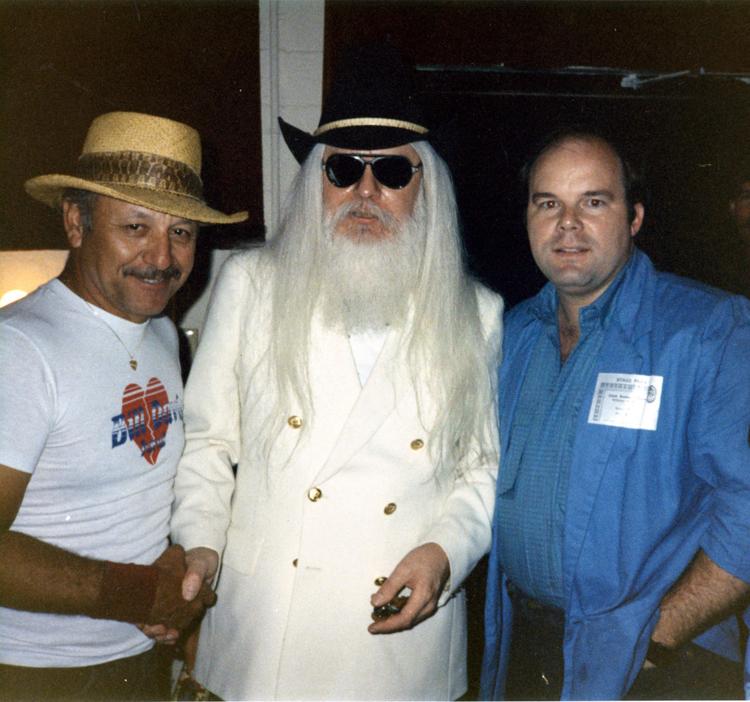 A few years later, Todoroff was sitting in a Bixby High School classroom and a record album was being passed around by longhair musician buddies.
"One of them said, 'Yeah, this guy, he sings real cool. He's from Tulsa, and he used to play on Frank Sinatra and Dean Martin records. His name is Leon Russell.' "
Todoroff snared the record and found the mystery session player the butcher had told him about. A mission was born. Todoroff started scouring albums and singles in search of Russell's name. He began collecting information about Russell. As an adult, Todoroff was so intent on coming up with a complete list of Russell's session work that he hired folks to sift through a decade's worth of contracts so he could document every track or album with Russell's handiwork. Todoroff chased down the records, and he said they are now in the possession of the Oklahoma Museum of Popular Culture so others can enjoy them.
That's a short version of how Todoroff became a Russell historian. ("By default," Todoroff said.)
Todoroff's documentation of Russell's session work made him a go-to guy when Cameron Crowe was making the 2011 documentary film, "The Union," about an Elton John and Russell album collaboration. When Crowe would ask Russell about long-ago sessions, Russell's response was "Ask Steve." So Crowe asked Steve, who was equipped with intel like there are three versions of the Beach Boys' "Help Me, Rhonda," but Russell played on only one of them. Todoroff, who donated information and photos, was given a special thanks in the credits.
Todoroff was introduced to Russell in 1983 and began staging birthday bashes in 1986. They were talking on a bus in 1989 when Russell expressed amazement at Todoroff's session research.
"I started rattling off a bunch of stuff," Todoroff said. "He said, 'My God, I hadn't thought of that session or that guy or those things since the '60s. I only remember about 5% of that stuff at the most.' I said, 'Well, Leon, if you ever decide to write your memoir, we could maybe join forces and you can put some of this session stuff in there, especially the (sessions) that are more memorable to you.' "
Russell said that would be great.
And 30 years later, the collaboration arrived. What happened in between?
Becoming a book
Russell got inspired to start work on an autobiography. He began writing things down that he wanted to include. In 1992, Todoroff got a call from out of the blue.
"I'm getting ready to send you some stuff," Russell said.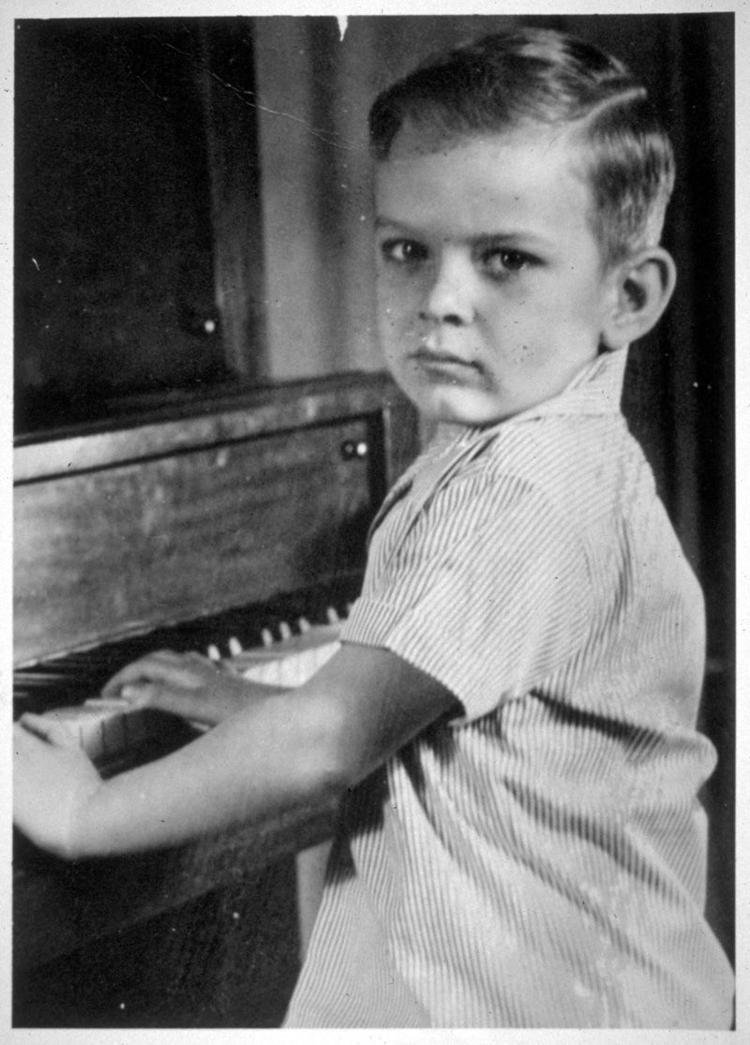 The "stuff" was the skeleton of what would become the book. (Russell also sent short stories he had been crafting. Fittingly, the Master of Space and Time gave science fiction a try.) Russell asked Todoroff to read the material and perhaps Todoroff's research, as they had talked about earlier, could be used to help flesh out a book.
"I thought this was a great beginning," Todoroff said.
But a "beginning" is what it remained for a long time.
Russell got released by his record label, which merited a change in priorities. The demands of touring and making his own records were time-consuming, so he just kind of dropped the book project, according to Todoroff.
"I would ask him about it off and on," he said. "There were a couple of things I wanted him to add. I told him you've got to add some Phil Spector stuff in here and some other things. He did add some Phil Spector material and a few more things I had asked him about, but that was basically it. It sat there idle for 25 years or so."
Todoroff forged ahead with plans for a book of his own. The book (tentatively titled "Longhair Music") would focus only on Russell's Hollywood session years. Quick story about the session years: You had to be 21 to be a session worker. Russell, not far removed from being a student at Will Rogers High School, got a fake ID in Las Vegas just like the kid from "Vegas Vacation," according to Todoroff.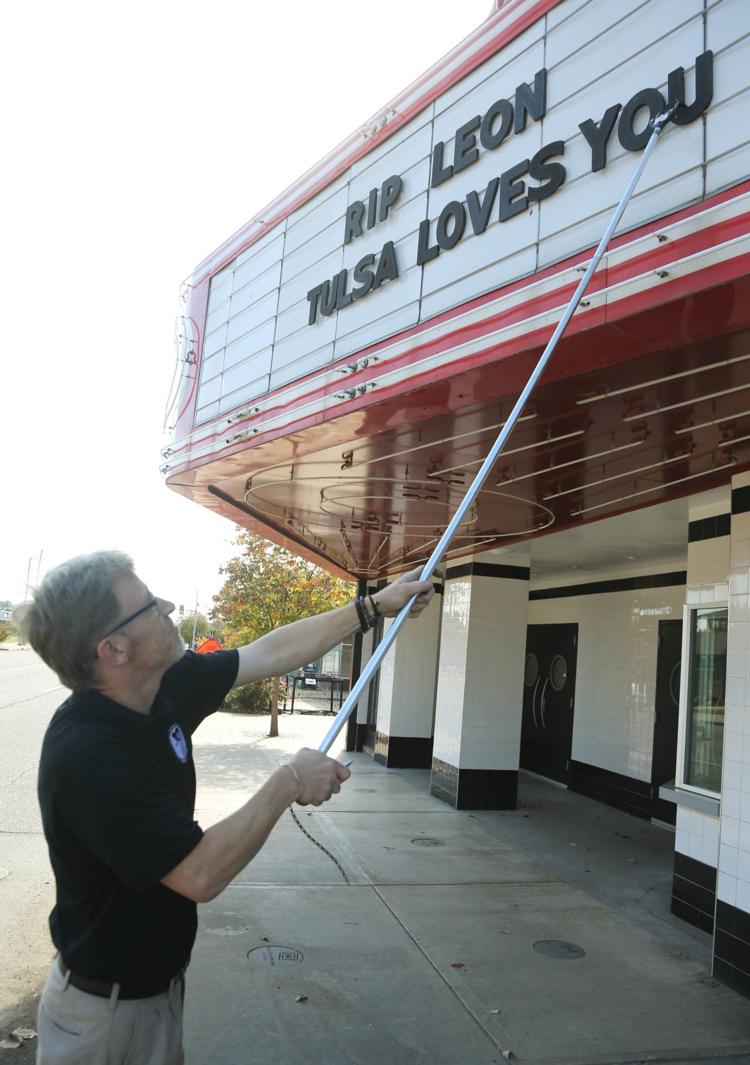 Todoroff accumulated so much information and so many photographs for "Longhair Music" that he said the amount of material became unmanageable. He sought help from Wooley, who was excited to jump aboard.
On Nov. 12, 2016, Todoroff and Wooley talked about what steps they should take. They thought it would be a good idea to ask Russell if he would be willing to take part in a fresh batch of interviews.
Russell died in his sleep hours later. The news, from Russell's widow, was delivered to Todoroff via text message.
"Longhair Music" is a book for another day. It was put on hold because Russell's autobiography merited being first in the queue. Todoroff asked Russell's widow for permission to take Russell's autobiographical manuscript and "beef it up."
"Her original vision was to get Elton and Willie (Nelson) — notables he worked with over the years — to write stories about Leon," Todoroff said.
"We initially reached out to probably 30 or 40 people through their managers, if we didn't know them and didn't know how to get to them direct. We didn't get many responses back. People are busy. They've got their own things going on. So we decided we would just take what John and I had in our own archives, including pictures and old interview snippets and other things, and try to clarify what Leon had originally written and add to it."
The 60-page manuscript became a 138-page book. Some people have complained about the "thin-ness," according to Todoroff. "But it is what it is. We couldn't make things up. Leon certainly couldn't add to it at this point. It cuts off in the early '80s when he was getting ready to move to Nashville and start a new family, and that was a whole different part of his life."
The book could have been done sooner, according to Todoroff, but he said almost two years was invested in raising money for Russell's monument at Memorial Park Cemetery. Elton John was among donors. Todoroff is hopeful Elton John will write the foreword for "Longhair Music."
Todoroff said Wooley was essential in getting the current Russell book completed. Todoroff called Wooley a jack-of-all-trades and "Tulsa's version of Stephen King."
"The book would not be near what it is now without John's participation," Todoroff said, adding that he and Wooley were pleased they got to use Russell's own words to put the book together.
"That's it," he said. "That's all the Leon Russell autobiography material that is out there. We were glad to be a part of it and, as John said, we think we put out a damn fine book."