NORMAN — When the University of Oklahoma unveiled the new concession items it will be offering this season, one item in particular caught the public's attention — a large glazed doughnut in the shape of a stylized human hand, the fingers arranged into a variant of the notorious "Hook 'Em Horns" gesture.
The hand was part of a display of foods from Hurts Donuts, which, along with the Tulsa-based Rib Crib, is partnering with Levy Restaurants, the company that oversees all concessions at OU sporting events.
It didn't take long for images of this provocative pastry to show up on social media and get people asking where they might purchase one.
One place that "Horns Down-nuts" will NOT be available is at the Hurts Donuts food truck, which will set up shop on game day at Gate 7 of the OU's Gaylord Family Oklahoma Memorial Stadium, beginning with Sunday's contest that will pit the No. 4-ranked Sooners against the University of Houston.
"We wanted to have a fun display of doughnuts for the media day, and that was one of the things we came up with," said Jess Maulsby, who operates the Norman franchise of Hurts Donuts. "It was just something we did for fun. We didn't quite expect it to take off on social media the way it did."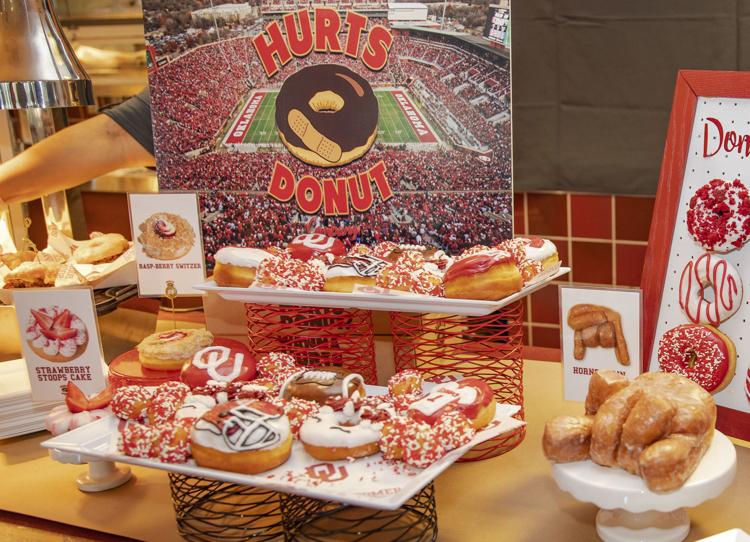 However, Hurts Donuts founder Tim Clegg said the "Horns Down-nut" will be available for purchase at the Norman Hurts Donuts shop located in Campus Corner, just north of the OU campus.
"We'll make it available at the store only on game days," Clegg said.
But Sooner football fans are in no danger of going hungry anytime soon; 10 new food items will be available at concession areas this season starting Sunday.
Earlier this week, as part of OU's Media Day, Levy Restaurants gave writers the chance to sample each of the new items, which range from the smoky to the salty to the sweet.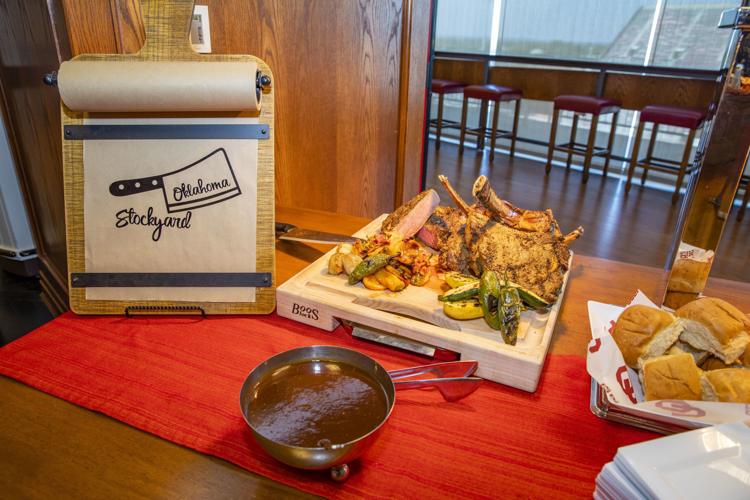 "We usually add anywhere from five to 10 new concession items a year," said Jon Wanland, executive chef for Levy. "We want to provide a variety, but we also know that there are some items people are always going to expect to see, such as hot dogs, burgers, chicken tenders. These are fan favorites, and we aren't going to mess with those.
"On the other hand, for the premium suites, we completely re-do the menu each year because we offer a different menu for each game," he said.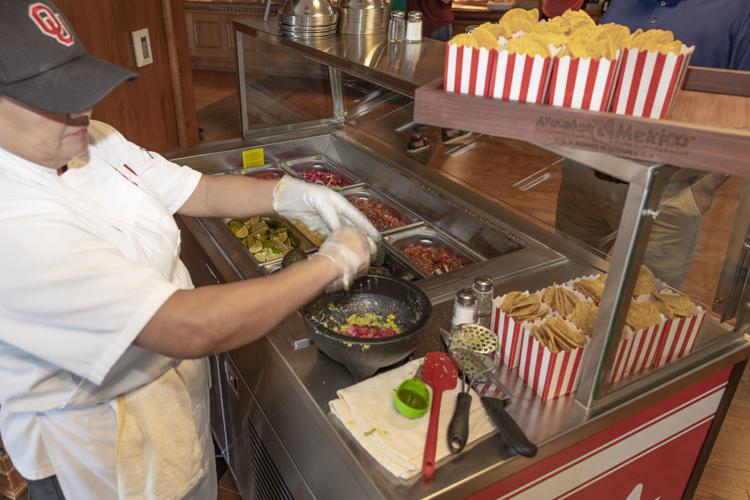 The media day tasting included some items that will be served in the stadium's premium areas, including a perfectly medium-rare tomahawk rib-eye steak, pretzel nuggets with a beer cheese spread, and made-to-order guacamole that can be customized with the addition of pineapple, jalapeno salsa, pico de gallo, roasted corn and pickled onions.
One innovation being introduced this year involves those stadium staples, popcorn and soft drinks.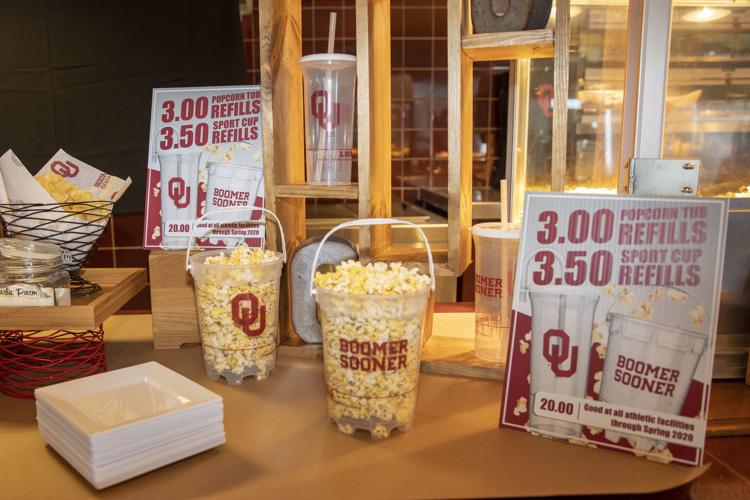 The Refillable Popcorn and Soda Kit includes a large order of popcorn and a large soda in reusable clear plastic containers for $20. These containers can then be refilled unlimited times, with popcorn refills costing $3, and soft drinks costing $3.50.
"This is the first time we've tried this," said Kelly Joiner, director of operations for Levy. "We wanted to come up with something that would be of value to the devoted OU fan. They can bring their Refillables to all OU sporting events, not just football games, and be able to get them filled for the same discounted price."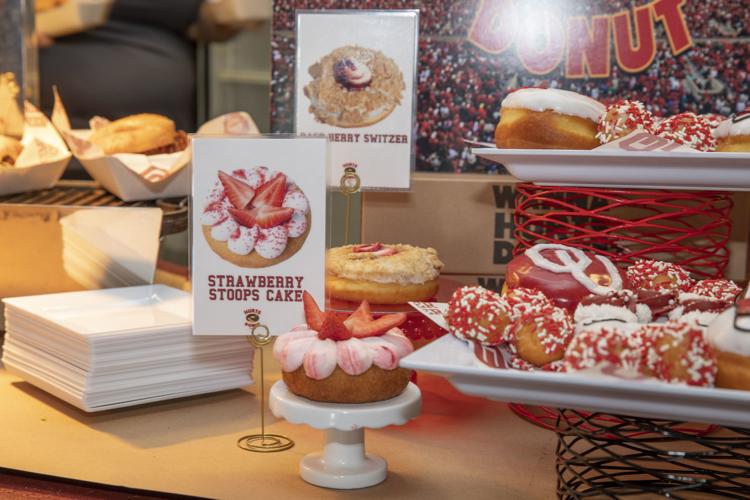 Those with a hankerin' for Hurts Donuts will be able to satisfy that craving in two ways. The Hurts Donuts "emergency donut delivery vehicle" will be offering two creations that honor OU's winningest coaches: the Strawberry Stoops Cake and the Raspberry Switzer, two pastries decorated in typical, over-the-top Hurts Donuts fashion.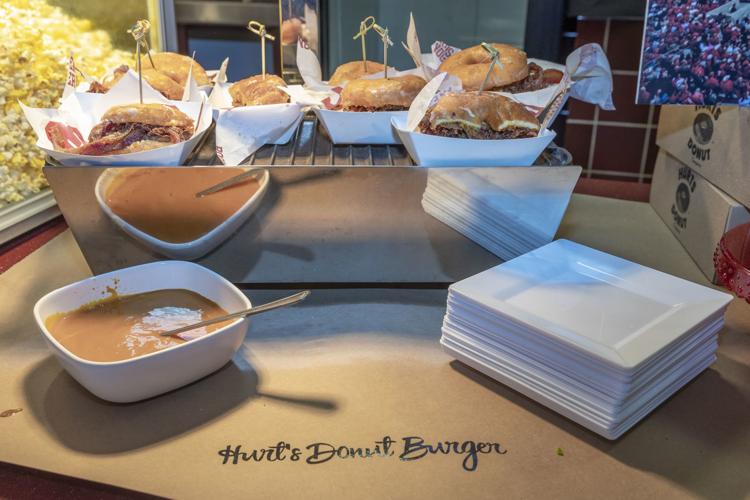 Hurts Donuts also show up in the Hurts Donut Burger ($10), a surprisingly tasty entree with a well-seasoned beef patty topped with bacon, onion straws, cheese and a tangy mustard-based sauce, with a Hurts glazed doughnut as the bun. The balance of salty, sweet and savory is just about perfect.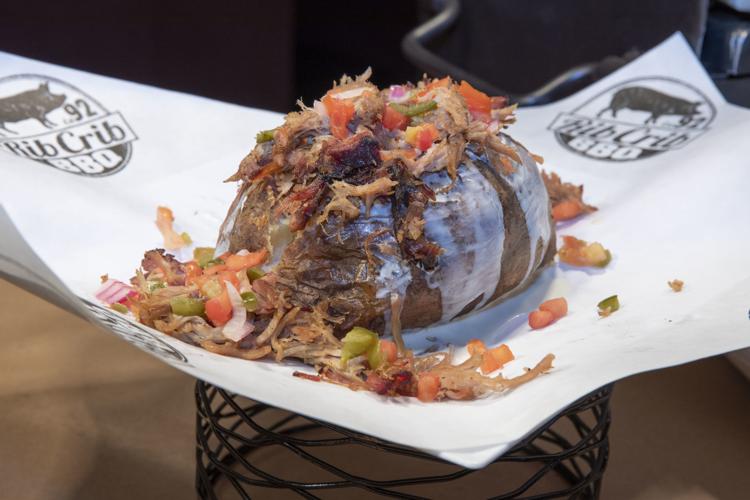 Among the more substantial offerings are two items from Rib Crib: the BBQ Pork Queso Spud ($12) and the BBQ Pork Sandwich ($10). The sandwich definitely benefits from a generous helping of Rib Crib's sauce, while the potato is topped with a white queso sauce, bacon bits and pico de gallo.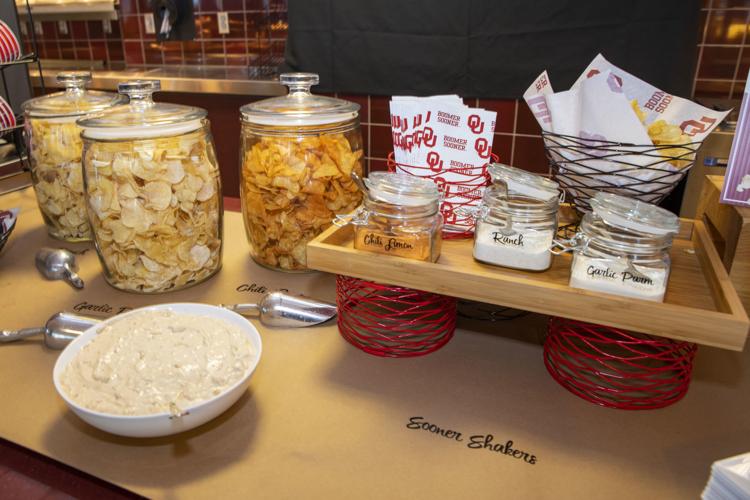 Kettle-cooked potato chips are featured in two new creations. Sooner Shakers ($5) are chips that can be topped with a choice of seasonings — chili limon, garlic Parmesan, and ranch — then shaken to coat.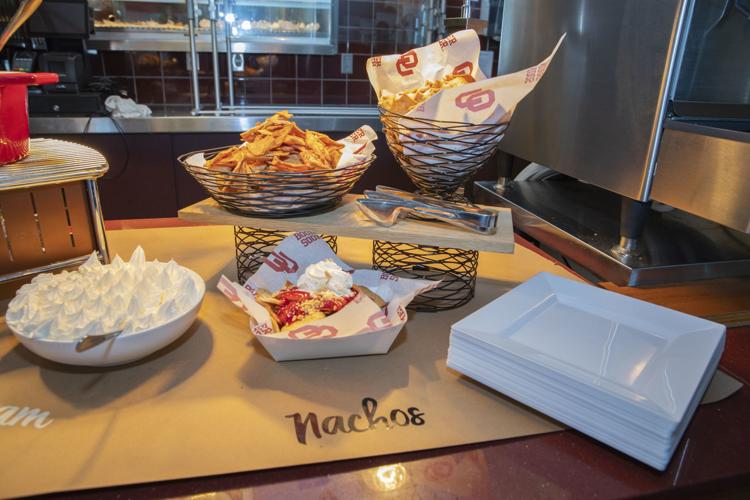 Boomer Nachos ($10) are potato chips topped with roast pork, shredded cheese, barbecue sauce and pico de gallo; in spite of all the toppings, the chips remain satisfyingly crunchy.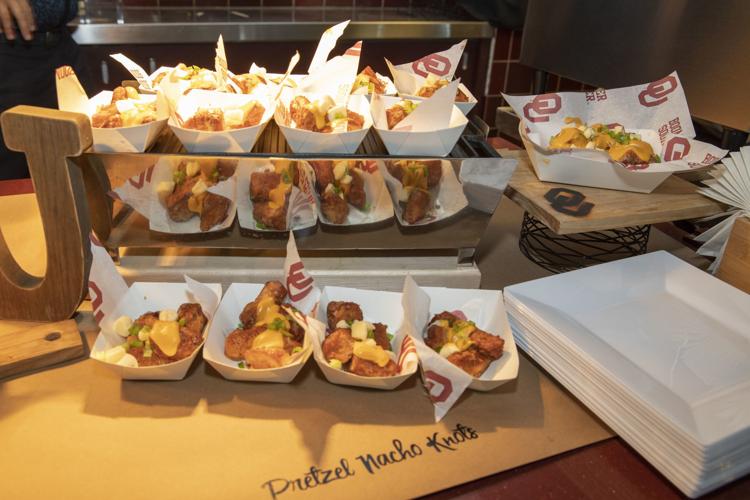 A slightly different take on nachos is the Pretzel Nacho Knots ($10), deep-fried chunks of dough topped with a yellow cheese sauce, white cheese curds and a sprinkling of green onions. The "pretzels" had no pretzel flavor, and the industrial nacho cheese sauce quickly turned them soggy.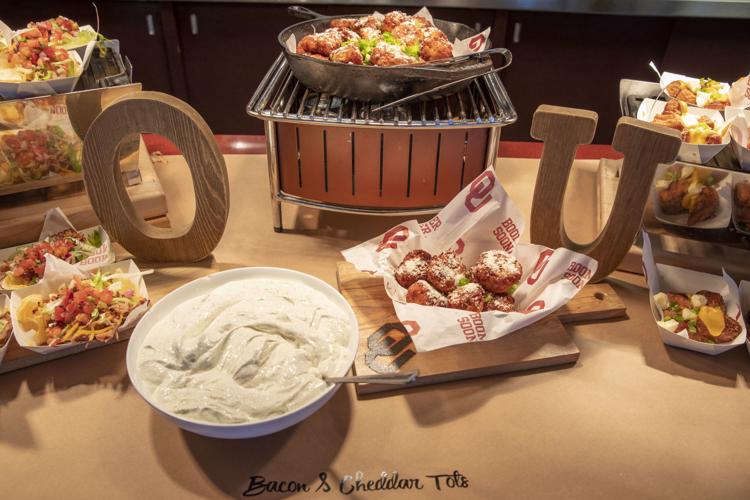 On the other hand, the Bacon Cheddar Tots ($6.50) are really good. "Tots" is something of a misnomer, as these are handball-size orbs that require at least a couple of bites to consume. A crunchy exterior contains a blend of creamy potato, bacon, cheese and onion — basically, a twice-baked potato that has been deep-fried.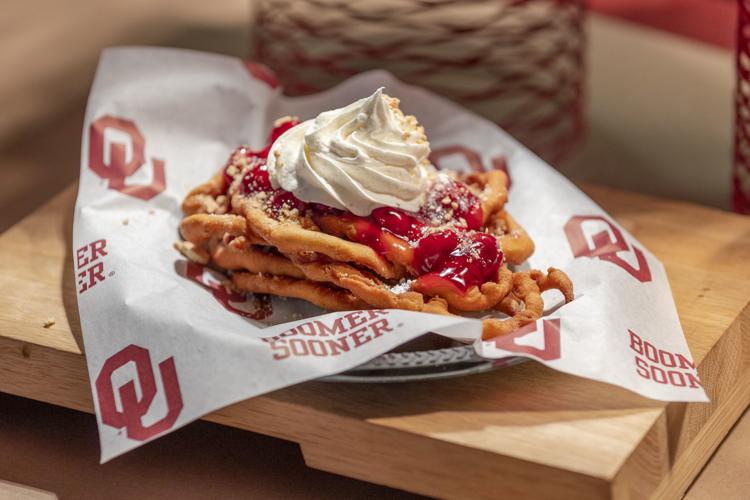 Those with a highly developed sweet tooth will enjoy the Crimson and Cream Funnel Cake ($8.50), made up of finger-length tubes of funnel cake, topped with a cherry pie-filling sauce, whipped cream and crumbled graham crackers. A different version of this, with cinnamon-sugared pita chips, is available in the stadium's premium suites, but we preferred the funnel cake version.