---
A growing reliance on substitute teachers and uptick in teacher absences are Oklahoma public schools' dirty little secrets.
The effects of Oklahoma's deepening teacher shortage on class size and course offerings are well-documented, but the scarcity of applicants and strain on teachers who remain have schools making do like never before.
A Tulsa World analysis of data from the past seven academic years found absences by Tulsa Public Schools teachers increased nearly 63 percent from 18,800 days in 2009-10 to 30,600 days in 2014-15, while the number of teachers declined by 10 percent during the same period.
And all of those missed days of instruction strain the district's ability to staff classrooms with substitutes and exact an untold toll on student achievement.
"It's a fact when a substitute is in the room, the kids aren't learning what they could," said Sheila Riley, principal at Eugene Field Elementary School. "But teachers are tired and worn out. Because of the environment in education right now, they're more likely if they don't feel well to go ahead and call in."
The average percent of teacher absences not filled by substitute teachers in TPS was 27 percent for two straight years between 2008 to 2010. That average jumped to 41 percent in 2010-11 and was 34 percent in 2014-15.
But those figures don't begin to represent how hard it is for a school like Eugene Field to get a substitute. Last year, 58 percent of its 355 absences went unfilled by subs, the highest rate of any traditional school site in TPS.
That figure was not news to Riley.
"We're all painfully aware of it," she said. "When you can't fill a sub position, it usually means the kids get split into different grade levels because in our school, we only have two classes per grade and we can't put 60 kids in one classroom."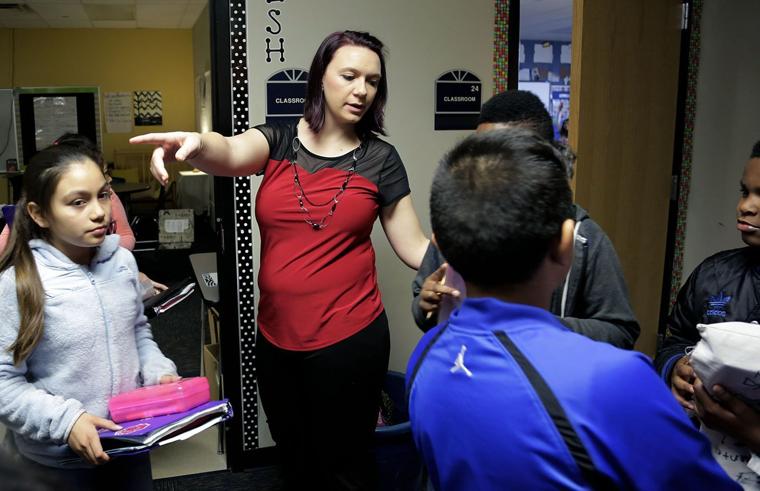 Intern/substitute Katie Taylor directs traffic in the hallway at Rosa Parks Elementary School. MIKE SIMONS/Tulsa World
By comparison, daily teacher absences at traditional schools in TPS ranged from 126 at Anderson Elementary to 1,201 at Hale High School, and unfilled substitute rates were as low as Carver Middle's School's 6 percent.
Riley said making do without a teacher or sub just adds to the stresses of a faculty already saddled with larger class sizes and the increased demands for documentation for special education students and those struggling to meet the state's minimum reading test score.
"I absolutely think we're going to see more and more teachers leave the profession in the next couple of years," she said. "I have had more complaints of being tired and exhausted in the last year or two than I've ever seen before."
Every teacher at Eugene Field maintains a "sub tub," which is a container filled with a full day's worth of student work and activities.
"Most of the time it's review work because we don't want subs to introduce new material," Riley said. "They don't have the pedagogy, they don't have solid classroom management to keep a class moving. It's hard for them in any school, but add the particular situation many of our students are in and it becomes 10-fold from what a normal situation would look like.
"For that reason it is very difficult for us to get substitutes."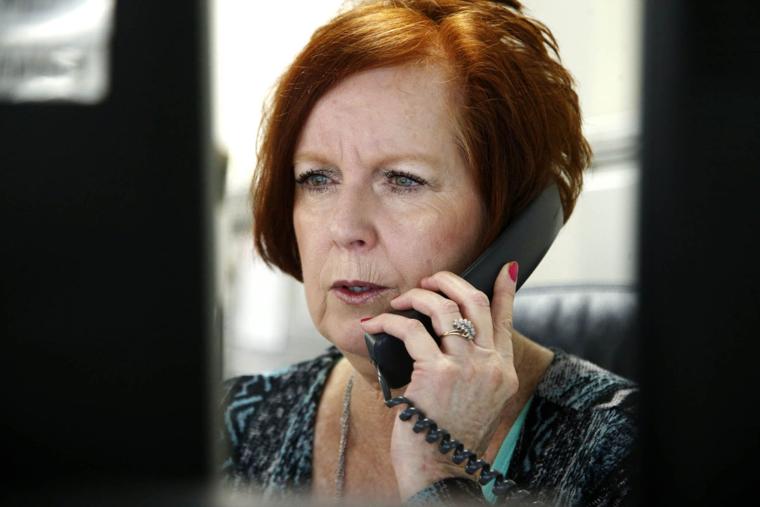 Phylena Miller helps a substitute teacher while manning the phone inside the substitute teacher office at the Tulsa Public Schools Education Service Center. JAMES GIBBARD/Tulsa World
'I cried all the time'
Phylena Miller arrives at 6:30 a.m. each morning at the TPS Human Capital office.
Nowadays, her mornings are relatively quiet, punctuated only by phone calls from people who either aren't logged in or who are having technical difficulties with the substitute placement and absence management service, called Aesop.
When she first started work on the sub pool in 2000, there was no automated system.
Miller and only one co-worker were assigned to the task then. They came in at 5:50 a.m., and their phones would ring for hours with principal and teacher sub requests. The two of them had to call every single sub with their assignments.
"It was very stressful; the phones were ringing like crazy. I cried all the time," Miller said. "The lady I worked with would ask me why I was crying, and I would say, 'The principals are upset; we didn't get all of the positions filled.' She would say, 'They're upset with the situation, not with you.'"
Miller just couldn't shake the gravity of the situation because she had seen the consequences of unfilled absences firsthand.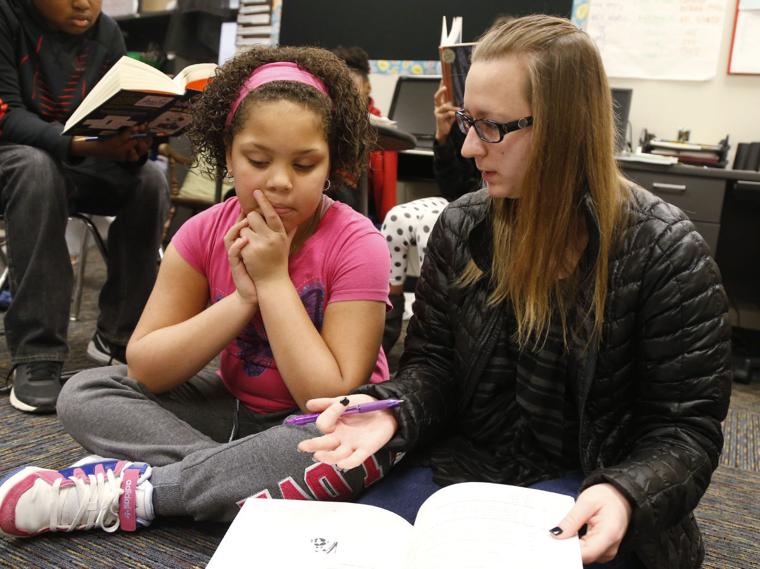 Intern Kirsten McCullough goes over a reading test with Jozlyn Grant in her class at Rosa Parks Elementary School. STEPHEN PINGRY/Tulsa World
"I felt so bad because I came from working in the schools, so if we didn't get something filled, I knew what was happening out in the buildings. So it's been going on like that for as many years as I've been here," Miller said.
These days, the web-based Aesop system is pretty self-sustaining. Principals and teachers schedule absences then substitutes can "shop" for assignments across several area districts by school, grade or subject preference.
That explains the wide variance in unfilled absence rates across area schools.
Talia Shaull, chief human capital officer at TPS, said the district began a pilot program in spring 2014 to increase substitute pay by 22.6 percent for a group of hard-to-fill schools. The result was a 9.6 percent improvement in attracting substitutes to schools in the pilot project.
It continued at an annual cost of $38,910 but was discontinued at the end of 2014-15 as a cost-cutting measure.
'Last minute cancellations happen a lot'
On an early March morning, Miller logs into the Aesop system to find 247 teacher absences recorded, and 70 percent of those filled by subs.
But it's still early and things immediately begin to change.
On her voicemail is a message that a sub won't be able to make it to the assignment. She forwards the message to the school's principal but fears it's too late.
"I will be honest. At 10 minutes until 7, it will be difficult to fill that position because now it's a last-minute opening," Miller said.
The district made an effort to recruit more parents to be substitutes and promoted the work opportunities through advertising and job fairs, Miller said. It led to increasing the sub pool up to 500 to 600 early in the year.
But those numbers include subs who work in other school districts, and those who choose to work infrequently, limit their assignments to just one or two schools or to only one subject matter.
And Miller said the sub ranks always dwindle over the course of each school year as more of them accept long-term assignments or full-time positions.
"Because of the teacher shortage, if they were a good candidate, they would already have been hired by now," she said.
She said it's most difficult to find special education substitutes, in part, because outsiders find the idea intimidating. Also, the state requires four hours of additional training for subs who are not highly qualified in the field.
By 7:30 a.m., she receives a call from a sub whose assigned school, Grimes Elementary, didn't need him after all. Miller tells him about two unfilled assignments — in prekindergarten and first grade — at Kendall-Whittier Elementary, one of his other preferred schools.
He balks at working with students so young. She tells him to call back again soon if he would rather go to another site with an assignment in the upper grades.
At 8:30 a.m., she gets an inquiry from a school secretary about the availability of a substitute paraprofessional. Her office also manages those assignments — for aides assigned to certain special education students and teacher assistants for pre-kindergarten and kindergarten classes.
At a few minutes before 9 a.m., Miller gets a call from Booker T. Washington High School, where the sub who accepted a two-day assignment covering for the speech and drama teacher failed to show up.
Miller tries to call the sub but gets no answer.
"I don't know if people forget that they have the assignment, or if there is an emergency, but I wonder how seriously they take this job. They don't realize the impact it has when they don't show up," she said.
What about consequences for no-shows?
"Last-minute cancellations happen a lot. After so many, yes, we will call them and address the issue with them," Miller answers. "If we see that it happens continually, there is a chance we would no longer use them as a sub."
Desperate times, desperate measures
Hiring full-time teachers from the sub pool has long been common, but the statewide teaching shortage has principals resorting to the use of long-term substitute teachers to cover for unfilled vacancies.
Many teachers and principals share anecdotes about going to great lengths to identify qualified candidates — and sob stories about less-than-ideal situations for kids when that doesn't work out.
At 61, Union's Rosa Parks Elementary Principal Karen Vance is one of the most seasoned school administrators in the area.
She has spent the better part of three decades in the Jenks and Union school districts, with a brief stint at a publishing company in Arizona between her time in the two districts.
Vance attributes the current volatility in school staffing to dramatic changes in the teacher workforce in recent years.
"The pool is younger," Vance said of teacher applicants. "A lot of teachers are retiring earlier because it's really hard work."
It would be difficult to find a school leader more challenged by mid-year staffing issues than than Vance, who has had 12 faculty members in various terms of pregnancy during the course of 2015-16.
The Rosa Parks baby boom was made more difficult with multiple midyear departures for other medical issues and the addition of a fourth-grade teaching position to accommodate for student growth. It forced Vance to get creative.
Vance recruited two former teachers who had left the profession to care for their own children to return. She persuaded her bosses at Union to allow the two to work part-time, team-teaching that late-added fourth-grade class.
"That worked great, with each one working three days a week, with one day of overlap for planning. Then, one had a child become seriously ill a few weeks ago," Vance said.
So she did what she had to before to cover for many of the other teacher absences. She persuaded the most qualified college students from Northeastern State University completing internships in her school to take on long-term sub assignments.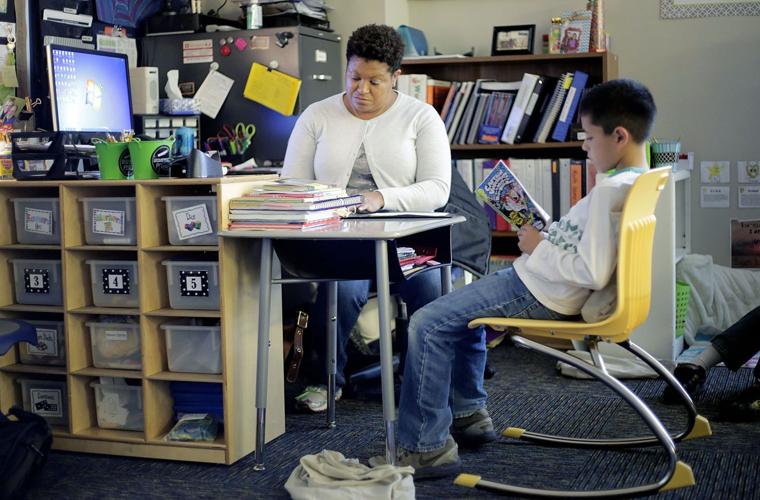 Substitute teacher Gail Thomas works at her desk as third-grade student Emanuel Miranda reads at Rosa Parks Elementary School. MIKE SIMONS/Tulsa World
Vance has also leaned mightily on Gail Thomas, who retired from Union Public Schools five years ago after a 31-year career in teaching.
Thomas took a year off to relax and travel and then starting taking on substitute teaching assignments four years ago, but she won't sub just anywhere.
"I only sub at two schools because the staff is absolutely amazing and their plans are so detailed, they make it very easy," Thomas said. "There is also a sense of family and community here, so the children feel so loved so they're more apt to come to school and want to do work."
Vance said Rosa Parks students have extraordinary good fortune in having a sub like Thomas, who helped develop the curriculum still used in Union classrooms today.
"Students really do best when they have a positive relationship with their teacher — that's not something that happens in one day," Vance said.
Ten-year-old Angel Marquez has had two major upheavals during his fourth-grade year. First, he was reassigned from one class to a new one added in September. Next, he had to deal with loss of one of the two part-time teachers.
"It's better when we have a regular, same routine," Marquez said.
'Searched high and low for a qualified sub'
Tulsa's Edison Preparatory School has had to resort to long-term subs to cover for teachers in a number of situations this year, including one who spoke no German covering a German class for several weeks.
Principal Derrick Schmidt said it's always difficult to find long-term substitutes, let alone subs who are a "certified, quality candidate," and when they do, it's "always kind of a luxury."
Schmidt said the impact on students is a certainty, adding, "Nothing is as good as consistent attendance from the regular teacher."
In some cases, teachers take up a hunt for their temporary replacement.
Merrie Wolf, who teaches regular and advanced math at Memorial High School, was diagnosed with uterine cancer last summer and had to be out for treatment for six weeks in the middle of the fall semester.
"I searched high and low to find a qualified sub so my kids wouldn't be missing out," Wolf said.
After a month and a half of trying, Wolf finally found a retired math teacher willing to take on the task. Throughout her absence, she spoke with the sub two to three times every school day.
"My kids were not behind for the mere fact that I had beat the bushes and found that qualified substitute," she said. "We've had situations in the past where we had unqualified subs, and the kids are just sitting there doing nothing. They see a sub, they think, 'Blowoff Day.'"
---
A look at substitute needs at Union's Rosa Parks Elementary
September: First-grade teacher left on maternity leave, and the district made a late addition of a fourth-grade section at the school.
November: Third-grade teacher left on maternity leave.
December: Art teacher left on maternity leave.
January: Fourth-grade teacher left on medical leave.
February: Fifth-grade teacher left on maternity leave.
April: Another fifth-grade teacher due to leave on maternity leave.
May: Sixth-grade teacher due to leave on maternity leave.
June: A first-grade teacher due to begin maternity leave, so the principal will have to line up sub to cover for her at start of 2016-17.
Principal's note: Other substitute teachers have been required for extended periods because of illness and surgeries.