How many of you came out of March feeling like you traded March Madness for Starch Madness?
Our house did, 100%. With all of the shutdowns, travel cancellations, home schooling and social distancing, we stayed home and ate, and baked, and lamented days past where one could go out for a nice salad.
Instead, my son helped me make dinner, which consisted of a lot of pasta (thanks, pantry!) and a lot of pizza (thanks, Andolini's!) and we did a lot of baking, which included bread, cupcakes, cookies, cornbread and other delicious comfort foods.
Now, it's April, and we're still stuck at home but are trying to make the most of it. So we will continue to bake, and we wanted to share a few of our favorite recipes.
Sandwich bread has been scarce in the grocery stores lately, and there is something comforting about making it yourself. It is simple, uses basic pantry staples and fills the kitchen with an amazing aroma. The same goes for banana bread, and this recipe is a great way to use up bananas that are ripening faster than you can eat them. My father has been upping his bread game while at home, providing us with a steady supply of freshly baked sourdough.
If you don't have a pet sourdough starter, this no-knead bread is just as delicious. Lastly, I know many of you are making giant batches of soup, chili and beans. Fresh-baked cornbread is the perfect partner. So crank up that oven and get baking!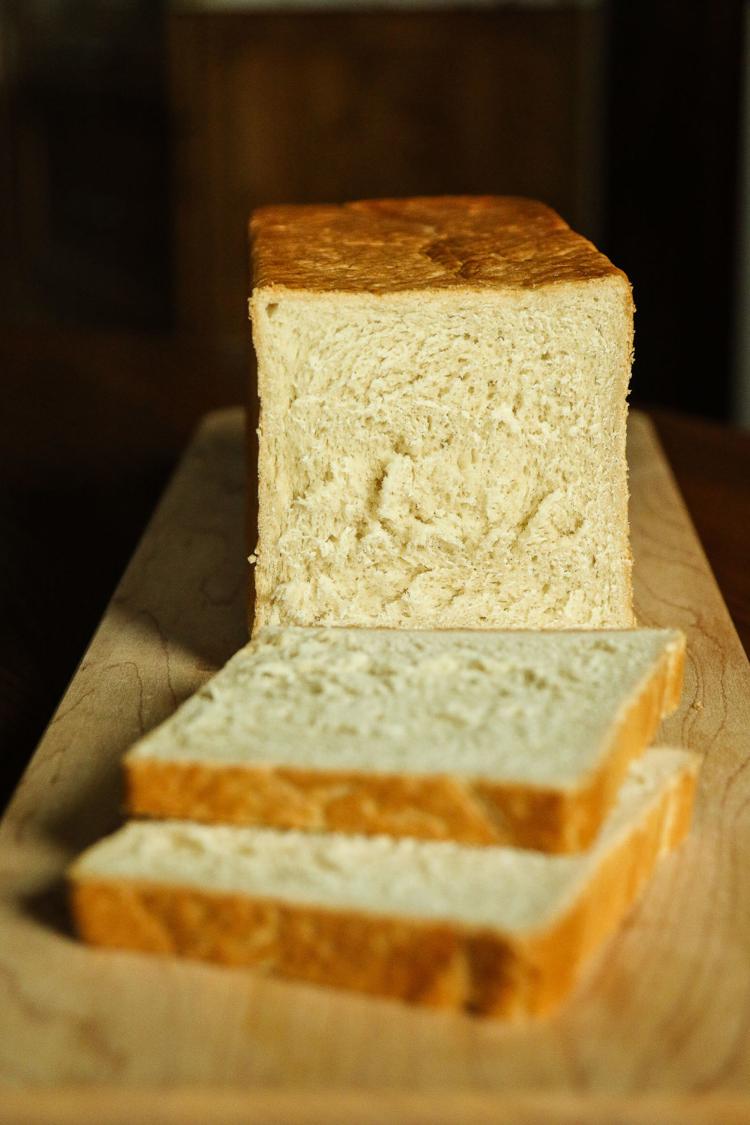 I think everyone should know how to make a basic loaf of bread … the process is so soothing — kneading the dough to an elastic mass, watching the yeast take over, allowing the bread to rise, smelling the savory aroma as the loaf bakes. The process is rather easy, and this dough can be transformed into a myriad of things — classic sandwich loaf, dinner rolls, freeform loaf and flatbread. The easy recipe makes enough dough for two generous loaves — one for now and one to freeze for later. The hard part is waiting for the loaves to cool before slicing. But be patient, for fresh-baked bread is definitely worth the wait.
2 envelopes active dry yeast
2 cups warm water (about 100 degrees)
¼ cup honey or granulated sugar
3 tablespoons plus 1 teaspoon melted unsalted butter, plus more for bowl
2 tablespoons coarse salt
6-7 cups all-purpose flour, plus more for dusting
1. Sprinkle yeast over warm water in the bowl of an electric mixer fitted with the paddle attachment. Add honey, butter and salt, whisking until yeast is dissolved. Let stand until foamy, about 5 minutes.
2. Add 3 cups flour; mix on low speed until smooth, about 3 minutes. Add 3 more cups flour and mix until incorporated.
3. On a lightly floured surface, knead dough, adding up to 1 cup more flour as needed; knead until smooth, elastic and slightly sticky, about 5 minutes. Transfer dough to a buttered bowl and let rise, covered with plastic wrap, in a warm, draft-free spot until doubled in bulk, about 45 minutes.
4. Heat oven to 400 degrees. Butter two 4½-by-8 ½-inch loaf pans or a large pullman loaf pan. Punch down the dough and transfer to a lightly floured surface. Divide dough in half. Gently knead each piece until smooth. Shape each piece into a loaf, tucking sides underneath to form a seam down the middle.
5. Place loaves, seam sides down, in buttered pans. Let rise just until dough reaches tops of pans, 15 to 20 minutes. Brush tops of loaves with butter and bake until golden brown and hollow-sounding when tapped on bottom (briefly turn out the loaf to test), 35 to 45 minutes. Let cool slightly in pans on wire racks before unmolding. Let cool until just warm before slicing.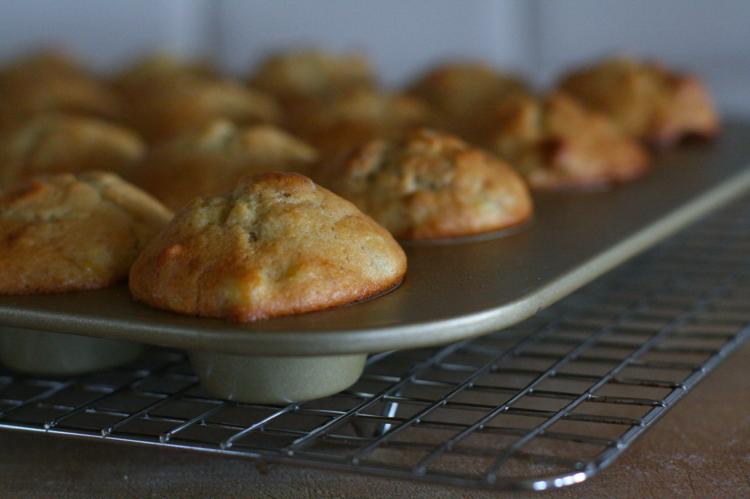 Makes 2 dozen mini muffins or 2 loaves
If you don't have buttermilk in the fridge, simply thin out some sour cream with a little milk to equal the ½ cup called for in the recipe. To gild the lily, throw in a few handfuls of mini chocolate chips.
¼ cup (4 tablespoons) unsalted butter
1 cup mashed bananas (2 to 3 bananas, depending on their size)
¾ cup finely chopped walnuts or pecans
1. Heat oven to 350 degrees. Spray a mini muffin pan (or 2 loaf pans) with cooking spray or brush with melted butter — your choice. Whisk together flour, baking powder, baking soda and salt in a bowl, and set the mixture aside.
2. Cream the sugar and butter with a hand mixer or in the bowl of a stand mixer until light and fluffy. Add the egg and beat until combined. Stir in the mashed bananas and walnuts.
3. Stir in the buttermilk and then fold in the flour mixture until just combined. Dollop the mixture into muffin tins and bake until golden and a toothpick comes out clean, about 15 minutes. Cool slightly and tip out the muffins. Try to refrain from eating them all right now…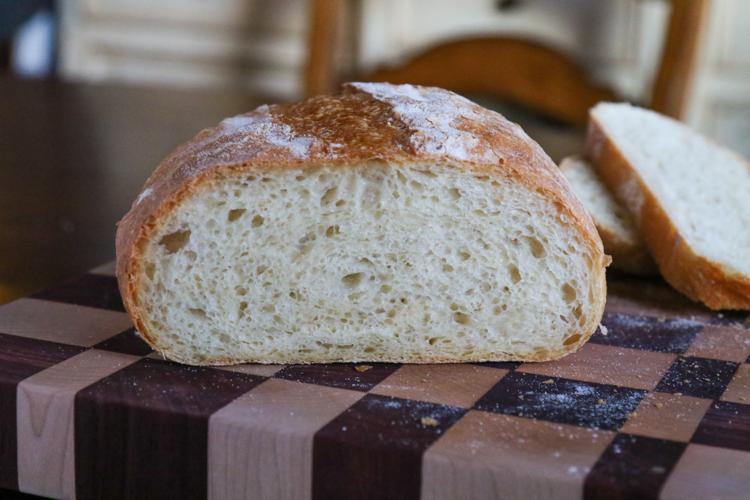 This is one of the most popular recipes the New York Times has ever published, courtesy of Jim Lahey, owner of the popular Sullivan Street Bakery in New York City. It requires no kneading. It uses no special ingredients, equipment or techniques. And it takes very little effort — only time. You will need 24 hours to create the bread, but much of this is unattended waiting, a slow fermentation of the dough that results in a perfect loaf.
3 cups all-purpose or bread flour, more for dusting
Cornmeal or wheat bran as needed
1. In a large bowl, combine flour, yeast and salt. Add 1⅝ cups water and stir until blended; dough will be shaggy and sticky. Cover bowl with plastic wrap. Let dough rest at least 12 hours, preferably about 18, at warm room temperature, about 70 degrees.
2. Dough is ready when its surface is dotted with bubbles. Lightly flour a work surface and place dough on it; sprinkle it with a little more flour and fold it over on itself once or twice. Cover loosely with plastic wrap and let rest about 15 minutes.
3. Using just enough flour to keep dough from sticking to work surface or to your fingers, gently and quickly shape dough into a ball. Generously coat a cotton towel (not terry cloth) with flour, wheat bran or cornmeal; put dough seam side down on towel and dust with more flour, bran or cornmeal. Cover with another cotton towel and let rise for about 2 hours. When it is ready, dough will be more than double in size and will not readily spring back when poked with a finger.
4. At least a half-hour before dough is ready, heat oven to 450 degrees. Put a 6- to 8-quart heavy covered pot (cast iron, enamel, Pyrex or ceramic) in oven as it heats. When dough is ready, carefully remove pot from oven. Slide your hand under towel and turn dough over into pot, seam side up; it may look like a mess, but that is OK. Shake pan once or twice if dough is unevenly distributed; it will straighten out as it bakes. Cover with lid and bake 30 minutes, then remove lid and bake another 15 to 30 minutes, until loaf is beautifully browned. Cool on a rack.
— Adapted from New York Times Cooking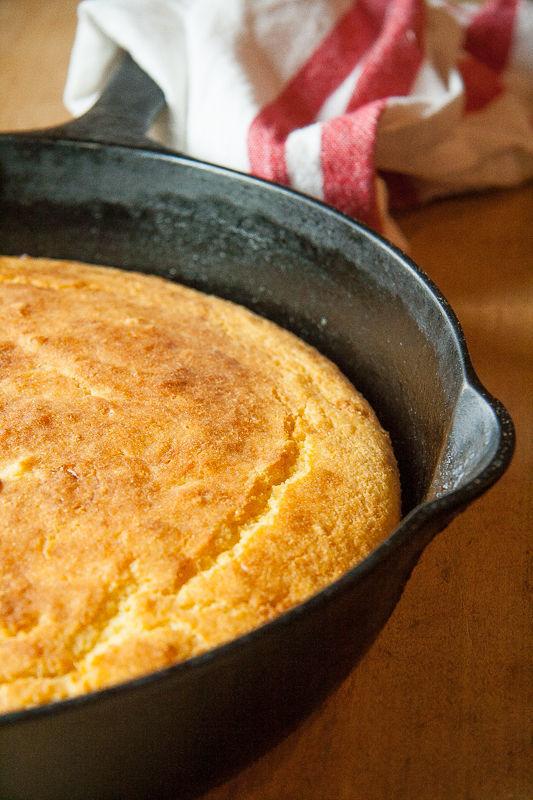 Makes 1 8-inch square or 9-inch round pan
With all those pantry meals we've been planning to use up the beans, soup and rice, it seems a good pan of cornbread is in order. Feel free to throw in some grated cheese, whole kernel corn or chopped green or red chiles for added oomph.
Vegetable oil or shortening, for pan
1 cup stone-ground yellow cornmeal
1 tablespoon baking powder
4 tablespoons butter or shortening, melted
1. Heat oven to 450 degrees. Coat an 8-inch square baking pan or 9-inch cast-iron skillet with oil or shortening; set aside.
2. Combine flour, cornmeal, sugar, salt, baking powder and baking soda in a medium bowl.
3. Whisk together eggs, buttermilk and melted butter; pour into dry ingredients, stirring just until combined. Pour batter into pan and bake until golden, 20 to 25 minutes.
---