During World War I and World War II, as the nation faced potential food shortages, many countries encouraged their citizens to grow gardens, often called victory gardens.
Doing this relieved some of the burden on the public food supply, and some sources report that over 40% of the food Americans consumed during these times was grown in these home gardens. Backyards, front yards, rooftops, church lots, school grounds and vacant neighborhood lands became fields of spinach, lettuce, swiss chard, carrots, beets and tomatoes. Back in the day, the movement was popularized by women's clubs and patriotic posters and spread like wildfire through cities and towns wanting to do their part.
The COVID-19 crisis and the sight of empty grocery store shelves has led to many people starting their own corona victory gardens.
Current events remind us all too clearly that access to fresh, healthy, local food is one of the most important aspects of daily life. Growing a garden at home has many plusses, mainly, putting access to affordable fresh produce right out our own back doors. Many people report stress relief and better sleep from spending time outdoors gardening.
Our kids are much more likely to grow up loving fresh vegetables if they eat them right off a plant that they helped to grow.
And a major benefit for current times: gardening is a great activity to do together as a family and an excellent remedy to spending too much screen time and not enough outdoor activity.
If gardening is too much to take on in addition to working from home, schooling from home, and otherwise doing everything else from home, let others do the growing for you. Now, maybe more than ever, we are concerned about where our food comes from, and we don't have to look far to find growers with fields galore of fresh vegetables.
Spring garden beds are overflowing with lettuces and radishes, so now is the time to support our local farmers so we can get creative with vegetables and salads in our own kitchens.
• Joe Tierney has been a part of Tulsa's restaurant scene for years, supplying chefs with gorgeous produce from Progressive Produce. Now, he farms for a living on the edge of Bixby, and still supplies chefs as well as anyone else who wants access to his produce, from Joe's Farm on South Sheridan Road. Typically, Tierney offers drive-through and u-pick-it services, but currently customers order from the website, then stop by to pick it up later that day. The farm offers vegetables grown on the spot, as well as other things from partner farms, dairies, ranchers and local chefs.
• Many vendors from the Tulsa Farmers Market sell vegetable and herb plants, as well as vegetables and herbs. And meat and cheese, too. The market is not active for the time being, but the market's website has a current list of vendors and how to reach out to them. The current goal of the Tulsa Farmers Market is to continue to foster relationships between farmers and consumers by helping them connect online. Many of the market's vendors are offering delivery services, CSA memberships, online ordering/pre-ordering with arranged pick up times and locations. Others will have independent roadside stands and open farm days for direct sales.
• Three Springs Farms offers a CSA (Community Supported Agriculture) membership, where members pay up-front to provide the farmer with capital at the beginning of the season, and then eat away at their account throughout the growing season with certified organic produce.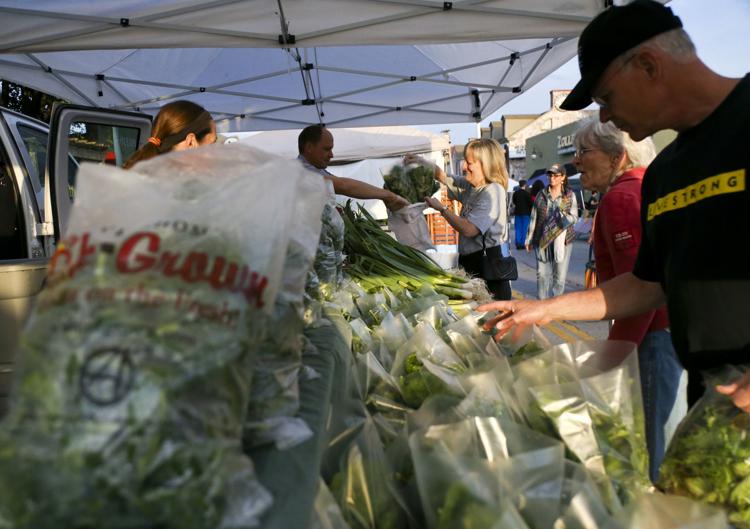 Now that you have bags of fresh produce, get home and get creative in the kitchen.
These are a pair of my favorite spring recipes using spring radishes, as well as an all-purpose vinaigrette to keep on hand for when you have great greens on hand.
Radishes with Butter and Salt
By far the most delicious way to enjoy freshly harvested radishes, in my opinion, is also one of the most popular: serve halved radishes with some softened French butter and flaked sea salt.
Arrange a bunch of halved radishes (leave some of the greens on for use as a handle), softened high-quality butter (room temperature, not melted) and flaked or kosher salt on a plate or platter. Smear the butter over the radish halves and sprinkle with salt.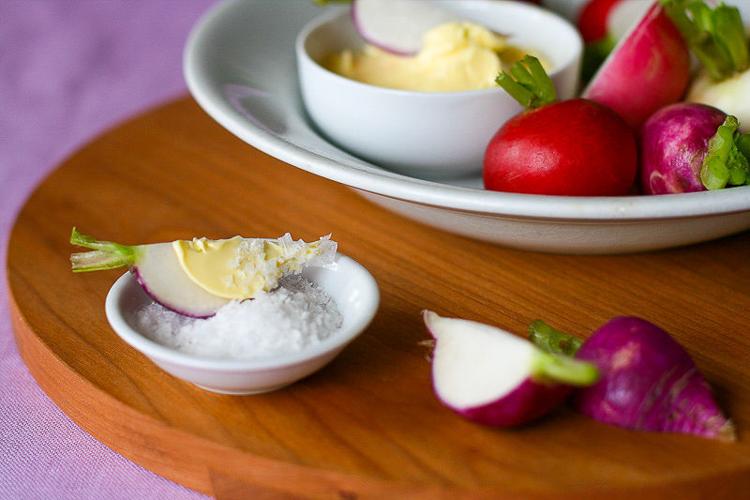 What started out as a kitchen-sink-salad of sorts ended up being a gorgeous gem of a side dish, and it only gets prettier after sitting for a day in the fridge – beets have a way of leeching their beauty into everything they touch.
1 cup farro (you could also use barley, quinoa or whatever grains you have in the pantry, but the cooking times will be different)
2 shallots, thinly sliced into rings
3 ears fresh corn, kernels sliced off (or 2-3 cups frozen corn, thawed)
1 small bunch radishes, halved or quartered
A few roasted or steamed beets, peeled and cut into wedges
Two large heirloom tomatoes, chopped, or a handful or two of cherry tomatoes, halved
Freshly ground black pepper
Crumbled goat cheese, queso fresco, or feta, for serving
1. Bring a large saucepan of salted water to the boil. Add farro and simmer until farro is al dente, about 20 minutes.
2. Meanwhile, make the dressing: place the red wine vinegar in a small bowl and add the shallots. Let them sit until slightly pickled, about 15 minutes. Add chia seeds, olive oil and honey and whisk to combine. Let the dressing sit while you prepare the rest of the salad.
3. Drain and rinse the farro with cold water then transfer to a large bowl. Add corn, radishes, beets and tomatoes, tossing gently to combine. Stir in the dressing and stir to make sure everything is coated. Season well with salt and pepper and serve, topped with goat cheese, or chill up to three days.
All-Purpose Red Wine Vinaigrette
It's time to free up the shelf in your refrigerator that is cluttered with half-used bottles of store-bought salad dressings. This red wine vinaigrette, made by shaking the ingredients in a jar, comes together in seconds — make a small batch for tonight's dinner, or double or triple the recipe for use all week long. Once made, the dressing will last up to 2 weeks in the refrigerator. Feel free to shake in your favorite fresh herbs, chopped green onion or shallot, or a handful of crumbled cheese — the fresh ingredients won't last as long, so use the batch within a few days.
3 tablespoons red wine vinegar
1 tablespoon brown sugar or honey
Generous pinch each of sea salt and freshly ground black pepper
Combine all ingredients in a canning jar or other jar with a tight-fitting lid. Shake vigorously until emulsified. Set aside or chill until ready to use.
At our house, "lemon salad" consists of spicy arugula, tossed with lots of lemon juice and a drizzle of olive oil. I shave in some good Parmesan if I have it on hand. This is my 10-year-old son's favorite salad and is the only way he will eat dressed lettuces. Pair this tart salad with grilled meat or rich pasta dishes.
A few handfuls baby arugula, washed and dried
Kosher salt and freshly ground black pepper
A chunk of Parmigiano-Reggiano cheese, optional
1. In a serving bowl, drizzle the arugula with a little of the olive oil, squeeze in the lemon juice, and sprinkle with salt and pepper.
2. Toss until well mixed and taste for seasoning. Use a vegetable peeler to shave thin pieces of Parmigiano over the top.
---