Kasey Ragsdale climbed into a hog pen and knelt beside a Berkshire she had taken for a stroll. She gently patted the pig on the head and gave it a tummy rub.
Hey, Kasey. If you're not careful, you're going to spoil that pig.
"I know," she said, as if that was the plan.
At the time, Kasey, 15, was taking care of four pigs housed in a barn near Locust Grove. Her mother, Lori, said the pigs are "getting a little more love than normal."
It's because of what the pigs represent.
The person Kasey wanted to share her future with owned those pigs.
Greyson Knowles, 15, died July 3 from injuries sustained in a June 20 automobile accident.
Greyson would have been a sophomore at Locust Grove High School this semester. A vo-ag student, Greyson enjoyed showing pigs at the fair.
When Greyson's life was cut short, it was decided his pigs should still be shown.
The primary responsibility of taking care of the pigs was assumed by his girlfriend, Kasey, who was already raising three pigs of her own.
Last weekend, as Greyson's family members watched and hoped for the best, Kasey teamed with schoolmate Matthew Breedlove and Greyson's younger brother, Patrick (he wore his bro's boots, even though they were too big) to show Greyson's pigs at the Mayes County Fair in Pryor.
"It's about honoring the memory of a good kid," Kasey's mother said before the fair. "If we win, great. But, if we don't, we can just have that feeling that we know we did the right thing for Greyson because that's what he would have wanted us to do."
Without giving away the ending, know this: Eyes got moist because Greyson's pigs brought out the best in people.
Kasey and Greyson
Greyson's pigs live on his grandparents' property a few miles west of Locust Grove. A few days before the fair, Kasey stopped by to handle after-school caregiver chores and wound up staying until 10:30 p.m.
"I enjoy doing it," she said. "It's like a piece of him is still here with me."
Kasey cherishes other "pieces" of Greyson. Memories. Photos. Texts.
Greyson wasn't much of a texter, according to Kasey. But minutes before the accident that took his life, he sent her a text that read, "I love you."
Replied Kasey: "I know you do. I love you, too."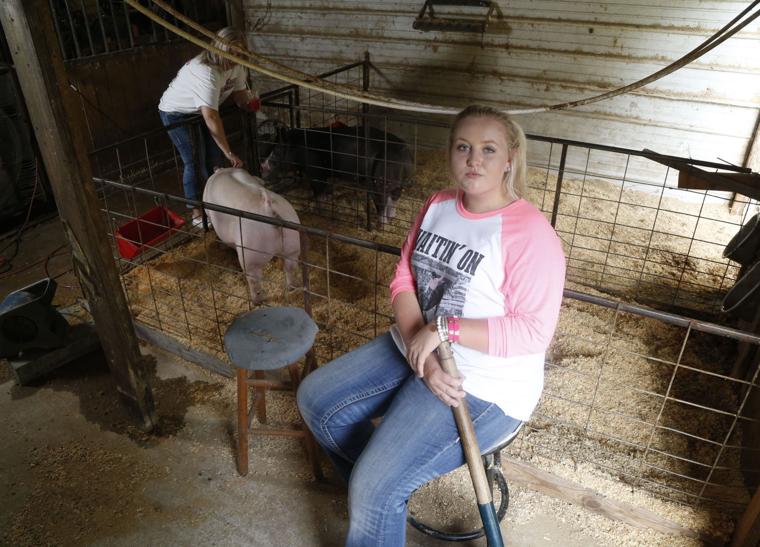 Kasey Ragsdale embraced the responsibility of taking care of pigs that belonged to her late boyfriend, Greyson Knowles. MATT BARNARD/Tulsa World
Loved ones rushed to the hospital when news spread that Greyson and three other youths had been in an accident. Kasey didn't want to leave Greyson's side. She remained at the hospital for the duration of his stay, sleeping in a chair or sharing a couch with Greyson's mother, Michelle.
Kasey and Greyson dated only a few months. That's because Greyson didn't 'fess up that he had a crush on Kasey until they were freshmen. Check their past, and you'll find clues that he "hearted" her for a long time.
Michelle took her kids to a water slide every summer. Greyson could've invited any of his pals. He always asked Kasey.
A tussle with E. coli made Kasey ill when she was 8. Years later, she wondered if Greyson thought enough of her to send a card, so she dug into a stash of cards and discovered that he had sent three.
"I think I had a crush on him, too," Kasey said. "My sister always told me we were going to marry each other."
Kasey said she fell in love with Greyson because of his personality and because of the way he treated people. She said he could do just about anything. He figured out how to weld (which turned out to be bad news for a pickup truck that caught fire). And she was impressed when he bought a few items at a store and transformed them into an automatic watering system for the pigs.
Greyson had an "old soul," according to Kasey's mom. Among Greyson's favorite movies was "Urban Cowboy," released 21 years before he was born. A lover of old-school country music, he attended a Carrie Underwood concert only because Kasey wanted to go — and wound up having a good time. Kasey said Greyson's idea of a good time was visiting Bass Pro Shops in Broken Arrow. Dates sometimes included a trip to Bass Pro.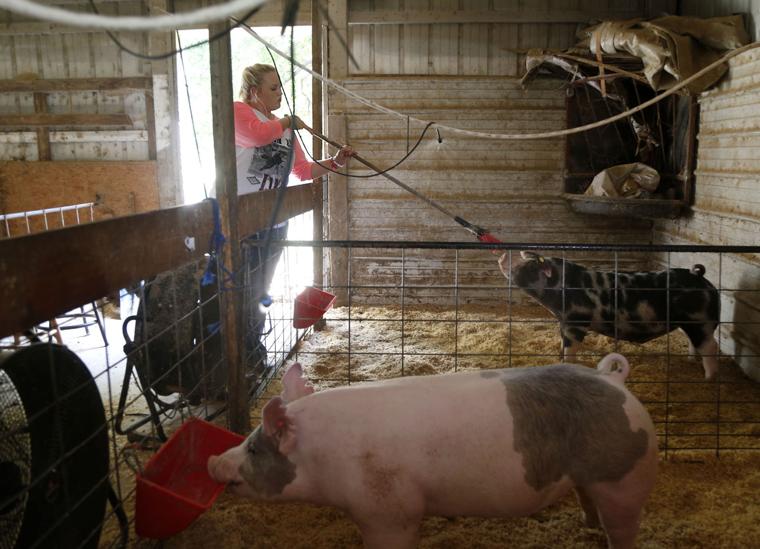 After classes at Locust Grove High School ended Sept. 8, Kasey Ragsdale headed a few miles west to continue prepping pigs for the Mayes County Fair. The pigs belonged to her boyfriend, Greyson Knowles, who died July 3. MATT BARNARD/Tulsa World
Parents don't always approve of the person dating their child, but Kasey's mother said that, in her mind, Greyson was already her son-in-law.
A few weeks before Greyson's accident, Kasey asked this question: "Mom, do kids get married at 19?"
Lori gave the required parent answer ("I want you to go to college") and nothing was said for a few minutes.
But you can't just leave a topic like that hanging in the air. So Lori asked Kasey if she and Greyson were planning on getting married.
If Kasey had mentioned anyone else, Lori would have reacted differently.
"But I would take Greyson in a heartbeat because he's just such a good kid and a hard worker and just because of the way he cared and loved my baby," Lori said, voice cracking.
"It's crazy to say that two kids at 15 can have that kind of love and respect for each other. But this is a friendship that grew probably from the time they were in the third grade."
Kasey, who leans on her faith, is remarkably composed when talking about Greyson. If she's going to grieve, it's more likely to happen when no one else is around. Unfortunately, she has experience when it comes to losing a special man in her life. Her father, Mike, died in 2014. Mike — friends called him "Rags" — was 52.
"When I lost my dad, Greyson and his mom bought all my school supplies," Kasey said. "They just showed up with all my school supplies. It just really touched my heart. He just was so ... good."
Powerful moment
It was easy to locate Greyson's pigs at the fair.
Just look under the poster that read, "In loving memory of Greyson."
The stalls reserved for Greyson's pigs were decorated with the poster, a framed picture of Greyson and 13 other photos.
Kasey wore a headband with Greyson's initials when she showed his pigs Sept. 10. The experience exacted a toll and, afterward, she shared an emotional embrace with her sister, Michaela.
A goal of ag students at the fair is to qualify for the junior premium livestock auction. None of Greyson's pigs were deemed worthy.
That could have been the end of the story, except the Mayes County Fair Board didn't want it to be. The fair board decided in advance that, no matter what, one of Greyson's pigs would get a spot in the auction.
"Mayes County has always come together in bad situations and did what we had to," fair board president Kelly Brown said.
"This was only the right thing. I mean, Greyson, he loved his pigs. That was his life. That's what he did."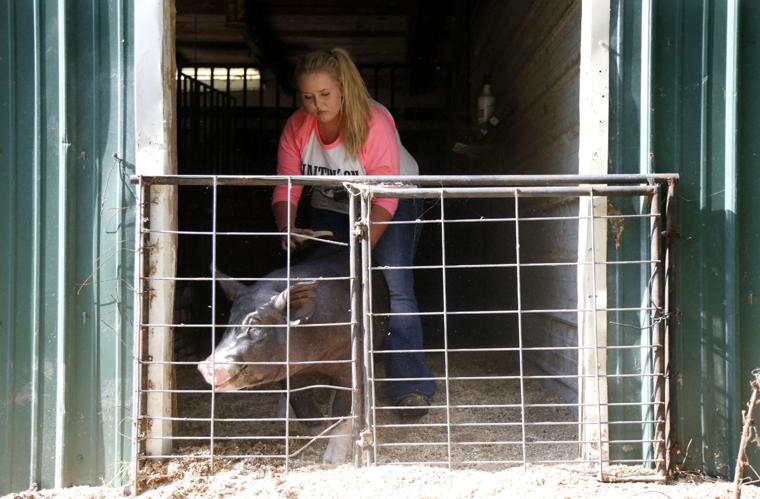 At a barn owned by Greyson Knowles' grandparents, Kasey Ragsdale takes care of a pig once owned by Knowles, who died July 3. Knowles enjoyed showing pigs at the fair. Ragsdale made sure Knowles' pigs got shown at the fair. MATT BARNARD/Tulsa World
On Monday, Kasey and the Berkshire returned to the fairgrounds for the auction. Kasey's mother sat with Greyson's family in the bleachers. When it was the Berkshire's turn, auctioneer Ronn Cunningham made sure everyone knew this pig was Greyson's.
"Sometimes there are things bigger than banners or trophies or ribbons," he said.
"In 40 years, there won't be a handful of people out here who remember who had the grand champion. But I promise you in 40 years there will be kids that will remember Greyson."
Bidding started at $500 and escalated quickly. There were wet eyes all around as bids climbed to $5,000, $6,000, $7,000. Wow. Do people really care this much?
Kasey, usually so poised, fought back tears as she displayed the Berkshire for bidders. She was joined in the ring by Breedlove, Greyson's brother and Greyson's "little buddy" cousin, Cash Kirby.
When a winning bid of $10,000 was announced by Cunningham, enough people rose from their chairs to trigger a standing ovation. The Mayes County Fair is 100 years old. Has there ever been a more powerful moment?
"I was just telling the kids we are so fortunate to live in the community where we live," said Wendell Wolf, who was Greyson's eighth grade and ninth grade vo-ag teacher. "It seems like any time something happens to one of us, people step up and take care of business."
After Greyson died, Sister Sweets, a donut shop and cafe in Locust Grove, raised $17,000 in six hours to aid the family. Chili's in Pryor staged benefit events for Greyson and for the families whose children were involved in the accident.
The $10,000 bid (no other animal at the auction brought more than $3,200) was a "group hug."
Among individuals or businesses contributing were Roberts Auto Center, Dale Williams, ADM Animal Nutrition and ADM dealers. Kasey presented Chouteau's Jim Gilmore, who was part of the group, with a gift basket after bidding concluded, and Gilmore responded by saying he was honored to be a part of what had just occurred.
"It's all about the kids," he said. "I'm blessed to have my grandkids here that I can work with, and they can be gone in the twinkling of an eye. And this is a way for the parents and the grandparents to let Greyson's name go on forever, and we just wanted to be a part of it."
Greyson's name will "go on" because Greyson's mother wants the $10,000 (and add-on funds, which won't be tallied until later) to be used to create a scholarship for an ag student who wants a tech school education. She also wants to start an annual ag award in Greyson's name. She has already been paying it forward. She purchased school supplies and clothing for students at the start of the semester.
"The town did so much for us," she said. "We need to give back."
Greyson's mother thanked the fair board. She thanked Breedlove for helping with the pigs. And, of course, she's thankful for the girl her son loved.
"Kasey is a one-of-a-kind girl," Michelle said. "She has stuck with me and my family through all of this. She is not your typical 15-year-old girl. That's why she and Greyson were perfect together. Both of them were wise beyond their years with good hearts. I probably would have given up on the pigs and just sold them if she hadn't said she would show them."
Mission accomplished, Kasey and the crew sat down to enjoy a post-auction dinner at the fairgrounds. They talked about how the $10,000 bid far exceeded their expectations and how, when something like this happens, it gives you hope.
"I know Greyson's mom had said that we prayed for a miracle for Greyson, but it turns out he was the miracle," Kasey said. "He brought everyone together."
Kasey admits she may have a hard time letting go of the pigs. She got attached to them, and they're kind of sweet.
She may not have to let go of the Berkshire. Michelle Knowles said her sister-in-law wants to keep the Berkshire because of its connection to Greyson. The pig will be a reminder not only of Greyson, but also of how a county fair provided a triumphant experience for folks whose hearts had been broken.