Josh Jacobs' success story reflects well on Oakland, the city where Jacobs currently stars as a Raiders rookie running back.
Make no mistake – Jacobs is a star. He rushed for 554 yards over the Raiders' first six games of this season. Nobody in the history of that proud NFL franchise ever rushed for more yards that soon.
The folks in Tuscaloosa, Alabama, should be proud as well. Jacobs went to college there. He won a national championship with the Crimson Tide. He beat Oklahoma in last year's College Football Playoff, beat the flagship team from his home state.
Jacobs grew up in Tulsa. His journey resonates most of all on our north side, where his father protected him, his teachers and coaches nurtured him and he developed his first inklings of identity as both a football player and a young man.
The 2016 day Jacobs signed with Alabama, he was surrounded by McLain High School teammates, students and administrators, as well as friends and family members from north Tulsa.
"That's just the community I come from," he told the Tulsa World at the ceremony. "Being a young black male in general, we have to strive for better. That alone pushes me. Getting a degree. Furthering my life for everybody. Actually being able to make money so I can come back and give to the community. That's huge, too."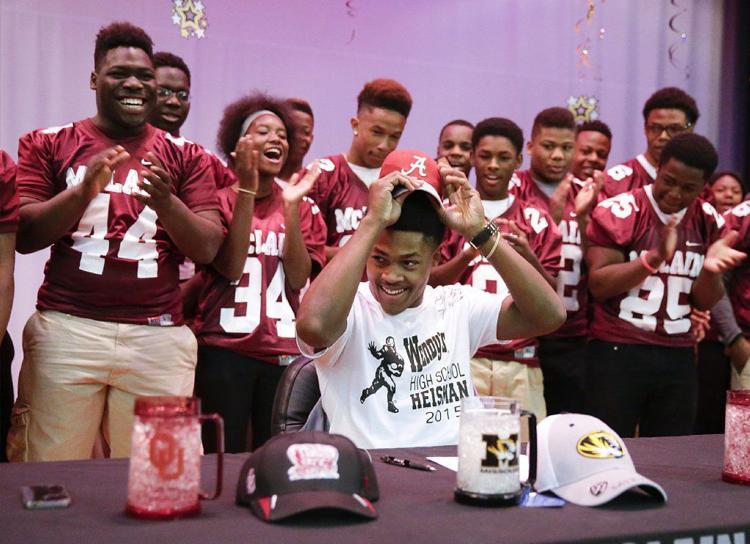 Jacobs returned home during the run-up to the NFL draft last April, right before the Raiders selected him in the first round and signed him to an $11.9 million contract.
"Josh was up here and kids were running up to him. 'Hey, Josh,' this and that," Marty Jacobs, Josh's father, told the World at the time. "They were happy to see him. They looked up to him. He can be that example for them. 'Hey, man, you can come out of here. You can be successful out of here.'
"It's an incredible feeling to see kids start to look at him as their hero."
Jacobs' story makes quite a model.
Josh wrote it himself in The Players Tribune last April 25. He shared a first-person account of divorce dividing his family, of living motel room to motel room with Marty for a period growing up, of the two of them living in a Suburban a couple weeks when times were hardest.
Marty protected Josh. He fed his son, kept him as active as possible playing football as both an outlet for Josh's physical gifts and a diversion from those hard times.
"You know the INFC Bulldogs? That's where Josh started in the third grade," Marty said. "Every team he was on up to sixth grade won championships. Seventh and eighth we won championships with McLain."
Football and family kept everything as regular as possible, until the family stabilized and their situation softened.
"Even when our stomachs were empty, we would spend all night laughing together, as a family," Jacobs wrote in The Players Tribune.
His senior year at McLain High School, Jacobs had his hands on the ball every play. His highlight tape eventually found its way to Alabama.
Now Jacobs finds his way through NFL defenses.
The plan is to find a route back home once his rookie season is complete, to be a shining light like north Tulsa beacons Tyler Lockett and Felix Jones have been recently.
"Use your platform to bless others," Jacobs tweeted last May.
There is a Bible verse pinned to the top of Jacobs' Twitter page. It serves to remind his followers how far he has come, and how big of an inspiration he should be to his city.
It reads: "The Lord is not slow in doing what he promised – the way some people understand slowness. But God is being patient with you. He does not want anyone to be lost, but he wants all people to change their hearts and lives."
15 Tulsans who did incredible things in 2019. Read each Tulsan of the Year story.