---
STILWELL — With no air conditioning on a brutally hot summer afternoon, 19-year-old Breeze Bunch is sitting on the front porch with a half-empty Pepsi and a bottle of sunscreen.
"Why don't you go splash in the water?" Bunch tells her 2-year-old daughter, who waddles off toward an inflatable kiddie pool under a shade tree beside the house.
Sharing a clapboard house with her boyfriend's family, Bunch lives on a dead-end street north of downtown in one of the poorest, most crime-ridden neighborhoods in Oklahoma. This isn't Tulsa or Oklahoma City, or even Muskogee or Lawton. A five-minute walk could put Bunch in the middle of a cow pasture.
"I don't really want her to grow up here," Bunch says, watching her daughter climb into the water. "If it was up to me."
Like a lot of her friends in high school, she dropped out during her junior year when she got pregnant. After her daughter was born, Bunch's boyfriend took them to Arkansas, where he was making $14 to $15 an hour as an electrician and renting an RV for his young family.
The RV had air conditioning. But her boyfriend missed his family, so he quit to come back to Adair County, the poorest rural area in northeast Oklahoma.
Now he's sitting inside watching TV next to his aging grandfather, who pays the rent — $400 a month for no air conditioning and windows that are painted shut — with his veterans disability checks.
"We were having a blast" in Arkansas, Bunch says. "Me, I couldn't care less about coming back. And yeah, I'd get out of here again.
'Way of life'
It might not be what comes to mind when most people think about "poverty," but Stilwell — the Strawberry Capital of Oklahoma with a population just over 4,000 — is statistically more representative of poverty in this state than, say, a Section 8 housing complex in north Tulsa.
After dropping out of high school when she had a baby, 19-year-old Breeze Bunch hopes to earn a GED someday and enroll in nursing school. MIKE SIMONS/Tulsa World
"We're the forgotten poor," says Shelldon Miggletto, the recently resigned city clerk who is now working as a consultant while the town looks for a permanent replacement. "Or maybe we're not forgotten, just ignored."
Ninety minutes east of Tulsa and accessible only by two-lane highways, Stilwell is poorer than most small towns but not really atypical. Simply being rural is itself a significant risk factor for poverty, according to the nonprofit Oklahoma Policy Institute.
Rural areas always tend to be poorer than urban or suburban communities, with 14.2 percent of the rural U.S. population living in poverty compared to 11.6 percent of the urban population, according to Oklahoma Policy's research. And the national average jumps to 16.8 percent poverty in rural counties — like Adair County in eastern Oklahoma — that are not contiguous with an urban area.
Three factors — all readily apparently in Adair County — contribute to rural poverty, according to Oklahoma Policy:
Amenities, or the lack thereof. With "nothing to do" in a small town, young people who can afford to move away often do, depriving their hometown of the very type of resident who could attract investors. In a classic Catch-22, small towns can't attract the kind of amenities that will make young people want to live in them until more young people are living in them.
Geographic isolation. The sheer distance from job opportunities makes it difficult for residents to find work, according to the Oklahoma Policy paper "The Surprising Causes of Rural Poverty." Stilwell, for example, is an hour from the nearest significant cities, Fayetteville and Fort Smith, Arkansas.
Social norms. Teenage parenthood and an ingrained pessimism — "there aren't any jobs, so why even try?" — can keep young people from striving for the kind of education that could end a generational cycle of poverty.
"A cornerstone of combating poverty is education," says Miggletto, who grew up in Stilwell and came back to live here after going to college in Texas. "We have three to four generations of families in which welfare is a way of life. They don't know any better. They don't know how to break out of the cycle. So when I say education, that's what I'm talking about."
'Less than nothing'
One evening in early summer, Jennifer Wilhite's teenage sons were walking home from a friend's apartment, a few blocks from their rental house, when they were approached by four other teenage boys.
One wore a North Carolina-blue shirt and another a blood-red bandana, perhaps a sign that small-town gang-banger wannabes don't discriminate in their choice of colors.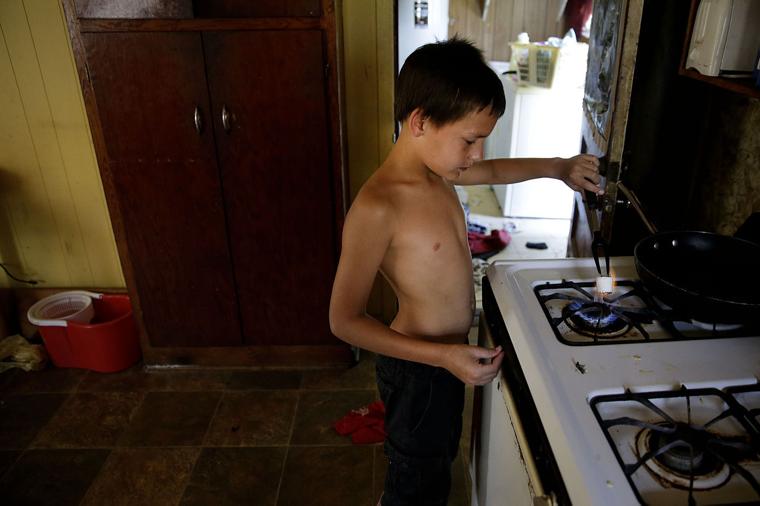 Sheldon Craig, 11, roasts a marshmallow on the stove in his kitchen in Stilwell, where one out of three people lives in poverty. MIKE SIMONS/Tulsa World
One took out a handgun and held it against her younger son's head to demand his phone, Wilhite says.
"It's dangerous walking around here," she says. "You think a small town is safe? Not anymore."
Now in her late 30s, Wilhite grew up in Stilwell but remembers a different kind of neighborhood. Parents kept track of their kids, and neighbors enforced discipline when parents weren't around.
"Now all these kids here think they're Crips, think they're Bloods," she says. "And the cops around here don't do anything."
The police simply don't have funding to put juveniles in custody unless it's for a violent crime, Chief Chad Smith says.
"All we can do is send them home to mommy and daddy," he says. "Then, people blame the police because we're not doing anything."
On a windowsill next to his desk, Smith keeps a collection of empty cans — mostly spray paint or WD-40 — that have been modified with hidden compartments or false bottoms to carry meth and other drugs.
All have been seized during recent raids.
"It's ingenious, really," he says. "If people would apply this much effort and ingenuity to finding legitimate jobs, Stilwell wouldn't have any problems."
Smith moved here from Kansas in the early 1990s to be a paramedic, but he also signed up to be a police reserve officer and soon discovered that was his true passion. He became chief four years ago and also serves as a school board member and volunteer firefighter.
"It's a great community — has great people in it," he says. "Everybody knows everybody. Everybody stops to talk.
"You go to Wal-Mart to buy dog food and the wife calls you an hour later to ask where you are because you stopped to talk to somebody. That's the kind of town Stilwell is."
But it's not the way Wilhite describes the town. She shares three bedrooms with her husband, five children and a 9-month-old grandchild.
"If you have a little money, this is a great little town, I'm sure," she says. "But if you don't got money, you're nothing in this town. You're less than nothing."
'Just the way life is'
Lisa Pruitt grew up in the wooded hills of northwest Arkansas, where it was about an hour's drive across the state line to her grandfather's house in Stilwell. That was, of course, long before she earned a doctorate from the University of London and became a law professor at the University of California-Davis, where rural poverty has become the main focus of her scholarship. But perhaps her experience with Stilwell, and the similar poverty she saw growing up in rural Arkansas, sparked the interest in her.
People have a misconception about rural poverty, she says, that "it is somehow not as debilitating as urban poverty."
"We cling to the notions that small towns will still function as a community where people will rally around each other and help," she says. " 'So maybe you're poor, but at least you're living in this beautiful, pristine countryside and at least your neighbors will take care of you.'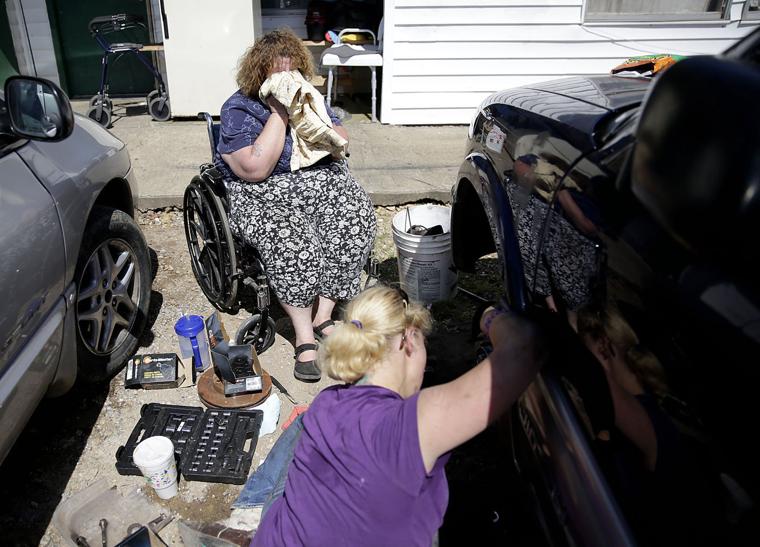 Sharon Thomaston wipes sweat off her face as her daughter, Barbara Williams, replaces an axle on her SUV in Stilwell. MIKE SIMONS/Tulsa World
"It's not like that at all."
If anything, rural poverty might be more debilitating. Sheer distance can deprive people of social services and education opportunities that would be a short bus ride away in a city like Tulsa, Pruitt says.
In other ways, however, poverty is poverty wherever it is found. And the root causes are the same — a lack of education and lack of capital investment, both public and private.
And then there's a touchier, more complicated factor that both rural and urban poverty have in common, Pruitt says.
"The idea of a 'culture of poverty' has been controversial," she says. "But it's making a comeback with sociologists."
People make choices — to become sexually active at a young age, for example, or to drop out of school or to leave one job before finding another — and choices have consequences.
"There's a relative lack of role models," Pruitt says. "So the younger generation doesn't know how to set goals for themselves and how to work toward something better. They don't necessarily believe there is anything better to work toward. 'This is just the way life is.' "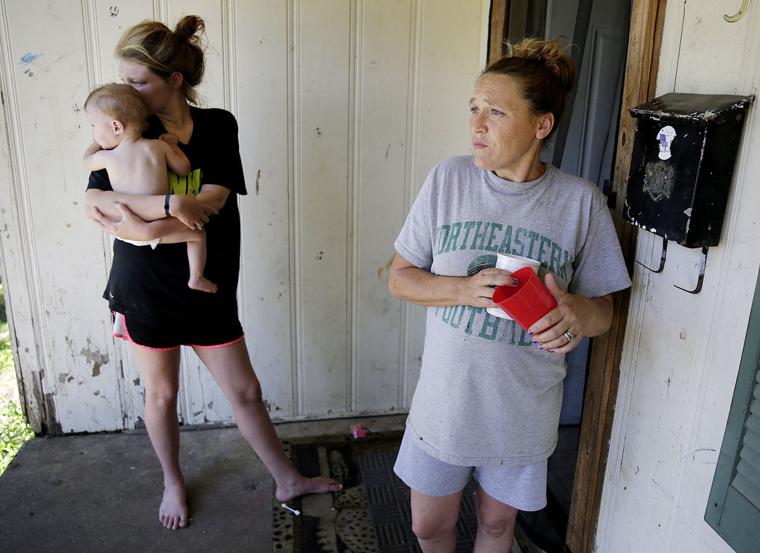 Cassandra Wilhite holds her 9-month-old baby Blazton while her mother, Jennifer Wilhite, explains what life is like in Stilwell. "If you have a little money, this is a great little town, I'm sure," she says. "But if you don't got money, you're nothing in this town. You're less than nothing." MIKE SIMONS/Tulsa World
Changing that, she says, would take a massive shift in both the political and cultural landscape.
"I've been studying these issues for a long time," she says. "And I can't say that it has made me very optimistic."
Back in Stilwell, 2-year-old Brinley Jones is relaxing waist-deep in the kiddie pool while her mother sits in the grass to spoon-feed her some ice cream.
If somebody else could watch Brinley for a while, Bunch might have time to study for the GED. Then she might have time to enroll in nursing school — with a scholarship from the Cherokee Nation, she says, because she is a citizen — and then she could find a good-paying job here in Stilwell.
"That's what I would like to do," she says. "Yep — that's the plan."
But when can she get started? Bunch shrugs her shoulder and gives Brinley another bite.
| | | | |
| --- | --- | --- | --- |
|   | Adair County | Tulsa County | Statewide |
| Poverty rate (34.2 in Stilwell itself): | 27.2% | 14.8% | 16.6% |
| Median household income: | $33,325 | $48,926 | $46,235 |
| Median home value: | $74,700 | $136,100 | $115,000 |
| High school diploma: | 78.5% | 88.6% | 86.7% |
| Bachelor's or higher: | 12.9% | 30.0% | 23.8% |
| Labor force participation (16 years and older): | 53.6 % | 67.0 | 61.3 |
| Retail sales per capita: | $5,535 | $17,032 | $13,174 |
| Population change (last 5 years): | -3.0 | +5.9 | +4.3 |