---
PRYOR — When Karen Cook counts her blessings these days, she's grateful for what she isn't doing right now.
She isn't figuring out which teachers to cut from Lincoln Elementary's faculty. 
She isn't reworking her school's schedule to squeeze five days' worth of student instruction into four. 
"Look around us — Locust Grove and probably Chouteau are going to four-day school weeks. It's devastating what's happened to education in Oklahoma, but we're going to be in good shape," said Cook, a longtime principal. "I'm blessed to be in Pryor." 
It's not benevolence or even good strategy that has saved this small town in Mayes County from the fate most of the state's public schools are suffering.
The global technology giant dedicated its newest data center at the MidAmerica Industrial Park in September 2011, and six months later announced it was expanding at the site.
Since then, Mayes County's total assessed property value has doubled. Pryor Public Schools' portion has nearly tripled.
So rapid have the increases been during the last two years, that the newly reported figures confounded finance officials at the Oklahoma Tax Commission and the Oklahoma State Department of Education. The situation even required the local assessor to update records to a computer program to handle counting dollars and cents into the billions.
That's billions with a "B."
What that means for Pryor Public Schools — the largest recipient of funds coming into local coffers — is that it no longer qualifies for any of Oklahoma's school-funding formula attempts to level the playing field by equalizing funding levels across the state. That means schools with higher local tax revenues receive less money from the state while schools where property values are lowest receive the most state aid.
Pryor is now one of only 35 school districts out of all 516 in the state not receiving any state aid, and as such, it is not currently subject to the effects of plummeting state revenue levels.
"Two years ago, we were cutting like everybody else," said Superintendent Don Raleigh. "I've been superintendent here since 2008 and all I've experienced was cuts, until this year when we went off state aid. I've been in that seat where those other superintendents are right now. I know what they're going through and to not have to do that, I feel guilty to a certain degree."
Golden goose
Because of the extreme security Google maintains to protect Internet user data, information about how much the company has already built and its plan for the Mayes County data center is scarce.
This town of just 10,000 people has been left to quietly observe and compare notes in whispers.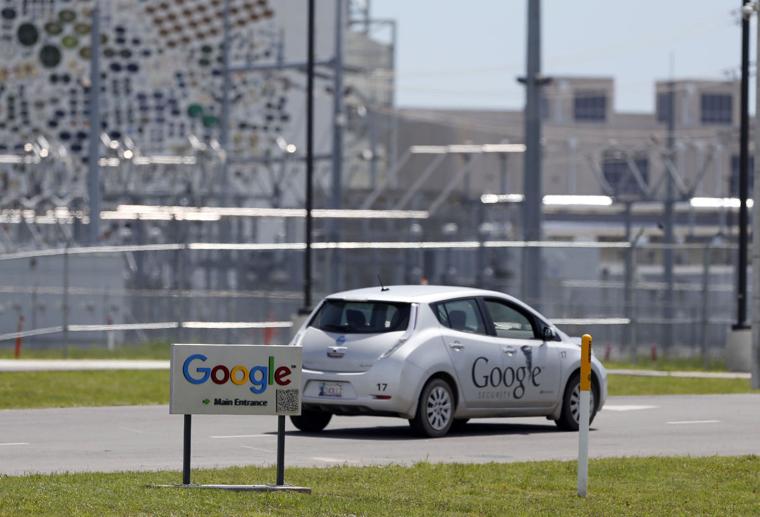 Google's data center at the MidAmerica Industrial Park was dedicated in 2011. STEPHEN PINGRY/Tulsa World
"There were times when there would be 750 to 1,500 electricians out there. You couldn't find a hotel room or a rent house anywhere around here," Raleigh said. "But if you asked them, all they would say was, 'I'm in construction — I'm on a project south of town. There's almost a little bit of a mystery around it."
That hush-hush nature of Google's build-up combined with the unassuming nature of people in this small, rural area 45 miles northeast of Tulsa have led to some real surprises for leaders of county government and the school district.
They've only begun to grapple with the implications of their new-found situation and frankly, they are anxious about how to proceed.
"They've called from the Tax Commission to say, 'Could you repeat that number?' We have had normal increases, and increases from other new buildings and improvements, but nothing like Google. They're numbers that are really hard to wrap your head around," said Mayes County Assessor Lisa Melchior. "You don't want to put all of your eggs in one basket, and we have a Google basket here. It's kind of scary to think something could happen and it could all go away."
To generate local property taxes, each county assesses a percentage of the market value, or true value, of each property in the county. Under state law, counties can use assessment ratios between 10 to 13 percent. In Mayes County, it's 11.2 percent.
For perspective, the total assessed property value inside the boundaries of Pryor Public Schools was $88 million when Raleigh was hired eight years ago. Today, it stands at $325.6 million. That total value is expected to grow significantly for at least the next couple of years because Google has recently completed some more projects.
"When my valuation jumped from $144 (million) to $209 (million), I called my county assessor and said 'Whoa, is this right?'" Raleigh said. "This year, the state called me and asked if I knew our valuation was $325 (million) and asked if it was right, because it put us off the state aid formula. They asked if we had a wind farm come in.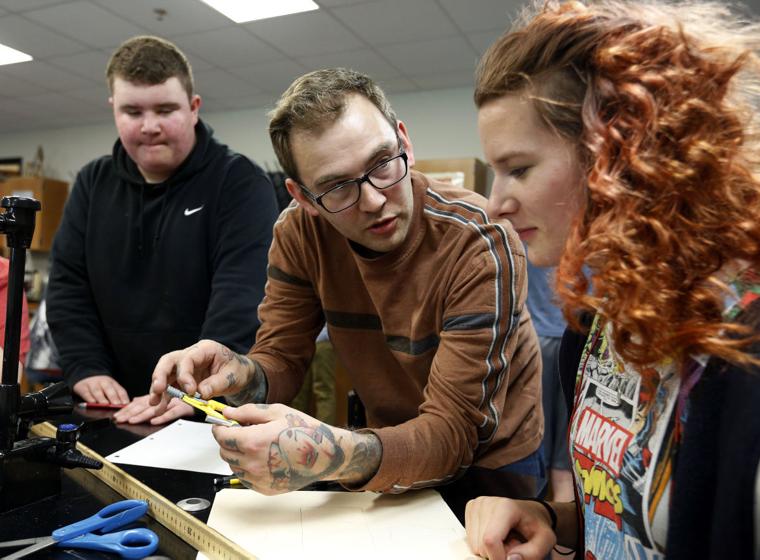 Google mentor Todd Bolt works with (left) Bryce Wilmeth and Audre Hohertz-Serpan on a rocket ship in chemistry class at Pryor High School in Pryor, OK, April 5, 2016. STEPHEN PINGRY/Tulsa World
"Our valuation is now higher than Enid, Bartlesville, and Muskogee — much larger 6A districts."
Raleigh's predecessor, Larry Burdick, was Pryor superintendent for 40 years. In the late 1960s, he wrote a doctoral dissertation that served as the basis for Oklahoma's school funding formula.
Burdick just laughed when he was asked to contrast the Pryor of today with the Pryor of yesteryear.
When he finally gave in, he said his first year as superintendent was the district's first time to crest $1 million in its general fund. The total assessed property value inside the district's boundaries was between $6 million and $7 million.
"When I left, it was just under $89 million and now it's $325 million, Well, $200 to $215 million of that increase since then is Google. That means what's out there is worth between $2 billion and $2.5 billion," Burdick said.
Then he quickly added, "I don't know if they would want me saying that in the paper because they are secretive. It's like the goose that laid the golden egg. It's really been a boon."
Corporate citizenship
Representatives for Google weren't willing to address questions about their plans for the future of the Mayes County data center, but they explained that security is the nature of their business there. And to make up for the closed-door policy, the company sends its philanthropic dollars and employee volunteers into the community.
Google has provided $786,000 in charitable giving to schools and nonprofits in Oklahoma since 2010, according to a public relations consultant for the company. That includes science and technology education, renewable energy innovation and Internet access.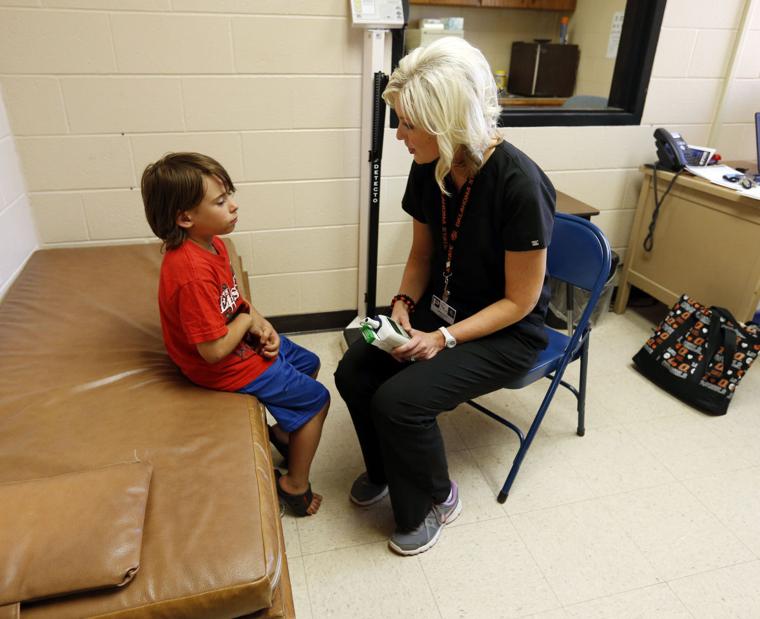 Pryor school nurse Jenny Lane looks after Gavin Miller, who is not feeling well, at Lincoln elementary school in Pryor, OK, April 5, 2016. STEPHEN PINGRY/Tulsa World
"Because we protect people's data at our secure facility in Pryor, our neighbors aren't able to come visit our campus," Google Oklahoma Operations Manager Mike Wooten said. "That's why we are so present and engaged outside our facility in the community. Pryor is our home, and we naturally want to see it flourish, especially our fantastic school system."
Everyone from Superintendent Raleigh down to the classroom teachers and students say they have benefited from the company's outreach.
"Their people have been invested in us," Raleigh said. "Google currently has 17 mentors coming into our district, helping with robotics teams and in classrooms, and they've even helped our technology crew clean computers. We recently had two Google experts visiting with our architects, who are going to help us build a new computer lab in our high school. We just wanted to pick their brains. Google also does community service projects throughout the area, both in Pryor and Chouteau."
On a recent afternoon, Google employees Todd Bolt, 30, and Quincy Normandin, 26, were assisting students with a rocket experiment in Pam Devers' physics classroom. The two are ex-submariners from the U.S. Navy who were recruited by Google from different locations to come to Pryor.
Their science backgrounds are apparent in their numerous contributions and regular appearances in Devers' class. Once, they took a donated underwater fish-finder, repaired it and helped the teacher develop a lab experiment involving plastic bottle submarines.
"The kids love to ask them questions about how to get a job at Google, interviewing skills, the military — they just bring a real-life factor to what and why the kids are learning what they're learning here," Devers said.
Normandin, from Virginia, said he and his Google colleagues often encounter questions from a curious community. He hopes he and other Google employees can bridge the understanding gap over time, just by being present and of service in the Pryor area.
"We have received an awesome community reception," Normandin said "We get a lot of questions, but I think that stand-off is really because a lot of people don't know what it doesn't take to make the Internet work. What do I do? Keep the lights on and keep buildings cool."
Bolt, an Indiana native who works at Google as a facilities technician tending to cooling equipment and electronics, said he hopes he can serve as a good example to Devers' students.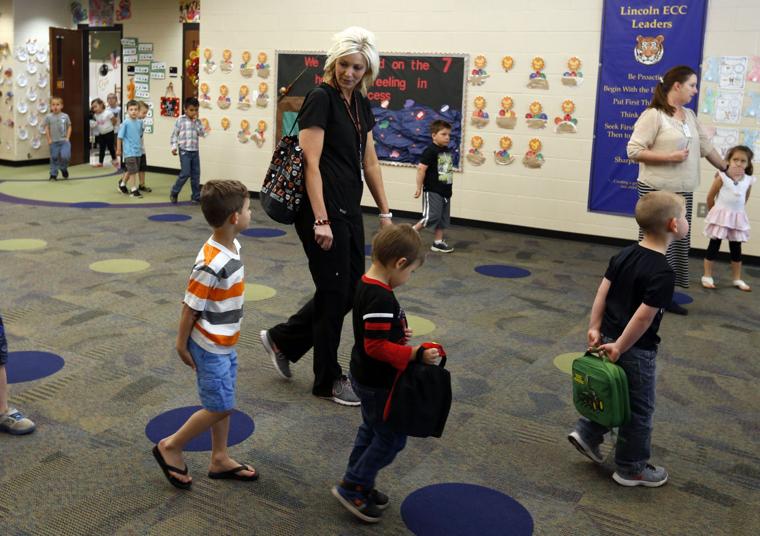 Pryor nurse Jenny Lane talks with ECDC students as they head to class in Pryor, OK, April 5, 2016. STEPHEN PINGRY/Tulsa World
"I like showing people the ropes, tips and tricks. I like showing them that it's OK to be excited about what you do and about learning," he said.
Sophomore student Trent Siever said Google has altered the way he thinks about his hometown and his future.
"We're a technological community now, known for STEM job opportunities," he said, adding that he would "definitely" consider staying and working at Google if he has the chance.
Drew Miller, also a sophomore, said he remembers life in Pryor before Google.
"The guy who helps in my video class went to West Point and now works at Google," Miller said. "A big, global company wanted to come to small-town Pryor, Oklahoma, U.S.A. It's pretty cool."
Doing what others can't
The luxury of Pryor Public Schools' situation isn't true luxury, just yet.
It's financial stability at a time when many Oklahoma public schools are reducing their teaching ranks and slashing everything from student support services, instruction time, bus transportation and athletics and arts programs because of the state funding reductions.
As other districts have dipped into their cash reserves, Pryor has been able to maintain its healthy fund balance. These funds that roll over from one fiscal year to the next are critical for paying bills before new revenue payments arrive and also can be used in emergencies.
Receiving no state aid essentially removes the state's limitations on recipient schools to build up cash reserves over time. That means if Google's growth continues, Pryor has the potential to both save and spend more.
Superintendent Raleigh said that prospect has school officials and board members beginning to dream of what could be.
"We're just now figuring out what this looks like. With no restrictions, we would have the ability to do things other districts can't," Raleigh said. "Our hope is to expand opportunities for kids and be creative in how we do that. We feel a sense of responsibility in this to demonstrate that if you fund a district properly, we're going to be able to move the dial for kids and show everyone in Oklahoma City what's possible."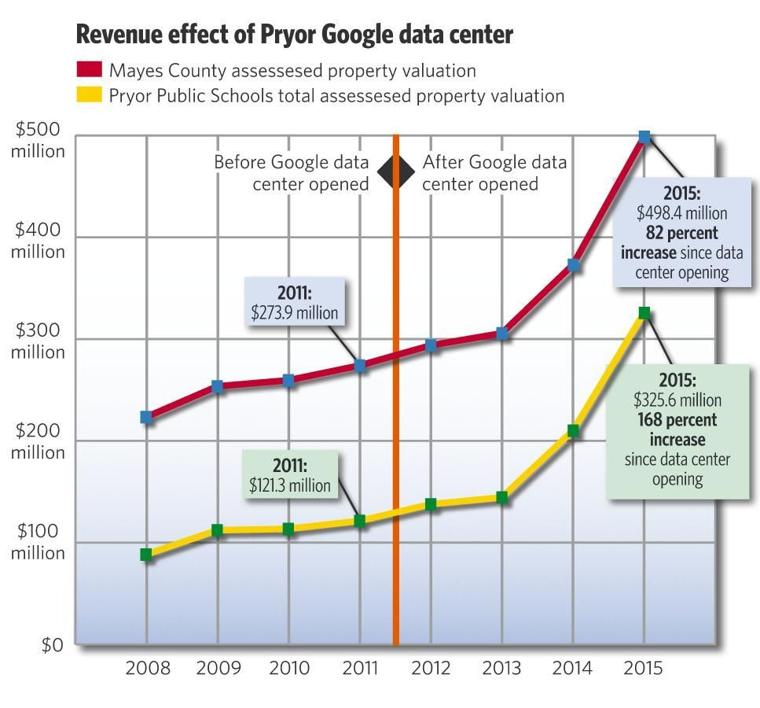 To illustrate how careful Pryor school leaders are being, look at their recent track record.
With the extra money the district has seen so far, it first gave certified educators a $1,500 raise and non-certified staff a 4-percent bump in an effort to retain valued employees. Funds were also used to replace the district's 40-year-old mowing tractor and to add two new positions to enhance support services for students.
"We're not going to do anything crazy. We're going to do things we hope really impact kids," Raleigh said, adding, "We still have huge challenges. We have a huge meth problem in Mayes County. We had a second grade classroom last year with 9 out of 19 kids who had parents in jail."
Katie Greuel, the district's new reading specialist, and Jenny Line, the new school nurse, represent school district leaders' intentions of using additional funds to make strategic investments in direct services for students.
Gruel divides her time working with students in kindergarten through third grade at two elementary schools. On a recent day, she could be found in the library at Lincoln Elementary working with four little girls on comprehension and fluency using a book about outdoor adventures.
"Katie has picked up some of those kids who need the extra help, but wouldn't have been in the reading program if we didn't have a second person," said Lincoln Principal Karen Cook.
Line, who was just hired in the fall, started her morning at Pryor High School, where Ryan Conner, a junior with type 1 diabetes, had just consulted her for a quick blood sugar check.
"I definitely get to see the nurse more now that there are two of them," said Conner, 17.
Next, arriving for some student check-ins at Lincoln Elementary, Line explained that the district's other nurse previously worked solo, attending to emergency and routine needs for all of Pryor's 2,700 students.
Now, Line and her nursing colleague split the considerable duties. On top of developing school health-care plans for every child with diabetes, asthma, seizure disorder, severe allergies or heart condition, the duo conducts required compliance checks of student immunization records plus CPR and other medical training for school staffers.
"Now that I've been here almost a year, I can't imagine not having some help. Every day is different and a lot of unexpected things happen," Line said. "I've lived in Pryor all my life. I think Google has brought a lot of opportunity for our school system."
Principal Cook said the district has always enjoyed strong support from its community, and she attributes that to consistency, both from the district's low teacher turnover rate and making character education a priority in every school. Both of those endeavors require significant investments, she noted.
But she's not sure the community appreciates how well the school district is faring by comparison to other Oklahoma school districts.
"The Pryor community backs its schools. We have a foundation for teacher grants and good parent involvement," Cook said. "Because of that, I'm not sure if they realize just how good Pryor has it right now. But I think it will become more and more realistic the more they see the cuts all around us on the news."
---
Google offering free training for educators, small biz and non-profits
Who: Small business owners, non-profit organization leaders and educators.
When: 12:30 p.m. to 5:10 p.m. July 12
Where: Tulsa Technology Center - Owasso Campus, 10800 N 140th East Ave.
About: Free, half-day conference where attendees will gain first-hand knowledge from Google experts on how to effectively use the full range of Google tools, including Google Apps, Google Drive and Gmail, plus so much more. Google experts will be on-hand to present, demonstrate and answer questions. Small business owners will learn how to use Google's tools to help their businesses prosper; educators, representing all grade levels, will discover ways to effectively use technology in the classroom, including how to incorporate YouTube into the curriculum; and nonprofit leaders will explore how Google Apps can help them reach supporters in new, innovative ways and learn about the Google grants available to support their missions.