After jet-setting from Tulsa to New York City on countless weekends in recent months to film episodes of A&E's newest law enforcement show, Sgt. Sean "Sticks" Larkin will soon offer his expertise and charm to viewers across the country.
Larkin, 44, a Gang Unit sergeant for the Tulsa Police Department, is the host of "PD Cam," which will showcase police work through the lens of body cameras, dashboard cameras and helicopters, among other unique vantage points. The show airs on A&E at 9 p.m. CDT Thursday. (Cox channel 28, Dish channel 118, DirectTV channel 265, U-verse channel 132)
"I think you're going to have people sitting on the edge of their seat," Larkin said of the show. "There's going to be some (segments) that you just go, 'Holy cow,' with some of the stuff officers face out there. … Then there are (segments) that are just funny deals that are very light-hearted, so it's a good balance."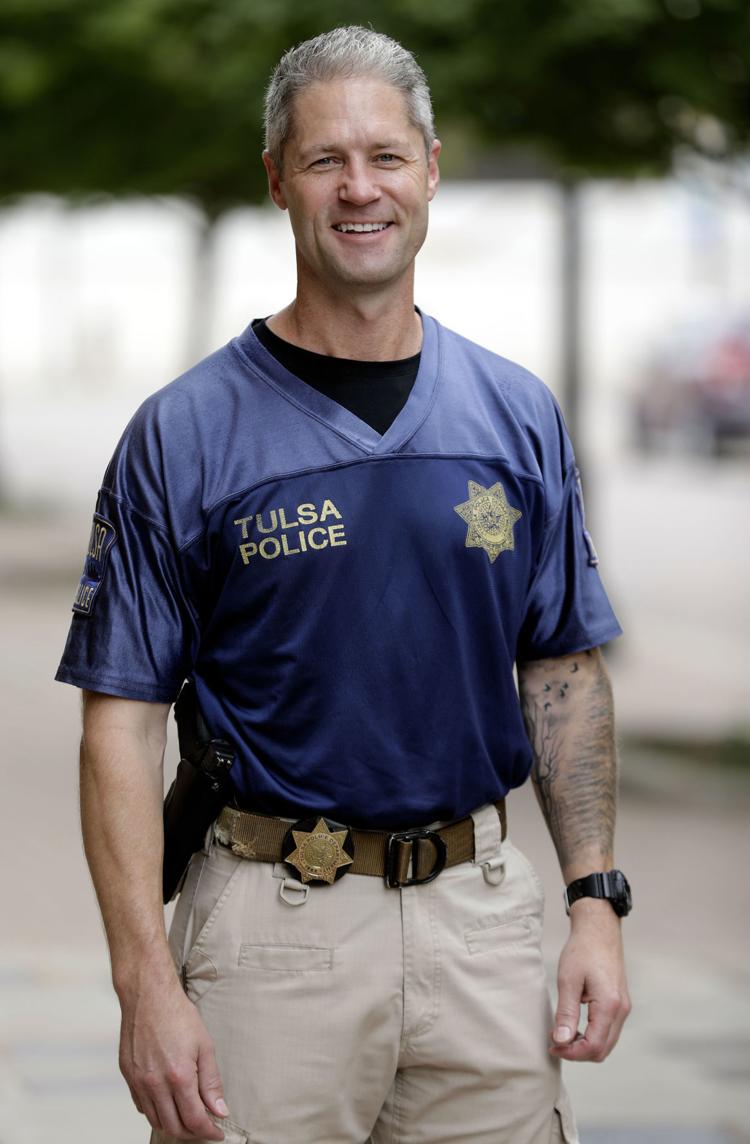 Each of the six episodes scheduled so far will feature Larkin in studio. Throughout each episode, short segments featuring all manner of police work will be shown as Larkin offers voice-over commentary, context and analysis. He described his role as "pointing some things out that maybe the general public doesn't notice or wouldn't pay attention to."
The show, in which the Tulsa Police Department is not involved, will feature departments large and small, from every corner of the U.S. Larkin said the show provides a full picture of law enforcement in the country.
"The goal is to show policing across America," he said. " … you see small agencies, large agencies, you see urban (departments), you see sheriff's departments and municipalities, highway patrol … ," he said. "Here's an unbiased look, an unfiltered look at law enforcement across the country."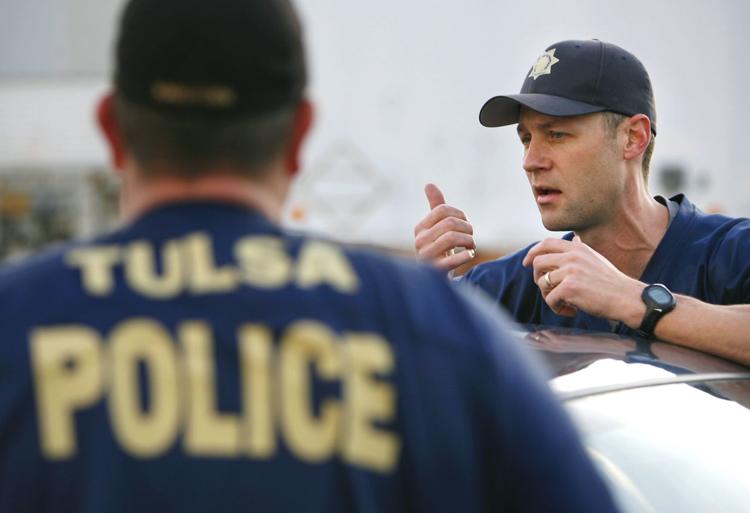 Larkin is no stranger to the small screen. Since the fall of 2016, Larkin has been a regular on "Live PD," another A&E show. The Tulsa Police Department was involved with "Live PD" until the city decided not to renew its contract in spring of 2017.
He offered a few details about what fans can expect of "PD Cam." In the first episode, for example, viewers will see camera footage from an officer who was shot on duty about two years ago. Near the end of the episode, Larkin interviews the officer in a one-on-one segment that he said made his mother, as well as producers of the show, cry.
"(Shows like "PD Cam" have) been an eye-opener, I think, for a lot of people … on what officers go through on a daily basis," he said. "No matter where they're at, which agency, which department, we all encounter the same type of things."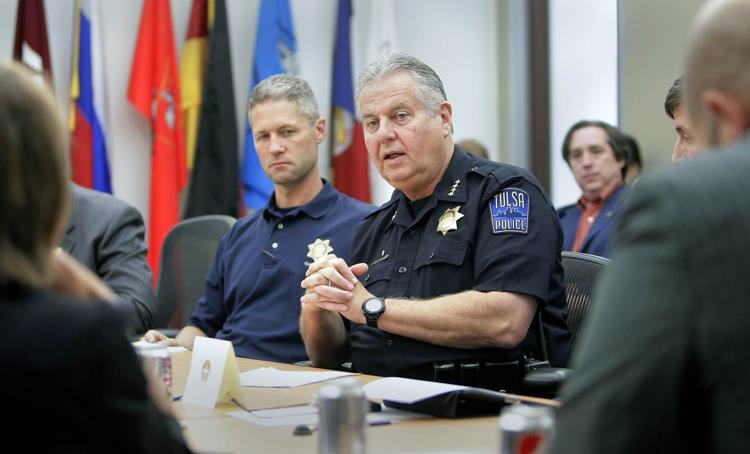 Along with his TV appearances has come fame. Before "Live PD," Larkin said he never bothered with social media. He quickly learned that TV personalities "live or die" on platforms like Twitter and Instagram, so he's leaned into both.
Larkin had 128,000 Twitter followers as of Wednesday. Social media has allowed Larkin to make connections across the country with fans and fellow officers. This fall, an officer based in Greenville, South Carolina, who Larkin befriended is visiting him to attend one of the first University of Oklahoma football games of the season.
The fame has brought a different kind of attention, too. Many replies to Larkin's tweets come from women who seem interested in more than his police expertise. Larkin, who is tall, tattooed and a practitioner of Crossfit, as well as unmarried, said the attention is flattering, though he keeps much of his personal life to himself.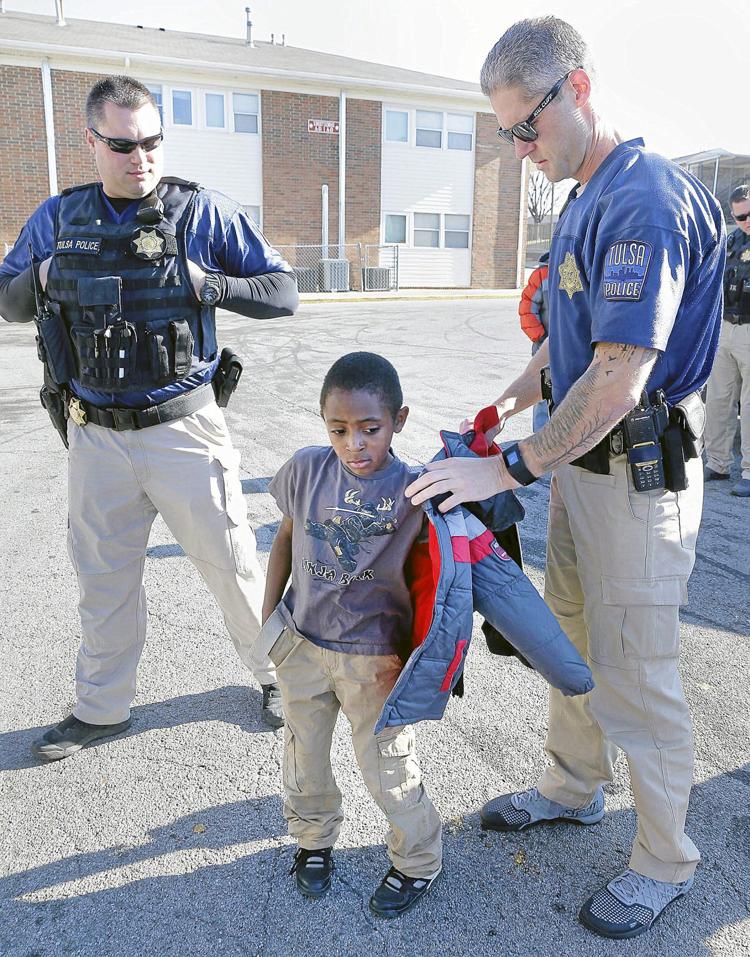 One woman who followed Larkin's Instagram account wrote an internet fantasy essay in which she and Larkin were in a relationship. The essay had 140,000 views, according to the website on which it is hosted.
Larkin said the show's continuation beyond six episodes will depend on its initial success. No matter what happens next though, Larkin said he's pleased with what the A&E shows have done for Tulsa and policing in general.
"I'm having a great time," he said. "I don't know if it's going to be over in two months from now, or it's going to go on for five years or 10 years, (but) I am enjoying it. I'm grateful for it."