---
Correction: This story originally misidentified which of the women was expelled from the Delta Delta Delta sorority. The story has been corrected.
---
NORMAN — The Rally To Stop Racism at The University of Oklahoma started off Tuesday as a way for the school to disavow the actions of two former students who appeared last week in a racist Snapchat video that went viral.
But as more and more attendees signed up to speak about their experiences, the assembly also became a referendum on how President James Gallogly obtained his position and how poorly students and some faculty believe his administration has handled the transition of power from retired President David Boren.
"I really don't know what to say, and that's never happened in my career before," Gallogly said to roughly 1,200 demonstrators, several of whom held signs calling for his dismissal. "Not one time in my career have I ever had a moment like this where I really don't know what to say."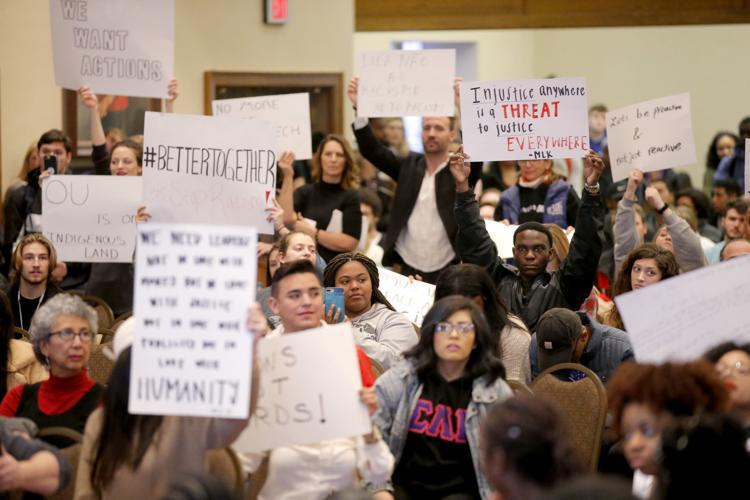 While he called the actions of former students Olivia Urban and Francie Ford "totally unacceptable," Gallogly showed visible anger, hurt and, at some points, defensiveness as he responded to concerns about safety, inclusivity and diversity on campus.
"After years in the corporate world, being 66 years old and knowing better … I came back," he said. "Because I love this place and I love these students at this place. And this is not the OU that I know. This is not the OU that I love."
Ford's and Urban's faces were visible in the video, which featured one woman saying the N-word and wearing blackface while the other laughed. Tri Delta expelled Ford from its organization, and both women withdrew their admission from OU as of this week.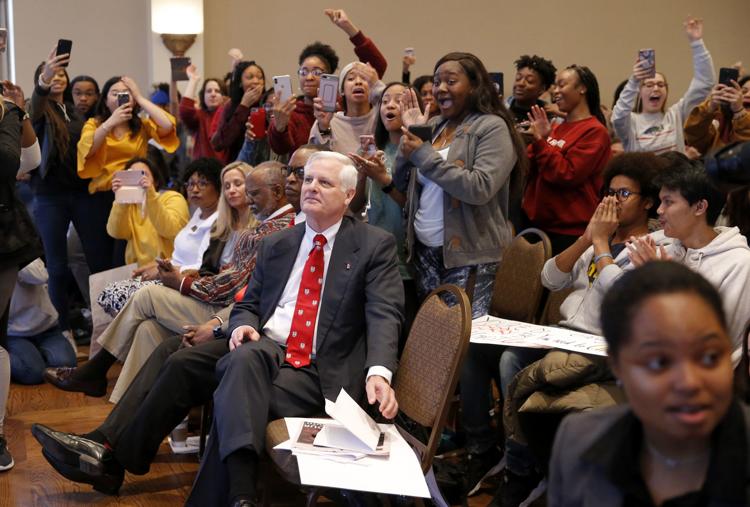 But students who spoke said they wanted more action.
OU professor Suzette Grillot spoke at the student-led event just before Gallogly, whose administration recently dismissed her from her post as Dean of the College of International Studies. She said she was heartened to see a room full of people interested in eradicating racism but challenged Gallogly's commitment to attracting and retaining diverse students, noting the College of International Studies is set for funding cuts.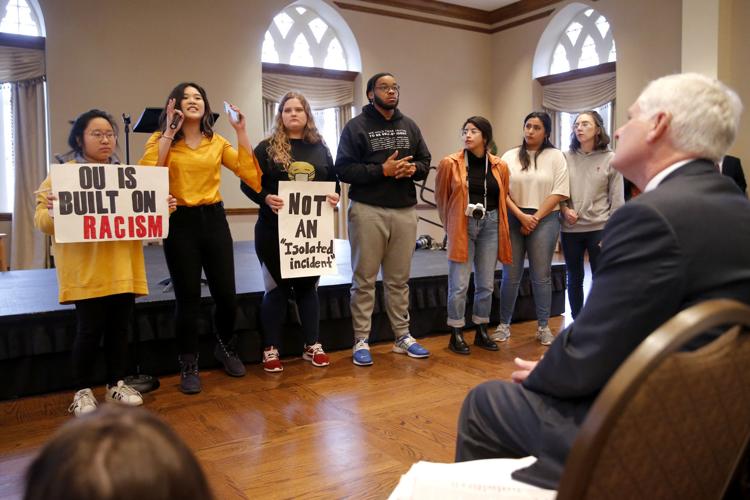 "We're not going to let institutionalized racism, sexism or homophobia or any other exclusionary practice go unchallenged any longer," Grillot, still a tenured professor, said to Gallogly. "Enough is enough. No more racism. No more, no more, no more. And I'm not gonna be as kind as the people that came before me (during the rally) and say 'In a year from now, we're gonna ask for your resignation.' I am gonna f---ing ask for it now."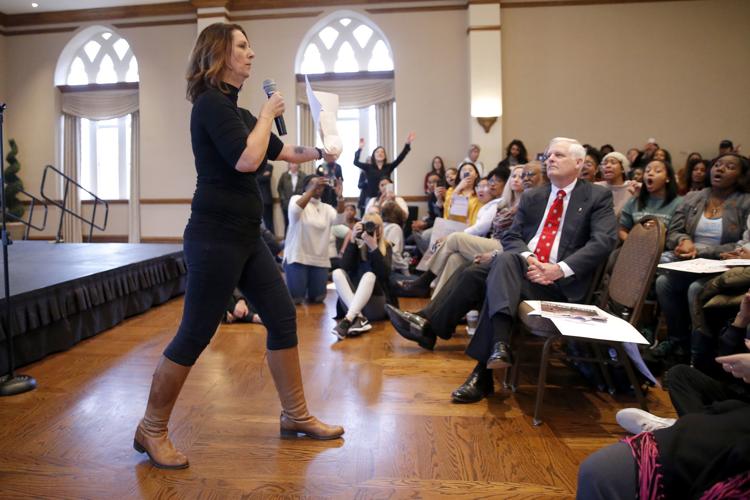 Grillot then handed Gallogly the microphone and a white sign with "Resign Now" written in black letters, eliciting cheers from the audience and a standing ovation.
"I want your help. I do not simply want your criticism. I want your help," Gallogly said in his speech, later adding in an apparent response to requests for his resignation: "I know that my words do not fall well on all of you sitting here today. So many of you do not want me to be successful. So many of you have some hatred in your heart about what I stand for and who I am."
When Gallogly said Grillot sent him an email saying she was "too busy" to present him with ideas to further diversity and inclusion, she could be heard disputing his comments from the back of the room amid protests. Another student in response yelled "Receipts!," a reference to a meme regarding proof and also a word commonly used in African-American Vernacular English.
Still another said "We're here to talk about the blackface incident," which was followed by comments from students about how black, indigenous and Hispanic and Latino students don't feel welcome.
Earlier in the rally, OU junior Eduardo Campbell — one of the event's organizers — said he did not feel safe after a professor made negative comments about homosexuality and told the crowd he was displeased with the lack of transparency surrounding Gallogly's hiring.
"We wanted to be part of the process, but we were not. They didn't open the door, even for the faculty members. No one had a say in what the university would look like. And where are the regents? They're not here," Campbell said, also decrying Grillot's loss of her position because she "fought so much for my existence on this campus" as a Panamanian student.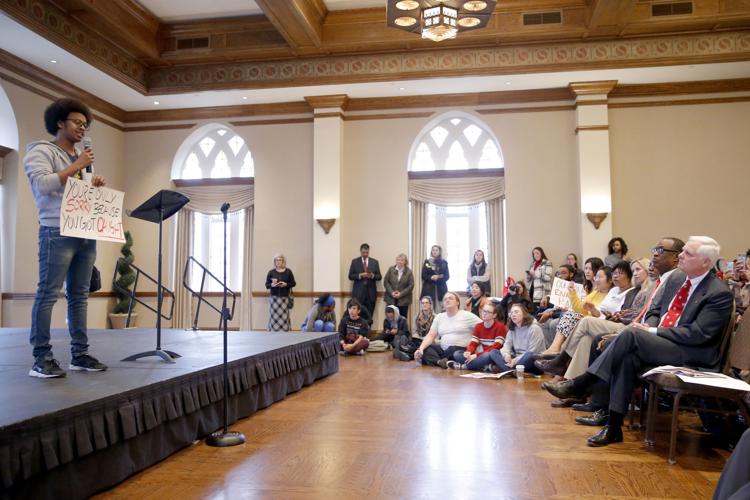 Gallogly later said he thought several of those who addressed him in their speeches did so "in very aggressive ways" but said "I want to be held accountable" when he doesn't deliver.
"In my culture, in the Hawaiian culture, we usually don't make eye contact with people because if you're staring at somebody it means you wanna fight with them," said junior Asher Stephens-Ticman, who also has Wichita tribal ancestry.
"But, in all honesty, President Gallogly, I'm staring at you making eye contact because I'm willing to fight for the things that we are here for today." The two eventually spoke one-on-one after the rally concluded.
"We need to be willing to do things not out of convenience. We need to be willing to take a step beyond what's comfortable for us and do something about that so we can change it and see the things we want to see," Stephens-Ticman said.
Black Student Association President Taylor Wilson called Tuesday's gathering "a well-needed release" of frustrations shared by students of color, whom she said haven't been able to have meaningful dialogue with leadership since Gallogly became president. She said she plans to suggest monthly town hall meetings to keep an open dialogue about race relations at OU.
"Of course we're still in recovery and this is just going to continue the healing for the university," she said. "But I believe that Jim (Gallogly) is sincere and I believe he will work with us and that he will allow us to hold him accountable.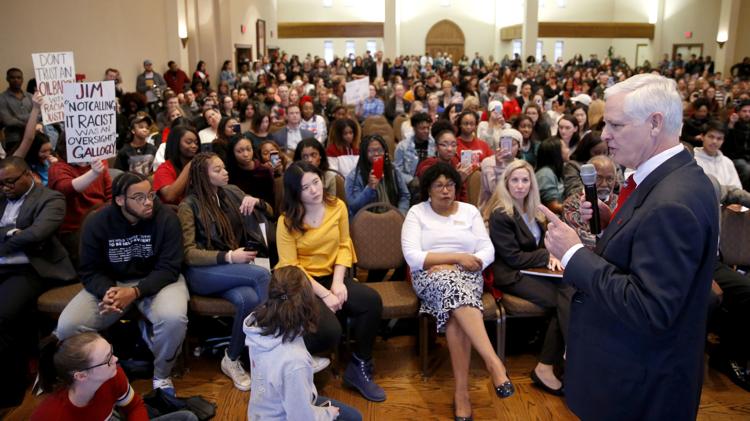 "These incidents, the video and then the SAE video four years ago, they've become so much greater than the university. They've come to represent the university and that is not acceptable. And I feel Jim understands that."
Grillot, in her comments, said racism has "been baked into the layer cake of university administration for generations." She also said she was angry at Gallogly's response to her advocacy for the university's outreach efforts in Brazil and Mexico.
Gallogly told the Tulsa World OU loses about $500,000 a year to keep an international studies campus in Rio de Janeiro open for serving only slightly more than 100 students, which was why the school eyed the office for cuts.
"If I have to explain why we need a diverse student body to a president of a public institution of higher education, then I think we all know what kind of leader we have and what kind of trouble we're in," Grillot said. In a later comment, she told the crowd: "Racism is a part of the university … and it goes unchallenged until a crisis arises and public relations become a priority. We all know what's going on here. We're not blind."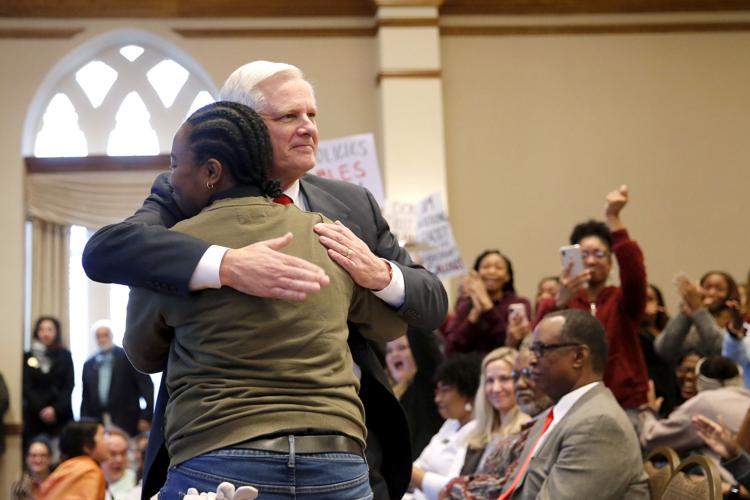 Gallogly, though, said the discussions he heard from students represented "a new beginning."
"This is a defining moment at our university," he told the audience. "And will we do this as one, or will we be fractured? And will we fight among ourselves and make no progress?"
Gallogly told the World after the rally that he's already assigned a law professor to evaluate the school's student conduct code, which was a request of student groups.
"Recognizing there are First Amendment rights to speech, that this occurred off-campus and not related to the university in any way, there's parameters," he said, referencing the racist content in the Snapchat video. "What we're going to look at is 'What are the depths of the parameters in (the) student code?'"