Former McLain High School star Josh Jacobs will celebrate one of the greatest nights of his young life Thursday night when his name was called during the 2019 NFL draft.
Jacobs has a great story to tell — from lightly recruited high school star, to an emotional signing day and a surprise scholarship offer from Alabama, to a college career that saw him become a national champion and a first-round draft pick, going 24th to the Oakland Raiders.
Our Guerin Emig revisited part of his story this week, looking into the relationship between Jacobs and his dad Marty and the days they spent living in a car on the north side of Tulsa.
Jacobs chronicled his own rise in a Player's Tribune story released Thursday, titled "People Say I Run Angry."
Jacobs opens the story with the harrowing description of running from gunshots while walking through his neighborhood many years ago.
But there was another part of his story that also caught our attention:
Football wasn't an escape. I didn't play to take out my frustrations, or to cope, or to keep off the streets.

I played because I loved it.

By my junior year in high school, I knew I had potential. I thought I could be pretty good.

By my senior year, I knew I could be special.

My stats were so ridiculous that when my coach sent them in to the local newspaper each week, they wouldn't even print them. They didn't believe them. They thought my coach was padding my stats to make me look good. I sat back and watched as other kids with less impressive stats got their names in the paper and won all kinds of weekly awards.

I was getting nothing.

So my coach called up one of the reporters from the newspaper and told him to come down to McLain High School and watch me play in person. To come see for himself.

This was about halfway through my senior year. I was averaging around 300 rushing yards per game, but I still had no scholarship offers. I had zero stars on the recruiting websites.

I didn't just want to show that reporter what he had been missing. I wanted to show everybody.

I scored the first touchdown of the game on a 65-yard run. By the end of the night, I had run for 455 yards and six touchdowns. And I did it all on just 22 carries.

It was the best game of my high school career.
We're disappointed Josh remembers his senior year that way.
Barry Lewis coordinates the World's high school coverage and is the gold standard of prep writers in the state of Oklahoma.
Josh first hit Barry's radar in the summer of 2014, right before Jacobs' junior year at McLain High School.
And by Week 3 of his junior year, Jacobs had climbed into our All-World Rankings, the World's list of the 10 best high school football players in the Tulsa area, which encompasses 70-plus high schools. Jacobs was ranked 10th after rushing for 797 yards and 12 touchdowns to open the season.
Jacobs started his senior season as the 10th-best running back in the Tulsa area according to Barry's preseason rankings. And Tulsa World readers voted Josh the fifth-favorite running back in the area that summer.
Has come back bigger, faster and strong after injuries plagued him in the second half of last season. During the past two seasons, he has 2,273 yards and 25 TDs.
Under the headline, "McLain's Jacobs a one-man show in rout of Vinita," our reporter wrote:
Joshua Jacobs raced past Vinita's defensive line, and as he approached the sidelines, he hurdled a defender.

McLain's elusive quarterback broke so many tackles and scored on so many spectacular runs on Friday night that jumping over a would-be tackler looked almost routine.

Jacobs was a one-man show for the Titans, rushing for 271 yards on 17 carries and accounting for five touchdowns, as McLain celebrated a 47-20 homecoming win over Vinita at Melvin Driver Stadium.
By the start of the playoffs, while Division I recruiters were still yet to knock down Jacobs' door, his incredible senior season and his pursuit of a scholarship were the focus of our postseason preview.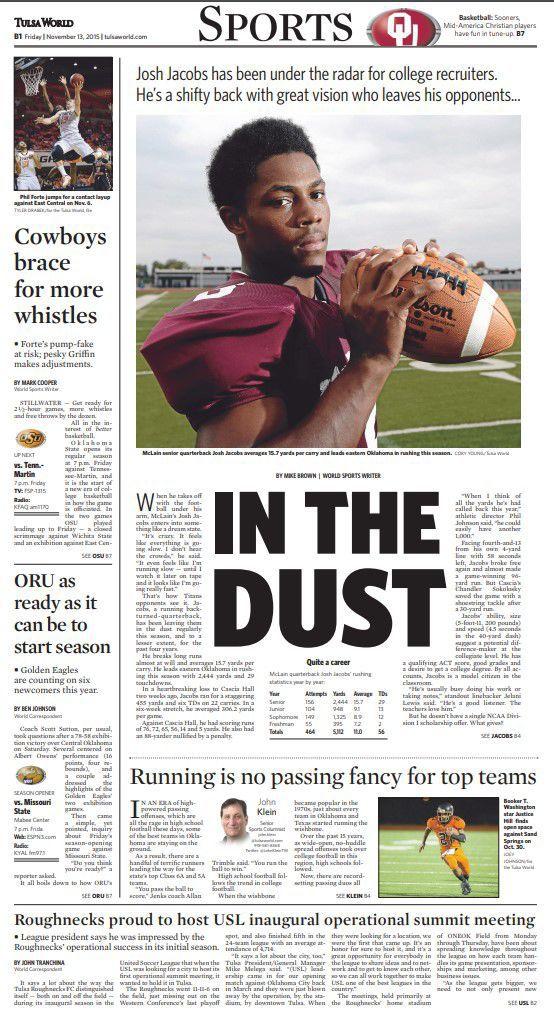 After being named to the World's all-state football team as a defensive back, we continued to track Josh's recruitment  and were there on signing day when all his hard work culminated with a scholarship to Alabama.
We will be writing about him again this weekend, as he embarks on his NFL career.
World reporters have talked to Josh and his family numerous times and have had nothing but good experiences.
We look forward to writing about and interacting with Josh for years to come in what we hope will be a long and successful NFL career.