Bryce Thompson is one of the most-recruited athletes from the Tulsa area in recent history.
The Booker T. Washington senior announced four finalists on Sunday and plans to sign with his future school on Nov. 13, the opening day of the eary signing period.
Thompson explained to the Tulsa World how he pared his schools to four.
It's been a blessing to go through the recruiting process and be able to do it with my family. I've just been able to enjoy all the visits and all of the calls and texts. It's been a good process. I've been able to speak to some legendary coaches and I definitely don't take that for granted. It's been a great process.
I'm looking for a place where I can develop and get better. I want a place where I can win and build long-lasting relationships.
It's been tough to get it down to four. Over the recruiting process, you build a lot of great relationships. In the end, It is hard to say no to somebody after talking to them for all of these years. You have to look at the pros and cons and look toward your future because this is a big decision. It's a decision that can alter your life. It's big. It's great that I can have my family here to help guide me and help me make the right decision.
Texas was one of the top schools that didn't make my list of finalists. It was one of my favorite visits. I have a great time with the players. Coach (Shaka) Smart and the way he ran practice was great. Coach (Jai) Lucas is a great assistant. They did a good job of embracing me and making sure I felt at home.
With Michigan State, I have a connection with Coach (Doug) Wojcik, who was a previous head coach at Tulsa. He had a great relationship with my dad. Michigan State is another storied program with a history of winning. They produce good players and good pros. I had a great visit. Coach (Tom) Izzo is a great guy, a great coach and a great recruiter. He did a great job.
Arkansas has a great history. I've had a relationship with Coach Chris Crutchfield from 10-12 years. He recruited me hard to Oklahoma and now he's at Arkansas. Coach Eric Musellman really did a great job. He has experience coaching in the NBA and, of course, Lee Mayberry is like an uncle to me. He went to school there and recruited me hard also. 
My four finalists are Oklahoma, Oklahoma State, Kansas and North Carolina.
Oklahoma State has been there since day one. They've approached me and made sure that I'm a priority to them. Coach (Mike) Boynton is a great coach. He texts me almost every day and gives me stats about OSU and why I should go there. He's a great coach and I had a great visit up there with the guys. I know two of the players that I used to play with are up there, Keylan and Kalib Boone, who played at Memorial High School. That's obviously a plus. It's close to home, too. You can't beat it.
Oklahoma sits pretty high. It's a great school. Trae Young was able to do a lot of great things there two years ago. He's someone that I look up to. When I was on my visit, I had a good time with De'Vion Harmon and some of the guards there. They would be my teammates if I were to go to OU. Coach (Lon) Kruger is a great guy. He's so real. He keeps it 100 for you. I respect that. That's big-time, to have the whole Oklahoma City Thunder at the football game during my recruiting visit. It feels like an Oklahoma family there with everyone pitching in to watch an Oklahoma football game. On the Jumbotron, they had a little clip on how the best players stay home. That was pretty good.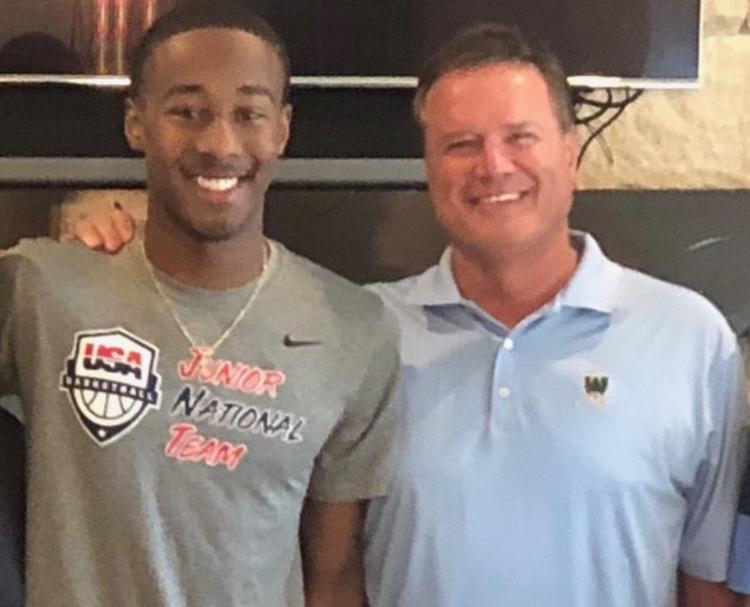 Kansas is a great school. I had a great visit with a lot of players. Coach (Bill) Self is a great guy. Coach Norm (Roberts) and all of the other assistants have done a great job recruiting me and making sure that I know that it is a home away from home. My dad and Coach Self have a great relationship, as well as Coach Norm. They were here at the University of Tulsa, so that was obviously a big plus. They've also been there for a long time. It's a great school with great tradition.
North Carolina has made a big impression. Coach Roy Williams and Steve Robinson made a great pitch to me. They said I was the first recruit to take an official visit there. It means a lot to have coaches repeatedly calling you from North Carolina. It's not something that happens every day. It's not something that I take for granted. Cole Anthony was a great host down there. We built a good relationship and we had a good time.
My parents, my family and a couple of friends will give me information and then I will sit down and make my decision. Being around me, they have the best interest in me and will make sure I make the right decision.
My parents have sat down and talked about the pros and cons for each school. With their help, I'll make my final decision in the coming weeks.