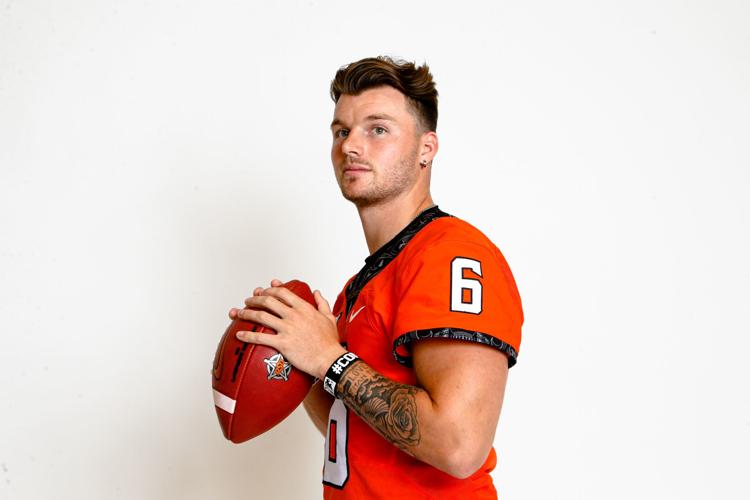 Quarterback Dru Brown realized in middle school he had a future playing football, but his road to a Power Five conference school wasn't conventional.
Brown played quarterback at Los Gatos High School in California and had to wait his turn before becoming the top guy. He played behind his senior teammate as a junior but managed to appear in eight games before playing the entire season his final year.
"I only got two years of film and unfortunately that's not very good for recruiting," Brown said in a video released by OSU. "That's kind of what led me to (College of) San Mateo. From there, I played my freshman year and then got my offer to Hawaii."
---
Related
---
Brown came off the bench in three of the first four games at Hawaii before taking the starting job. He passed for 5,273 yards and 37 touchdowns and completed 62% of his passes during his two seasons.
On Jan. 22, 2018, Brown announced via Twitter that "after much thought and prayer, I have decided it is in my and my family's best interest to transfer following my graduation." Brown said he knew Oklahoma State would give him a good opportunity the second he visited.
"To do what I'm trying to do and to pursue what I want to, this was a great opportunity to come in and compete at a high level," Brown said at OSU media day. "I think the game is changing to where shorter guys, as long as they compete against the best in college, they get a shot at the next level. That was very attractive to me.
"I don't know what would have happened if I stayed at Hawaii, but at that moment I talked with my family. The things that were going on there and what I wanted to do with my playing career, it just seemed like the right decision to make."
When the 5-foot-11 Brown arrived in Stillwater last year, so did four-star recruit and 2017 Mr. Texas Football Spencer Sanders. Senior Taylor Cornelius had three years to learn the system while backing up 2018 NFL draft pick Mason Rudolph. He earned the starting spot and kept it the entire season.
Similar to his junior year in high school, Brown was sitting behind another senior at the quarterback position. Both Sanders and Brown were redshirted last year. Brown's only game action was one handoff during the Liberty Bowl while Cornelius sat out a snap because his helmet popped off.
Brown said redshirting last year was a blessing in disguise.
"You come here and you want to play," Brown said. "But at the same time, you have another year under your belt to improve, and not to just improve mentally and physically."
"You get more comfortable around the guys and they see your brand, who you are as a person. That is extremely important to me and I am glad I had the opportunity for that last year."
Cornelius is no longer on the roster, but OSU coach Mike Gundy still is left with a choice between a veteran quarterback in Brown or a highly recruited redshirt freshman in Sanders. Neither one has thrown a single pass for the Cowboys.
The verdict is still out on the decision, but Brown has been using every practice as another chance to get better.
"From when I first got here to now, it has been about getting comfortable with the offense and seeing everything slow down," Brown said.
Gundy said both quarterbacks showed progress during the Cowboys' scrimmage earlier this month. Although Gundy would have preferred to have a starter named already, he is not against playing both quarterbacks.
"If you clearly have one player that's better than the other, you play him," Gundy said. "If not, you have to play both guys."