Raven fans: Everything you want to know about Justice Hill
---
Get to know former B.T. Washington and Oklahoma State star Justice Hill.
OSU was his first Division I offer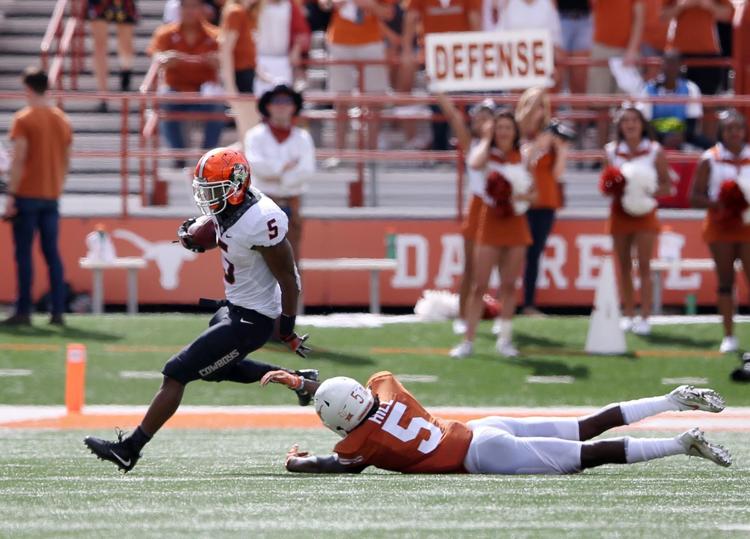 His special talent was apparent early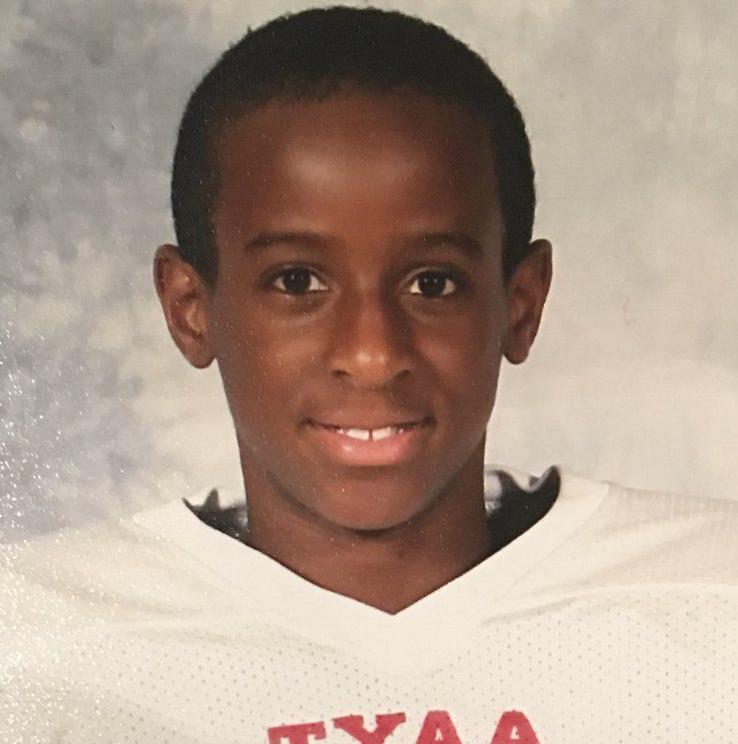 He was named Mr. Hornet in high school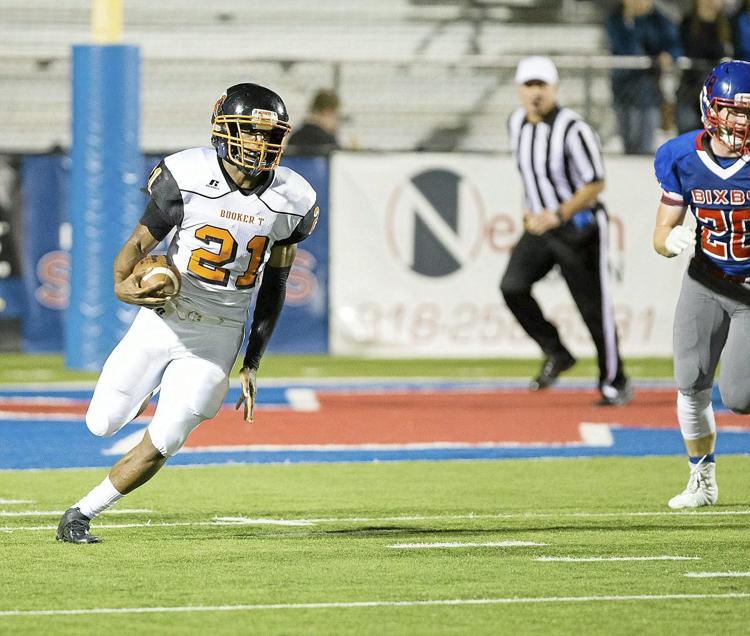 He's into investing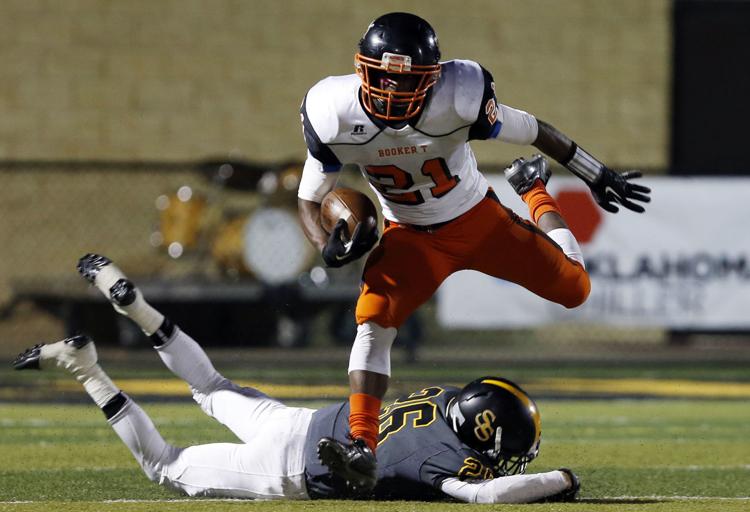 He cuts hair for money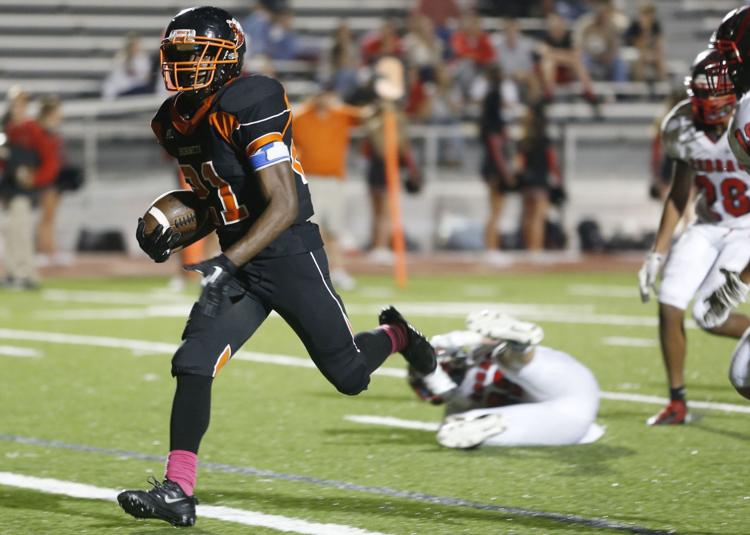 Academics were important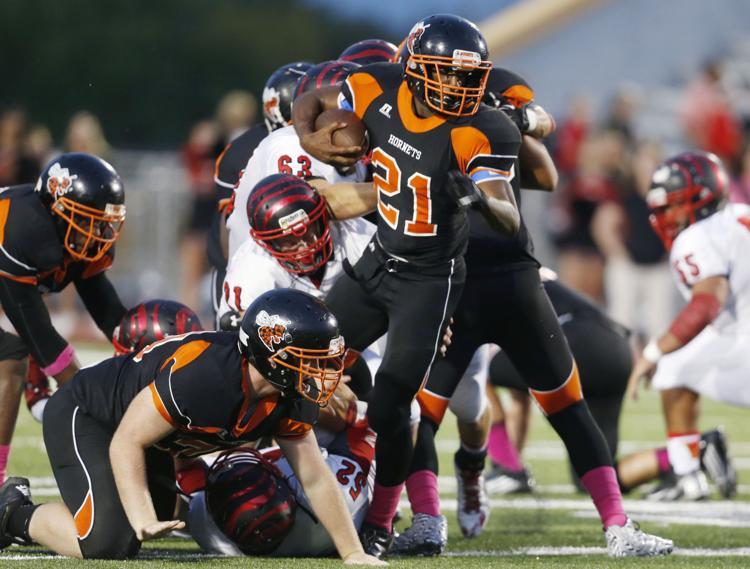 He's under 200 pounds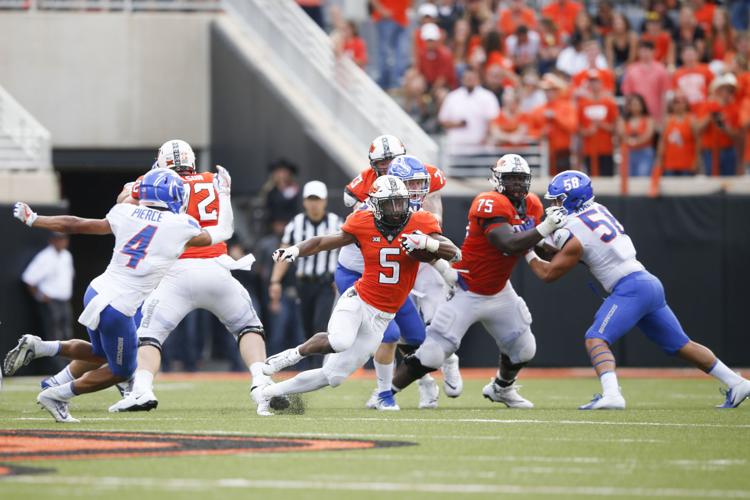 He set records as an OSU freshman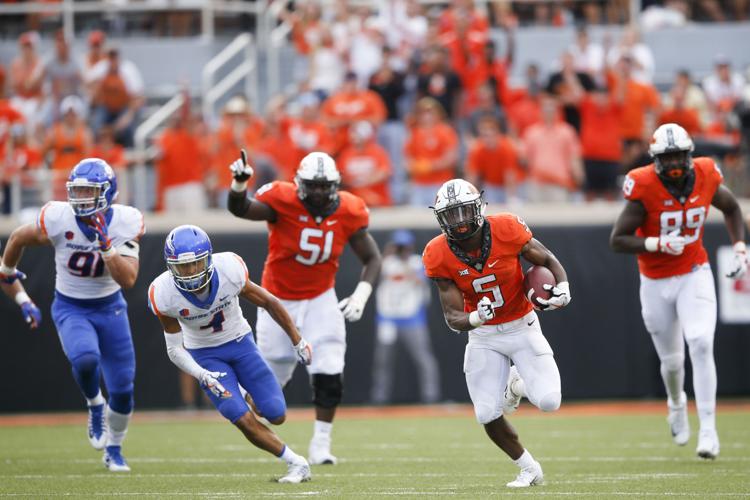 2017 was a big year
He's brother is very talented, too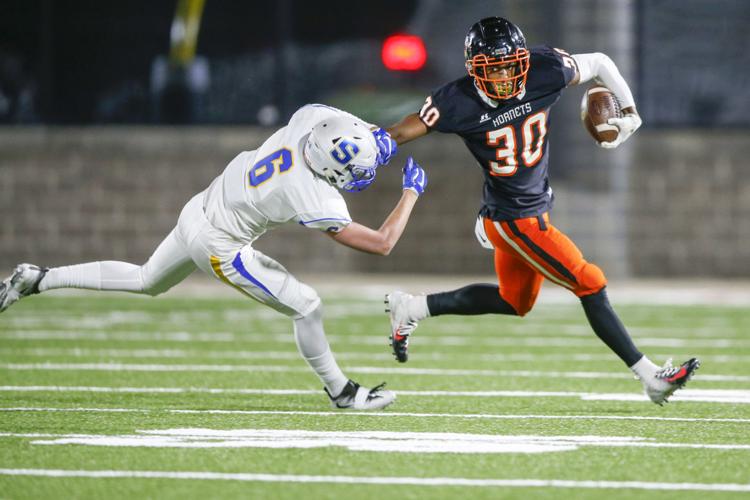 He doesn't say a lot — like another OSU legend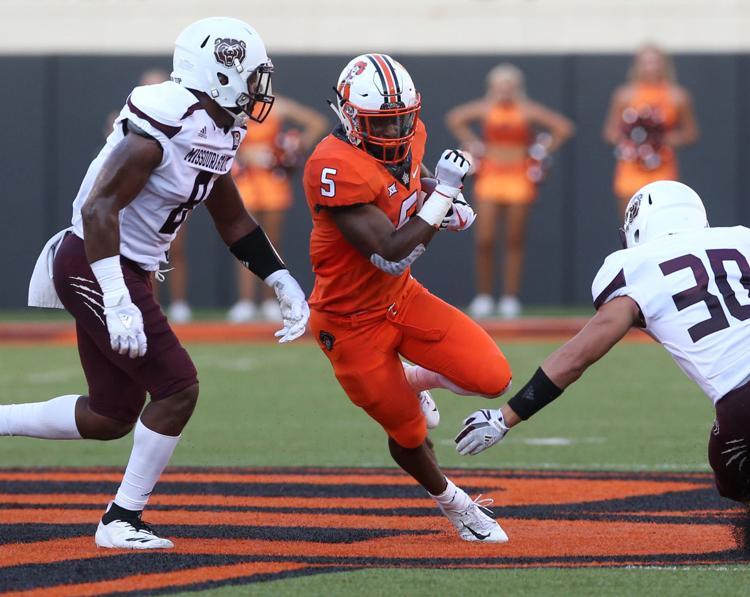 The Tulsa native made his pro football player on Monday Night Football for the Oakland Raiders
Marquise Brown joins his cousin, star receiver Antonio Brown pictured here, in the NFL. The second OU Sooner drafted in the first round tonigh…
The former Sooners quarterback was taken No. 1 in Thursday's NFL Draft. Here is what we found out about him while he won games for the OU Sooners. 
OU's Kyler Murray taken No. 1 overall in NFL draft; Tulsa's Josh Jacobs picked 24th; Marquise Brown taken 25th by Ravens
---
Kyler Murray — the Heisman Trophy-winning quarterback who dazzled football fans in his lone season as Oklahoma's starter — will be reunited with an old friend.
The Arizona Cardinals selected Murray with the top overall selection in the 2019 NFL Draft, which began in Nashville on Thursday night.
Murray will be coached by first-year Arizona head coach Kliff Kingsbury, who tried to recruit the legendary Allen (Texas) High School quarterback to Texas Tech.
---
---
"He's one of the best in the world at calling plays, a great offensive mind. I can't wait to get with him," Murray said. "It's been a long time coming and I know he feels the same."
For now, Murray will join Josh Rosen in the Cardinals' quarterback room. Rosen was the 10th overall pick in last year's NFL Draft but struggled during his rookie season. The Cardinals, 3-13 last season, were last in the NFL in scoring offense and total offense.
Murray was asked on SiriusXM NFL Radio if he's spoken with Rosen.
"I haven't talked to Josh since we left for college," Murray said. "We were good friends doing all the high school circuits and camps and stuff like that. I was very fond of Josh, for sure."
It was the first time in NFL history that quarterbacks from the same school have been selected with the first overall pick in consecutive seasons. In 2018, Baker Mayfield was chosen by the Cleveland Browns.
"Everyone who's been in my corner, I can't thank them enough," Murray said to ESPN immediately after being selected. "I just want to thank God. It's surreal."
Did he expect to go with the top pick?
"I heard a lot of stuff. I read a lot of stuff. But I mean I'm the type that I don't believe anything until it happens," Murray said. "It's definitely where I wanted to go, for sure.
While Mayfield watched from his Lake Travis, Texas, home, Murray joined family, teammates and coaches in Nashville. The 21-year-old looked dapper in a pink suit and white Nikes.
Murray was also a first-round selection by the Oakland Athletics in the Major League Baseball draft last summer. In February, the two-sport start decided football would be his professional path.
What was it like when his name was called?
"Honestly, I kind of blacked out a little bit. I couldn't tell you what they were saying, but it's something I'll never forget for sure," Murray said.
What was the perspective Kevin Murray, Kyler Murray's father?
"He's worked his whole life for this moment," Kevin Murray said on ABC. "To have this opportunity right in front of him and see his dream became a reality is just unbelievable. It really is."
---
---
Marquise Brown taken 25th by Ravens
Marquise Brown will see a few familiar faces with his new team — the Baltimore Ravens.
The dynamic wide receiver was selected by the Baltimore Ravens with the 25th overall selection.
---
---
Brown will be paired with two former teammates in Baltimore. Offensive lineman Orlando Brown and tight end Mark Andrews were drafted by the Ravens in 2018.
Brown was emotional during an NFL Network interview shortly after the selection.
"I'm happy to be here. I'm thanking God. I'm ready to go. It means so much," Brown said while fighting back tears. "I can't even express the words. I'm just thanking God."
Brown is a cousin of Oakland Raiders wide receiver Antonio Brown.
"He told me to enjoy this moment," Marquise Brown said. "I put myself in a position to be here. It ain't over yet. I'm ready to get to work."
Brown will now team up with 2016 Heisman Trophy winner Lamar Jackson after catching passes from Oklahoma's Baker Mayfield and Kyler Murray, the past two Heisman winners.
Coach Lincoln Riley was excited about Brown's draft selection.
"Marquise's story is well-documented. What are the chances a guy who had to walk to work and fight his way just to get to junior college ends up being the first receiver taken? I'm thrilled for him and his opportunity," Riley said. "He's going to bring a lot to the Baltimore Ravens. Their fans will love his explosiveness, which we really came to appreciate the last couple of years at Oklahoma."
---
---
First-round picks
1. QB Kyler Murray (OU), Arizona Cardinals
2. DE Nick Bosa (Ohio State), San Francisco 49ers
3. DT Quinnen Williams (Alabama), New York Jets
4. DE Clelin Ferrell (Clemson), Oakland Raiders
5. LB Devin White (LSU), Tampa Bay Buccaneers 
6. QB Daniel Jones (Duke), New York Giants
7. DE Josh Allen (Kentucky), Jacksonville Jaguars
8. TE T.J. Hockerson (Iowa), Detroit Lions
9. DT Ed Oliver (Houston), Buffalo Bills
10. LB Devin Bush (Michigan), Pittsburgh Steelers
11. DT Jonah Williams (Alabama), Cincinnati Bengals
12. LB Rashan Gary (Michigan), Green Bay Packers
13. DT Christian Wilkins (Clemson), Miami Dolphins
14. G Chris Lindstrom (Boston College), Atlanta Falcons
15. QB Dwayne Haskins (Ohio State), Washington Redskins
16. DE Brian Burns (Florida State), Carolina Panthers
17. DT Dexter Lawrence (Clemson), New York Giants
18. C Garrett Bradbury (N.C. State), Minnesota Vikings
19. DT Jeffery Simmons (Mississippi State), Tennessee Titans
20. TE Noah Fant (Iowa) Denver Broncos
21. DB Darnell Savage (Maryland), Green Bay Packers 
22. T Andre Dillard (Washington State), Philadelphia Eagles
23. OT Tytus Howard (Alabama State), Houston Texans
25. WR Marquise Brown (Oklahoma), Philadelphia Eagles
26. DE Montez Sweat (Mississippi State), Indianapolis Colts
27. DB Johnathan Abram, (Mississippi State), Oakland Raiders
28. DT Jerry Tillery (Notre Dame), Los Angeles Chargers
29. DE L.J. Collier (TCU), Seattle Seahawks
30. CB Deandre Baker (Georgia), New York Giants 
31. T Kaleb McGary (Washington), Atlanta Falcons
32. WR N'Keal Harry (Arizona State), New England Patriots
Bill Haisten: Former McLain star Josh Jacobs makes a first-round fashion statement
After Roger Goodell fired the starter's pistol, the NFL draft's first round was defined by a flurry of fashion statements — including one from Alabama running back Josh Jacobs, who took all of north Tulsa with him to center stage.
First, kudos to Nashville. When it was announced that Nashville would host the 2019 draft, I wasn't sure how it might look on television. It looked amazing on television. Teeming with 200,000 fans, the Lower Broadway district of Music City was perfect for this epitome of football festivals.
Next, there were statements by Kyler Murray and the Oklahoma football program.
Murray was explosively conspicuous in a pink, pinstriped suit with a maroon pocket square.
It was a look that screamed, I'm the No. 1 pick in the draft! I rolled the dice, choosing football over baseball, and I achieved the ultimate distinction for any entry-level professional.
The figurative statement from Lincoln Riley, who had a few face-time moments during the NFL Network and ESPN coverage: In consecutive college football seasons, an OU quarterback won the Heisman Trophy! In consecutive drafts — for the first time ever — an OU quarterback was the first player selected!
Riley got to celebrate twice on Thursday night: after Murray was taken by Kliff Kingsbury and the Arizona Cardinals with the first pick, wide receiver Marquise Brown was taken by Baltimore with the 25th pick.
There were several Sooner athletes, coaches and family members in the backstage area. Nearby, there were several Alabama athletes, coaches and family members.
Within the Crimson Tide group was Jacobs, a former McLain High School superstar who averaged 15 yards per rush attempt and 246 rush yards per game — and yet somehow was mostly ignored by college recruiters until the final few weeks before Signing Day 2016.
From Jacobs, there also was a fashion statement: A classic blue suit — beautiful but understated when compared to some of the creative outfits donned by other first-round players.
His statement could have been this: The other guys can do pinstripes. This is what my suit says — draft me and I'll carry the football 18 times for 80 yards. I'll do it on turf or on grass and in the heat or in the cold. I'm ready to go to work.
Not until the 24th pick of the draft was any running back or wide receiver selected. While Jacobs made only three starts at Alabama, NFL decision-makers love what he might become. The Oakland Raiders spent that pick on the 5-foot-10 Jacobs.
During the Nick Saban era that began with the 2007 season, 29 Crimson Tide players have been first-round draft picks. It's a remarkable story — Jacobs' rise from anonymity to first-round prominence, and now he's a Raider.
"To me," the NFL Network's Daniel Jeremiah said, "he's easily the top running back in this draft."
The 24th pick in last year's draft — D.J. Moore of Maryland — received from the Carolina Panthers a signing bonus of $6.2 million. That money is guaranteed. Jacobs soon can afford to fill 10 closets with classic blue suits.
After a handshake-and-hug moment with Goodell, Jacobs was interviewed by the NFL Network's Deion Sanders.
"This game means a lot to me," Jacobs said. "I've got my whole city on my back right now."
At that point, Jacobs opened his jacket to reveal a "North Tulsa" message that adorned the lining.
It was a special moment during a special night in Nashville.
Tulsa's Josh Jacobs taken 24th in NFL draft by Oakland Raiders
---
Tulsa's Josh Jacobs was taken 24th overall by the Oakland Raiders on Thursday in the first round of the NFL draft.
Jacobs, who attended Alabama after graduating from McLain High School, was rated as the top running back in this year's draft.
Jacobs rushed for 640 yards on 120 carries as a junior at Alabama.
Jacobs, listed at 5-foot-10 and 216 pounds, put up crazy numbers playing quarterback as a senior at McLain, running for 2,704 yards and 31 touchdowns as a senior while averaging more than 15 yards per carry.
Despite that, Jacobs received little recruiting attention until Alabama came in late and signed him in February 2016.
Jacobs joins the likes of Felix Jones (B.T. Washington), Robert Meachem (B.T. Washington), R.W. McQuarters and Reuben Gant (B.T. Washington) as first-round picks from the Tulsa area.
Jones was the 22nd overall pick by the Dallas Cowboys in 2008. Meachem was the 27th pick by the Tennessee Titans in 2007 and McQuarters was the 28th pick by San Francisco in 1998.
Josh Jacobs has a great story, one the Tulsa World has been telling for a long time
Former McLain High School star Josh Jacobs will celebrate one of the greatest nights of his young life Thursday night when his name was called during the 2019 NFL draft.
Jacobs has a great story to tell — from lightly recruited high school star, to an emotional signing day and a surprise scholarship offer from Alabama, to a college career that saw him become a national champion and a first-round draft pick, going 24th to the Oakland Raiders.
Our Guerin Emig revisited part of his story this week, looking into the relationship between Jacobs and his dad Marty and the days they spent living in a car on the north side of Tulsa.
Jacobs chronicled his own rise in a Player's Tribune story released Thursday, titled "People Say I Run Angry."
Jacobs opens the story with the harrowing description of running from gunshots while walking through his neighborhood many years ago.
But there was another part of his story that also caught our attention:
Football wasn't an escape. I didn't play to take out my frustrations, or to cope, or to keep off the streets.

I played because I loved it.

By my junior year in high school, I knew I had potential. I thought I could be pretty good.

By my senior year, I knew I could be special.

My stats were so ridiculous that when my coach sent them in to the local newspaper each week, they wouldn't even print them. They didn't believe them. They thought my coach was padding my stats to make me look good. I sat back and watched as other kids with less impressive stats got their names in the paper and won all kinds of weekly awards.

I was getting nothing.

So my coach called up one of the reporters from the newspaper and told him to come down to McLain High School and watch me play in person. To come see for himself.

This was about halfway through my senior year. I was averaging around 300 rushing yards per game, but I still had no scholarship offers. I had zero stars on the recruiting websites.

I didn't just want to show that reporter what he had been missing. I wanted to show everybody.

I scored the first touchdown of the game on a 65-yard run. By the end of the night, I had run for 455 yards and six touchdowns. And I did it all on just 22 carries.

It was the best game of my high school career.
We're disappointed Josh remembers his senior year that way.
Barry Lewis coordinates the World's high school coverage and is the gold standard of prep writers in the state of Oklahoma.
Josh first hit Barry's radar in the summer of 2014, right before Jacobs' junior year at McLain High School.
And by Week 3 of his junior year, Jacobs had climbed into our All-World Rankings, the World's list of the 10 best high school football players in the Tulsa area, which encompasses 70-plus high schools. Jacobs was ranked 10th after rushing for 797 yards and 12 touchdowns to open the season.
Jacobs started his senior season as the 10th-best running back in the Tulsa area according to Barry's preseason rankings. And Tulsa World readers voted Josh the fifth-favorite running back in the area that summer.
Has come back bigger, faster and strong after injuries plagued him in the second half of last season. During the past two seasons, he has 2,273 yards and 25 TDs.
Under the headline, "McLain's Jacobs a one-man show in rout of Vinita," our reporter wrote:
Joshua Jacobs raced past Vinita's defensive line, and as he approached the sidelines, he hurdled a defender.

McLain's elusive quarterback broke so many tackles and scored on so many spectacular runs on Friday night that jumping over a would-be tackler looked almost routine.

Jacobs was a one-man show for the Titans, rushing for 271 yards on 17 carries and accounting for five touchdowns, as McLain celebrated a 47-20 homecoming win over Vinita at Melvin Driver Stadium.
By the start of the playoffs, while Division I recruiters were still yet to knock down Jacobs' door, his incredible senior season and his pursuit of a scholarship were the focus of our postseason preview.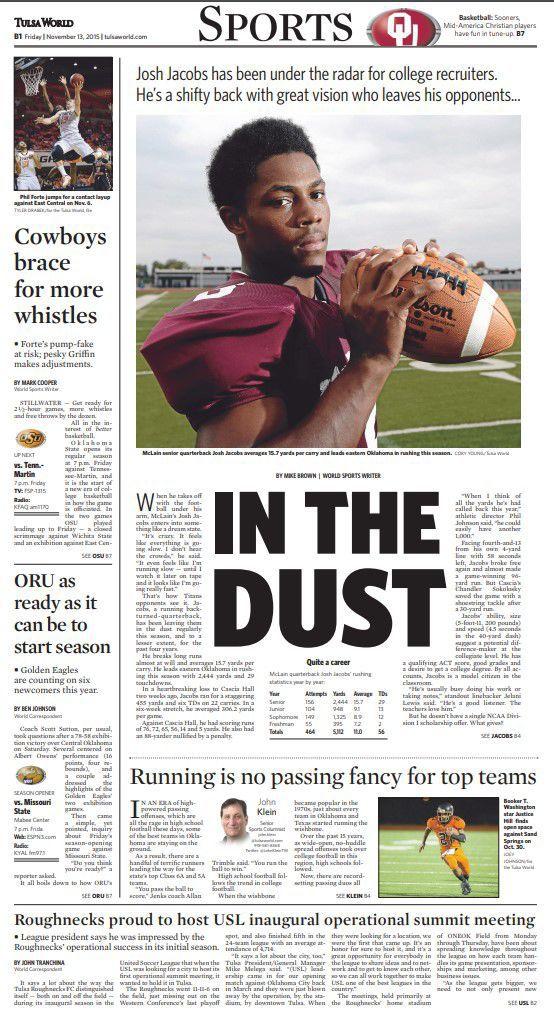 After being named to the World's all-state football team as a defensive back, we continued to track Josh's recruitment  and were there on signing day when all his hard work culminated with a scholarship to Alabama.
We will be writing about him again this weekend, as he embarks on his NFL career.
World reporters have talked to Josh and his family numerous times and have had nothing but good experiences.
We look forward to writing about and interacting with Josh for years to come in what we hope will be a long and successful NFL career.