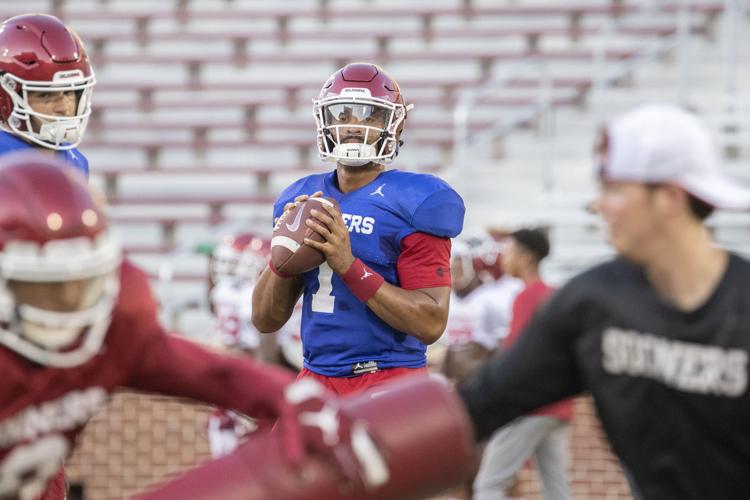 NORMAN — Jalen Hurts' journey is unprecedented in college football.
It's not often a player goes from one blueblood program to another. Especially a quarterback with 42 games of experience and 28 starts at a school like Alabama.
Throw in the opportunity to follow legendary quarterbacks like Baker Mayfield and Kyler Murray — both Heisman Trophy winners — and it's a tough challenge.
---
Related
---
Hurts is a winner. He has a national championship ring to prove that. He also appreciates the opportunity he has to have a second chance at a championship program.
"I think I clearly understood what I got myself into. But I also know that I have expectations for myself. I always have. I've always been my biggest critic. I've always been critical of myself," Hurts said during his introductory news conference. "I'm a coach's kid. I was brought up different. Brought up in a fieldhouse day in and day out. It wasn't going home. It wasn't doing those things. My daycare, so to say, was being a ballboy on the sidelines or going to practice Monday through Thursday, being on the sidelines on Friday watching my dad coaching and my brother play.
"It's different stokes for different folks. I'm in a situation where I definitely want to maximize my time at the University of Oklahoma."
From the outside, choosing Oklahoma seemed like a slam dunk when he announced he was transferring from Alabama.
He did his due diligence before deciding on the Sooners. That included making contact with the past two starting quarterbacks who also started their careers at other schools.
"I hold myself to a high standard. I have high expectations for myself," Hurts said. "I would be outright wrong to not pick Kyler's brain, pick Baker's brain, to learn as much as I can learn to get the most out of this situation."
On Jan. 16, Hurts announced he was headed to OU.
"You can't look back in history and say that's happened ever. All of it. The whole scenario. The whole shebang. You probably won't be able to say it'll happen again," Hurts said. "So, I think this whole situation is unique. Everything about it is unique. For me, I know it's happening to a unique person.
"I'm not your average Joe. Kind of built for these type of situations. There's never been really anything that's been in my way that I couldn't overcome or see through. I'm here. I'm going to do whatever I can to help this team in whatever way to achieve the things we want to achieve as a team."
Mayfield and Murray had multiple years in the OU program. When Hurts takes the first snap of the Sept. 1 season opener against Houston, he will have been on campus less than nine months.
There will be ups. There will be downs.
Hurts will pass well but may not have the accuracy of Mayfield. He will run but may not near Murray's rushing yards from last season.
That's OK. Hurts is going to the best player he can be.
"I don't want to get into comparisons. Baker's Baker, Kyler's Kyler, and I'm me," he said. "I think the objective of all of this is, yeah, everybody wants to achieve their goals, everybody wants to do those things. But right now, it's not about me. I'm stepping back from it.
"The biggest thing about this thing is achieving what we want as a team, getting what we want accomplished as a team. Doing what we want as a team. I feel like if we can come together and do those things, work hard, build that bond in all phases, the sky's the limit."