OU 45, Kansas 20: Sooners overcome sluggish start, head into Red River week with easy victory
LAWERENCE, Kansas — Bad weather in the area caused a 30-minute delay to the start of the game, and once things did kickoff, it took No. 6 Oklahoma longer than that to get going.
The Sooners were sluggish throughout the first half, including losing 37 yards in three plays after a first-and-goal situation, but OU rallied for a comfortable win at Kansas.
Sooners quarterback Jalen Hurts was perfectly ordinary by his previous standards, but still had more than 300 yards of offense (including one catch) and three touchdowns.
Hurts was 16-of-24 passing for 228 yards. Thirteen different OU players had receptions Saturday, but no one had more than two. Rhamondre Stevenson led the Sooners in rushing with 109 yards and a touchdown on just five carries.
The OU defense allowed Kansas running back Pooka Williams to rush for more than 100 yards, but didn't allow the Jayhawks to get anything going in the second half until late.
Guerin Emig: OU's game was in Kansas, but their minds were on Texas... as they should be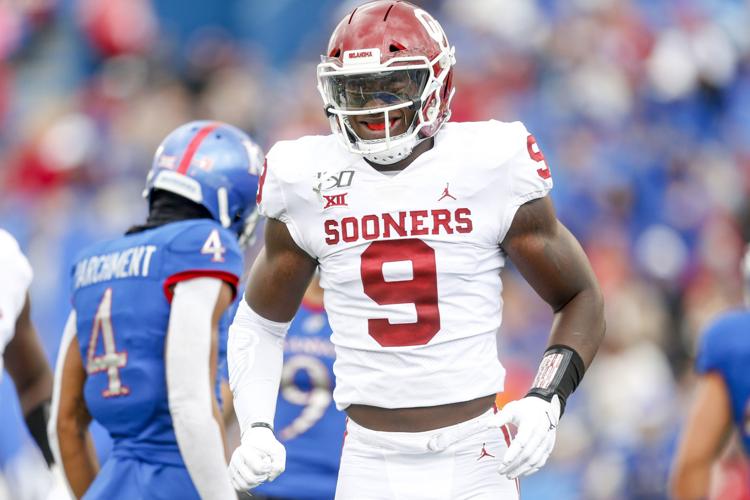 Sooners shake off slow start to defeat Kansas 45-20; Texas up next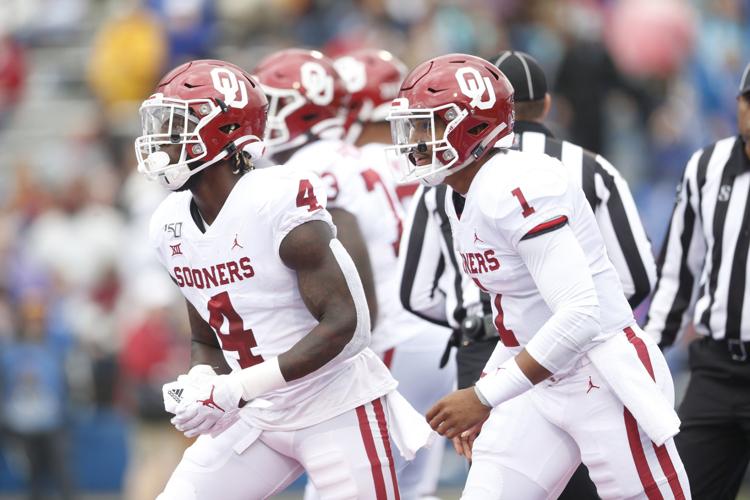 By Ian Maule / Tulsa World
Related: Sooners overcome sluggish start, head into Red River week with easy victory
First down | Story of the game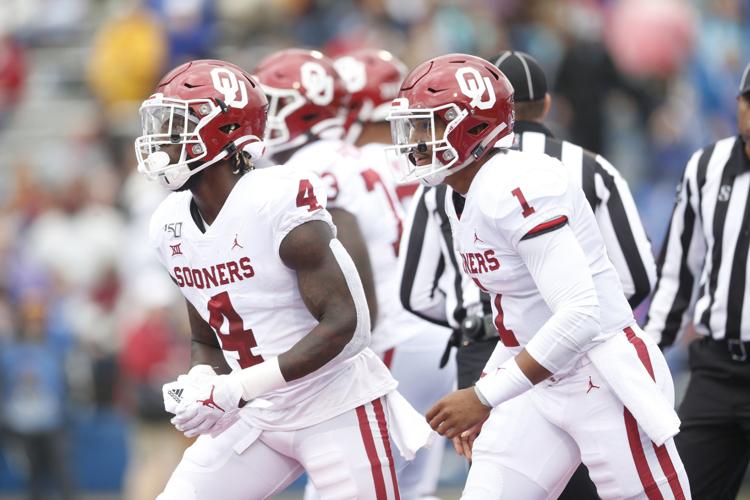 Second down | Matchup that mattered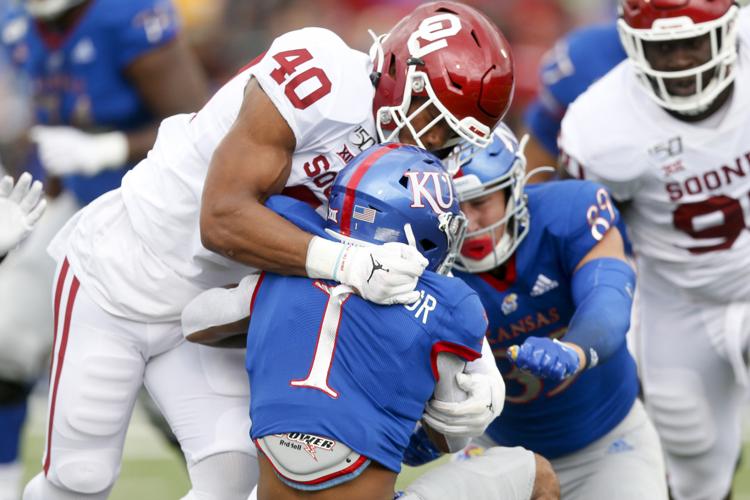 Third down | Game MVP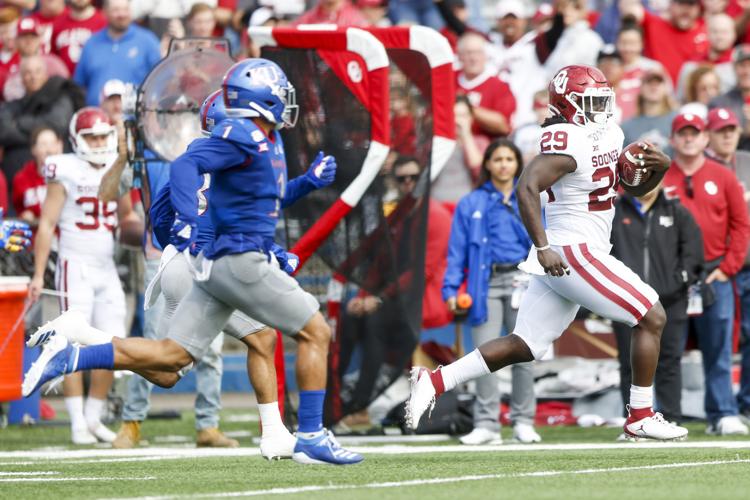 Fourth down | What's next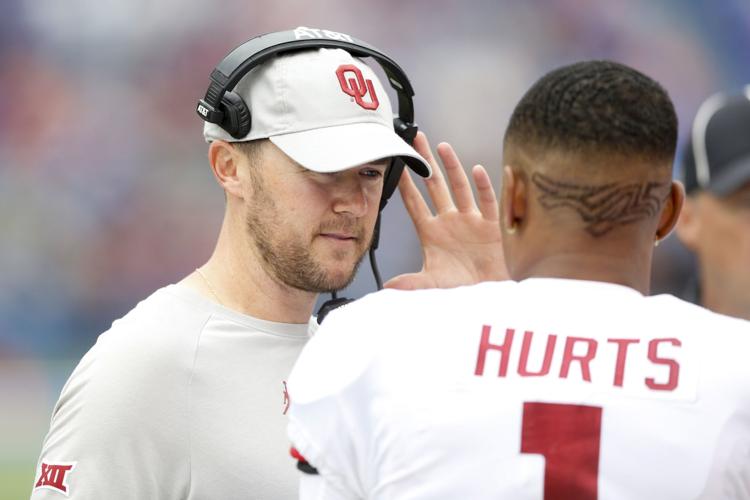 Video: Sooners shake off slow start: Pull away from Kansas
Sooners turn fourth-and-goal punt into a positive and a second-half rally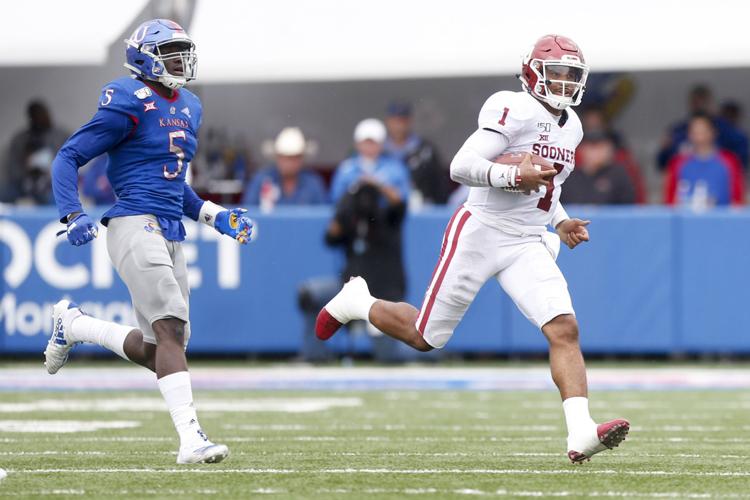 OU at Kansas notebook: Sooners use fifth starting offensive line in five games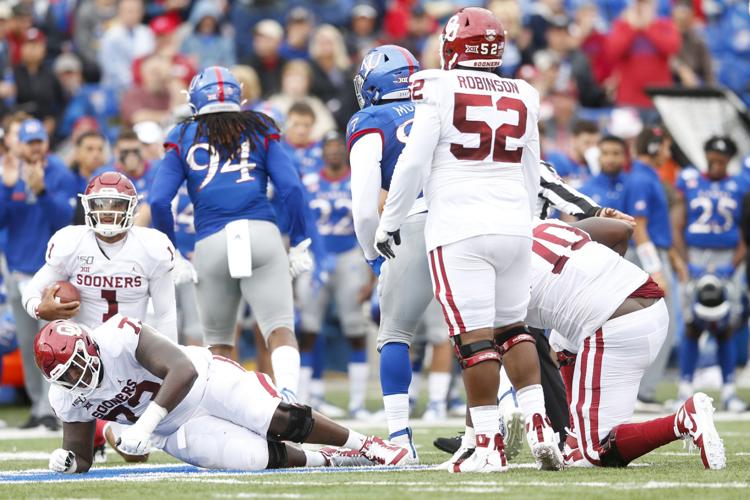 OU vs. Kansas stats
Game information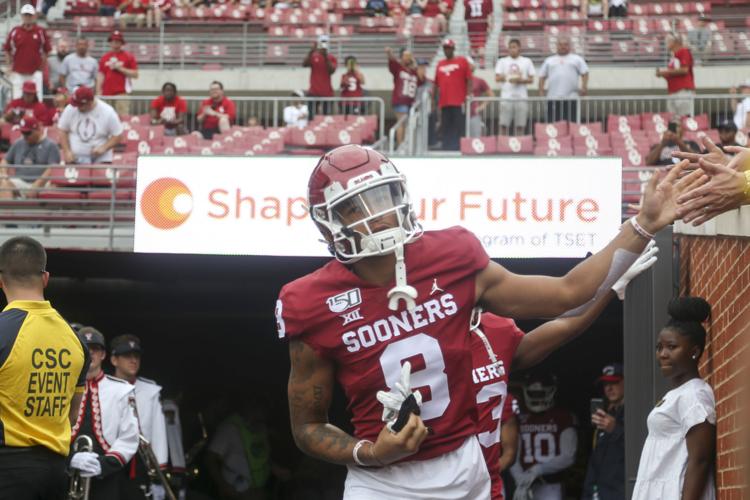 First down | Top storyline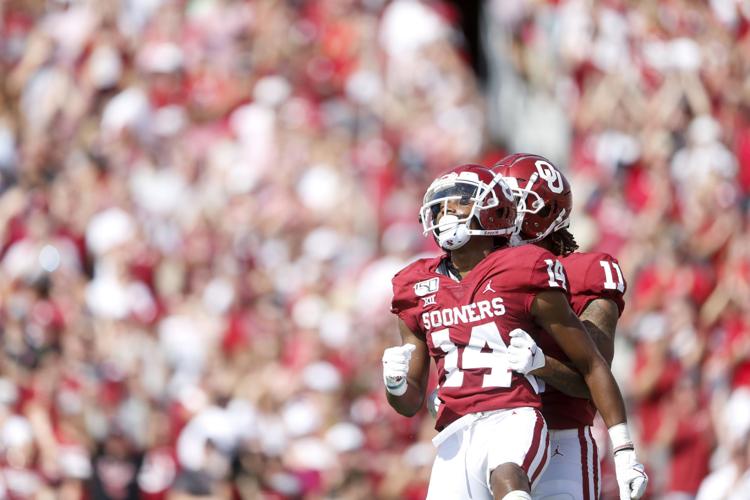 Second down | Key matchup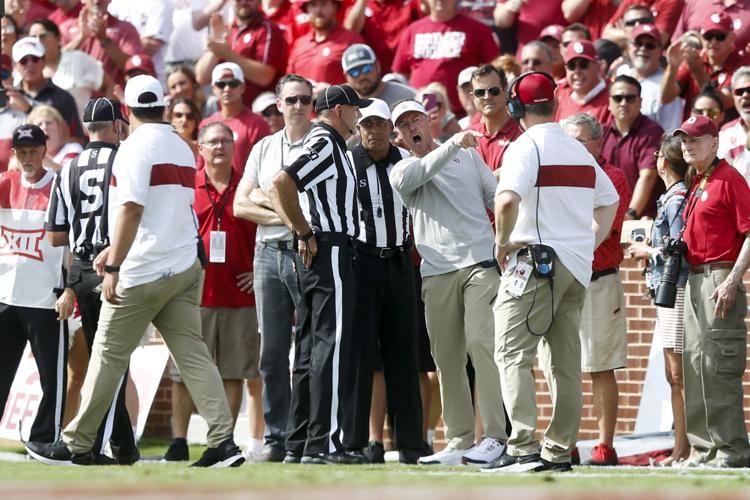 Third down | Player to watch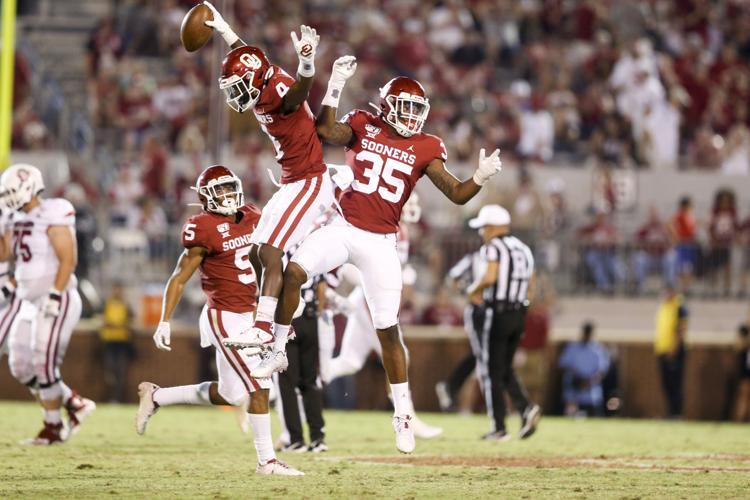 Fourth down | Who wins and why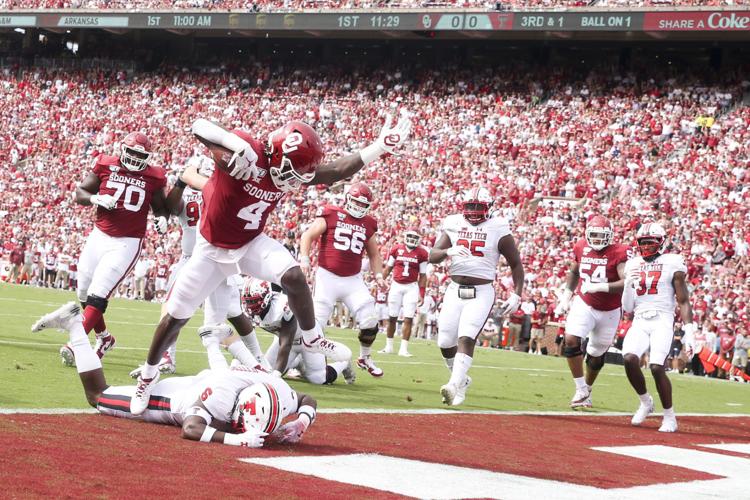 Revitalized defense has plenty of Tulsa-area high school coaches smiling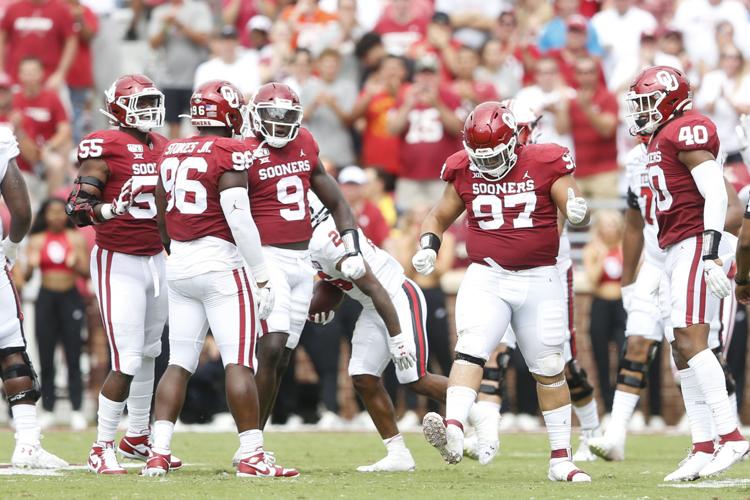 Catching up with this week's OU coverage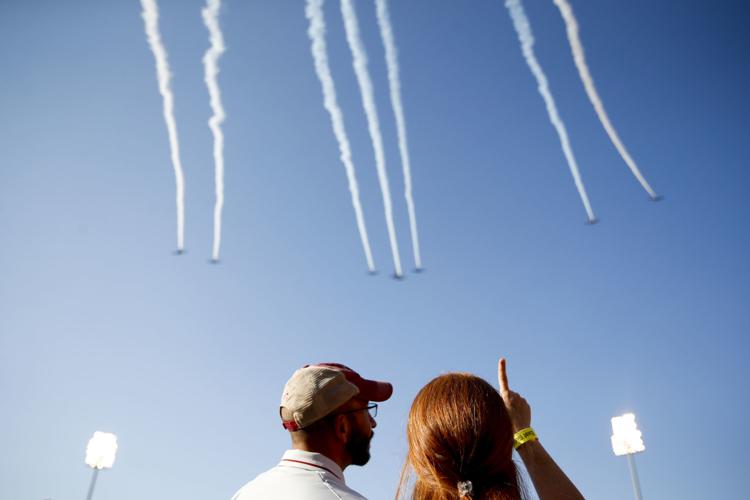 The Tulsa World's annual Outpick the Picker contest is back in 2019. Here are the specifics:
Oklahoma won its 900th game in the 55-16 triumph over Texas Tech last Saturday. The Sooners are one of seven programs to reach the milestone. …
By Guerin Emig Tulsa World
Oklahoma's defense is undeniably better. Just watch the footage of Saturday's lockdown of Texas Tech. Middle linebacker Kenneth Murray is play…
Oklahoma has had four quarterbacks awarded with the Heisman Trophy, including the last two. After six games, OU transfer quarterback Jalen Hur…
NFL's Week 11 begins tonight, when the Pittsburgh Steelers visit the Cleveland Browns for Thursday Night Football.
Here's some notable stats from former Oklahoma Sooners, Oklahoma State Cowboys, Tulsa Golden Hurricane and Oklahoma high school football playe…
NORMAN — This wasn't your 2016 Oklahoma-Texas Tech game — or even the 2018 version.
PASADENA, Calif. — Oklahoma quarterback Jalen Hurts threw for 289 yards and three touchdowns, while running for 150 more, as the fifth-ranked …
NORMAN — Jalen Hurts threw for 259 yards and three touchdowns, as No. 4-ranked Oklahoma rolled over Football Championship Subdivision foe Sout…
NORMAN — New Oklahoma quarterback Jalen Hurts had one of the most prolific days in Sooners history, amassing more than 500 yards of offense an…
Almost a year after monumental NCAA changes ushered in the transfer portal era of college football, coaches and players have differing opinion…
Follow the action on Twitter
OUSportsExtra.com: Home to everything crimson and cream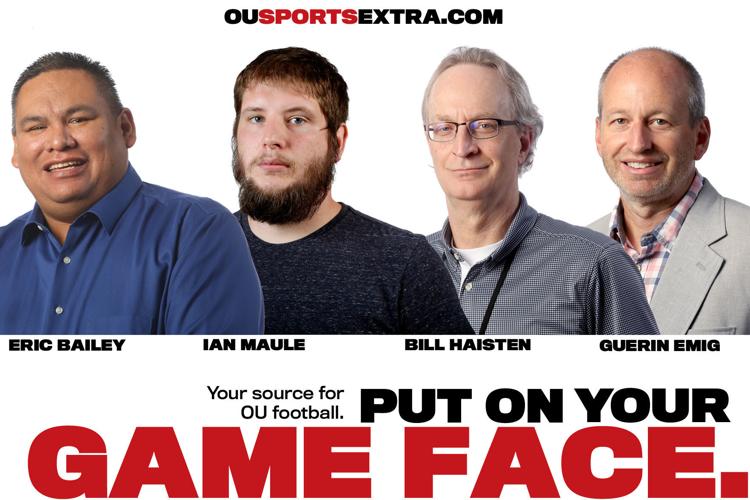 As featured on
All three Oklahoma Division I college football teams played on the road Saturday.
DALLAS — Like a throwback to Red River games from yesteryear, the Oklahoma defense played a …
NORMAN — Oklahoma quarterback Jalen Hurts accounted for nearly 400 yards of offense and five…
From luxurious Grand Lake resorts and boats to the best places to fish.
Decorative/Traditional: Foundations, driveways, sidewalks, patios, overlays, stamped & stained/colored, polished. BBB accredited. Free est. Ins.
WE KNOW THE SECRET With almost four decades of experience, we know the secret to effective pest control. Ask about our specials. 918-362-2000
Temporary Orders Name Changes One Signature Two signature Missing spouse Guaranteed Excludes Court Fees. CALL NOW! 918-664-4482