Bob Stoops went on to win more games than any other Oklahoma football coach. He went on to championships, bowl prizes and prominence worthy of a statue outside Owen Field.
Nothing, though, beat the time he was holed up in the old Residence Inn off Highway 9 in Norman, hanging out with a bunch of guys he had just hired to awaken Barry Switzer's famed monster, all of them too young and brash to think it couldn't be done.
---
Read the complete series
---
"The beauty of it is we were just kind of in our own little fraternity," Stoops says in looking back 20 years. "None of us knew anybody else here. We only trusted and were tight with each other at that time."
"It was kind of like the college football version of Animal House, only without women," says Mark Mangino, who Stoops hired off Bill Snyder's Kansas State staff to coach OU's offensive line. "We'd all sit in the same suite, and for some reason Bob designated my suite as the staff hangout. So we'd call recruits and pass the phone around to Bob and the coordinators and the position coaches. In between that we laughed and joked and smoked cigars."
"We'd sit there all night, 'til little by little we'd trickle back to our own rooms," Stoops says. "And inevitably Mike Leach would sit up there watching Howard Stern till two in the morning while Mangino was trying to sleep."
You'd have thought they were ready to take on the world.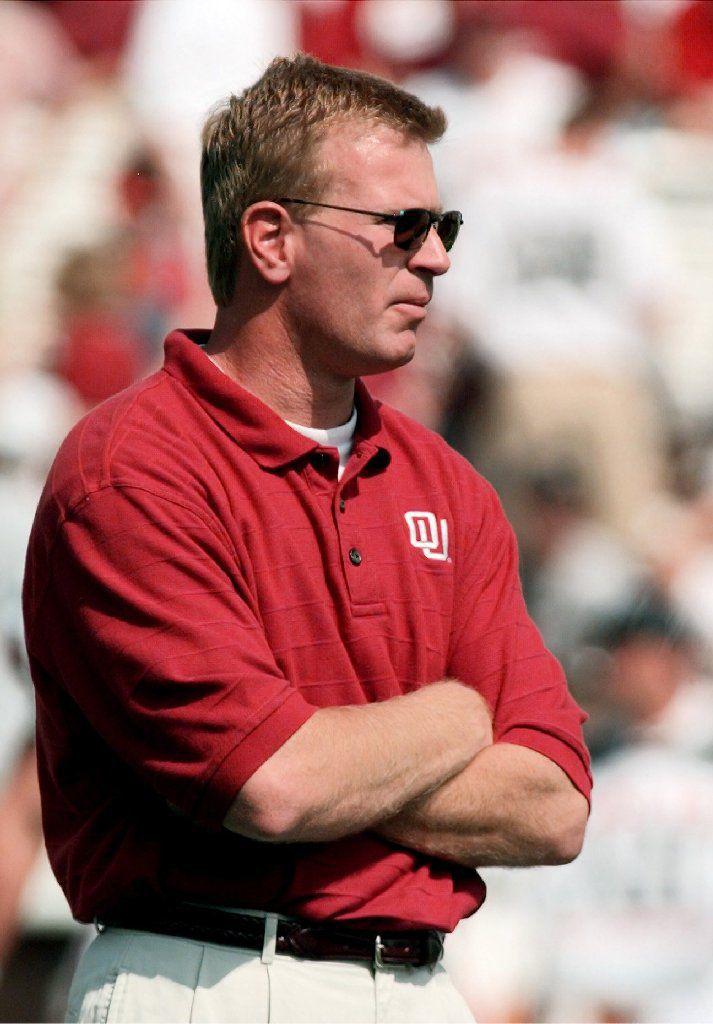 "We were," Stoops confirms. "Most all of us had had a lot of success where we'd been. We knew Oklahoma was a great place. If we did it the right way, there was no reason we couldn't win there and win big. Yeah. That was the feeling."
The demeanor among this bright new staff — Stoops, his brother, Mike, Leach, Mangino, Brent Venables, Bobby Jack Wright, Cale Gundy, Jonathan Hayes, Jackie Shipp, Steve Spurrier Jr. and strength coach Jerry Schmidt — was pitch perfect for a renaissance.
It hit the '99 Sooners from the first meeting.
"When Coach Stoops came into the Red Room, I can remember Jerry Schmidt walking around and asking certain folks to leave," says Chris Hammons, a tight end on the '99 Sooners. "I always thought it strange under John Blake that there was a lot of people in our team meetings. It never felt that they should be there. Just random people all the time that were kind of clinging to the team, so to speak. The looks on their faces when Schmitty politely asked them to leave the room ...
"At that moment I thought, 'It's gonna be a lot different around here.' Sure enough it was."
Players that once hung out in the coaches lounge sucking down Cokes and Twinkies now had to make an appointment to see the new CEO.
"In the situation Bob came into, you couldn't be everybody's best friend," says '99 place-kicker Tim Duncan. "There needed to be some order and some discipline."
"Coach Stoops wasn't worried about whether you liked him, he was worried about whether you did what you were supposed to," says '99 defensive lineman Bary Holleyman. "It was similar to 'Remember the Titans' with Denzel Washington: 'I will win. I'm going to win. You're either with me or not.'"
"There were some things that Blake put up with that Stoops definitely did not," says '99 receiver Brandon Daniels. "He didn't play favorites or he didn't care who you were. You were gonna do what you needed to do and be accountable. A lot of guys respected that."
Three straight years of losing football was no excuse for the players putting off a program turnaround. It was no excuse for the coaches, either.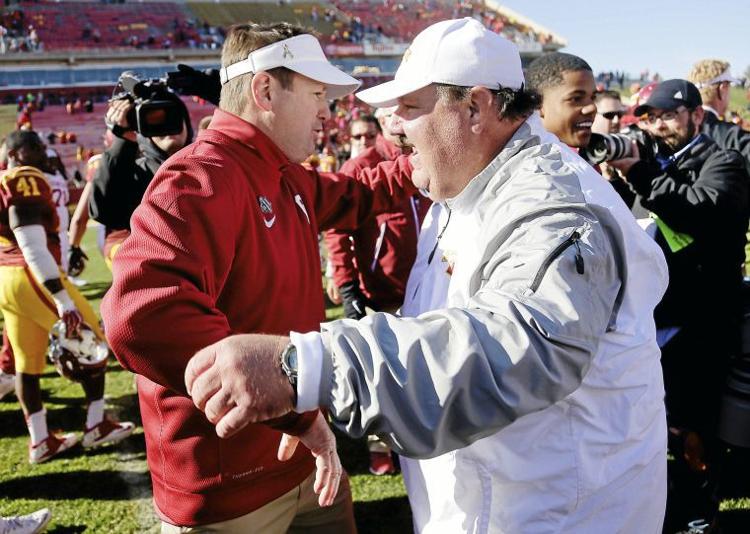 "Bob's attitude was so good about those kids," says Wright, who Stoops hired to coach defensive ends and recruit Texas. "He told all of us, 'Now look, fellas, these are our guys now. It doesn't matter who recruited them or who had been here before. These are our guys and we gotta get 'em right.'"
How that first staff got 'em right was a primer in program-building.
"Coach Stoops came in with these geniuses at these positions," says Rocky Bright, a defensive end on the '99 Sooners. " 'This right here, this right here, this right here.' Bang."
The staff patched together offensive and defensive lines hampered by health problems and early player defections. They turned former quarterbacks into Leach's first receiving corps. They found linchpins for the offense and defense in late signees Josh Heupel and Torrance Marshall.
It was part unflinching belief, part unfailing organization.
"I mean, these guys had been on the job 10 days, and our recruiting class weekend was Jason White, Michael Thompson, Kory Klein, Derrick Strait and myself," says Matt McCoy, a defensive back that first staff signed from Jenks. "How they were able to pull that off in 10 days … They had it all together. It was unbelievable. You could see immediately there was definite leadership in place.
"That's when I met Coach Venables. Heck, it was the first time Coach Venables and Rocky Calmus (OU's best returning defensive player) had met. This was gonna be Rocky's coach and Rocky's hosting me on my trip. Everybody's meeting for the first time, and they are already talking schemes and all this stuff. This guy's like a 26-year-old coach and I've never seen anyone as passionate as he was."
It was, probably more than anything, passion.
"You would think Coach Shipp and Coach Mangino were competing against each other in practice," 1999 running back Jay Hunt says in reflecting on the two line coaches. "They'd be down looking at each other eyeball to eyeball. They were the ones blocking or getting off the blocks sometimes."
"Brent Venables and Mike Stoops, in front of the stadium, would flat go at it," '99 receiver Damian Mackey recalls of the co-defensive coordinators.
"Mike and Bob, for that matter," Holleyman says. "Plenty of games, those two would get to the point Bob would have to pull rank. I'm not talking head coach rank, I'm talking older brother rank."
"They brought a 'failure is not an option' attitude and self-accountability each and every play," Bright says. "That's what it took."
They brought it crashing down on each other, and especially on the players.
"Mike rode me every day, every hour — every minute, it felt like. He used to tell me to my face that I was basically s--t," says Roy Williams, the touted redshirt freshman who fell under Mike Stoops' influence immediately. "That I would never be Jarrod Cooper from K-State, the best safety he ever coached. I couldn't hold his shoulder pads or his cleats. …
"It took me dropping my pride and ego. Once I got past that and started spending time with him and understanding his terminology and why he's calling certain plays and why he wants to put me in certain positions …
"Now I tell people I was probably was Coach's Picasso. I'm serious. He formed and molded me into the player he wanted me to be. That's the truth about the situation. He got me where I dreamed of being."
Handling spit-in-their-face masks coaching was similar to surviving Schmidt's boot camp. Those who didn't have the skin for it fell off immediately.
Those who did grew to tolerate it, then understand it and then develop under it.
"I remember this overriding sense from the coaching staff to us: 'You're better than this. You will be better than this. And we're gonna show you how to be better than this,'" says Trent Smith, a redshirt freshman tight end in '99. "They believed in us before we ever believed in ourselves, I guess, is the best way to put it."
The structure was more obvious and the relationships less personal. But that didn't prevent connections from taking place.
Leach scored points with his players in his endearingly quirky way, whether by making fun of Mike Stoops' in-play convulsions during film study or telling them the sooner they kick the defense's ass at a scrimmage, the sooner they can picnic under a tree with their girlfriends afterward. He also had a direct line to his guys' juices.
"One of the things he would always tell me before we'd play was, 'Who else is out here from Georgia?'" says Antwone Savage, a '99 receiver from Albany, Georgia. "That was his thing. That would get me crunk."
Stoops' staff didn't need to have recruited that first roster to know how to reach just about every player on it.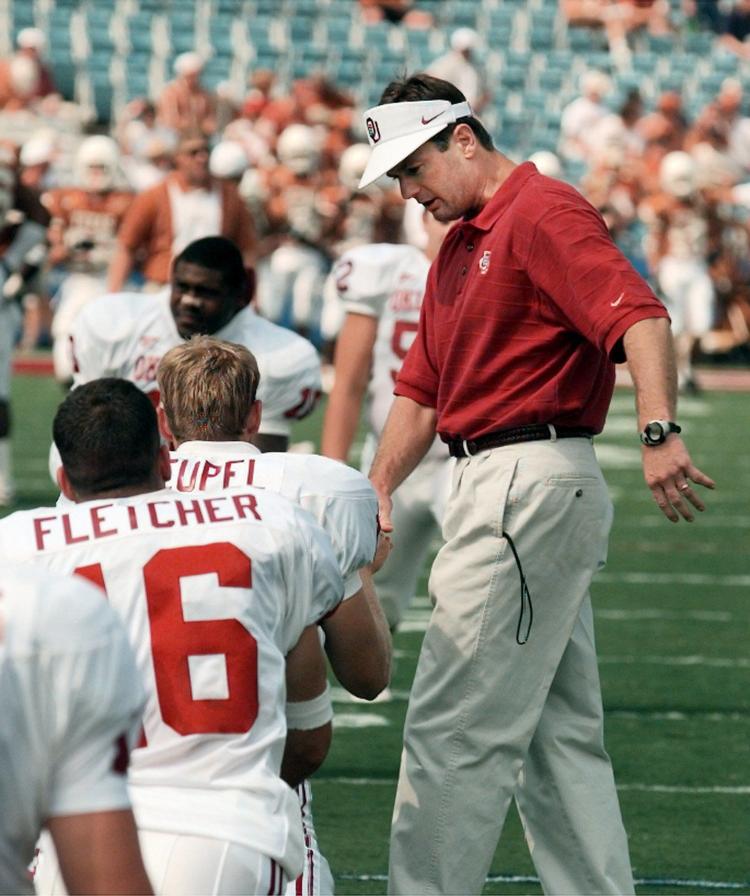 "Spurrier made sure we got to go golf," Mackey says. "There would be times we would do workouts and it would generally be in groups. When we got to Spurrier, he would be like, 'Man, we ain't doing that stuff. Y'all chill.' He would have our back and it went a long way to his earning our respect.
"He also brought some of that Fun N Gun (offense) from Florida. He advocated for a lot of the stuff we did down the field. Leach was adamant about stretching teams from sideline to sideline. Spurrier fought to get us to do more vertical throws."
"My dad was in prison at the time. I didn't have a lot of fatherly figures," Hammons says. "Between Coach Stoops, Schmitty and Jonathan Hayes, those guys probably kept me from going to jail. I was floundering around. Honestly, man, I could have easily gone down a different path without those guys to lean on and say, 'There's a guy I can look up to right there. That's how you're supposed to do things.' Coach Hayes is one of those guys who changed my life for the better."
Those hell-raisers at the Residence Inn had the best intentions in mind, but they could not have imagined the impact they were about to have.
"We were all like-minded and had the same goals. We all wanted to succeed," Wright says. "It sounds kind of cliched and hokey, but it's really true."
Rarely has a new staff succeeded like this one.
"It was a mix of young guys trying to make a mark," says Jarrail Jackson, a '99 Sooners receiver, "and we fed into that energy they had."
"Man, you talk about building a management team, a leadership team ..." Smith says.
"I think a lot of us were still relatively young in their college football coaching careers, and y'know we were a little naive," Mangino says. "We thought we were just gonna walk in here, have fun, get Oklahoma going. And you know what? That's exactly what happened."