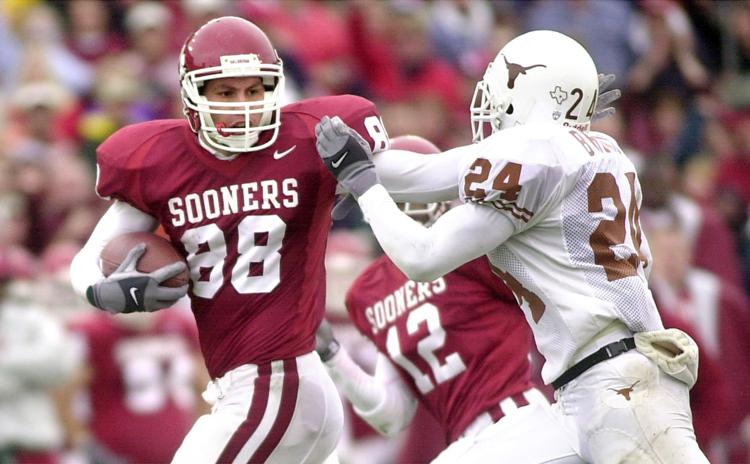 Between John Blake's firing Nov. 22, 1998, and Bob Stoops' hiring nine days later, this was Oklahoma football:
"It was rock bottom, right? It doesn't get worse than that," recalls Trent Smith, a freshman tight end then. "The season's over. We have no coach. All of our facilities are in various states of disrepair. You have what turned out to be one hell of a recruiting class sitting in the dorm across from the stadium. Most of them going, 'Whaaat did I get to myself into?' Josh Norman, Roy Williams, Damian Mackey, myself, Frank Romero, Rocky Calmus, Mike Skinner...
---
"Everybody started talking about transferring." — Trent Smith
---
"Everybody started talking about transferring. I was roommates with Frank (a touted freshman lineman from Moore) and he had all of his coaches' business cards from his recruiting trips laying out all over the floor. He was getting calls from Notre Dame. It was like poaching season.
"I was like, 'Are you really leaving?' I went around to the other guys' rooms and the same thing was happening everywhere. Josh was leaving. Roy was thinking about leaving. I mean, 'What is happening?'"
What wound up happening was Stoops rode into town with Bobby Jack Wright and Jerry Schmidt. Mike Stoops, Brent Venables, Mike Leach and the rest of that unprecedented staff followed closely behind. The coaches salvaged an initial recruiting class, mixed those players with Blake's and somehow concocted a 7-5 1999 season that became the foundation for OU's 2000 national championship and every good thing that has occurred in the 20 years since.
---
Read the complete series
---
That is the overriding sentiment, anyway, and for good reason — those coaches did miraculous work.
And still, that wasn't a '99 staff photo Bob Stoops kept in his desk drawer the next 17 years as the winningest coach in program history. It was a '99 depth chart.
"I'd take a glance at it now and remember all of the names, kind of the nondescript guys that we had. Fortunately they accepted us and our coaching," Stoops says. "Just a bunch of tough guys that got it started for us."
They got it started. Not the coaches.
"It was a meeting in The Bud, right there in that front room," says Damian Mackey, a freshman receiver in '98.
"I remember walking in having my mind made up," says Norman, another freshman receiver. "I was in the process of trying to communicate with other schools to transfer. 'I don't know why we're having this meeting. Big deal.' That sort of thing."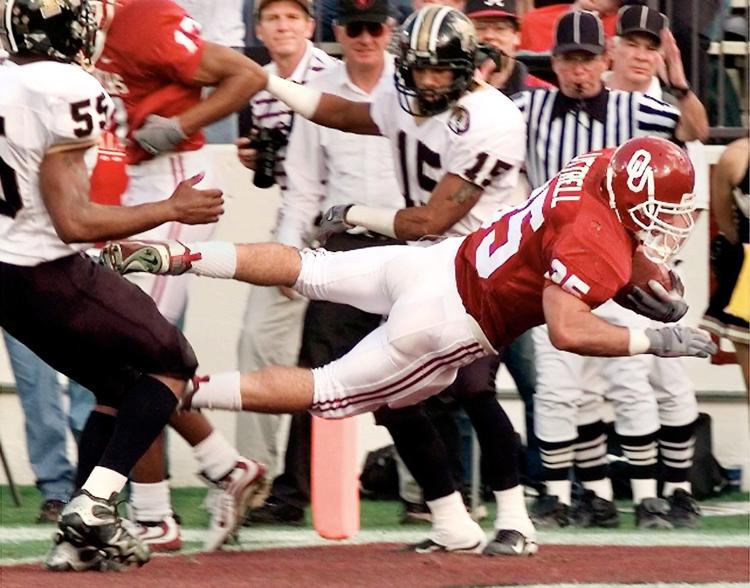 "It was Trent," says Williams, a '98 freshman safety. "What Trent said was, 'Let's go be part of history.' Stuff about Sooner Magic and all the iconic players at OU. 'Why can't we have our names in those conversations as well?'
"I was like, 'Y'know what, damn right! Why can't we?'"
"I remember being really vulnerable and pouring my heart out," says Smith, an invested OU fan as a little boy growing up in Clinton. "'If we are successful, if we turn this around, if we pull this off, they're not just gonna remember how great that team was. This is write-it-on-your-gravestone, you-are-a-legend s--t.'
"We didn't know who the hell Bob Stoops was. 'Just trust me, this is going to be amazing. You just have to believe it.'"
They believed it. Smith led the charge that salvaged the '98 signing class.
Now all they needed was help from the classes of '96, '97 and '99.
Coaches pulled Quentin Griffin, Jason White, Antwone Savage, Derrick Strait, Brandon Everage and Michael Thompson out of their hats in '99. They pulled Kory Klein, Ramon Richardson and Matt McCoy from the Tulsa metro alone.
"We hit the mother lode that first year," Stoops says.
Honestly, had the recruiting class numbered just two players — junior college transfers Josh Heupel and Torrance Marshall — Stoops could have said the same.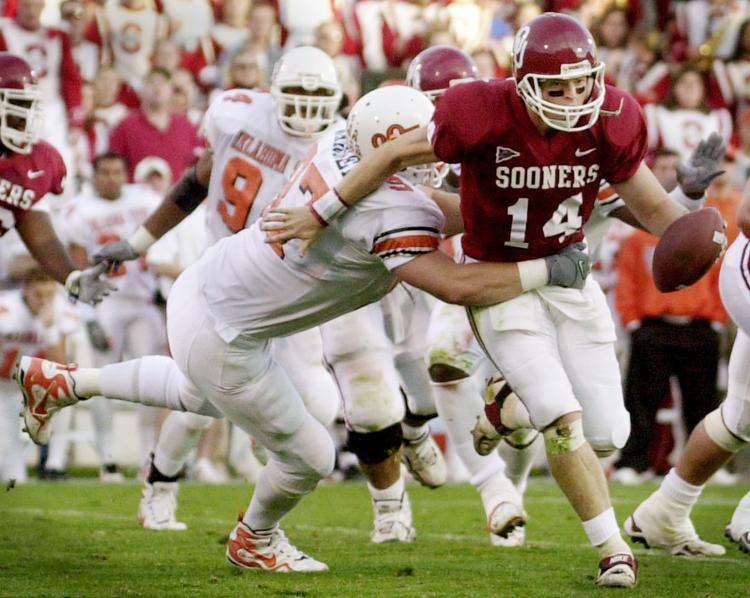 "We'd all heard we got these two quarterbacks, this Josh Heupel guy and Nate Hybl from Georgia," says Chris Hammons, tight end on the '99 Sooners. "I distinctly remember seeing Hybl walking down the hall and going, 'Holy crap, that's John Elway.' He looks prototypical for a quarterback. Right? 'Heup' was kind of underwhelming. He was 190 pounds soaking wet.
"But we got out to those first throwing practices in the summer, and I can remember Josh being, 'Hey, get over here!' Just bossing everybody around. All of a sudden you go, 'Oh. I guess this is the guy.' He took over. He had that command."
"'Heup' got his ass kicked during workouts. He was a terrible athlete as far as his times," Mackey says. "But he was in the trenches with us, and it was so cool to see from our leader.
"We'd be done and he'd stay late to do core training. Or 'Yo D-Mack, yo Wolf (receiver Andre Woolfolk), yo Curt (receiver Curtis Fagan)! I need you guys to stay so I can throw to you!' We would run fully scripted workouts in between and after practices, and he was the one who started that."
So the Sooners had their field general.
Field generals, as it turns out.
"The first seven-on-seven when Torrance came in the summertime, he and Rocky both lined up at middle linebacker," Patrick Fletcher, a backup quarterback at the time, recalls of Marshall and Calmus, OU's leading tackler in '98. "Nobody would snap the ball because they were fighting over who was gonna be middle linebacker. Torrance was like, 'Uh-uh, this is my spot. You'd better go get on the Will (weakside linebacker).'
"I wanted to wear No. 10 that year," Mackey says. "I had told the equipment staff that, and when they checked helmets out I noticed mine didn't have a number. I reminded them I wanted 10, and this big-ass monster interrupts our conversation. He says, 'No bro, you can't wear 10. I'm sorry, bro. My name is Torrance Marshall and I'm wearing 10.' I'm just looking at him and before I can even say anything he's like, 'Yeah, bro, pick another number.'
"I'm like, 'Man, who are you? I don't even know you. What did you say your name was?' "'Torrance Marshall.'
"'What position you play?'
"'Cool, you wear 10 on defense and I'll wear 10 on offense.'
"'No, bro, you can't wear that number.'
"I go talk to Steve Spurrier (Jr, OU's receivers coach then) and he's like, 'I don't know, he looks like he could beat your ass. If I were you, I'd pick another number.'
Mackey settled for No. 13, just like Calmus settled at Will 'backer.
"You got two tough-asses in the middle who are your leaders, that goes a long way," Stoops says of Calmus and Marshall.
He had three, really, with Heupel entrenched at quarterback.
That left the '99 upperclassmen to buy into new coaches, newer players and a completely different culture. That was trickiest of all.
"There is footage of guys on the team crying when the regents decided to go another direction," Mackey recalls of Blake's official dismissal.
"Morale was low because everyone lost their best friend in Coach Blake," says Jeremy Wilson-Guest, a '99 defensive lineman.
That connection extended to Blake's assistants. Several offensive linemen still recall going to Stoops and asking that he keep position coach Sam Pittman on staff.
Stoops didn't, of course. He couldn't. It was up to the older players to accept him, his new staff and the group's fundamentally tougher methods.
"I loved Blake to death, but I remember saying, 'I just wanna win,'" says Bary Holleyman, another '99 D-lineman. "I remember my dad asking me, 'Well whaddya think?' I go, 'If this guy that they're bringing in, this Bob Stoops guy, can get this program I grew up watching back to winning championships, that's all I care about.
"It was like, 'Whatever it takes. You guys tell us what it takes to win.'"
It took the shock and awe of Schmidt's conditioning regimen for starters. Today, Schmidt reels off the names of those who survived and advanced like a roll call of honor.
"Your Ryan Fishers, your Rocky Calmuses. Whatever you told them they just did it. Everybody followed in line," he says. "Stockar McDougle, Seth Littrell, who grew up in state, Brandon Daniels, who had so much pride, Andre Woolfolk, Trent Smith, an in-state guy that wanted to change things around, Bubba Burcham, Matt O'Neal, Chris Hammons… 'Ham Bone'… Holleyman…. They wanted to win so bad it was like, 'What do we need to do, Coach?'"
All these firebrand coaches turning all these young lives upside down? It was culture shock. The players clung to each other regardless of their age, their background or the number of stars in their recruiting profile.
"Somebody would be like, 'Hey, I can't do this anymore,'" '99 running back Jay Hunt says. "Anytime one guy said it, you've got the other 40 guys saying, 'No, you've gotta stay. We're all gonna do this together.' A week later, guys who were telling you to stay, you're turning around and telling them, 'No, we're gonna do this together.'
"Everybody had their days, but everybody pulled together. Once you put that much into something, there's not anything that's going to take you from it."
"We had a chip on our shoulder to prove that we weren't a bunch of slouches in an unsuccessful program," Fisher says.
"It was pride, y'know?" says Littrell, the '99 OU fullback from Muskogee. "We'd been walking around with our hat pulled low. That wasn't Oklahoma football, right?"
No, it wasn't. Losing wasn't Oklahoma football. The players who met Stoops?
"They were sick of losing," the coach remembers today.
The new staff could show them a different way to produce a different outcome, but the players still had to buy in. They had to accept change, then assure they could thrive as a result.
It helped that they worked and played together. Water-gun fights and cookouts at old Yorkshire Apartments... Basketball challenges against some of Kelvin Sampson's players at the rec center... Ping-pong at The Bud... Bass fishing in the morning and bowling at night... Off-the-record revelry up and down Campus Corner...
"We were a very tight knit group," says Tim Duncan, the '99 kicker. "I got so used to hanging around the team that when I went to the Cardinals my NFL rookie year and everybody practiced and went their separate ways it was a hard adjustment. We'd have a group of 10-15 guys doing something all the time."
The most obvious thing the '99 Oklahoma Sooners started doing together? Winning.
Twenty years later, the '99 players tend to thank their coaches for that welcome change. The '99 head coach thanks his players.
"Oh I promise you," Stoops says. "I look at those guys very fondly and appreciate them every bit as much as any championship team I had. They're special in my mind. It had to start somewhere, and they got it going."