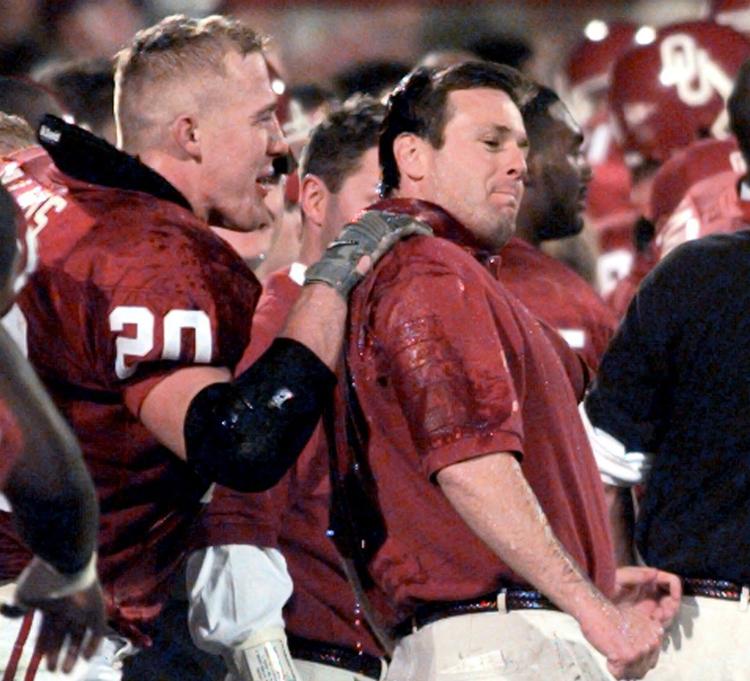 One year before winning a national championship and two years before securing Red River Rivalry immortality with his "Superman" play, Roy Williams was on the Oklahoma team that squandered a 17-0 lead against Texas in the Cotton Bowl.
"Texas came back in '99 when they put Major Applewhite in," said Williams, still seething today about the 38-28 defeat. "That's one moment in OU-Texas history I will never forget. When they came back and won and his little punk ass was taunting us going back up the tunnel. I literally said that day, 'Never f---ing again am I going to lose to Texas.'"
---
"The biggest turning point of my career." — Stoops on beating A&M
---
That was the Sooners' 1999 season right there. The players, coming off three consecutive losing seasons under John Blake, craved wins like they were electrolytes. They won some, thanks to the arrival of Bob Stoops and a staff whose appetite for success was as voracious as their kids', but they could have won more.
The Sooners won everything in 2000. They have won consistently ever since. They have built a 19-year success story on the lessons learned and the motivations gathered from that very first season under Stoops.
---
Read the complete series
---
"We were a better football team than we showed. We just didn't know how to finish people off yet," says Trent Smith, a redshirt freshman tight end in '99. "We figured it out pretty quick, but that was what that year was all about. Reminding everybody we're OU, showing everybody what's possible and watch out world, we're comin'."
The storm was brewing. All you had to do was see OU humiliate No. 13 Texas A&M on Oct. 23, 1999, to know that.
"The biggest turning point of my career," Stoops calls that game now. "They'd been kicking the crap out of us the previous two years (29-0 and 51-7). I had taken note of that early in the week leading up to the game. Sunday and Monday, I remember going to a team meeting and saying, 'Look, this ain't happening anymore at Oklahoma. Look at the scores of the last few years. We need to finally make a stand here.'
"And at the end of the day, I think it was 51-7 (it was 51-6, actually). We just flipped the script and beat the hell out of them."
"I think that was the first complete game we had," '99 defensive lineman Bary Holleyman says. "We were like, 'Oh. We've got something special here if we can just...' Then we turned right around and went to Colorado and laid an egg. It was just learning to be consistent."
The Sooners led at Boulder, too, but they were undone by four turnovers. The same offense that could have lit up the Dallas Cowboys the previous week couldn't get out of its own way in a 38-24 defeat.
Up and down the Sooners went that season, from a 3-0 start to back-to-back blown leads to Notre Dame and Texas. From destroying A&M, Oklahoma State, Missouri and Iowa State to falling against Colorado, Texas Tech and, ultimately, Ole Miss in the Independence Bowl.
Some of it was lack of depth. Some was lack of health. A lot of it, though, was lack of time. New staff can't mold new players into their relentless image in just one year, hard as they try.
"It started before we even kicked off that season," says Rocky Bright, a '99 defensive end. "We knew. The energy in the locker room was different. There was an aura of expecting to win, and that was a change. Before we kicked that ball off against Indiana State, we believed differently as a team."
The problem was they believed a little too much, first in a 42-21 Week 3 triumph at Louisville.
"The scouting report said they had a great quarterback (Chris Redman) and NFL-caliber skill guys," '99 receiver Damian Mackey recalls, "and they could not stop us. We beat them soundly on both sides of the ball. I just remember flying back. It was our first road trip as freshmen, we're doing all of the itinerary stuff. I was like, 'Man, we could go undefeated.'
"Of course, then we go to Notre Dame and give that one away."
OU's 30-14 lead in South Bend became a 34-30 defeat, and an all-time teaching moment.
Stoops couldn't believe the sideline jubilation as his team built its margin. He didn't understand how players as downtrodden as they had been just a year ago could be so full of themselves.
He didn't understand it, until perspective allowed him to.
"I remember telling the coaches in meetings the next day, 'Listen, they hadn't beaten anybody like that on the road before,'" Stoops said once. "'They don't know how to handle it and we've got to teach them how to handle it. Teach them how to finish games and to win a game like that. Those guys hadn't been in that situation."
The rest of that season was a study in attitude adjustment.
"We were playing Baylor," says Jarrail Jackson, a star receiver on the '99 Sooners. "I caught a screen and I broke it. I'm running, getting ready to score a touchdown. Their safety is chasing me and I'm pointing and talking noise to the safety, slowing down. A corner out of nowhere came and just cleaned me up right at the goal line.
"Bob Stoops walked out into the middle of the field, got me and cussed me out for like three commercials. Like, he left and came back, left again and came back."
"They coached us much harder when we won," says Ryan Fisher, a starting defensive tackle in '99. "They took advantage of, 'These guys are in a good mood because we won. We can really get after 'em.'"
Not that they eased off after losses.
"The trip back from Notre Dame, we had some turbulence. It was a rough flight," '99 running back Jay Hunt says. "When we landed, guys were like, 'Thank God' and showed a little bit of cheer about it. Coach Stoops wasn't having it. Like, 'We just went up to Notre Dame and got beat and you guys still have energy to cheer ...' He was definitely changing things around there."
It wasn't just Stoops and his position coaches.
"Down in the Cotton Bowl, Texas had tied us as we come into halftime," Fisher says. "Schmitty (strength and conditioning coach Jerry Schmidt) puts his arm through a table and blows his bicep out. It was a table full of Gatorade cups. Schmitty walks in and just basically takes his forearm and slams it through the table. Cups go flying everywhere. The next day we're at workouts and he's got his arm wrapped up. 'What happened?' 'I blew out my bicep.'"
The Sooners developed a competitive edge in '99. It just wasn't nearly sharp enough.
"We get down there for the Independence Bowl and we are at a team function with Ole Miss," Holleyman says. "We're telling them what bowl gifts we got and they're telling us what all they got. They've got video cameras. I think they got TVs. Some of our guys are chirping, a little unhappy. Sort of a 'we got screwed' type of deal.
"We get back on the bus, the offensive, defensive and special teams bus. Coach Stoops goes to every bus and he grabs that microphone and he goes, 'I don't want to hear another word about bowl gifts, per diem, whatever. If you guys want better gifts, go to a better bowl.'
"I'll never forget that. I was like, 'Oh, damn. He's not satisfied with going to a bowl game. He wants more.' Little things like that, setting the bar. 'Look, yeah, we're going to a bowl. Our goals were to get bowl eligible and go to a bowl game, and we did that. But we can't be satisfied.'
"He had a vision of where he wanted that program to be, and it wasn't to be in Shreveport every year."
The Sooners let that one get away, too, as Ole Miss kicked a field goal at the gun. Coaches and players spent the turn of the millennium on a bus absorbing two facts: Y2K was a hoax, and they'd just lost 27-25.
"Jonathan Hayes (OU's tight ends coach that season), said in the locker room, 'Guys, never forget how this feels,'" '99 defensive lineman Jeremy Wilson-Guest says. "'Make sure you don't have this feeling again.'"
"We should have easily won that game. That left a bitter taste in my mouth," Williams remembers. "'Man, we played our asses off and lost because of one or two plays. I'm tired of freaking winning a game, then blowing it off stupid plays.'"
"Everybody saw like 'Yo, we can handle these teams. All we have to do is finish,'" '99 defensive lineman Ramon Richardson recalls.
They had to learn. Their potential was obvious, their coaching even more so. It was a matter of learning the lessons of '99 and applying them the following year.
"That '99 season, man, it was frustrating," receiver Josh Norman says. "There were some highlights, though."
Josh Heupel with protection. Quentin Griffin with a crease. Torrance Marshall or Rocky Calmus with a path to the tailback.
"I mean, there were so many special moments in '99 that led you to believe 'In 2000 it's going to happen. It's going to happen,'" Williams says. "'We're so on the cusp of doing something special.'"