Two big offensive plays in the second quarter turned the tide for Tulsa in its non-conference finale Saturday against Wyoming.
But when the Cowboys turned the momentum back around in the fourth quarter, it was a huge play by the Hurricane defense that saved the day.
Clinging to a 24-21 lead, and with Wyoming facing third-and-goal at the TU 10, Cooper Edmiston forced a Sean Chambers fumble and Reggie Robinson II recovered it at the TU 3 to close out the game.
Trailing 7-0, Hurricane quarterback Zach Smith stood in after taking big hits the previous two plays and drilled a 56-yard touchdown pass to Keylon Stokes to tie the game with 2:49 left in the first half.
After a defensive stop, TU took its first lead when Smith completed a 37-yard touchdown pass to Sam Crawford Jr. with just 1:10 left in the half.
Smith threw for more than 300 yards in the first three quarters, coming back from a rough start to post Tulsa's first 300-yard passing performance since the team's 2016 bowl game.
But with Tulsa in full control, the Wyoming offense revived. First it went 92 yards in six plays to get within 17-14. Chambers, who returned to the game at quarterback on the drive, found Ayden Eberhardt wide open for a 53-yard touchdown with 11:03 left in the game.
Then, after a big sack of Smith on a fourth-down play, Wyoming moved 50 yards in six plays to retake the lead. Chambers scored on a 15-yard run with 5:25 left to play to give the Cowboys a 21-17 lead.
Tulsa regained the lead on the very next series, moving 75 yards in seven plays, including a big fourth-and-5 conversion at midfield. Shamari Brooks scored the go-ahead points on a 19-yard run with 3:26 left in the game.
Bill Haisten: Late heroics result in Golden Hurricane's biggest win since 2016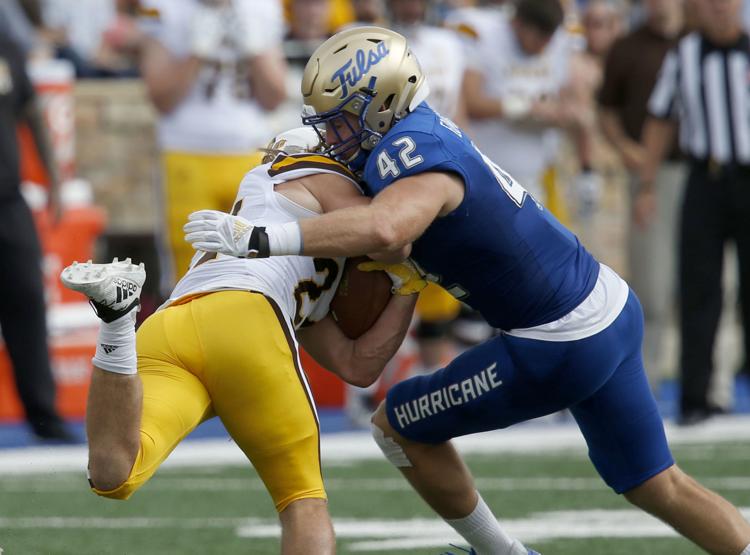 Plenty of heroes in TU's thrilling win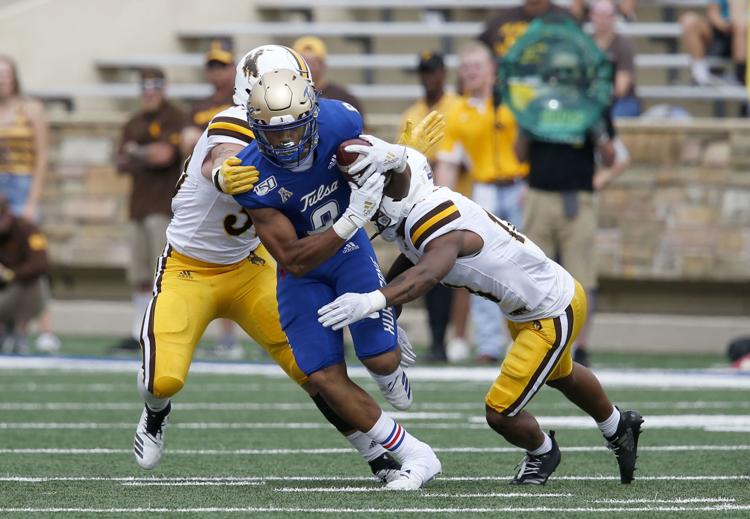 Complete coverage of TU's win 
Video: Cooper Edmiston breaking down his game-winning play against Wyoming
First down ¦ Story of the game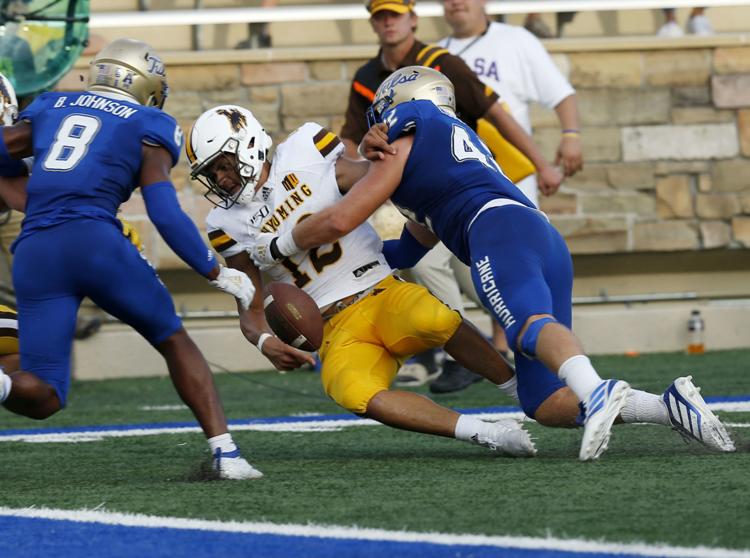 Second down ¦ Matchup that mattered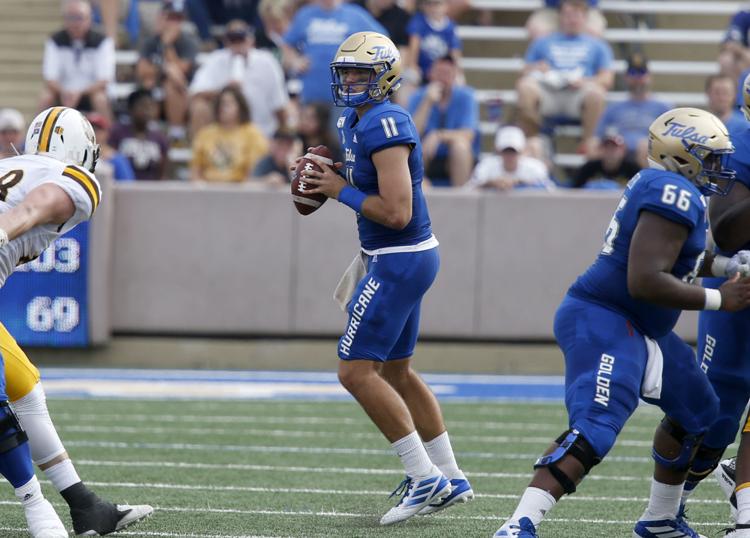 Third down ¦ Game MVP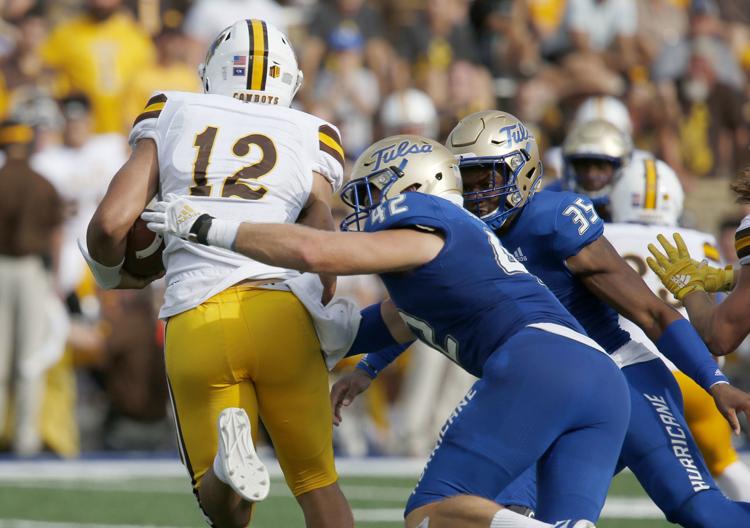 Fourth down ¦ What's next
Wyoming at Tulsa notebook: Opening-drive woes for TU; Robinson makes another big play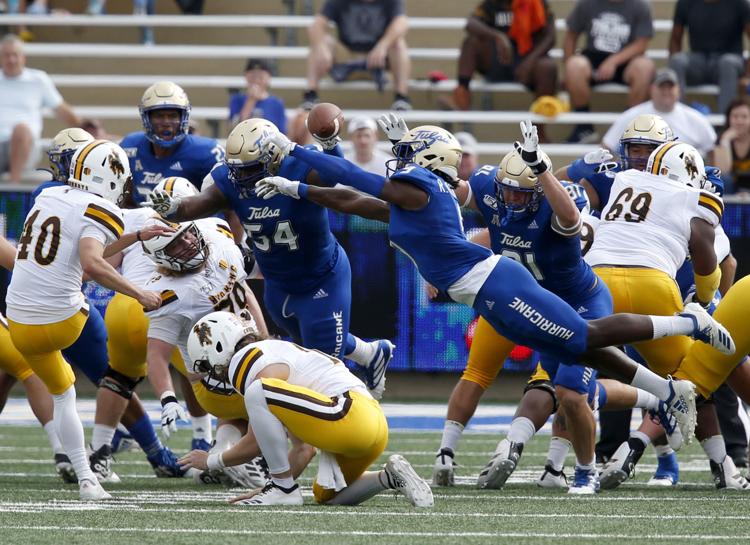 Video: TU coach Philip Montgomery's opening statement after win against Wyoming
Video: TU's Stokes catches a long touchdown pass
TU vs. Wyoming stats
Game information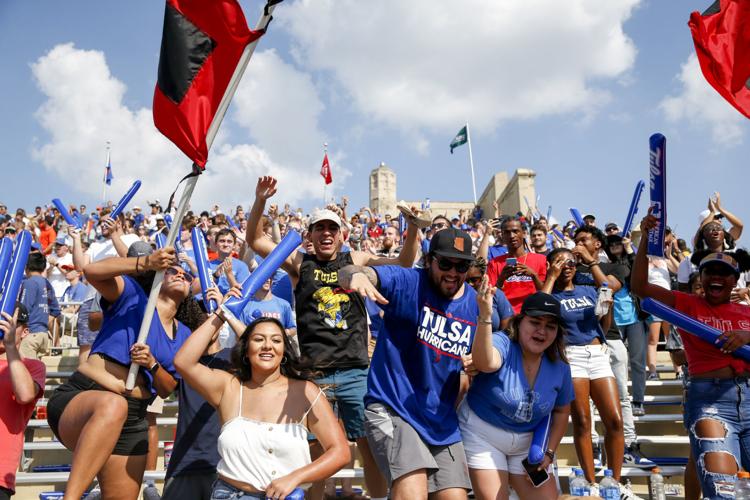 First down ¦ Top storyline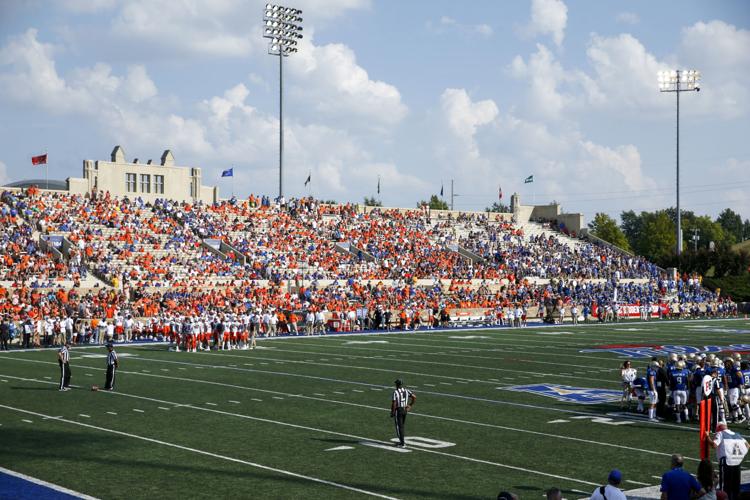 Second down ¦ Key matchup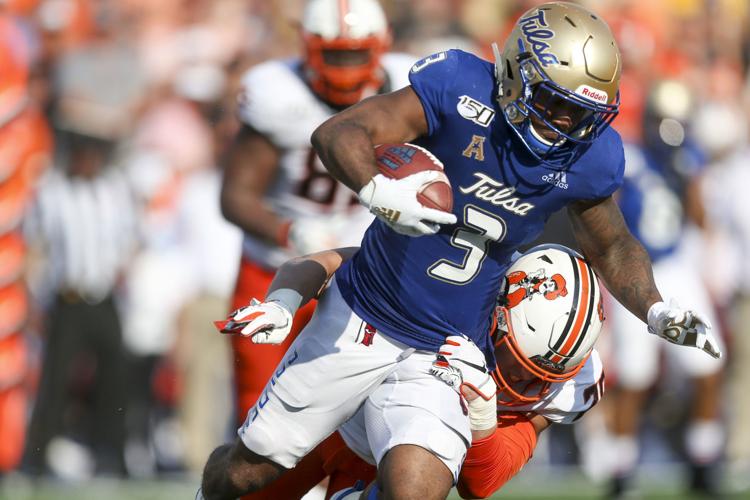 Third down ¦ Player to watch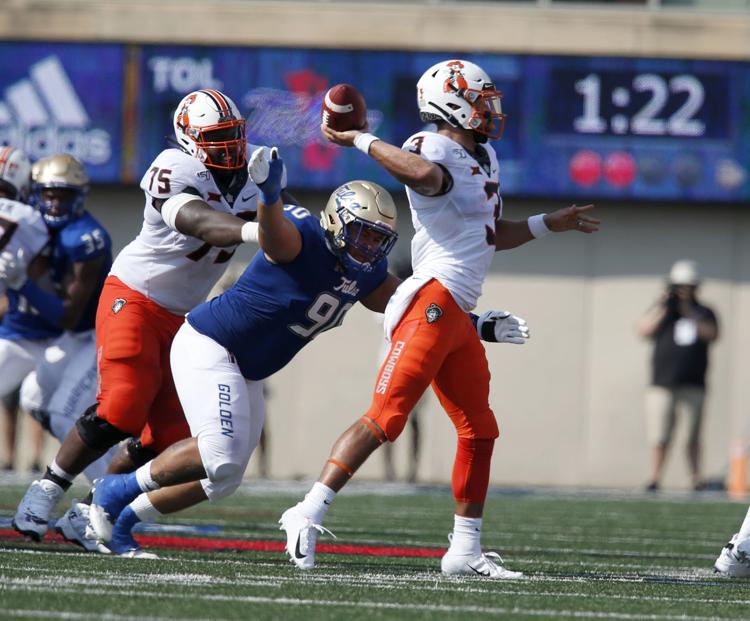 Fourth down ¦ Who wins and why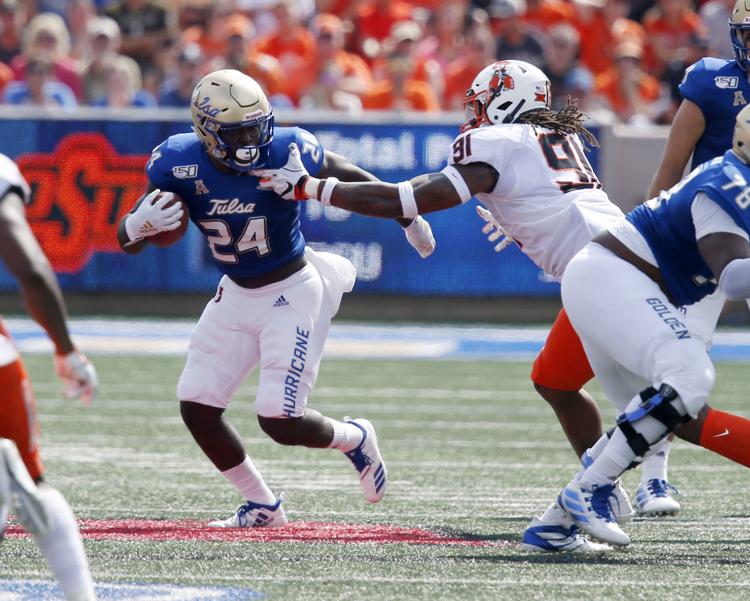 Despite Wyoming being one-dimensional, no one has stopped the Cowboys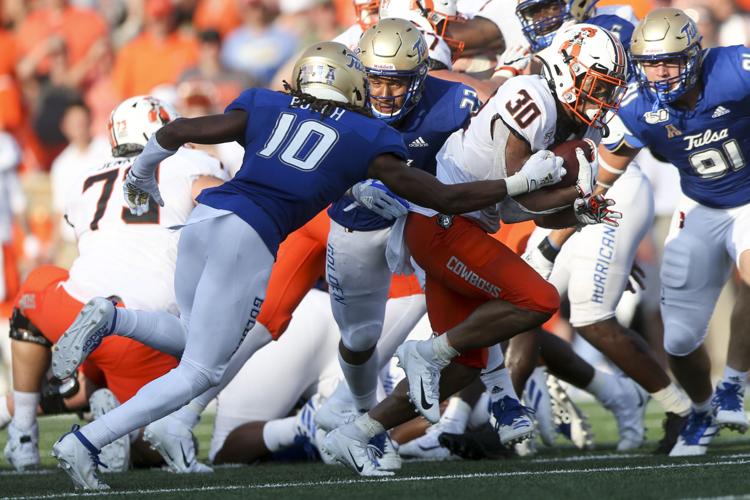 Catching up with this week's TU coverage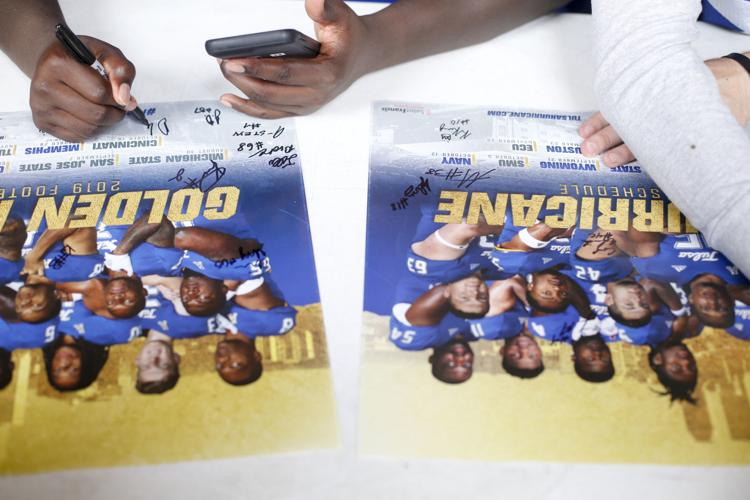 The Tulsa World's annual Outpick the Picker contest is back in 2019. Here are the specifics:
Who are future Tulsa Golden Hurricane Here's a look at TU football's commits according to 247 Sports and Rivals.
Thanks to fall break, the high school football schedule starts earlier for a lot of teams this week, including two televised Thursday games.
The NFL's week 1 games conclude tonight with the Cleveland Browns at New York Jets for Monday Night Football.
Buy the original or reprint of this cartoon.
Oklahoma State's first visit to Tulsa since the 2011 midnight kickoff was much hotter and much closer.
SAN JOSE, Calif. — Tulsa bounced back from a tough opening night loss in impressive fashion Saturday, rolling in the second half to knock off …
EAST LANSING, Michigan — The start of the Zach Smith era at quarterback was a rough one for the University of Tulsa.
Almost a year after monumental NCAA changes ushered in the transfer portal era of college football, coaches and players have differing opinion…
Follow the action on Twitter
TUSportsExtra.com: Home to everything Golden Hurricane