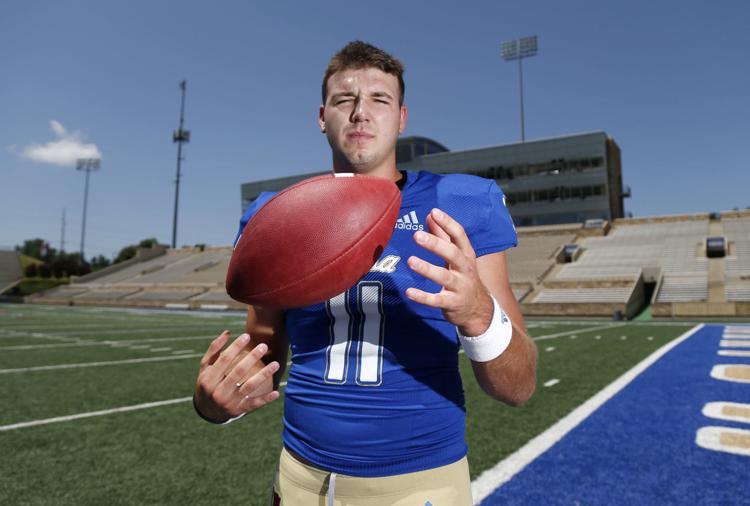 Zach Smith is the transfer from Baylor.
Whether it's the transfer, kid, guy, whatever, from Baylor, it's not his name that Smith is known by. It's not even the college he now attends that he's known by. He seems to be known only by what he did after the 2017 season — when he left Baylor for the University of Tulsa after a scandal and coaching staff shuffle in Waco, Texas.
"The Baylor kid," TU receiver Keenen Johnson said. "They don't even call him Zach. They just be like, 'The kid from Baylor, how's he doing?' 'He's doing good. His name's Zach.' I just let them know his information a little bit."
---
Related
---
But, considering Smith, a quarterback, hasn't played a down for TU yet after sitting out last season, he's just that for now: the kid from Baylor.
"At the end of the day, that's what comes with it," receiver Keylon Stokes said. "He's Zach Smith. He came from Baylor. That's what people see when they see him. That's just something that comes with the game and something he has to deal with."
Stokes and Johnson have to talk about the transfer from Baylor a lot. And not just during media days and news conferences. Johnson said Smith is by far the player fans and students around campus ask about the most.
"When we hear we got a quarterback from Baylor, we're like, 'Ooh, new toy!' Everyone wants to know who he is," Johnson said. "It don't bother me at all. Everyone's asking about him, and it doesn't really bother me at all. I like talking about him."
Smith meets another person. Somehow, whether it's because Smith is 6-foot-4 and 224 pounds, or because this person recognizes his face from TV, it comes up in conversation that Smith plays football for the Hurricane. The next line is rather predictable.
"Oh, yeah, you're the guy from Baylor."
Johnson seemed annoyed that Smith is classified only by where he came from. Fellow quarterback Seth Boomer chuckled because he said he has also noticed everyone he talks to outside of the locker room refers to Smith as "the transfer from Baylor." Apparently it irritates everyone, at least a little bit. Except for Smith.
"It doesn't really bother me," Smith said. "It's just people's perception. It is what it is."
The electric arm
It seems like Smith should have never been the transfer from Baylor in the first place.
The fact that Waco is less than an hour from his hometown of Grandview, Texas, was a bonus, but, ultimately, Philip Montgomery was the motive behind Smith going to play for Baylor. It's even the main reason Smith is now in Tulsa, five hours from home.
Montgomery, then the quarterbacks coach and offensive coordinator at Baylor, noticed the Zach Smith name kept popping up while recruiting. Assuming there must be a reason, Montgomery watched Smith play as a sophomore.
"He just had an electric arm," Montgomery said. "He was a big kid. He threw with a good balance. (His) arm action was a little bit here and there, but he had a big arm that could make all the throws. He was already their starting quarterback there. (He) did a good job as far as leading their team the year before. I just saw a lot of potential in what he could bring to the table."
Montgomery then invited Smith to a camp at Baylor. After Smith impressed Montgomery again, he had an offer to play football there. Although Smith was drawing interest from the likes of Texas and TCU, Baylor was the first major school to extend an offer.
"I think it definitely plays a big part in my loyalty to him," Smith said.
But before Smith stepped foot on campus as a student, Montgomery left Baylor to become the head coach at TU after the 2014 season.
"I thought about, 'Should I come up to Tulsa? That's my guy. He came up here,' " Smith recalled. "But I was pretty committed to Baylor."
Smith had Art Briles as his coach for one semester. On May 26, 2016, Briles was dismissed as Baylor's coach amid a scandal that he reportedly mishandled several sexual assault incidents by his players.
Smith played under Jim Grobe in 2016. He started the Bears' last four games that season after Seth Russell suffered a season-ending ankle injury. He started six games the next year as a sophomore in 2017 under Matt Rhule. Smith's 14 touchdown passes in his first five starts were the second-most in school history. In a game against then-No. 3 Oklahoma in 2017, Smith threw for 463 yards and four touchdowns.
But after that season and more coaching changes, Smith decided to leave Baylor. TU was immediately a top option as his next destination, considering it not only had Montgomery, but also quarterbacks coach Beau Trahan and other coaches who were part of the staff that originally recruited him to Baylor.
"I always knew that I would have a home up here with Coach Monty because he left when I was still committed," Smith said. "I knew that if anything ever did happen I'd be able to come up here and be in this kind of offense and be around the coaches that I originally committed with."
Said Montgomery: "I was excited, because obviously we had already had a previous relationship. I knew him. I knew his family. I knew what he was about. I knew what we were getting. To have him come and be a part of what we have going on here, I thought it was gonna be a great match on both ends."
The Hurricane's quarterback
Johnson thought Smith was a tight end.
Smith had just committed to transferring to TU. As he and his family stood next to Montgomery, Johnson wanted to meet who he assumed was a new tight end because of Smith's stature.
Johnson didn't know who Smith was. Johnson didn't even know what position Smith played, much less where he came from. But then Smith quickly became "the transfer from Baylor" to his new teammates.
"I just went and looked him up," Johnson said. "I had to go see what he was like. If he's coming from Baylor, you gotta want it pretty bad."
Johnson was not the only one to research his new teammate. And as Smith's previous location became more known because of social media and locker room chatter, an internet search was even more necessary.
"I knew he came from Baylor, but as far as who he was, I had no idea," offensive lineman Chris Ivy, Jr. said. "But I looked him up. I mean, the guy can throw, so I was happy about him coming here. Definitely."
But after a year on the team, Smith is no longer the "transfer from Baylor" to his teammates.
"I don't even look at him as the guy from Baylor," Ivy said. "I look at him as Zach Smith: my quarterback."
Smith isn't the TU quarterback yet, though. After not playing last season, he's now in the midst of a three-player quarterback race with Boomer and Davis Brin as the season approaches. As Smith watched last season, Boomer started the final eight games of the season. Brin watched, too, as a redshirt.
"He's still knocking a little rust off, but I'm really impressed with what he's doing and the command of the offense that he has," Montgomery said of Smith. "Now we just gotta continue generating that and getting better every week."
Smith seems to be the frontrunner to start TU's season opener against Michigan State on Aug. 30 in East Lansing, Michigan. It has been most TU fans' assumption that Smith was going to start this season all along after sitting out. That idea is probably based off where Smith comes from.
"I'd imagine there's a lot of pressure because of the fact he's coming from Baylor and we're really looking for him to turn the team around," Johnson said.
But until he does turn around the TU program — or doesn't — after two disappointing seasons and his coach — the reason he's in Tulsa — on the hot seat, Smith will be known as the "transfer from Baylor." Or maybe he'll just always be known as the "transfer from Baylor."
"That's gonna be nice to hopefully just be known as the quarterback from TU instead of 'the transfer from Baylor,' " Smith said. "I guess it's probably always gonna be stuck with me because that is where I was before. But being known as my team's quarterback would be nice."