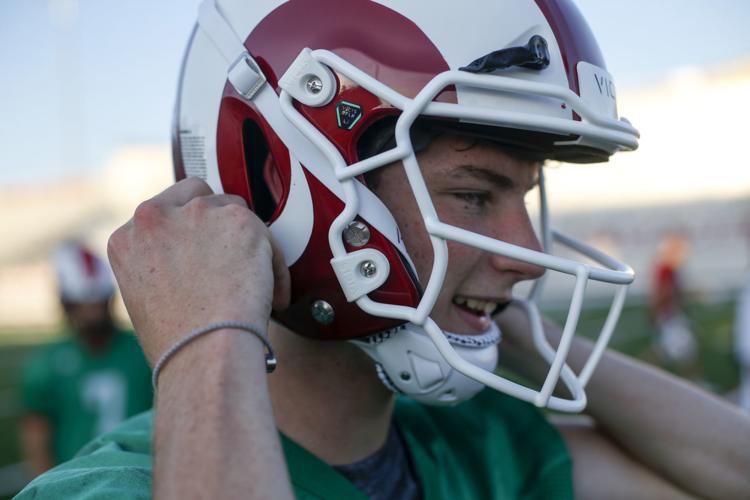 Not long after quarterbacking Collinsville into the Class 5A football semifinals last fall, Cole Dugger started thinking about finding another school to play his senior year.
He had nothing against his hometown or Collinsville head coach Kevin Jones. But Jones is a proponent of the running game. The Cardinals ran the ball 80% of the time last season while going 12-1. Dugger threw scarcely 10 passes per game.
---
2019 class breakdowns 
---
Handing the ball to Cards running backs for another whole season didn't seem the ideal way for Dugger to convince college recruiters he was capable of throwing the ball at the next level.
So, he moved to nearby Owasso. The Rams had just what he wanted.
They compete at the highest level and have a famed quarterback guru. Bill Blankenship played the position at Spiro and the University of Tulsa and has years of experience tutoring young players like Dugger.
Best of all, the Rams had an opening. Will Kuehne was out of eligibility after leading Owasso to a 6A Division I state title as a junior and a semifinal finish as a senior.
"I just really felt like Owasso would be a better opportunity to move on and play college football," Dugger said. "I brought it up to my parents and we talked about it and it took me a long time to decide. I prayed about it and I just thought it was the best opportunity for me. I had nothing against Collinsville. I love the place. I've lived there all of my life."
Dugger says he has grown immeasurably as a quarterback in his seven months with Blankenship. Barring unforeseen circumstances, he will be the starter Friday when the Rams open the 2019 season at Bentonville, Arkansas, (West).
Dugger won't be the only player with a new address this season. High school athletes are moving so frequently it starts to feel like NBA free agency.
These aren't under-the-radar moves:
JD Geneva, one of the area's highest-rated passers, left Coweta after two successful seasons and was battling for the Union starting job with Trent DeSmet and Rovaughn Banks.
Cody Ross left Berryhill after two successful seasons, going first to Jenks and then to Sand Springs. He was battling Braden Foster and Ty Pennington for the Sandites' QB job.
Such activity isn't new, but it seems to be happening at a higher rate than ever before. More and more schools feel the sting of high-caliber athletes leaving for so-called "greener pastures."
Has the NCAA created some sort of trickle-down effect by opening its transfer portal, making it easier for college athletes to change schools?
"It's almost like we've opened a transfer portal for high schools," Owasso's Blankenship said. "I don't think it's new, but I definitely think there's more interest."
---
---
The practice was once frowned upon. Parents were expected to use such situations to teach their sons and daughters about honor, loyalty, constancy and other values that seem less important in our "me-first," modern world.
"In certain pockets, it's almost seen as being a good parent to be willing to shop your kid and move him around," Blankenship said.
Geneva, Ross and their families declined comment, but Dugger and his father spoke openly about their decision with the Tulsa World.
James Dugger understood Collinsville's inclination to run the football and actually suggested a possible move before Cole's sophomore season.
"It was my idea," James Dugger said. "I'm a football guy and I've always been very involved with Collinsville football. I was close with Kevin and I understood his philosophy. It's nothing against him, but if he can run the ball and win football games, that's what he's going to do."
Jones wasn't ecstatic about the move, but what could he do?
---
---
"It's definitely a big loss for us. (Dugger's) an outstanding player and an outstanding leader," Jones said. "At the same time, you can't lead a team if you're not 100% all in. You can't be thinking halfway through the season, 'I wish I would have gone to Owasso.' If that's how it's going to be, then you've gotta do what you're gonna do."
James Dugger said he knew the move would be painful, but he left the decision to his son and trusted him to make the right one.
"We still have a lot of friends in Collinsville and we care about all of them," he said. "But you have to look at it from a lot of different points of view. You almost have to be somewhat selfish. You have to decide on 'What's in my (family's) best interest?' over the fact that you're gonna let some people down."
The Oklahoma Secondary School Activities Association discourages moving solely for athletic purposes because extracurricular participation isn't supposed to be the No. 1 priority of higher education.
But even when an athlete's motives seem obvious, they're hard to know for sure and impossible to prove.
OSSAA director David Jackson said it isn't a recent phenomenon.
It was 20 years ago a salty Nathan Hale running back moved to Jenks for his final two varsity seasons. Kejuan Jones helped lead the Trojans to back-to-back state titles.
In 2000, Jones authored one of the signature plays in the Jenks-Union rivalry, taking a short pass 80 yards for the deciding score with eight seconds left in a 41-37 Trojans victory.
The OSSAA distinguishes between transfers. Those who enroll while continuing to live in another district must sit for a year unless they receive a hardship waiver. Athletes who literally move from one district to another are eligible after a 15-day waiting period.
To be eligible at Owasso, Dugger moved with his family from their home northwest of Collinsville to the Bailey Ranch neighborhood of Owasso — about eight minutes away.
Broken Arrow will have home-grown junior Jake Raines under center when the Tigers open the 2019 season Saturday at Mansfield, Texas. But it was a pair of move-ins, Tate Robards of Collinsville and Quintevin Cherry of Muskogee, who quarterbacked the Tigers to last year's 6A Division I championship.
Aaron "Tricky" Stokes also moved from East Central after his junior season to be a part of the Tigers' championship season. Multiple move-ins fuel speculation about recruiting, but BA coach David Alexander said other factors entice athletes to change schools.
"Bill Blankenship is arguably one of the top two or three high school coaches the state has ever seen," Alexander said. "Owasso has amazing facilities and Broken Arrow has amazing facilities. If a kid thinks he's gonna get recruited more (by the colleges) because he's playing for Bill Blankenship or David Alexander, then he's gonna move."
Alexander reminds that Peyton Thompson left Broken Arrow to quarterback at Union the past two years, leading the Redskins to a state runner-up finish as a junior and to the semifinals and a last-second loss to Jenks as a senior.
"(Thompson) felt he had a better chance to go and play (at Union)," Alexander said. "I shook his hand and I told him he's a great kid and 'good luck.'"
Blankenship, who guided Union to 154 wins and three gold balls over 14 seasons (1992-05), has seen it both ways.
He and Owasso benefited in 2017 when Kuehne, now a University of North Texas freshman, moved from Liberty Christian School in Argyle, Texas, to play for Blankenship.
But Blankenship remembers while he was coaching at Union that former Redskins were quarterbacking at Owasso, Broken Arrow, Jenks and Cascia Hall in the same year.
Quarterbacks generally move before anyone else because a program can only play one or two. If a third and fourth feel they're good enough to play, they're probably going to have to find other schools.
But it isn't always the quarterback who changes schools. Linebacker Tyson Ward has made an impression in Jenks' preseason drills after leading Lincoln Christian with 142 tackles as a freshman and 141 as a junior.
"People may pay more attention now (when athletes move) and it may be reported in the newspapers more," Jackson said. "But whether it's happening more, I really don't think so. I think it's been an issue for a long time."