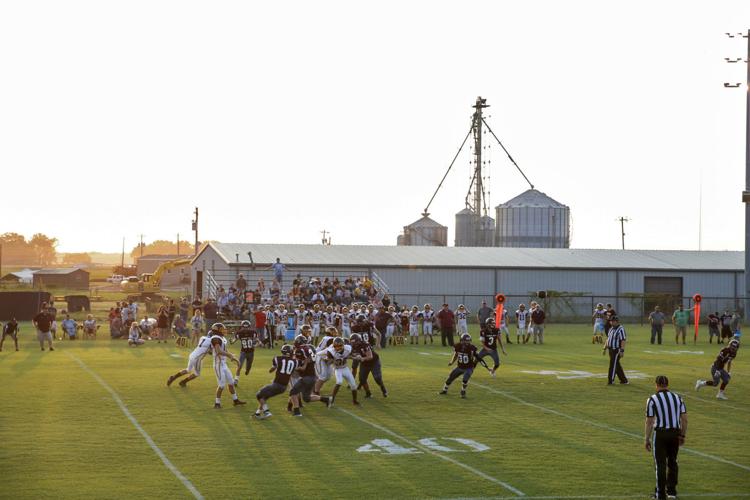 WEBBERS FALLS — As dusk fell over Webbers Falls on Sept. 6, high school boys crashed shoulder pads and grunted as they tackled each other. The public address announcer kept play-by-play, emceed a halftime game of "Simon Says" and reminded fans to cheer louder. The fans hollered at their boys and, occasionally, the refs.
Three and a half months earlier, this tiny Muskogee County town alongside the Arkansas River had been swallowed. The Arkansas crested at 46 feet, 18 above flood stage, and spilled into yards, homes and businesses. Homes got it worst; officials said 160 of Webbers Falls' roughly 200 houses were damaged.
Here at Smokey Cox Stadium for the home football opener against Porum, the community was whole again.
Folks sat together in Webbers Falls maroon and gold, wearing slogans like: "Quitters never win and Warriors never quit."
"Oh yeah. He played peewee ball with him."
"I hear he's gonna play basketball."
"Noooo! They clipped us!"
"That's about the darndest haircut I've ever seen."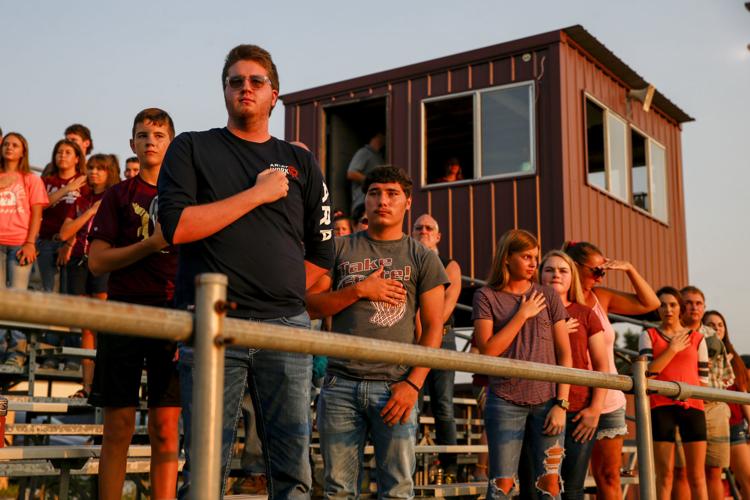 It sounded like the soundtrack to any high school grandstand on any Friday night at any school across this football-mad state of ours, and that's what was so beautiful.
Five rows up sat Jerry Ward, who has coached girls basketball at Webbers Falls about half his life and has roots in the town deeper than that.
"We want to win the football game, but honestly the score is the least of our worries," he said. "Just being able to have a team and have a school for the community to come back to, that's more important. Just to get a little normalcy back after everything we've been through."
Rose Olson, a Webbers Falls elementary math and science teacher, sat beneath an orange OSU Cowboys tent an hour before kickoff as someone unloaded ice and beverages into a tub. This would do for Webbers Falls' concession stand, since the usual location connected to the school wasn't ready.
"See the line right there?" she asked a visitor, referencing a streak of old grass and debris on a bleacher seven rows up the grandstand. "That's how high the water was."
Arlena Tipken, a Webbers Falls graduate who teaches pre-K at the school, stopped to chat before taking tickets at the Smokey Cox gate.
"I had three brothers that lost everything. Their homes are going to have to be knocked down. A sister-in-law lost everything and two nieces lost everything," she said. "This game is going to allow the community see what we do have."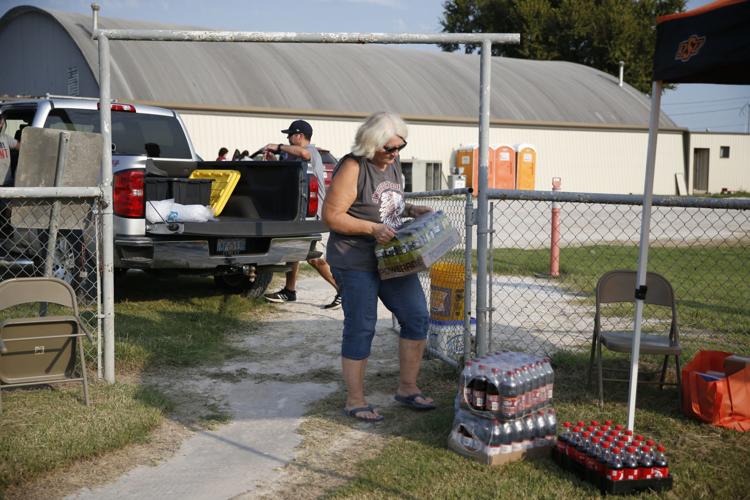 Down past the north end zone the Warriors suited up in a locker room without lockers. They had been missing those since the flood. They had been missing pads and weights and practice jerseys and an ice machine — coach Trent Holt drove across the bridge to neighboring Gore for bags of ice — before surrounding communities sent supplies.
Warriors lineman Waylon Brasuell had been missing his house.
"We're starting to build back now," he said before a practice in late August. "Two years ago we had a tree fall on our house during football season. Crashed right down in my parents' bedroom and our kitchen. It took out half the house. We just finished painting and put on the front door. We were completely done and then we flooded."
That's how playing one snap of a football game, something you've done since sixth grade in a town you grew up in, becomes extraordinary.
That late August day, Brasuell and his 16 teammates knee-lifted across the Smokey Cox field to warm up as a structure not 20 feet from the field collapsed into a heap of rubble.
"That used to be a house. That was where our ag teacher lived," Holt said. "It got torn up so they're tearing it down. I think she got enough insurance money, so they're going to rebuild."
The 52-year-old Holt had a wrench in his hand and sweat pouring down his face as he stopped tinkering with a field sprinkler to talk. It was a week before Webbers Falls' first scrimmage.
The Warriors weren't in game shape at the time — players spent August helping put their school back together, and doing sit-ups and push-ups on the side since the school's weight equipment was ruined by flood water — but they couldn't wait to play just the same.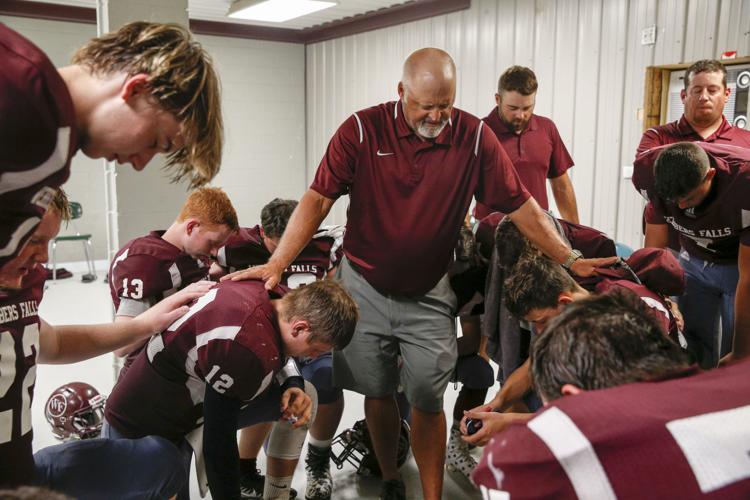 "It's been non-stop thrash since we started hauling and cleaning and building," Holt said. "At least we're still here. They didn't shut us down and send us somewhere else. We're glad about that.
"Dixie (Swearingen, Webbers Falls' superintendent) told us as soon as the flood hit, 'We will rebuild this thing.' Because that's what Webbers Falls has, the school. That's their identity around here. The athletic programs, that's their identity."
Holt noticed his 16 players pulling their trucks into the gravel lot outside their reconstructed locker room.
"We talk about it," Holt said. "This is what brings Webbers Falls together. Y'know? That's where they go on Friday nights, or Tuesday nights for basketball. That's where they go."
A short walk from Smokey Cox, Holt's volunteer assistant coach hammered away at his own rebuild.
Asked for a damage assessment, Steve Shelby drew a deep breath and said: "Bad. Yeah. I'd say a quarter to a half million (dollars). Water was about knee high in here."
The 40-year-old Shelby played for Webbers Falls' first 8-man football team. Now he runs the town feed and hardware store. He oversees Webbers' youth sports programs.
Shelby stopped drilling in the midst of his latest 16-hour day and said he'd drop by practice if he could get enough done. He really needed to drop by practice.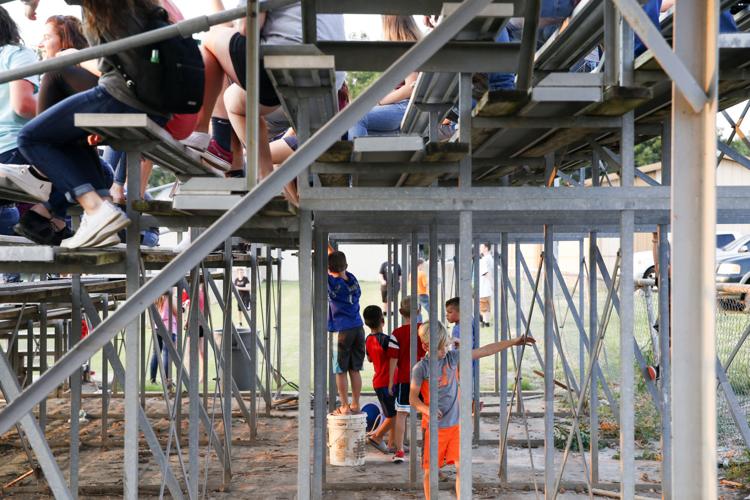 "We're just worn out and running on empty here," Shelby said. "Everybody's working their tails off rebuilding their houses or rebuilding their dad's store or helping out at the school or wherever. The football and sports side of it is good to keep everyone's minds on track so they don't realize it's not as bad as it is. Once you get out on that green grass it's all you can think about. Having that gives you something to rally around. That's a big deal."
Shelby kept building. Holt kept sweating. Brasuell and the Warriors kept pulling up for practice.
Muskogee sent helmets and blocking dummies. Spiro donated jerseys. Holt and his son, Hunter, drove down to Wrightsville, Georgia, and hauled back a donated scoreboard. Saved shipping costs that way.
Next door at the school there were dumpsters, tarps and supply trucks, piles of rotted planks and wet brush. You heard chainsaws and power washers and the "Beeep! Beeep!" of a trailer in reverse. Next door and all over town they kept building, sweating and pulling up to work.
Until finally, Sept. 6, it was Friday night at Smokey Cox Field again.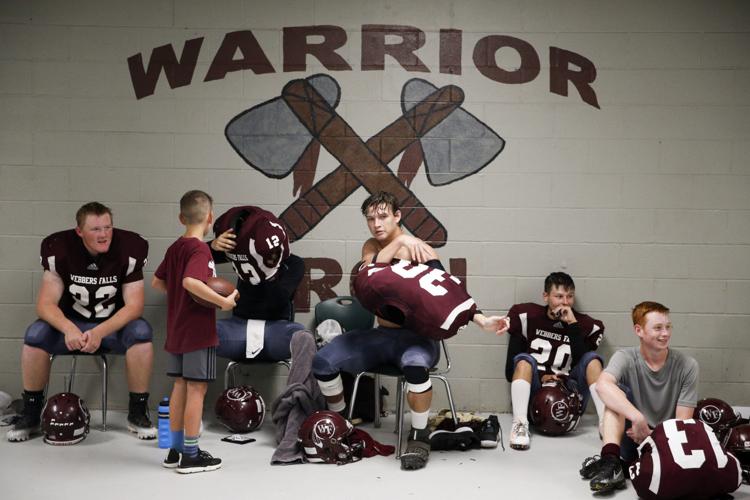 "This is really the first home event that I have seen our community and our students out in full force," said Lisa Ward, the Webbers Falls principal watching the Warriors from the fifth row. "I've seen some kids I haven't seen since May. It makes it real, that everything we've been through is coming to a close. We're going to start a new chapter. We're ready to go."
A Warrior made a tackle, a spectator in maroon and gold shot from his seat and the public address announcer shrieked: "Lemme hear ya out there!"
"It's neat to see everybody here," Jerry Ward said. "Kind of shows that even in the midst of catastrophe something good can come from it."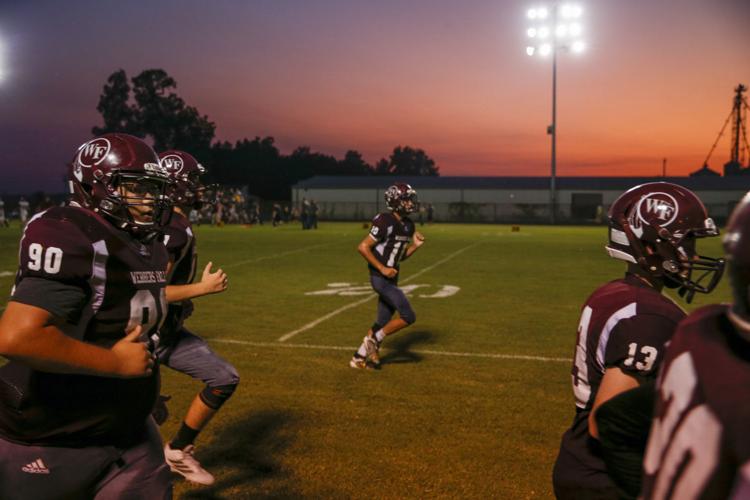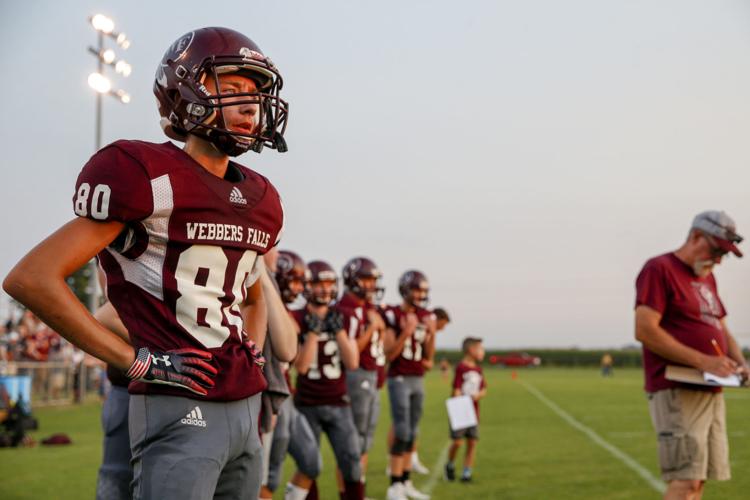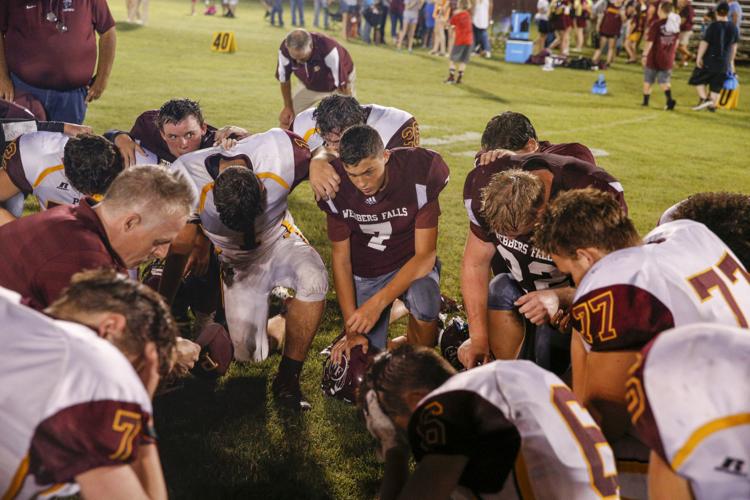 ---
Other Beyond the Sidelines stories