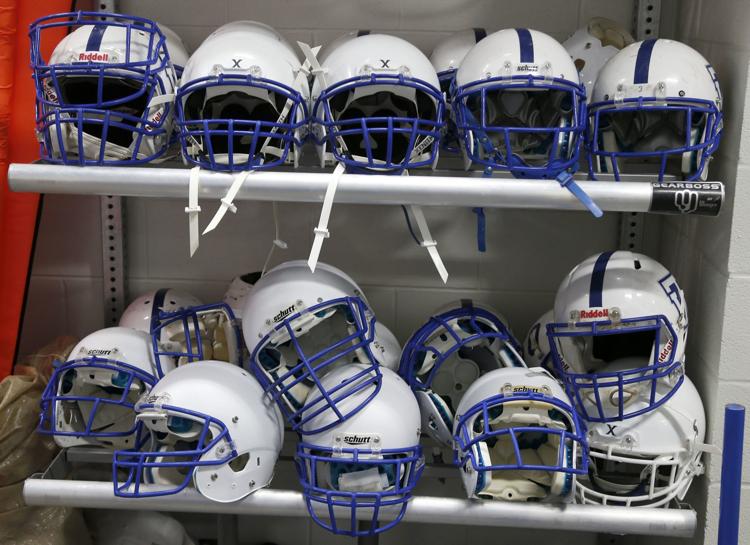 New head coaches often want new things when they take a job, and when David Alexander assumed the top role at his alma mater of Broken Arrow in 2014, he wanted new football helmets.
Two years later, there were 150 brand-new Riddell SpeedFlex helmets sitting in his equipment room; the Tigers' entire inventory of helmets flipped with a single purchase.
The school declined to reveal the cost of the investment despite a request, instead suggesting an estimation could be made from market price. Listed by Riddell at $409.99 per helmet before paint, logo decals and other common add-ons, a basic estimate indicates Broken Arrow spent more than $60,000.
In 2019, less than 20 miles away at Central High School, Kip Shaw wants to overhaul his program's collection of helmets, too. Of the 55 helmets the Braves will wear on Friday nights this fall, 25 are made by Xenith — among the least desirable and most expensive to maintain — and he's trying to phase them out. But Shaw, who became head coach at Central in 2017, is well-attuned to his limitations. The program can typically afford maybe five new helmets each year.
---
Related: More on helmet safety
---
Shaw's goal is to phase out his collection of Xeniths in three years. That, he knows, is optimistic. Asked to envision performing a full inventory transformation at Central, one like Broken Arrow's three years ago, Shaw pauses, then sighs.
"We could never do that," he says. "Not ever."
Shaw is not alone. As the season draws near, many coaches in the Tulsa area face a similar reality. On the matter of the sport's most crucial piece of equipment, all is not equal for local programs in northeast Oklahoma.
This summer, the Tulsa World spoke to coaches, trainers and administrators from more than 20 area schools, as well as industry professionals and experts, to gain insight into the practices, processes and challenges associated with maintaining helmets and ensuring safety within local football programs.
The conversations revealed that the nine programs within the Tulsa Public School system as well as suburban counterparts such as Jenks, Union, Owasso and Broken Arrow are operating up to national helmet standards and actively pursuing measures to ensure even better protection for their athletes.
In an age of heightened awareness surrounding brain injuries and helmet safety, spurred on by research into Chronic Traumatic Encephalopathy — the neurodegenerative disease caused by repeated impacts to the head — and other troubling diseases linked to football, it is clear area high schools have evolved to the shifting landscape.
Some have invested in educational programs to better inform their coaching staffs. Others have pushed money toward technology aimed at reducing instances of concussion and minimizing helmet-to-helmet contact. In 2019, it's not only medical staff and administrators but coaches who have become the informed experts on the subject of helmets.
As far as helmets are concerned, high school football players in and around Tulsa have never been safer.
Yet, as previous blind spots and issues tied to helmet safety have been stamped out in this era of enhanced awareness, another has been exacerbated.
In 2010, a local football program would have paid $150-200 per helmet; in 2019, they pay double. Vicis Zero1 helmets, which Jenks will wear this fall, have a $950 price tag.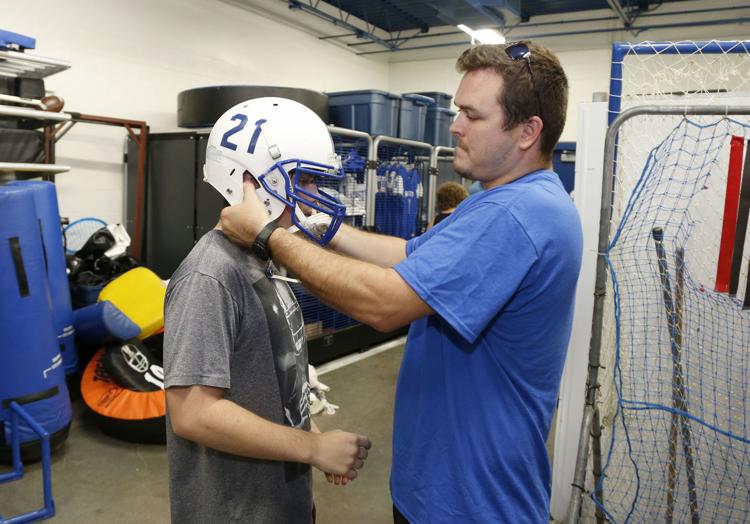 The rapid rise in awareness has brought with it a jump in the costs associated with the vital piece of protection, and some programs are equipped to handle the increase better than others. Following the same guidelines, undergoing the same inspections and living up to the same helmet standards, public schools in the state of Oklahoma play by the same rules, but a gap emerges when it comes time to pay — and programs in Tulsa are no exception.
There's a divide across high school football in the area; the difference that separates Alexander's Broken Arrow and Shaw's Central. Each local program surveyed by the Tulsa World is able to meet required standards, but some reach and exceed the bar more comfortably than others.
When it comes to football helmets — the last line of defense from traumatic brain injury — and local football programs' ability to maintain them, the common denominator is money.
"Sometimes we just don't have it," McLain's Willie Ponder says. "It's hard to get money from the budget to get it all done."
It's July 28, and Ryan Boatright is panicking. The season is less than a month away, and Daniel Webster's first-year head coach still doesn't have all of his team's helmets. Boatright's predecessor, Scott Robb, shipped out a portion of the Warriors' collection of helmets to be reconditioned before he left the school in March, and they've yet to return.
The reconditioning process, executed by helmet manufacturers under safety recommendations from the National Operating Committee on Standards for Athletic Equipment, is crucial in ensuring helmets remain up to safety standards after purchase. The NOCSAE sticker of certification that comes with it is required for every high school football helmet in the country.
But as some of the Warriors' helmets sit in a far away facility late into summer, the process has left Webster's rookie coach in a lurch.
Three weeks before the team's first practice of the year, Boatright doesn't know when he'll have his refurbished helmets back. The truth is he can't even be sure all of them will return.
The prickly end of the reconditioning process is rejection, when a helmet is deemed uncertifiable due to cracks, dents or other marks of irreparable deterioration and removed from rotation entirely.
Essentially, as one local head coach explains, it becomes a piece of trash.
Rejection this close to the season is Boatright's biggest fear. If even a few of the helmets do not receive that NOCSAE certification sticker, Webster's young head coach and the scant operating budget he works with will be in trouble.
"It's a really big concern," Boatright says. "That would be an absolutely massive hit for us and our pockets."
Of all the safeguards and inspections that occur over the lifespan of a football helmet — a maximum of 10 years per a 2011 mandate by the National Athletic Equipment Reconditioners Association — reconditioning is the most crucial and frequent. It's also the most costly.
Each offseason, high school football programs around the country send in nearly two million helmets to licensed reconditioning facilities, run by companies that sell helmets like Schutt and Riddell, to be taken apart, inspected, refurbished and, in most cases, recertified. At prices ranging from $45-120 per helmet depending on its condition, a program will often spend as much as $6,000 to recondition just half of its inventory — a bill that hits some harder than others.
Over the course of the reconditioning process, a helmet undergoes a series of tests and assessments in order to regain certification. Some of the fixes are cosmetic, such as new paint or updated decals. The rest are related to the helmet's condition, and every inch is inspected.
Sanded and buffed down to the protective shell and removed of its facemask and interior padding, the helmet is pored over in search of hairline cracks, spots of deterioration and other surface-level red flags, then put through NOCSAE tests which measure its ability to withstand certain impact thresholds.
Only after passing each inspection is the helmet recertified and reequipped with a chin strap, padding and a new facemask. In cases where wear and tear have compromised the helmets integrity, it's rejected and barred from on-field use. At best, it becomes a piece of office decoration.
"Bottom line, if the shell's thickness doesn't meet a certain requirement getting polished and reconditioned, then that helmet gets rejected," says Josh Smith, an Oklahoma sales representative for Riddell. "We're not letting anybody use that one again."
For many years, helmet manufacturers set their own reconditioning timelines, most recommending annual inspections but requiring them only every three or four years.
In 2017, NOCSAE raised the bar, mandating every helmet in the country to be reconditioned at least once every two years. The change upped safety measures taken to protect helmets and athletes nationwide, but it also heightened the financial toll on high school athletic programs.
For programs such as Memorial, Booker T. Washington, Union and Jenks, which were already sending in helmets annually, the policy shift barely registered. But coaches and administrators within the lower rungs of TPS, where every last helmet counts, felt the impact as even more became asked of their already tight budgets.
Ramped up reconditioning standards have forced funds to be redirected, pulling money away from other places. Boatright is waiting for Webster's helmets to return before ordering his players new pants to be sure he can afford them. At Central, Shaw will alter his team's meal stops, looking to save money anywhere he can. Ponder will skip purchasing new team apparel for another year.
When a helmet gets rejected, it's crippling.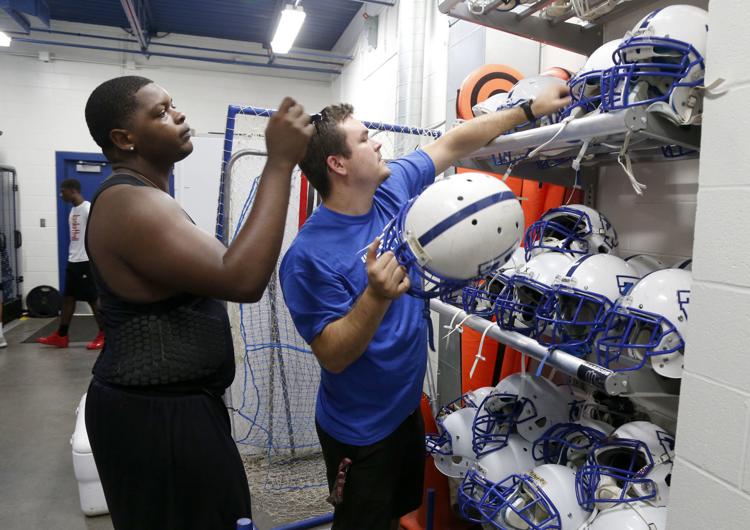 No one disputes the necessity of helmet reconditioning, and coaches agree the safety of their athletes is the top priority. But helmet maintenance has become a drain on their resources, and the rigors are beginning to show.
"It's a harsh reality," says Will Rogers' Parker Childers. "But if our budget gets any smaller when it comes to this type of thing, we might not be able to take as many players. You just don't have enough helmets."
The financial gap between local schools is not confined to reconditioning and recertification, as it is manifesting itself in equipment rooms across Tulsa, too. While programs in the area carry out expensive helmet overhauls, others are left in the dust simply trying to keep up.
Broken Arrow is not the only program to place a heavy investment into new helmets lately. This past winter, Sapulpa infused its inventory with three Schutt models totaling 110 helmets, a purchase ranging upwards of $45,000. In 2018, Memorial's collection of varsity helmets flipped entirely with 65 Schutt Vengeance Pro helmets, totaling an estimated $20,000. TPS' Edison and East Central, with the help of booster clubs and gate revenue, rotate 15-20 percent of their helmets out each year.
Vicis is the latest company to emerge onto the helmet scene. The Seattle startup outfits NFL star Patrick Mahomes and Super Bowl LIII MVP Julian Edelman. Aaron Rodgers is an investor. Keith Riggs and the Jenks Trojans purchased 112 of them this offseason.
While helmets carry with them a maximum legal lifespan of 10 years, NOCSAE suggests they should be removed from rotation every three to six years, placing each of these programs, which often phase older helmets down to junior varsity and middle school teams, ahead of the game on the latest national recommendations
That reality doesn't exist for other programs.
Of the 52 helmets at McLain that Ponder assumed when he took over in 2018, 12 are now too old to be legally outfitted and used on a high school football field. The prospect of replacing them weighs heavily on his mind.
Without the ticket sales and donor infrastructures other schools possess, coaches such as Ponder, Childers and Boatright are left phasing out old helmets while scouring retailers for deals. Shaw was able to purchase eight Schutt and Riddell helmets this spring. This was a good year.
Simply put, certain schools are left to do the best they can with what they have, and usually, it's not good enough.
"My principal, the administration, they really work with me and they'll help make sure the kids are safe," Shaw says. "But I'll tell you, for schools like us, it's hard to buy 10 helmets at $250 a pop."
For struggling programs, the list of solutions is short. Reduced state funding has affected public schools across Oklahoma, and TPS and its nine football programs are no exception. Without the revenue and outside funding programs such as Booker T. Washington, Memorial and East Central receive, they stand little chance of breaking the cycle.
TPS has made investments in greater safety measures in recent years. Head athletic trainer Steve Friebus has worked to educate his coaching staffs, bringing in USA Football programs to teach proper blocking and tackling techniques.
For the past four years, district athletic trainers have been equipped with SWAY Medical, a digital program that helps better assess potential concussions on sidelines. None of it, though, has addressed the pressing issues coaches face with their helmets.
Among the ways TPS has attacked the problem previously has been through fundraising. The annual Tournament of Champions generates $35,000-40,000 for the district each year, and advertising sales for the All-City Football Preview and Inside Tulsa Athletics TV — both produced by TPS — also bring in money for Tulsa's public schools.
TPS athletic director Gil Cloud says portions of that have supplemented football budgets, and he believes future district endeavors will be able to help even more.
But the predicament certain TPS programs face is a greater one; it won't be solved by fundraising alone, and Cloud recognizes that. He understands the issues those coaches face and insists the district is always working actively to remedy them, suggesting even despite budgetary limitations that something can always be done. All a coach has to do, according to Cloud, is ask.
"It is a real concern for us," he says. "But all we have to do is know. If we know that you have an issue and then we will supplement your program."
Several TPS coaches indicated it's not quite that simple.
When McLain kicks off its season next week, Ponder will roam the sidelines with a burden weighing on his shoulders.
On top of the 12 outdated helmets he has to replace next year, each of the 40 varsity helmets Ponder's program still has will be up for reconditioning at the end of this season. The second-year coach isn't sure how he'll bear the cost.
Ponder expects some assistance from the district but doesn't believe it will be nearly enough. Much of the fall will be spent building up the booster club he recently established and searching for outside funding to take care of the reconditioning bill.
"That's something that's going to hang over my head all year," Ponder says. "It's on me. It's my job to go out, talk to people and try to get funding to get it done."
What he would rather focus on, instead, is the program he envisions McLain being someday.
Ponder's goal is to create a safe haven there; a place where his players feel like they're a part of something. To accomplish that, Ponder says, he has to provide things like matching T-shirts, shorts and socks that the players don't have to buy — all the things he doesn't yet have that will create program culture he hopes to cultivate.
That plan, for now, is on hold. The bulk of Ponder's $4,000 budget and whatever other funds he can raise will go toward helmets, leaving little for anything else. Someday, maybe, it won't have to.