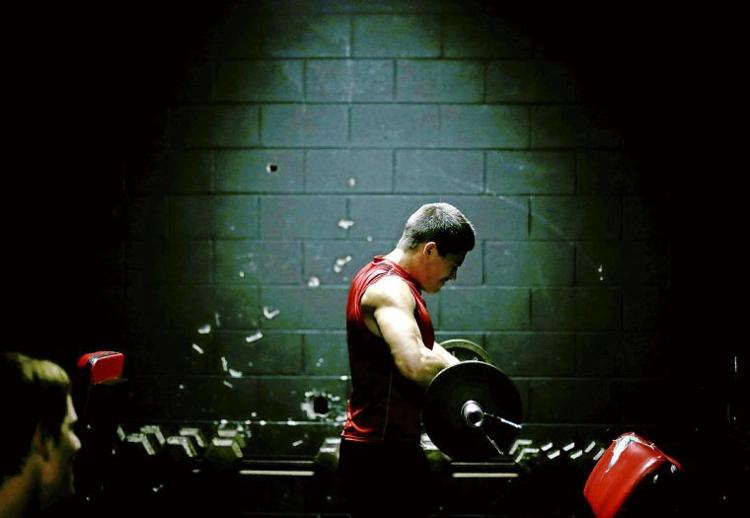 LOCUST GROVE — The sun has warmed the turf at Leonard Yarbrough Stadium, and teenagers sweat and strain as they finish their conditioning sprints, some wheezing a bit, some groaning, but most pushing through the fleeting torment.
A cool north wind has begun to blow away the afternoon heat. The day is changing. Evening storms loom to the west.
At the front of the pack, well ahead of everyone else, hurrying from one sideline to the other and back, changing direction every 5 yards, is Mason Fine, shirtless, slender, focused on his pace, focused on winning. Not far off his flank is Jason Pirtle, trying to chase down a plucky freshman who has somehow slipped ahead of him and well behind Fine. As usual, Fine is the winner.
"I still haven't beat him at that," Pirtle said. "He just runs for days. I came close one time. But yeah, we compete in everything."
The Locust Grove High School football team has finished another fast-paced spring day, with some clarification needed between the play-calls of "Red Panther" and "Red Cougar" and a seemingly endless encyclopedia of two-point conversion plays and a 2,050-yard fitness run.
Fine, the Pirates' impossibly precise quarterback, probably has thrown some 60 passes during the 45-minute session, most of which were caught by Pirtle, Locust Grove's glue-gripped receiver.
"Read the corner," head coach Matt Hennesy shouts to Pirtle. "If he bails, you're gonna hook that safety."
"Bubble! Bubble!" shouts offensive coordinator David "Pookie" Blevins. "Coaches, work on his bubble!"
"Hey," Fine says to Hennesy, "I did that wrong. Let's do it again."
It's just another day in Locust Grove, where football is better than ever, fast and fun and fortified by the record-setting Fine-to-Pirtle connection.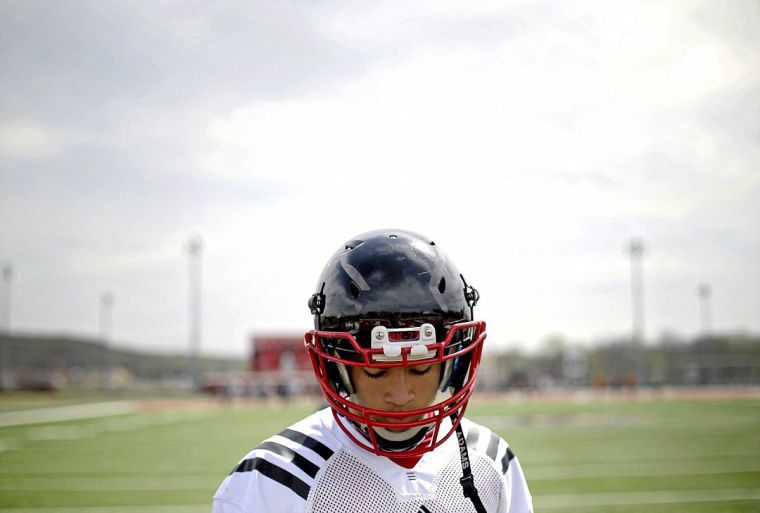 With the field behind him, Mason Fine gets ready to run another play during practice at Locust Grove High School on April 1. Fine, the Pirates' quarterback, and Jason Pirtle, his favorite receiver, are statistically the best pass-catch duo in Oklahoma high school football history. JOHN CLANTON/Tulsa World
They're only finishing up their junior year, but Fine and Pirtle already are Oklahoma's most prolific passing duo. Fine completed 68 percent of his throws in 2014, amassing 5,006 yards and 71 touchdowns — all state records. Pirtle caught 99 passes, gained 2,096 yards and scored 29 touchdowns. Fine's career total of 113 touchdowns also is an Oklahoma prep record, and Pirtle now has 40 career TD catches.
The football comes out of Fine's hand blurry-fast, like a T-shirt out of an air cannon. He almost never throws a bad ball. But when he does, Pirtle catches it, twisting, sliding, falling or diving like a trapeze artist.
These are two high school football players at the absolute top of their game.
And major-college coaches are noticeably absent.
"They both have their knock," Hennesy says. "Mason's too short and Jason's too slow — according to the tape measure."
A joy to coach
The recruiting process is usually a convoluted mess, even for America's top schoolboys. The five-stars, the blue-chips, the can't-misses, even they need a GPS to navigate these daunting roads. But for the rocket-armed quarterbacks who reach only 5-foot-10, and for the sticky-fingered wideouts who are easy on the stopwatches, it's a virtually impassible journey to the college game's biggest stage.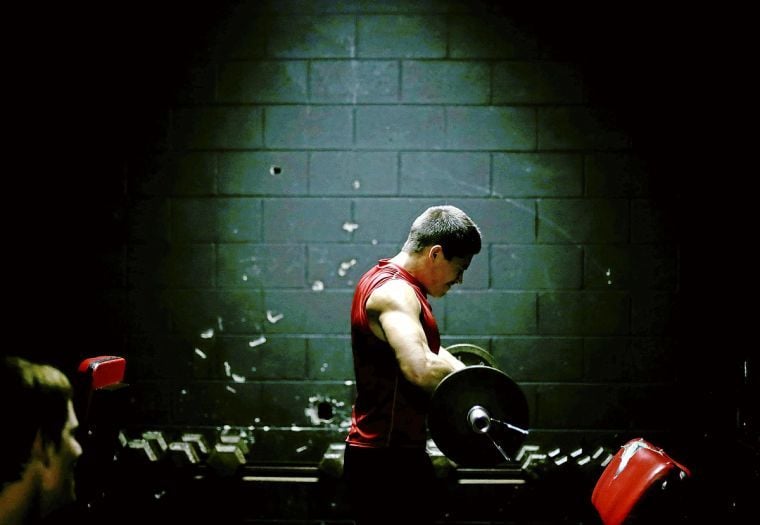 Mason Fine works out in a corner of the Locust Grove football team's weight room on March 26. Fine keeps a note in his locker where he notes his weight (162), the weight of the average college football quarterback (200) and the message "PUT IN WORK!" JOHN CLANTON/Tulsa World
"We're gonna find a school that wants us," Fine said.
It may be a Division II school like nearby Northeastern State in Tahlequah or Adams State in Colorado, or it may be a Division I program from the Football Championship Subdivision, like Austin Peay or Stephen F. Austin. Or it may be an Ivy League school.
But as of now, nearly three months after National Signing Day of their junior year, with only nine months left until their own ceremony, neither Fine nor Pirtle has a scholarship offer from a Football Bowl Subdivision program.
Granted, that could change at any moment. Rice coaches were in town last week and will return when the Pirates begin spring practice on May 18. Both Fine and Pirtle have scheduled unofficial visits to the prestigious Houston school for June 6.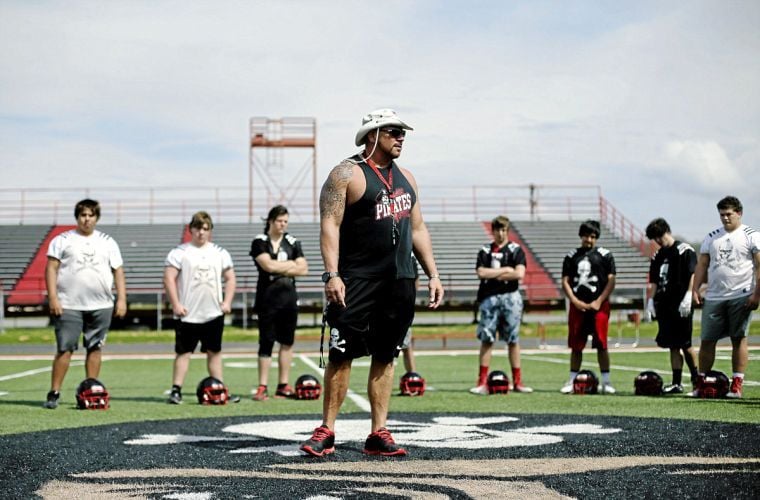 Locust Grove football coach Matt Hennesy speaks to his team after practice on April 1. He's talking about their former teammate, Big Kale Davidson, who died in a car accident two years ago. The Pirates hope to win a Class 3A state championship in honor of "Big Kale." JOHN CLANTON/Tulsa World
"They're super interested," Hennesy said. "If Rice comes in and pulls the trigger, Tulsa's gonna have to offer. They're not gonna let Rice outbid them on a kid in their own backyard. Arkansas State's gonna end up offering. Even Eastern Michigan, because they were so excited."
Fine's very first offer came from Austin Peay, located in Clarksville, Tennessee. Pirtle's was from Adams State, whose offensive coordinator is former TU assistant Josh Blankenship. (Adams also offered Fine.) NSU, of course, just 25 miles south of Locust Grove, has a standing offer to both.
"We hope and pray more are coming," said Fine's mom, Terrah. "But with that one offer — and it was a full ride — it kind of takes some of that stress off as parents. It'll be fine. They'll come.
"I was actually home when he got the call. I got to see a smile that I'll probably never forget. They will always have a part of us, that first offer."
Pirtle said he loves the idea of snowboarding in the mountains near Alamosa, Colorado, but has his sights set on a major-college offer.
"Hopefully I can get an FBS offer within the next six months or so," he said. "I just want to get that first one. I don't care where it's from. That'll always hold a special place in my heart. It'll be exciting. I'll know, finally, what I want to do."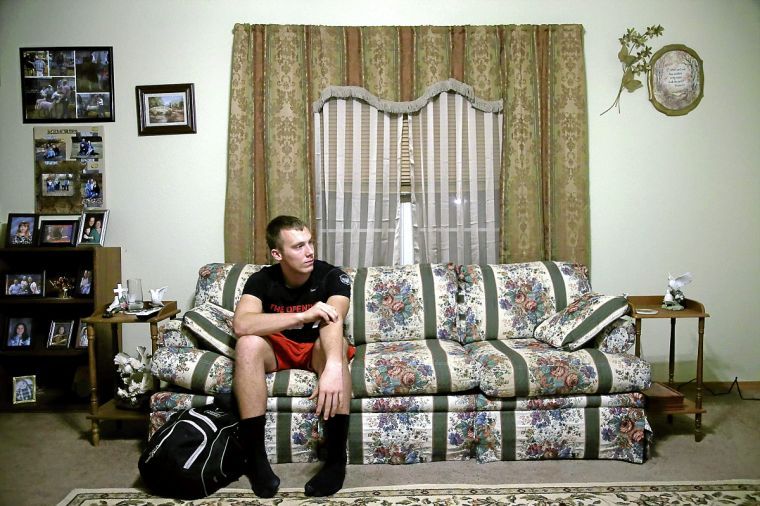 Jason Pirtle watches severe weather warnings on the television at his grandmother's house in Locust Grove on March 26. Jason is Malvene List's first grandchild who ended up playing football. List herself was a basketball player at Locust Grove in the 1940s. JOHN CLANTON/Tulsa World
So what gives? Do big-time college programs have a cut-off on height and 40-yard-dash times?
Actually, most probably do.
"I think Mason's a Division I player. It depends on if they're gonna look past him being 5-10. … Only thing he doesn't do right is stand 6-2. And that's not his fault," Hennesy said. "Jason, somebody's gonna have to take a chance on his play-making ability."
Fine probably won't get any taller, but Pirtle hopes to improve his 40 time to "somewhere in the 4.7 range," Hennesy said.
"Mason and Jason, they're not going to OU," Hennesy said. "But Tulsa should be all over them. All those mid-majors like that.
"The thing is, you're not gonna find a kid that will work harder than either one of them. They're both 4.0 students. They're both great in the classroom. … They're a joy to coach."
Taking a chance
It's Wednesday night, so that means Pirtle is eating dinner with his grandmother. Malvene List played basketball at Locust Grove in the '40s and last February turned 80 years old, though she still could pass for 60. Fish sticks and french fries are on the menu tonight, though really, everyone's keeping one eye on the tornadoes headed this way.
She attended every one of her grandson's games last fall, including that court-delayed epic in Sapulpa, a 53-42 Class 3A semifinal loss to Heritage Hall of Oklahoma City. Pirtle caught 21 passes for 395 yards and five touchdowns in defeat — more state records — and even Grandma was impressed.
"I didn't have any of my grandkids play football 'til he come along," she said over the weather alerts. "So, I didn't know squat about that. … I can't keep up with him. But, he had red shoes this year so I didn't have too much trouble."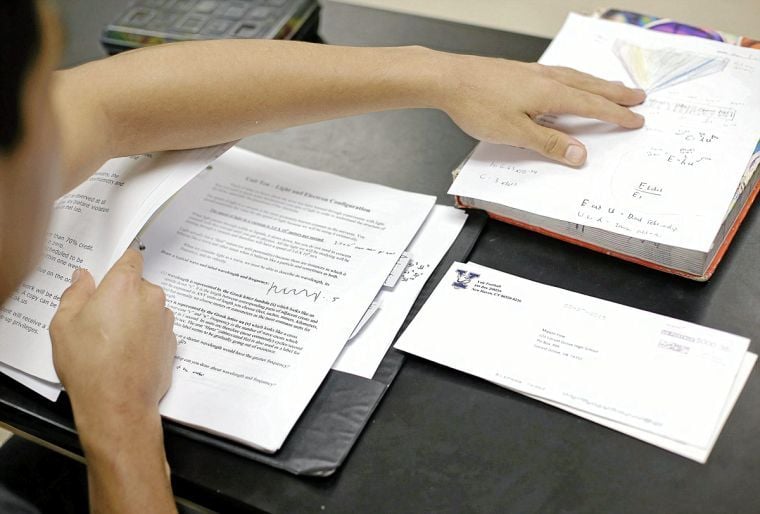 Sitting down in Chemistry class at Locust Grove High School, Mason Fine sorts his homework and books out on his desk around letters from Yale University and Brown University that he received that day. Fine was named the 2014 Gatorade Oklahoma football player of the year and the Tulsa' World's state player of the year. JOHN CLANTON/Tulsa World
A thick layer of hailstones covers her lawn and thunder rattles her humble living room, but she's focused on the wall of newspaper clippings in her entryway, regaling her grandson like a figure from folklore.
Pirtle just returned from a Nike regional camp in Dallas called The Opening. It was the weekend after the Pirates were beaten out of a state basketball tournament berth by McLain, 45-43 — also in Sapulpa. He competed against major-college prospects who have dozens of scholarship offers. Some have committed. One even ran his 40 in 4.38 seconds.
"Some of the best guys in America," Hennesy said. "He did as good as anybody."
The stress is high. Pirtle is doing everything in his power — he said he'll sign up for some intensive speed-training in Tulsa this summer to boost his 40 time, which he asked remain unpublished for now — but he still feels powerless. Sometimes the family feels it, too.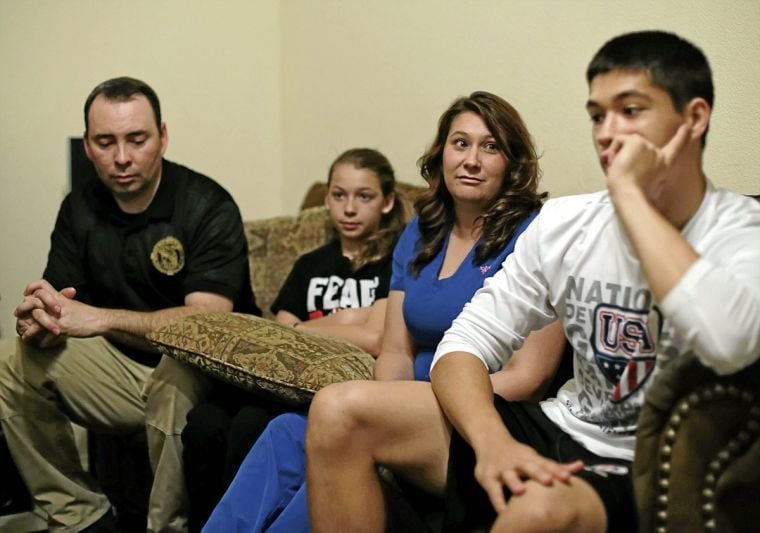 Mason Fine (right) sits with his family - dad Dale, his sister Adrianne, and his mom Terrah - at their home in Peggs on March 25. His mother was relieved when her son's first scholarship offer, which was a full ride, came in. "I got to see a smile that I'll probably never forget," she said. JOHN CLANTON/Tulsa World
"I don't, necessarily," said his laid-back dad, former Locust Grove footballer Mark Pirtle, Class of '94. "If it's gonna happen, it's gonna happen."
"It's gonna happen. It's gonna take time," said Pirtle's stepmom, Bambi Bell. "But it's like, come on, already."
Pirtle does show written proof that someone has taken notice. A stack of recruiting letters, including several from Oklahoma State, others from Stanford, UCLA, Arizona, Missouri, Kentucky, Colorado State and several throughout the Ivy League, are spread out on the coffee table.
It's a striking visual. But there are no scholarship offers in the pile.
"Yeah," Pirtle said. "Somebody's gonna have to take a chance on me. I'll try to make them very happy."
---
The cast of characters
Mason Fine, quarterback: Threw for 5,006 yards and 71 TDs last year but stands only 5-foot-10.
Jason Pirtle, receiver: Caught 99 passes for 29 TDs as a junior but hasn't run a fast 40 time yet.
Matt Hennessy, head coach: Offensive innovator who doubles as point man for college recruiters.
Dale Fine, Mason's dad: Laughs now, but was told early on that his son was too small to play football.
Terrah Fine, Mason's mom: Hoping and praying more offers are coming, but dearly appreciates the first one.
Mark Pirtle, Jason's dad: Not stressed over a lack of offers yet, but is eager to learn more about the process.
---
As good as any of 'em
Fine has his own pile of mail. While three girls stand at the head of Karen Vich's fifth-hour chemistry class deciphering the electron configuration of Scandium, he quietly shuffles the day's post — a recruiting letter from Brown and another from Yale — into his backpack to put with those he keeps at home.
Fine and his family live on a hill 10 miles south of town in Peggs, where he attended K-8. He had options for high school, including Tahlequah, Tahlequah Sequoyah and Pryor, but when he met Hennesy, he immediately chose Locust Grove. They arrived the same year, and Fine's powerful arm and Hennesy's unhinged offense were a perfect fit.
"Ever since Mason was little, he had aspirations to play college ball," said his dad, Dale, LGHS Class of '96 and now a special agent with the OSBI. "Probably since he was 8 years old, that's what he wanted to do."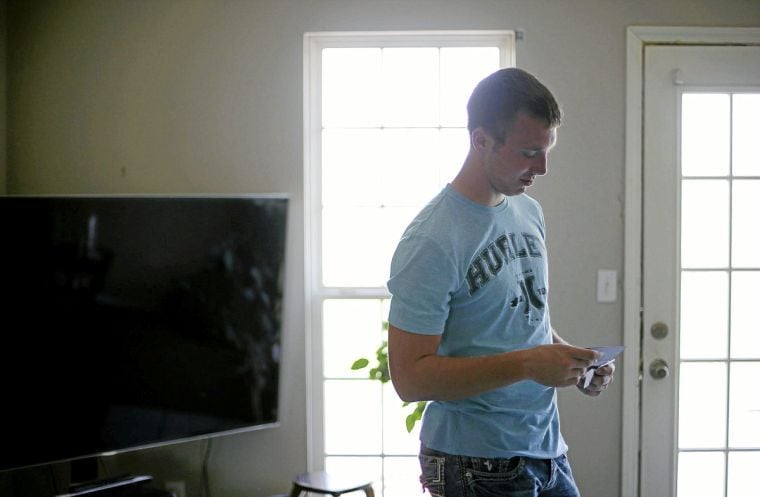 After talking about letters he's received from colleges, receiver Jason Pirtle looks at a note from the player whose record Pirtle broke last season during his junior year. Pirtle's first offer came from Adams State in Alamosa, Colorado, but he hopes he can pick up an FBS offer within the next six months.  JOHN CLANTON/Tulsa World
If recruiters think he's too small to play major-college football now, just think what people thought back then.
"He wasn't real big," his dad says as the storm flickers the living room lights. "Even when he was in fourth grade, I remember one of the dads told me, 'He's gonna be too small to play football.' But he just kept playing."
He may never get taller, but Fine is driven to get bigger. He lifts weights religiously, several hours every day with Pirtle, even during basketball season. He drinks protein shakes as if they taste good, several a day, and eats constantly (the heavenly buffet at the Country Cottage across from Yarbrough Stadium usually suffices). He's desperate to build upon his 165-pound frame.
"I think he's a guy that could be in college at 5-10, 190," Hennesy said. "Maybe 185."
But watch him throw the football and it's velocity and accuracy that stand out, not stature.
At last month's Rivals Quarterback Challenge in Dallas (on the same day and just across town from Pirtle's Nike event), Fine finished eighth out of approximately 85 quarterbacks from throughout the region. There were D-I commits aplenty, strapping, 6-4, 220-pound lads who certainly look the part but lacked Fine's flawless delivery and perfect footwork.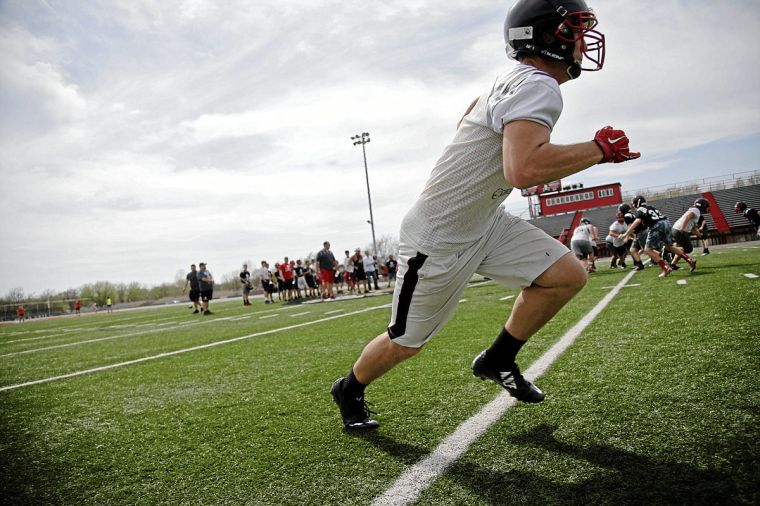 Receiver Jason Pirtle starts a route during an April 1 practice at Locust Grove High School. Pirtle caught 99 passes for 2,096 yards and 29 touchdowns last season. JOHN CLANTON/Tulsa World
After a series of 21 throws at stationary nets, the top seven finishers moved on to the event finals. The seventh-place guy scored 19 points. Fine had 18. Hennesy said Fine was the only QB at the event to hit two of his three deep throws, a 43-yard bomb. At the center of each target was a smaller net, and putting one in the center net added bonus points.
"Those two long balls I threw — it hit it but bounced right out, so it was just one point," Fine said. "One inch to the left and it would have been in there."
"I'm not a quarterback guru," Hennesy said, "but as far as pretty throws, he was as good as any of them."
April has arrived, a week after the storms passed through, and hearts are heavy. It's two years to the day since a car crash took the life of Locust Grove freshman Big Kale Davidson, a promising offensive lineman. After the workout, Hennesy reminds players to remember Big Kale, to pray for his family, and they shout his number at the end. Inside the field house, Big Kale's locker has gathered the dust of two years of untouched respect. The Pirates think about him every day. His spirit pushes them to win a state championship.
"It's real important," Pirtle said. "Losing him was rough then. It's two years now, and we all promised that we'd get it for him. We were so close last year, and it's heartbreaking to lose that close. I don't want to do that again. It was terrible. Everybody talks about the big game I had, but it just was such a heartbreaking night for me. We're gonna continue to work as hard as we can. That's what Big Kale did."
Fine and Pirtle sit in the front row of their classes and stay engaged throughout. They have become leaders not only on the football team but in the classroom. They're both honors students and both recently re-took the ACT to try to meet Ivy League standards.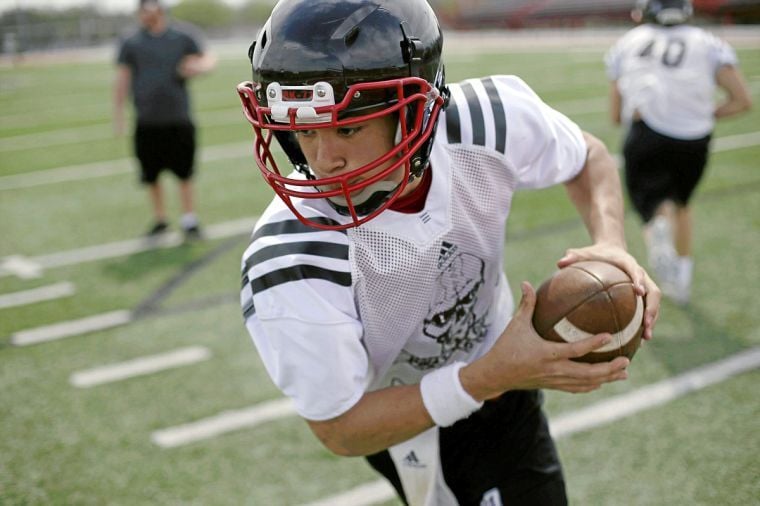 Mason Fine runs a play during an April 1 practice at Locust Grove, a small town 45 minutes east of Tulsa. Fine threw for 71 touchdowns and more than 5,000 yards last season. JOHN CLANTON/Tulsa World
"With all the success that both of them have had, they're not arrogant about it," said principal Clint Hall. "They're not boastful. They're very humble."
English III teacher Cathy Welker said she has "never had student-athletes like them in 29 years of teaching. They are above and beyond in everything they do."
In football, in school and in social interactions, she said, "they both make it all look so easy, like catching magic out of the air."
On Saturday, Fine and Pirtle attended the Semper Fi All-American Camp in Oklahoma City. They're still considering combines and camps in Chicago and St. Louis and Charlotte, and when spring practice ends on June 1, they'll begin taking unofficial visits to schools and camps who have expressed the most interest in them.
They're certainly not a package deal, but that's what they would wish for.
"We've been talking, me and Pirtle, and we kind of want to stay together through college," Fine said. "But if it's not in our best interests and we only have one college that's totally perfect for us individually, we're probably gonna have to decide."
"Hopefully," said Pirtle, "we'll get an offer that we both like and both can take somewhere and we'll both be happy. But we both agree that, hey, if we find a college that's perfect for us and the other one may not like it, then we'll go our separate ways. And hopefully we'll play each other, and hopefully I'll win."
---
STATS DON'T LIE: MASON FINE
Fine, who is entering his senior year, was named the Tulsa World's 2014 All-State player of the year and the 2014 Gatorade state player of the year. He threw for 5,006 yards and 71 touchdowns — both a state record — while tossing only six interceptions. He also scored 10 touchdowns of his own while leading the Pirates to a 13-1 record, their best in six decades. He has a chance to become Oklahoma's state passing leader in 2015.
STATS DON'T LIE: JASON PIRTLE
Pirtle, who is also entering his senior year, had 99 catches for 2,096 yards — an average of more than 20 yards per catch — and scored 29 touchdowns in the 2014 season to lead all receivers in the state. He also scored two touchdowns off punt returns, bringing his total to 31. He was a Tulsa World All-State first-team selection in December.Pirtle set a state record during the Pirates' final game of the season for catches (21) and yards (395) in a loss to Heritage Hall in which he scored four touchdowns.
---