For the second time in three weeks, a true freshman quarterback stepped into Boone Pickens Stadium, made his Big 12 debut and put up 40-plus points to lead his team to victory over Oklahoma State.
Brock Purdy and Alan Bowman did it two different ways, but both left Stillwater looking like the future of their respective programs.
Oklahoma State, meanwhile, left the stadium Saturday night needing to regroup. Again.
Three times a week, this space will be filled with news, analysis and newsletter-specific perspective on the Cowboys from me, plus links to coverage from our entire staff. I want this space to be interactive -- I want to hear from you, to know what you're hankering to know and to answer your questions. I want to know what you think and what you'd like to read more about.
You can reach me by email at mark.cooper@tulsaworld.com or on Twitter @mark_cooperjr. And if you're looking to sign up for the newsletter, you can do so here.
Thank you for reading — and I look forward to talking with you again soon.
— Mark Cooper, Tulsa World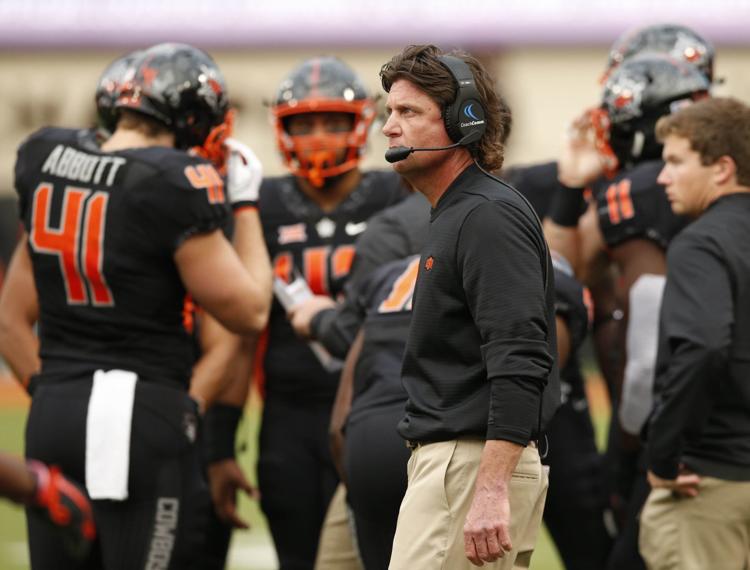 After loss, path to 6 a little more stressful
Saturday confirmed one thing: This won't be 2013. While both teams had a fifth-year senior at quarterback (Clint Chelf and Taylor Cornelius) and a first-year defensive coordinator (Glenn Spencer and Jim Knowles), this year's team has already matched the number of regular-season losses that the 2013 squad had.
The 48-42 loss to Iowa State drops Oklahoma State to 1-2 in Big 12 play for the first time since 2006. It isn't something fans are used to, and their consternation showed in the empty seats and angry tweets.
But there needs to be a little perspective: This isn't 2014, either. I covered the 2014 team, my first on the beat. Against a decent defense, like the one Iowa State brought to Stillwater on Saturday, it couldn't move the ball. Its five consecutive losses came by an average of 24.6 points.
Oklahoma State might have been a dropped deep ball away from completing a fourth-quarter comeback against the Cyclones.
Still, OSU is 4-2 at the halfway point, which means it must find at least two wins on the harder part of its schedule. I used ESPN's Football Power Index to look at the odds it gives OSU to win each of its remaining games. Its current projection for Oklahoma State: 7.2 wins.
Saturday at Kansas State: 77.3 percent chance of victory
Per FPI, this is the "easiest" game remaining on Oklahoma State's schedule. But while Kansas State is 2-4, and 0-3 in the Big 12, Manhattan is never easy. Much like the OSU-Iowa State series, the Cowboys needed miraculous comebacks to beat the Wildcats in every year of the Mason Rudolph era. In 2015, OSU trailed by eight at half. In 2016, it trailed by nine in the fourth quarter. Last year, it fell behind by 29 -- and still nearly won the game. Mike Gundy is 2-3 against K-State in Manhattan.
Oct. 27 vs. Texas: 53.9 percent
Like every team, Oklahoma State is still getting a percentage bump for playing at home. But after five losses in seven conference home games, it's safe to wonder if playing in Boone Pickens Stadium provides any advantage. Texas should still be a top-10 team when it comes to Stillwater, so this will be a big game. Gundy has won three in a row over UT, but is just 1-5 against it in BPS.
Nov. 3 at Baylor: 68.7 percent
Oklahoma State should take care of business at Kansas State and Baylor, which would be enough to get to a 13th consecutive bowl game. But remember that Baylor's McLane Stadium was the only Big 12 venue where Mason Rudolph never won a game. 
Nov. 10 at Oklahoma: 20.5 percent
Who knows what Oklahoma will look like on defense a month from now. But this is the game FPI gives OSU the smallest percentage chance of winning.
Nov. 17 vs. West Virginia: 52.3 percent
The Mountaineers have a tricky game at Iowa State this weekend, one that should tell us a lot more about how good they are. Gundy is 4-2 against his former assistant Dana Holgorsen.
Nov. 24 at TCU: 50 percent
Though the sky might be falling for some, I don't expect Oklahoma State to be 5-6 heading to Fort Worth on the Saturday after Thanksgiving. But if that were the case, this would be a tough ask. FPI labels this game the second-toughest on Oklahoma State's remaining schedule. The Horned Frogs are only 3-2, but the two losses are to top-10 teams at neutral and road sites.
The links
• What did we learn from OSU's loss to Iowa State? My day-after piece looks at penalties, the defense and some interesting numbers on turnovers.
• A damning line from columnist Bill Haisten after BPS emptied well before the final play: "When fans get sick of seeing their favorite team get beat at home, some of them also lose the inclination to make the long drive to Stillwater."
• Jim Knowles admitted he's crazy Saturday night. He also took the blame for Oklahoma State's defensive struggles and suggested he needs to cut his sleep in half. From two hours to one.
• Matt Barnard did a great job as always capturing the best images from the stadium Saturday. Check out his gallery here.
• There was a positive for OSU this weekend: The Cowboys snagged a commitment from a 2020 linebacker whose other offers included Alabama.