WARNER — They came on 16-hour flights, two-day drives, southbound Amtraks and short trips across the interstate. Some came with expensive pickup trucks, others with only a pair or two of jeans. They came to chase their dreams, and that means they came from Aruba and Puerto Rico and Ontario and even just Coweta to do what kids all over the world dream of doing.
They came to Connors State College to play baseball.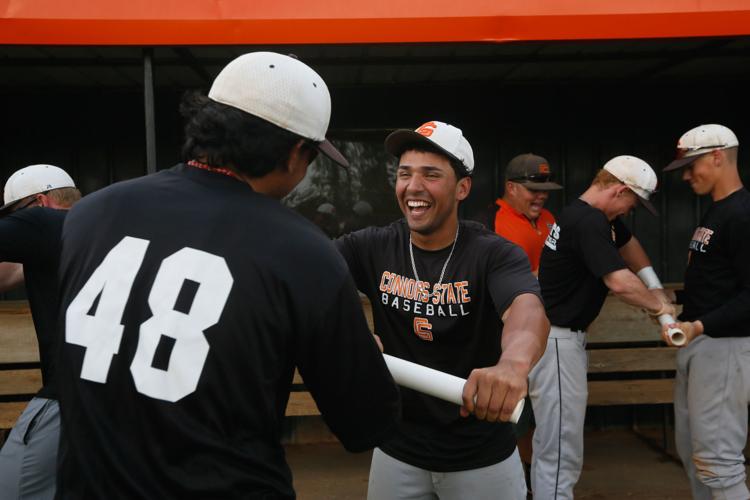 That's why, on the average day in Warner — just south of Muskogee — you can find the son of the 1987 American League MVP belting liners to the back of a small batting cage. He's inside a makeshift indoor facility more accurately called The Barn.
As the pitches come, George Bell Jr. uses his strong 6-3 frame to power balls back at the L-screen.
Bell's father played 12 Major League seasons, hitting 47 home runs for the Toronto Blue Jays in 1987. Bell grew up around the game and has two siblings who have played with pro organizations.
Growing up in the Dominican Republic, the goal was always to get drafted or signed as early as age 16. That never materialized, so Bell wound up honing his raw talent in the middle of nowhere.
"To me, college was the last option," Bell said. "But I don't regret coming here."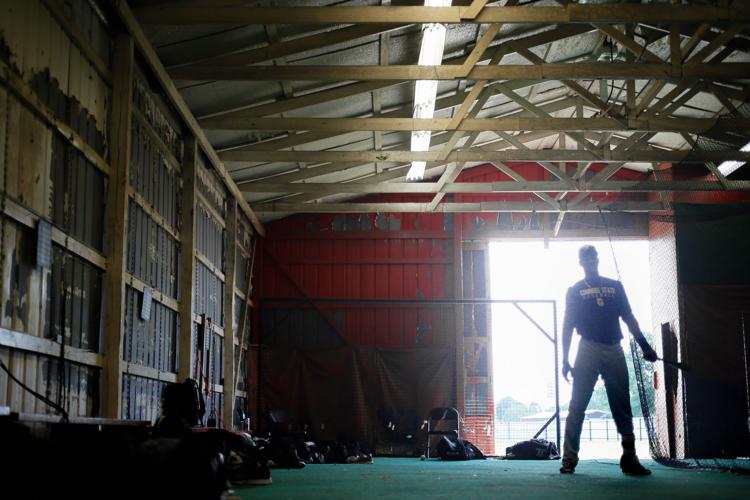 Across the cage, 5-foot-6 Luis Pelayo is wrapping his wrists with clean white tape.
"For the looks," he jokes. There's a lot of joking in junior college.
Pelayo is from Aruba and speaks four languages, plus sign language. Connors State was the only place that offered him a scholarship. Now he's batting .468, second-best in the country. Connors State is 46-10, ranked No. 6 nationally, and playing in the NJCAA Region II tournament this weekend in Woodward.
Keep looking down the Connors State Cowboys' roster, and you'll find a tattooed Canadian, a pitcher from inner-city Milwaukee and a 6-foot-6 right-hander who was virtually unrecruited but has become the program's top MLB Draft prospect.
In small-town Oklahoma, Perry Keith Park is as diverse as it gets.
"It's a magical place," says Keith, who has coached the program 31 years and entered the season with an absurd career record of 1,516-435.
"I tell that to people all the time. They think I'm nuts. But it's true."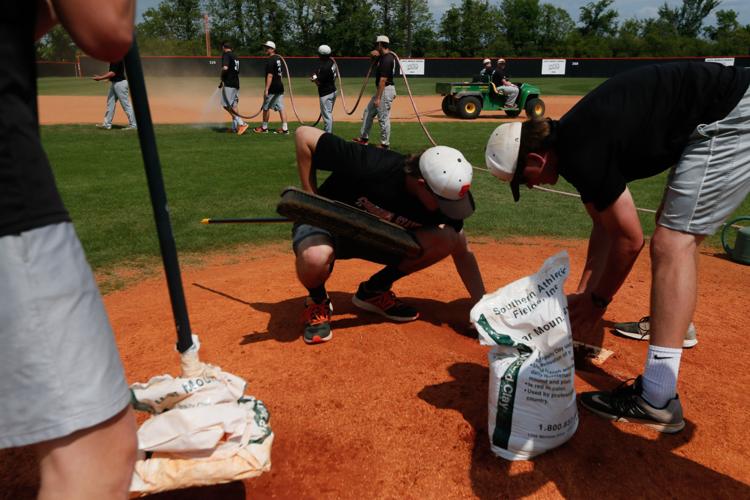 'Such a leap of faith'
Only nine months ago, Luis Pelayo was sitting in an airplane, flying from Miami back to Aruba, wondering if his life would work out the way he had always planned.
Pelayo was returning home after playing in a showcase with the Future Stars, a team based in Miami but built with top players from the Caribbean Islands, all hoping for exposure to pro teams and colleges.
With quick hands and a compact swing, Pelayo had become known as the most consistent hitter in Aruba. But sitting in the tight airplane seating, Pelayo couldn't help but wonder if it was all worth it. He was returning to the island with no offers of any kind.
"I was sad," Pelayo said.
Then, as the landing gears deployed, Pelayo turned on his phone. Up popped an email from Perry Keith. Connors State offered Pelayo a scholarship on Aug. 3. School started in Warner on Aug. 12.
"It was a busy, busy week," Pelayo said. "But I made it."
Pelayo had to fly to the U.S Consolate in Curacao to get his student visa. He didn't get it until the Friday before classes started. He went back to Aruba that night, packed a couple of bags, and flew in to Tulsa.
The first time he met his new coach was at the airport.
"One thing I tell people: That is such a leap of faith," Keith said.
Baseball brings you here
Keith has built his program on big words such as Faith and Trust.
His connections started years ago, when former Oklahoma State coach Gary Ward helped Keith make a contact in the Youth Service League in New York City. The same league produced players such as Manny Ramirez.
The first prominent Latin player to come to Connors was named Benny Castillo. He went on to play at OSU, made Triple-A with the Detroit Tigers organization, then spent years managing in the Minor Leagues. Now he runs an academy in Florida, and he still helps young players get to Connors State. George Bell is at Connors State mostly because of Castillo.
Word of mouth perpetuated like that. Keith made contacts in Ontario and Aruba. One international player came, then two, then three, and now, a bulk of the Connors' roster is consistently from far away.
This year Keith got Pelayo, and next year, he's getting two more players from Aruba.
"I have a lot of respect for those kids," Keith said. "Because like I said, all of a sudden you go somewhere you know nothing about, and these guys are trusting some old white dude they've only talked to on the phone."
Players are willing to come to Connors partly because the name speaks for itself. Keith has coached five teams to the Junior College World Series, and his clubs are always in the running. He says he's coached 11 big-leaguers and 120 draft picks — the biggest name is Julio Lugo.
"We've been able to go back to the same place," Keith said. "We can go in New York, and our name means something."
For the players, Connors provides a scholarship and a home. It gives them the opportunity to keep playing baseball, and for some, that's all that matters. It's a game that grips you that way.
"I think it's just the sport, baseball, that brings you here," Pelayo said.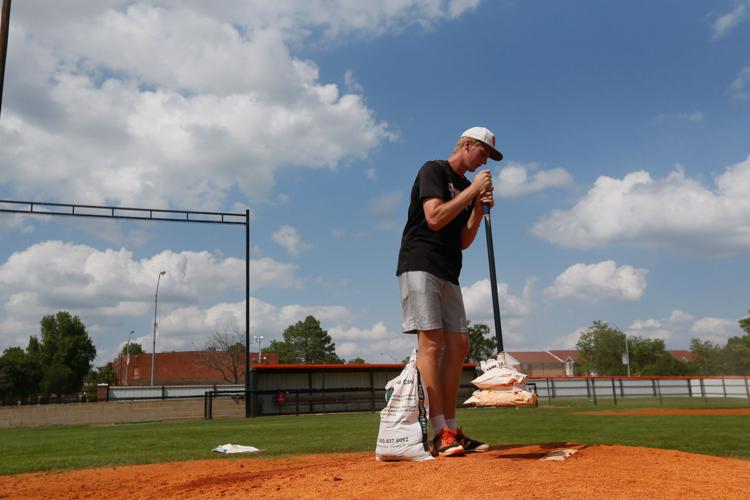 'There's a big ole kid over at Prairie Grove'
For every international recruit, there's a player who is more local but just as interesting.
Exhibit A is Logan Gragg. He's a 6-foot-6 left-hander with a devastating three-pitch mix. Watch a bullpen session, and you'll hear the catcher's mitt pop, pop, pop in a way that tells you all you need to know. The first time Keith brought Gragg in to throw, he threw about six pitches.
"That's all I need to see," Keith said. And he offered him a scholarship.
Keith discovered Gragg before anyone else because he zigged when others zagged. He went to a showcase tournament in Springdale, Arkansas. As he often does, he found a high school coach and started picking his brain.
"Who's the best arm around here who's not at this tournament?"
"Well, there's a big ole kid over at Prairie Grove."
Keith made a couple calls, brought Gragg in to throw, and was amazed. The problem, Keith knew from experience, would be keeping him away from bigger schools.
Keith offered Gragg in November. In April, he went to see him pitch a game for the first time. Keith sat down in the bleachers and pulled out his radar gun. In the first inning, the gun lit up: 91, 92, 92.
Later, Keith spoke with Gragg's high school coach.
"Logan's throwing pretty hard! What, 86-87?"
Keith smiled.
"I said, 'Yeah, about that.' I never told him anything else."
Gragg has gone on to post a 10-2 record and a 2.71 ERA. Once not sure if he wanted to play college baseball, Gragg has received letters from 14 pro teams, offers from three Division I colleges and could be picked in the top 15 rounds of June's MLB Draft.
"It's kind of mind-blowing, from where I was last year to where I am now," Gragg said.
While some of his Latin teammates blast bachata and yell things such as "es caliente," Gragg spends his time away from baseball on his parents' 500-acre ranch. His father owns a big construction business and runs up to 300 head of cattle.
On New Year's Day, Gragg was running some bulls out of a pen. One was in a bad mood.
"He came after me," Gragg said.
As Gragg tried to jump on a fence to avoid getting trampled, the 2,200-pound bull stepped on his foot. A rock went through Gragg's shoe and sliced open his toe. He went to the emergency room with a fractured foot.
That night, he had to call Keith.
"I've got some bad news," Gragg said.
Keith answered: "Well, at least it's not your arm."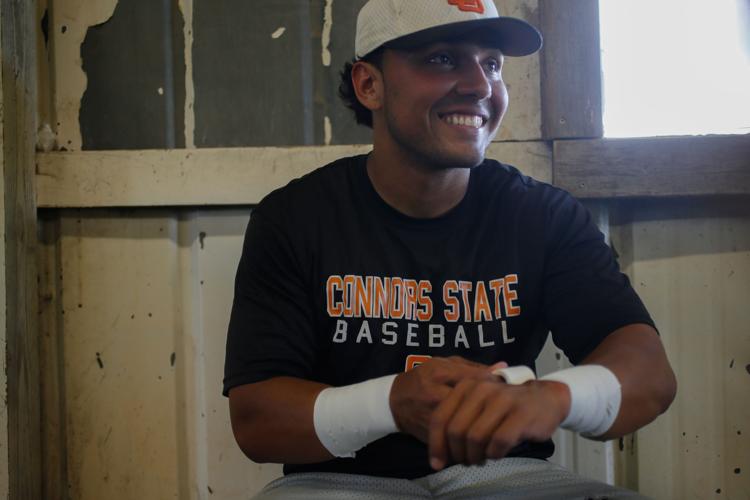 'What'd I get myself into?'
On the Tuesday before Connors State started its postseason, two players sat in a hot dugout as the team ran through another intrasquad scrimmage.
They gazed out to an empty campus. School ended last week.
"It's so quiet … No campus life going on anymore," one player said.
"There never was any campus life," the other answered.
"No more hot girls."
"There never were any hot girls."
That's life in Warner, population 1,641, where fun looks like going down to the creek and fishing or jumping into the water. There's also pool and ping-pong, golf and skeet shooting.
"It's something different," Pelayo said. "We have cows and those things in Aruba. But not like this."
In a way, the fact these players have little to do besides baseball is what makes the magic. The first day Gragg stepped on campus, the first person he met was Pelayo, who was still getting used to translating every word in his head and speaking English on a daily basis.
"I was like, 'What'd I get myself into?" Gragg said.
So the first meeting of every year, Keith makes sure to set the tone: You can learn a lot more from talking to your teammates than you will in a history book.
On many mornings and evenings, Keith will lead what he calls Champions Class, where the players will go through books or talk about history. More than anything, it's a way of learning about life, and the discussions usually lead to learning about each other.
Slowly, the players help each other learn their respective languages. Keith himself says he's learned Spanish poco a poco. Little by little.
Keith also preaches a common message: No matter where you come from, there are good people and bad people, smart people and stupid people.
Jake Northern is a former Coweta quarterback who has blossomed into a top-notch third baseman. He says he's learned how similar every culture really is.
"You get closer to these guys than you do anyone else you'll ever meet in your life," Northern said, "because you live right on top of them."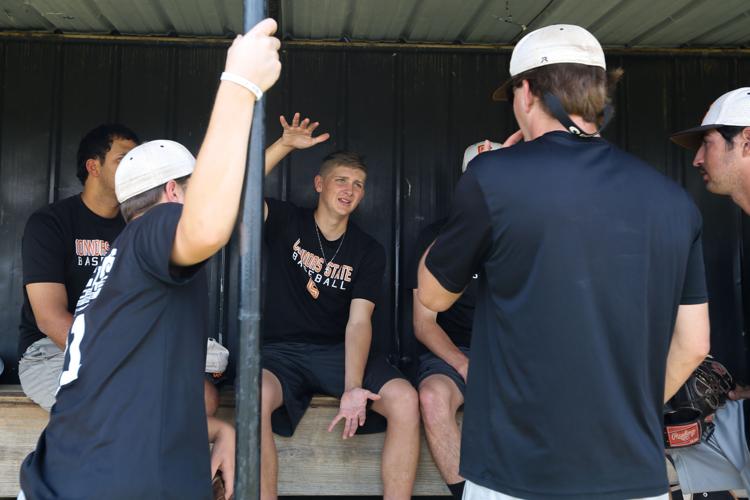 'He's not gonna let off'
Nothing brings people together quite like a common purpose, and there's no common purpose quite like trying to win a ball game.
A Monday game at Connors State is about what you would expect. Admission is $6, and there are 29 people in the stands. One is a scout from an SEC school.
Between innings, the speakers blare George Strait and Jason Aldean, and Connors State beats Northern Oklahoma-Enid 19-9.
A lot of the scores look like that, and it's partly because Keith has never settled. If he doesn't have a shortstop, he'll go find one. That's why so many of these players are here, and it's also why Connors is known as one of the top junior college programs in a state full of good ones.
"There was always a big hype about Connors and Seminole," Northern said. "Those are the best jucos in Oklahoma … I've always heard they're good programs, so I wanted to be a part of it."
Keith himself is fiery and competitive. Stories of his tirades are the stuff of legend throughout the state, and it's tough to avoid mentioning the time his wife pleaded guilty to attacking umpires after a game. Keith's players are quick to admit he's a hard-nosed coach. But it seems he also coaches in a way worthy of respect.
"Everybody just thinks he's baseball, baseball, baseball," Northern said. "He's kind of like a father to us, or a grandfather … He's gonna have a thumb on you. He's not gonna let off. And it shows. We win 46 games a year."
As the year has progressed, Northern went from a rocky fall to a bang-up spring. He leads the country in RBI and doubles.
And while Northern has learned some Spanish, Luis Pelayo saw snow for the first time and went home with teammates for Thanksgiving.
"What's the holiday where you eat?" he said "I like that one."
George Bell went from telling stories of his father's playing days to building deeper relationships.
"I'm just a normal guy," Bell said. "I want what they want. We all want to be professional players."
A normal day at Connors is class, practice, gym, study hall, then sleep. Baseball is a game of structure and routines, where progress, like trust, grows gradually then suddenly.
"We have guys who go on to play in $30 million stadiums," Keith said. "But they'll tell you these were the best two years of their lives."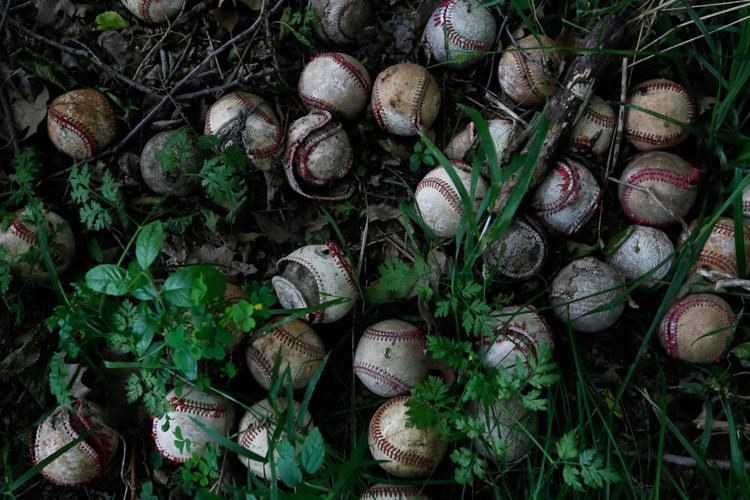 'I don't want to think about that yet'
During the final practice before postseason play, relief pitcher Nick Starr and his Puerto Rican teammate Noel Pinto venture out past the left-field fence in search of a home run ball. Baseballs run about $7 a pop, and in junior college, that matters.
"(Coach) is big on baseballs," Starr says.
As the pair searches through the branches and the woods, Pinto emerges with the ball. Starr runs out of the woods to join him, and something compels him to look up. Above them, hanging from the branches on the tall trees, are a couple dozen pairs of orange-and-black baseball spikes. Each year, when the sophomores have graduated and the season is over, the departing players will tie their cleats together and toss them into the trees.
The tradition started about 10 years ago. At first, players threw their cleats over a powerline by the dorms. It got too heavy and started dragging down the line, so they moved to the trees.
In the winter, when the leaves are dead and the trees are bare, all you can see from a distance is shoes hanging from branches.
When the season finally ends, there's a big ceremony, and the players always cry as they toss their spikes into the night.
"I don't want to think about that yet," Starr said, and he lowered his head and marched back toward a field every bit as odd as it is enchanting.