A 62-year-old Billy Sims sits in a corner booth at the Main Street barbecue restaurant in Norman that bears his name. He's doing what he usually does, chatting away with a customer, and he poses for a picture with a college-aged woman who, like me, is too young to have ever seen Billy Sims play, probably too young to truly understand what his name means to legions of Oklahoma Sooners fans.
A spotless Lincoln Navigator is parked outside. The paint job is a deep red, almost crimson, and there's an OU license plate frame on both the front and back ends. If you know much about Billy Sims — beyond the facts he won the 1978 Heisman Trophy, held OU's career rushing record for 37 years and went first overall to the Detroit Lions in the 1980 NFL Draft — you know this car probably has a lot more miles on it than its slick appearance suggests. A writer does not resist this metaphor.
I sit down with Sims, who gives me a signature loud and friendly greeting, and soon, I tell him he looks healthy. In this moment, he weighs about 220 pounds. His playing weight was 212.
"If you'd have saw me about a month ago," Sims says, "you'd have thought I was on crack."
Two months earlier, Sims was opening a restaurant in Denver, Colorado. Instead of staying and hanging with fans and customers through the lunch and dinner rush, he took a break, then wanted to go home. Jeff Jackson, the cofounder of Billy Sims BBQ and the businessman behind the operation, remembers thinking: Hmm. That doesn't sound like him.
Steve Owens, OU's 1969 Heisman Trophy winner and now one of Sims' closest friends, called him. Sims told Owens he was tired, which isn't a word he uses often.
Sims made it home to Dallas from Denver, but soon, the situation got dire. As with many parts of Sims' life, it's hard to get an exact timeline of what happened and when. He says his wife (who is actually his second ex-wife, whom he says he still loves) made him go to the hospital. This great running back was experiencing blurred vision. He could barely stand. He could hardly communicate. He says his weight was down from 243 to 209. His sugar count was 760, which is very bad, and his blood pressure was 228/190, which is worse.
"I was at a coma stage, almost," Sims said. "Doctors told me, 'Had you not come in when you did, it could have been bye-bye Billy.'"
Sims was diagnosed with Type II Diabetes, and he was briefly hospitalized a second time to get his insulin under control.
But only about two months later, in October, Sims sits under a picture of himself in a cool No. 20 Detroit Lions jersey. Other Sims memorabilia is all around, and under his arm is a copy of OU's student newspaper, with a front-page story about freshman running back Trey Sermon. Now, Sims is taking his blood pressure meds and injecting himself with insulin before every meal. These changes come with a natural inclination to reflect.
"You look like you could gain 100 yards right now," I tell him.
"In my mind," he says. "Only in my mind, young man."
Sims did a lot of looking back that day, perhaps feeling as nostalgic as ever for a man who lives off the feats of his past self. But there were also plenty of things that went unspoken, and those mysteries eventually taught me the most about a man who is easy to love but much harder to know.
"How old are you?" Sims asked me.
"Closing in on 24," I said. "Getting old fast."
"I'm jealous of you," he says. "Especially as you get older, you're not as invincible as you think. When I was 24, wow …"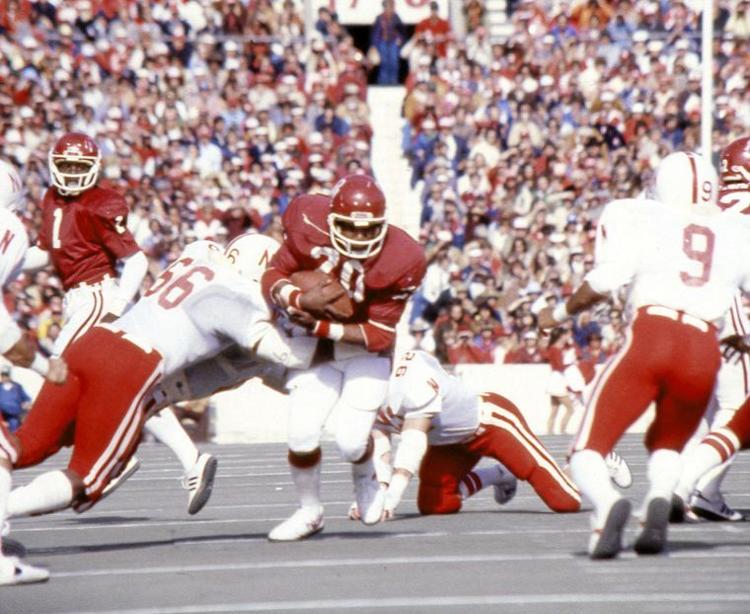 The first time I met Billy Sims was on a September day in 2016, before Oklahoma's home game against Ohio State.
Sims was scheduled to appear at the Nissan Heisman House to take pictures and sign autographs. He was supposed to show up at 4, but he got there at 2:30. There's a perception of Sims as unreliable, but that's not true. He takes his signings and his fans seriously. Friends say before events, he'll spent a few minutes in thought, almost putting on a game face.
I was there to see about doing a big story on Sims and to get his thoughts on the possibility of Samaje Perine breaking his OU rushing record. Sims said that day he didn't care much for records. He didn't even know he was OU's all-time leading rusher until someone reminded him a year or so ago. I found that a little hard to believe, but now I believe it without any doubt.
It was hard to keep Sims' attention that day. He was behind the Heisman House stage, standing under a tent outside, only a chain link fence separating him from dozens of tailgating fans. Multiple times during the interview, he stopped mid-sentence when a fan would yell his name. He slipped through the fence, took pictures and signed autographs.
Finally, I was able to ask Sims what he thought about doing a bigger story, something that would really encapsulate him as a person, I told him. He agreed, gave me his number, told me to call and seemed excited.
I called and texted that number several times over a span of months but never heard back. I later learned this isn't at all uncommon. Sims is a tough guy to get ahold of. The only way to reach him is on his Samsung flip phone.
"I'm trying to bring it back," he says.
He gives his number out freely, including to a man we met a year later at his restaurant. But Sims is also a person who likes his privacy, and he has an incredibly small circle despite his boisterous nature. These contradictions, I soon learn, are part of who he is.
Later that season, after Perine broke Sims' record, I ran a little blog post about my odd encounter with Sims. I tried to make a subtle statement about time and the fragility of records, but I did a bad job. The OU fan forum LandThieves.com even picked up the blog and roasted it.
But I'll always remember how that story, and that encounter with Sims, ended.
The fans called him back across the fence. One man was desperate for Sims to try one of his ribs fresh off the grill.
"Oh, I'm the barbecue man now," Sims said with his high-pitched laugh. "Barbecue Billy."
Sims worked the crowd like a natural showman, taking a long sniff, then chewing slowly and deliberately. He swallowed a bite, opened his mouth and smiled. Then he gave a thumbs up.
There were about six people gathered round, and when he gave the gesture, they erupted in cheers.
There was Sims, a man of the people. He wasn't playing in a stadium, but entertaining some tailgaters around a grill. Thirty-six years after his college career, he was still there in his element, showing and receiving love the best way he knows how.
If you've ever spent time trying to solve life's mysteries, you probably know the best revelations often come with a good friend on a good porch.
That's how Victor Hicks and Billy Sims become attached at the hip, both members of Barry Switzer's legendary 1975 recruiting class. Sims was from Hooks, tucked away in the far corner of East Texas. Hicks was a tight end from Lubbock, flat in the West Texas plains. They talked about cars and their families. Sims did a lot of talking about his grandmother, affectionately known as Miss Sadie.
Like many celebrities or people who recite their backstories on a regular basis, Sims has his origin condensed to an easy story. He lived with his mother in St. Louis until eighth grade, where he loved baseball and the St. Louis Cardinals. He wanted to be Bob Gibson.
Old news clippings say Sims didn't meet his father until he was 17, and for reasons he doesn't quite reveal, Sims eventually moved to be with his grandmother in Hooks. He says he liked the cows and horses. Soon, he started playing football. Turns out he was a star. The first autograph he ever signed was for his ninth-grade math teacher, and he felt confused.
But Sims' first two years at OU were far from easy. He came to school with a bum ankle, battled more injuries, and then Miss Sadie died. A distraught Sims left the team, thinking he would go pump gas in Hooks, but Switzer convinced him to come back.
During some of the tough times, after talking on the porch, Sims and Hicks would go inside their dorm rooms, where Sims had a collection of recordings of his old high school games. Often, he'd pop in a tape, and that's when Hicks first understood the greatness that was Billy Sims. He could hear this stark admiration in the announcers' voices.
As their OU careers went on, you rarely ever saw Hicks and Sims apart. Honeydip and Bo, teammates called them. From Sims, Hicks said he picked up a lot of things. Sims' easy way with people was lesson No. 1.
"You seldom meet people that say they've had a bad experience," Hicks said. "You meet him, he's positive, he's approachable, he's a very caring type of man."
Hicks remembers sitting with Sims in biology class when they found out he won the Heisman Trophy. He also remembers working in St. Louis a few years later when a coworker told Hicks that Sims had just suffered a severe right knee injury, the one that eventually marked a premature end to his NFL career after only 4 1/2 seasons.
"I couldn't focus for days," Hicks said.
Today, they both live near Dallas, and Hicks has earned a rare place in Sims' life. He gets a first-hand look at some of Sims' odd ways, including the fact he's meticulous to an obsessive level. Hicks used to ride with Sims to autograph signings in Oklahoma, and Sims almost always drives there and back in the same day. Hicks estimates Sims can put 100,000 miles on a car in six months, and he often washes the car before leaving and before heading back. Sometimes, they'd return home from a long trip at 2 or 3 in the morning. Before going to bed, Sims would make a point to draw a bucket of water and mop the floor.
"He can clean better than any woman I know," Hicks said.
Hicks is also able to see another side of Sims, the one beyond the guy reviewing ribs for fans. When I met with Sims, despite how open he was about his health, there were other areas of his life off limits, certain topics he would dance around but never truly touch. I wondered if he ever went deeper about his finances, his family or his past. For a guy who's been through a lot, Billy Sims seems remarkably happy.
"He internalizes a lot of feelings," Hicks said. "Don't get me wrong. He's human. He hurts. He goes through good days and bad days. But he's always upbeat."
In reporting this story, and spending 45 minutes on the phone with a stranger, asking for details about another stranger's life, there were times I wondered why I was doing this. I remember hearing somewhere that attempting to understand another person is a worthwhile thing to do. I also remember thinking a lot about Sims' obsession with cars, which I first learned about from Hicks.
As an OU student, teammates would pay Sims to fix or soup-up their vehicles. As a teenager in Hooks, he dreamed of being an auto mechanic. On that porch with Hicks, Sims expressed dreams of having his own body shop.
"We talked about that night after night," Hicks said.
Sims always had a fixation with these idyllic American symbols of freedom. He was captivated by great, powerful machines and how they run. He wanted to understand why they break and how they can be fixed.
I know nothing about cars, but considering this, I start to wonder if maybe Billy Sims and I are a lot alike.
I met Barry Switzer at Midway Deli in Norman, a cool and relaxed spot that feels like it belongs just about anywhere except where it is, which is tucked away in a neighborhood of houses on West Eufaula in Norman.
Like Sims, Switzer talked a lot about the past, repeating the old stories he's probably told to a million reporters like me. He called to recruit Billy Sims at halftime of OU's 1974 game against Colorado. Sims was pumping gas at his local Conoco and didn't believe it was actually Switzer on the phone.
The conversation took up all of halftime, and Sims says he could hear the referees come retrieve Switzer in the locker room to begin the second half.
Switzer went to seven of Billy Sims' high school games and sent an assistant coach to live in Hooks. But before Switzer ended his phone call, he slipped in one last promise.
You'll win the Heisman Trophy.
Today, Switzer thinks about Sims and his happy-go-lucky nature, his easy personality. Is there another part of Sims that is aloof, or distant, or perhaps just hidden?
"No," Switzer says, taking a steep sip of hot coffee. "There is no mystery."
He pauses.
"Of course, I look at him like that because I know him."
Switzer spends a lot of time this day talking about 1978, when Sims won the Heisman, and 1979, when Switzer thinks Sims would have won it again had the voting been done after the final game. It seems like it still bothers him.
Switzer became and remains a father figure to Sims, so much that stories linger of times Switzer loaned Sims money. One court record from 2003 shows Switzer paid $9,073 to bond Sims out of jail.
"I help out all my players," Switzer said. "The list is too long."
He points at my recorder. "You don't have enough battery life."
But you can tell Sims holds a special place in Switzer's heart. When Sims was in college, he would come into Switzer's office nearly every day and talk. When Sims married his first wife, Brenda, he did it in the pastor's office at Trinity Baptist Church in Norman. Per Switzer, there were four people there: Sims, his bride, the pastor and the football coach, both witness and best man.
"He calls me all the time," Switzer says.
Sometimes those calls come when Sims meets a random OU fan. He'll call and put Coach on the line.
"Billy does that and shows those people that he and I are just alike," Switzer says. "We'll talk to anybody."
Sometimes the calls come when Sims is driving to Norman, only 15 or 20 minutes from Switzer's house near the OU campus. He stops by every time.
The guard drops a little more when I ask what it's like to see former players getting older. Switzer had been worried about Sims long before he ever checked in the hospital.
"Joe (Washington) is here," Switzer says. "Billy is always close."
You can tell Switzer is going through the list of his great backs and great players in his head.
He leans back in his chair, his hands resting on a belly that wasn't there in 1978. Switzer is 80 and coming closer to showing it. He notes that David Overstreet, another member of those epic backfields, was killed in a terrible car wreck. For a moment, his eyes get misty.
"We're all getting old," he says.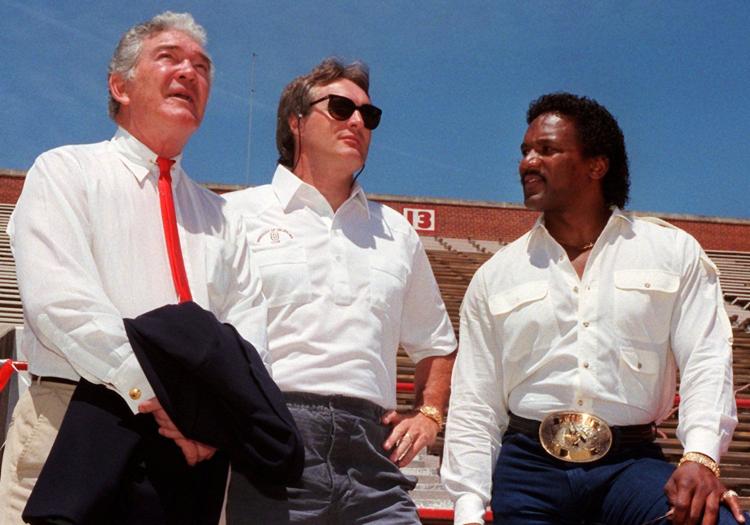 Steve Owens sits at his desk in a plush Norman business park, hordes of old awards and OU memorabilia decorating his office.
Like all of Sims' friends, Owens is protective of his fellow old running back, whom he first met after injuries ended Owens' own Detroit Lions career early and he moved back to Norman.
Owens was on the sideline for a game and saw a crimson No. 20 touch the ball and take off for a first down. Then it happened again. He turned to Switzer and asked: Who's that?
That's Billy Sims, Switzer said. He's gonna win the Heisman.
More than anyone, Owens can relate with the way one award has changed and shaped the life of Billy Sims. Owens, who just turned 70, told the story of sitting with the executive director of the Heisman Trust when he won the 1969 Heisman Trophy.
Winning the Heisman is going to change your life forever, the director told him.
"Guess what?" Owens tells me. "It does."
From that moment, Steve Owens was not just Steve Owens. He was Steve Owens, Heisman Trophy winner. Same goes for Sims.
As a child, Owens looked up to Billy Vessels, OU's first Heisman winner in 1952. Later in Vessels life, he told Owens to take care of OU's other Heisman heroes. It's a job Owens takes seriously.
Today, Owens, Sims and former OU quarterback Jason White are close because they travel the state going to different Walmarts doing Heisman signings. Owens has been driving when Sims will see a homeless person on the side of the road and ask to pull over and help.
"He's got such a heart with people, his kindness and just the way he treats people," Owens said.
Often, Owens thinks about how he has known Sims for 40 years.
"Every 10 years is a passage in life," Owens said. "You change. But I still see Billy, when I first got to know him, to me he's the same Billy. We've just developed our friendship at such a deeper level. Forget the Heisman. Forget playing football. When we're together, we're Steve and Billy, best friends. All the other stuff is just stuff."
Owens and Sims have supported each other through hard times. Sims adored Owens' mother, and there's a picture of them together behind Owens' desk. Sims was also close with Owens' son, who battled mental health issues and died in 1997.
Owens was also there for the lows of Sims' life, which took up most of the 1990s and early 2000s.
Sims made a living off autograph signings and public appearances, and when his debts kept mounting, he sold his Heisman Trophy.
There are plenty of reports out there that all seem to contradict each other. It's been said he first sold the trophy to Bob White, an old mentor from Hooks, for $50,000 in 1995. I called White, and we briefly spoke, but we kept calling each other at bad times. He wasn't interviewed for this story.
A few years later, there was a lawsuit over the trophy, blocking a memorabilia company from auctioning the Heisman off. There's speculation Sims got the trophy back from White only to sell it again.
In 2015, the Detroit Free Press wrote, "Since then, Sims said, he has regained possession of the award." Last year, an Arkansas man pleaded guilty to fraud charges after trying to sell a fake version of Sims' trophy. The weekend of this year's Heisman ceremony, Sims told a few reporters the trophy was in St. Louis.
"My mother is using it as a doorstop," he said.
I ask Owens for the real story.
"I can't tell you if he still has the Heisman or if somebody else has the Heisman," Owens says. "I seriously don't know. We're good enough friends, if he wanted to tell me, he could tell me. But we never have discussed the particulars of that."
I got similar answers from everyone I asked.
Owens, though, will later tell me about a habit of Sims' he's started to notice. Sometimes, if Sims doesn't want to answer a question, he'll just stay silent and act like he didn't hear. Eventually, he might say … "Huh?"
I laugh because I realize I've witnessed this happen.
"Where's your Heisman Trophy at?" I asked Sims across the booth.
"… Huh?" he said.
"Your Heisman … where is it right now?"
"Oh," he says. "Actually, and this is another thing about the Heisman, it was during a time my kids needed some finance, I was in a bad situation with finances. So it's at a place where I can get it back when I get ready. I know where it is. Before the year is out, it'll be back home like it's supposed to be."
I ask Sims what's changed, why he's getting it back.
"Nothing new. The Trophy itself didn't define me," Sims said. "I couldn't have took it to Walmart and bought anything with it."
But you're getting it back?
I realize Sims is good at evading questions.
"Oh yeah, I'm gonna get it back. It never was gone to stay that way."
But you made it sound as if something has changed recently, I tell him. You're getting it back soon?
Sims smiles.
"I was just wondering if you were listening."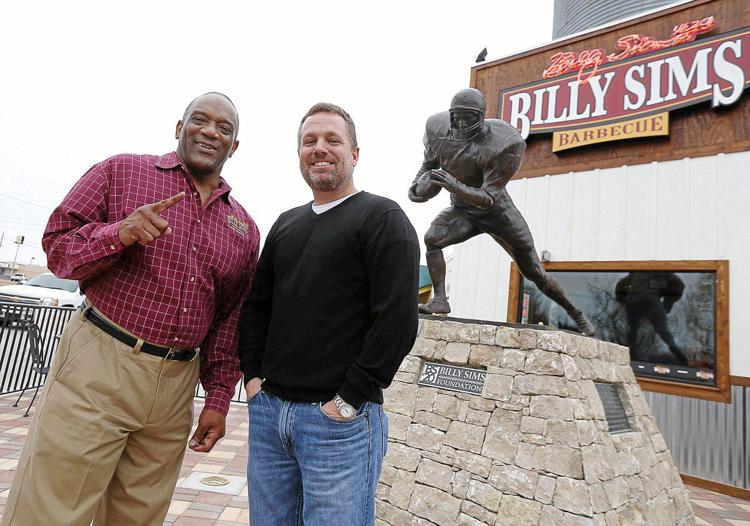 One morning, I'm on the phone with Jeff Jackson, the man with whom Billy Sims has created a small barbecue empire.
Jackson is the only reason I was ever able to meet with Sims at all. Around the time rumors about Sims' health were swirling — there was even an erroneous report on Twitter saying he was in a diabetic coma and might not make it — I was getting a lot of questions about Sims and his condition. I didn't have answers to those questions, and it didn't feel right to go around asking about a guy's medical situation.
Once it was clear Sims was doing better, and thanks to some pressure from my bosses, I fired off a long email to the generic contact email on BillySimsBBQ.com. Maybe now was a good time to meet. To my surprise, Jackson emailed me right away and helped me set something up with Sims.
But on this call, I was getting Jackson's perspective. His relationship with Sims started when Jackson owned a sports memorabilia store at Woodland Hills Mall in Tulsa. Sims was doing a signing outside the store for a trading card company. Jackson worked at his store all day, then went home for a dinner break. He came back to close the shop, and Billy Sims was still out front signing autographs. The mall was closing, and security was trying to usher people away. Jackson, being a savvy businessman, got to know Sims better.
"The reason I got in business with him is because I watched him work," Jackson said. "He was the hardest-working guy I've ever seen, with a huge personality."
The two did some signings together, and soon, Jackson approached him with the idea of using Sims' name to start a barbecue chain. Sims says he was reluctant at first. The list of Sims' failed business ventures was already lengthy: mini-market, nightclub, eyeglass stores, pipe-fitting company, apartment complex, brass company, car parts manufacturer, adhesive sealer upstart, radio station, dry cleaner, a chain of catfish restaurants and more.
Billy Sims BBQ started in 2004 with a first store in Tulsa. Soon it expanded across Oklahoma, into Detroit, and now, it's venturing farther west.
"Really, it was a lifesaver for both of us," Jackson said.
The openings and store appearances have kept Sims plenty busy over the past 13 years. He drives himself to nearly every event.
"Billy, he's kind of a gypsy," Jackson says.
It also, at least from the outside, turned around Sims' life.
"He's really working and driving just to be a good man. And he's doing that," Jackson said.
Like everyone else, Jackson raves about how friendly and caring Sims is. A question I often asked: For a guy who is so kind, who seems to mean so well, why has life been hard? Why has he struggled?
"From my viewpoint, it's because he tries to help everyone else but himself," Jackson said.
Sims told me in his younger days, he was Oprah before Oprah.
"You get a car, you get a car, you get a car," he said.
That seems like a fair way to ask the question, and the answers seemed reasonable, too. But I can't help but scan the court records and old news stories a little closer. When Sims retired from the NFL, he came back to Hooks, Texas, and had a nice home and 40 acres of land. By 1990, he was reportedly $2.263 million in debt and filed for bankruptcy. He owed child support to one woman, with whom he had an illegitimate child in college. Soon, he owed child support to another woman. In one of those cases, he spent a month in prison because of delinquent payments.
He and his first wife divorced as Sims' troubles mounted, and Sims soon remarried. According to a USA Today story, Sims was charged with domestic abuse in Norman in 1998 when his second wife told police Sims pushed her to the floor after an argument about car keys. Oklahoma court records indicate that case was dismissed. In 1999, according to the story, Sims was convicted of assault for choking the same woman with his arm at their home in Coppell, Texas.
Sims and I were talking vaguely about some of Sims' "troubles" when he chimed in with this: "You can't always believe what you read."
I asked Sims if there's anything written about him before that he'd like to set the record straight on.
"Not really," he said. "I look at the facts. … Never robbed nobody, never smoked no dope, never shot nobody, not robbed a bank."
I realize, despite hours' worth of interviews, I still know very little about Sims' family life. By the sheer legal definition, he had been a deadbeat dad to at least two children. It's said Sims now loves to spend time with his grandkids, but when I asked him about talking with his family, he was protective of his wives' information and gave me contact for only two of his children. One of them never responded.
Because Sims was reflective, I put another thought out there.
"Is there anything you regret?"
"That's a good question," Sims said. "Really, I don't have any regrets. I always like to treat people fairly, treat them the way I would like to be treated."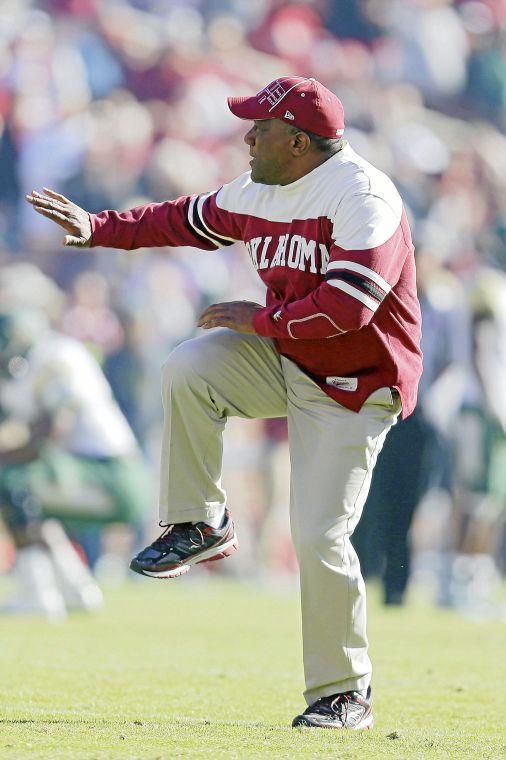 ***
In a small middle-school coaches' office in Longview, Texas, I'm looking at the spitting image of Billy Sims.
Sitting across from me is 35-year-old Brent Sims, the second-oldest of Sims' children with his first wife. Sims is a former college basketball player who's now in his seventh year coaching at an East Texas middle school. Brent and his father look a lot alike, and they both have a high-pitched laugh that comes from deep in their bellies. Brent is more quiet, but he's got that same welcoming vibe about him, and a little like his dad, he starts by telling me a brief biography. He talks about growing up in Hooks, Texas, and the second thing he mentions is his mother.
"She's the queen of my life," he says. "She gets all the glory."
Brent says he was in fourth grade when his family filed for bankruptcy and Billy and Brenda separated. Growing up as Billy Sims' son in Hooks was tough from the outset. Everywhere he went, he heard the whispers. That's Billy's boy. After the bankruptcy, it got worse. Billy's broke.
He remembers a happy childhood, with his dad coaching all his sports teams. Sims was around full time, then one day he wasn't.
Brent was young, but he remembers how his family had to leave their house on the little plot of land, and Brent, his mother and three siblings moved in with their grandmother in New Boston, Texas. Eventually they moved back to a small three-bedroom house in Hooks, and Brenda worked hard to make ends meet on a teacher's salary. He says he would see his father every few weeks or months, but it wasn't consistent. They never knew where he was or what he was doing.
"I think it had a lot to do with a little bit of guilt, a little bit of him trying to find himself, not that that's a good excuse," Brent said. "But with the finances and all that stuff, I think he just had so much pressure on him that he just really didn't know how to react to it. That's how I feel. … Like he had so much pressure on him that he didn't know what to do, and he wanted to really just escape from everything, including us."
One day, though, Sims started showing up more often. He came to most of Brent's senior football games, and though Brent was a talented player, he never liked the comparisons to his father. He didn't pursue playing college football.
"I ran away from it," Brent said.
Brent briefly played basketball at East Texas Baptist, then went on to get a degree from UT-Tyler. And while in college, Brent and Billy Sims started becoming close all over again. Brent would go with his father to OU football games every weekend. They'd ride together in the car, listen to rhythm and blues and try to hit the high notes. Brent's not sure what exactly caused this, and that's another way father is like son. The redeeming trait through all of Sims' flaws is his ability to press onward. He plays situations as they lay. Past does not apply.
"I didn't ask questions," Brent said. "He gave me the opportunity to ask questions, and there were some questions I wanted to ask him or could have asked him. But it was, 'You know what? You're here, you know I'm here, let's just move forward.'"
Brent says he's closer with dad than any of his other siblings. They all have fine relationships, he says, but each case is different.
He doesn't think anyone else in his family would want to talk to me. I tell him I understand and just wanted to be sure.
"I'll say I think I talk to him a little bit more than my other siblings," Brent said. "The reason for that, I really don't know. I think my other siblings, they have a little bit of resentment toward him for the past or whatever, which is understandable. We all are different. But at the end of the day, we all love our daddy."
Again, I recall words from Victor Hicks, whom Brent calls an uncle.
"The constant intermingling with the public, when you do that, it can make a lot of people feel special," Hicks said. "But it can also make the ones close to you feel — I don't know if neglected is the word — but you don't have as much time as you would like when there's another part of your life consuming a lot of things, a lot of time."
Brent says now, he can call his father if he ever needs help. Sims often stops by to see Brent's two children, and they get excited to see their papaw. He laughs about his dad's need for order, always washing that car and vacuuming the house two or three times a day.
But as we keep talking, something else becomes clear: In some ways, Brent Sims doesn't know much more about his father than I do. He doesn't know much about his upbringing. He's not sure exactly what caused Sims' downfall in the '90s. He doesn't seem to know where the Heisman Trophy is. He's not exactly sure if all of Sims' financial problems are solved, though he says it seems like dad is doing just fine.
Brent laughs when we reach this understanding. Then I asked him what it was like when his dad was hospitalized.
"Scary," he said.
Brent said he found out what had happened from one of his sisters, but Sims initially tried to hide it from everyone. Brent says he now calls to check on his dad at least once a week, and he hopes he's taking his medicine and getting his rest. Maybe the process of aging is bringing everyone closer.
"We don't talk about this type of stuff," Brent says. "We probably need to, but we don't."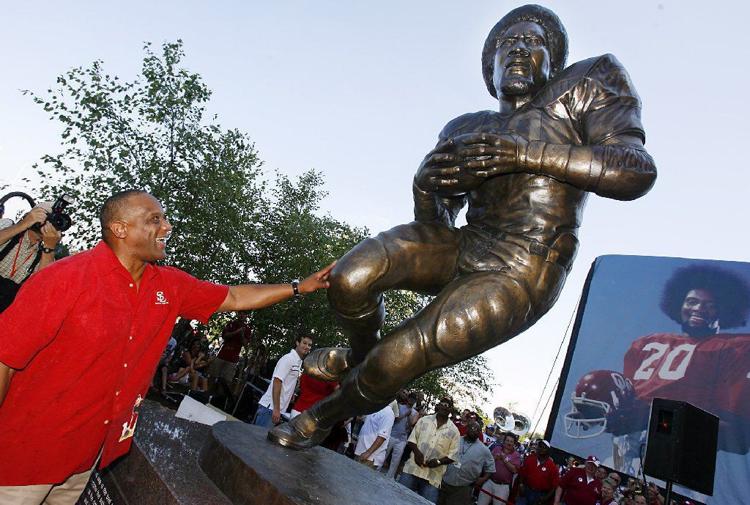 Back in that barbecue joint, Billy Sims remembers something his grandfather used to tell him.
Boy, it's rough getting old.
"I was thinking, 'Yeah, yeah,'" Sims said. "Now I know what he was talking about."
Friends all say they're glad to see Sims starting to slow down. Jackson said they've cut his appearances to a minimum, and Hicks said it makes him happy when he calls Sims, asks what he's doing, and gets a simple reply.
"Oh, nothing," Sims might say these days.
But for all of Sims' existential realizations, he's still Billy Sims.
Soon, a man picking up barbecue comes to introduce himself.
"I'm Billy Sims," the barbecue king himself says.
"I know who you are," the man replies.
"I never assume anything," Sims tells him.
Later, Sims is in the back of the restaurant talking to a woman about his playing days, telling her about growing up and watching Bob Gibson.
Saturday night, Sims was in New York City. He watched 22-year-old Oklahoma quarterback Baker Mayfield become OU's sixth Heisman winner, another life forever changed, and as he does every year at the ceremony, Sims was in the background yelling, "Boomer!" over and over. The next night, he served as auctioneer at a Heisman gala and had the crowd doubled over in laughs.
As I look back on all these conversations and try to make sense of a man who can seem so distant despite being so close, I remember the last thing Brent Sims told me before I left his office.
It was hard being Billy Sims' son, he said, but he keeps three pictures of his father above his desk. And often, he'll call up old videos of his father running for touchdowns. That's when he feels the most pride and appreciation. That's when he realizes who his dad is and why he means so much to so many people.
"I still get chills just knowing that it was him that did that," Brent said.
This is when I recognize, that for all the time I spent chasing Billy Sims, there was one simple thing I never did. I pored over detailed summaries of Sims' career, but I never watched him play football. So late one night, I get on YouTube and search "Billy Sims." I pull up a series of videos and watch Sims breeze past defenders, leap into the end zone, shed off tacklers and score touchdowns like it was easy. He looked like a wild horse. A classic muscle car.
The best way to appreciate mysterious and majestic things is to watch them run, to see them roar, but also to take note of their delicacy. So in that moment, as I watched the technicolor crimson flash that was Billy Sims, I felt like I knew him. If only for a few minutes, I think I understood.