The weekend of Trae Young's high school graduation, his mother dropped him off at the airport, and so began the cycle of 10 months that would change everything.
Airports so often signify beginnings and endings like that, home to two of life's greatest feelings. There's promise and opportunity when you take off, then the familiar comfort of home when you land. Already, so much of Young's life has been spent navigating those two sensations and the confusing air in between.
Young was flying out that weekend to work with individual coaches and train for his college basketball career. Soon after, he would become a student at the University at Oklahoma.
In that moment at the airport, Candice Young bargained for a little more time with her son, proud to see him start a new journey but fearful to let go of the baby boy she and Rayford had as college-aged kids in Lubbock, Texas. Rayford played basketball at Texas Tech and Candice worked at Chili's. They worried about paying for diapers.
Eighteen years later, Trae Young was already a local celebrity with so much more ahead of him. He turned to his mother with a reminder.
You can go. I'm good.
Later, when Young moved into Headington Hall on the southeast edge of the OU campus, Rayford says Candice was emotional, but he was mostly proud to see his son becoming a man.
The move was strange because Young was only 11 minutes south of his childhood home in Norman. He would still take naps on his parents' couch. Candice would still do his laundry. Rayford would still DVR basketball games so the two could analyze them together.
"Sometimes I sit back and imagine," Rayford said, "What if he would have went halfway across the country?"
On Aug. 3, the Tulsa World ran a story with this headline: "Yet to play a college game, Trae Young's life is already changing."
In that story, Young talked about going to Camp Crimson, an orientation event for OU freshmen, and trying to be like any other student.
"A lot of people (recognized me)," Young said. "It kinda sucked, but I had to tell people I couldn't take pictures, I had to stop taking pictures."
On Aug. 20, when classes were starting, Young posted on his Instagram, which then had about 172,000 followers (now he's at 634,000). There he was in a black hoodie that read: Just a Kid From Norman. Below this picture was this caption: New Chapter, Starting Over.
On Young's first day of class, campus was packed like a gym on New Year's. Young knew the OU grounds but was still trying to make sure he found the right buildings, other freshmen staring at maps and phones and bumping into each other on the way.
Young strolled to class and kept getting stopped. Someone asked him to sign their backpack.
As the semester went on, Young would walk to class with a black hat and black hood, forced to shut himself off from the interactions he usually enjoys. He just wanted to make it to class on time. Being Trae Young means being different, and his own talent separates him from normalcy.
A few months after all that, Young entered United Supermarkets Arena in Lubbock as the star point guard for a struggling team. His freshman season was in the midst of becoming both morality tale and case study. The only thing he did to cause it was lead the nation in points and assists.
During the second half, with his team trailing, the student section of his father's alma mater started chanting not so subtly.
F--- you, Trae Young … F--- you, Trae Young.
This week, the 19-year-old who has been portrayed as both sensation and burnout, basketball demigod and ESPN villain, will play in the NCAA Tournament. Once No. 4 in the country, Oklahoma barely squeezed in the 68-team field as a No. 10 seed, and many were mad the Sooners made it at all.
Young will try to lead his team to a late-season miracle, maybe revitalize his own NBA draft stock, maybe answer the questions his doubters have cast from all angles.
But Young's celebrity came gradually, then suddenly, and really for a long time now, Young has been facing the same weighty questions.
Eat chicken strips or hone in on a healthy diet? Stay another year at Oklahoma or jet to the NBA? Stay a kid, embrace being 19 … or become a grown man, where basketball becomes a profession and life only gets harder?
In Trae Young's life, there is rarely room for a middle ground.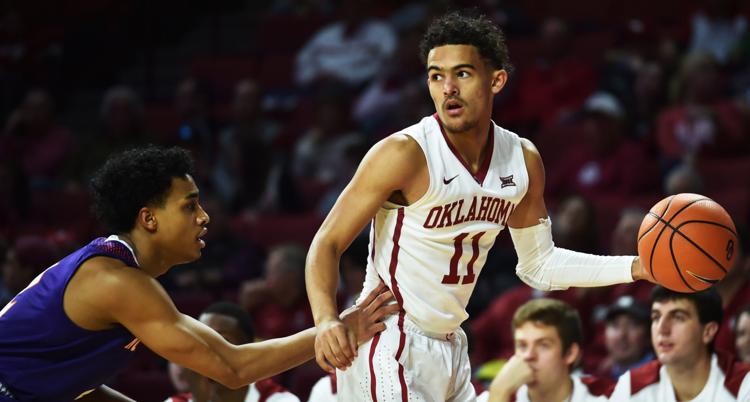 Trae Young's first college shot attempt was an air ball, and only the 5,573 people in attendance saw it.
"That's something I'll never forget," Young said of his off-kilter shot from the top of the arc.
Young's first college game was still a success. He had 15 points and 10 assists.
But plenty more eyes caught the 43 points against TCU and the 26 points and nine assists against Kansas.
That's often how fame works, people there to jump on board despite not knowing or caring to know the process it took to get there.
Young has always been confident in his abilities. That comes naturally when you dominate basketball games for most of your life. Before this season, before he was considered a top-level NBA prospect, Young talked about the possibility of playing against Oklahoma City Thunder point guard Russell Westbrook one-on-one.
"That'd be competitive," Young said. "That'd be a good competition. I'm not gonna say he's gonna beat me because we're both competitors. That's just how I am."
But not even that mindset prepared Young for the day he was deep in psychology books (his hardest class but also his favorite because Young likes a challenge) and studying for an upcoming test. His phone started buzzing with texts and Twitter notifications. He had just won a weekly award from the Big 12 conference.
"I thought it was Freshman of the Week," Young said. "So first thing I thought was, 'Oh, that's really cool.'"
Young finally unlocked his phone and read closer. He was named the overall conference Player of the Week after his first two games of college basketball. Over the next nine weeks, he would win the award five more times.
"I was shocked and humbled," Young said.
That was the nature of Young's ascension. In high school, he committed many of his goals to paper. Be the best player in Oklahoma. Be a McDonald's American. For each goal, he laid out a series of steps to get there. Now in college, Young was no longer meeting his goals. He was exceeding them.
The first real breakout was against Oregon, when Young went off for 43 points in his fifth college game.
"I was like, 'Whoa,'" teammate Christian James said. "It caught me off-guard. Because it happened so fast."
After that, it just kept coming. An NCAA-record 22 assists against Northwestern State. Shoutouts from LeBron James, Steph Curry, Steve Nash, even Oscar Robertson. Every now and then, Young would pinch himself.
"One of my dreams was being called a 'Diaper Dandy' by Dick Vitale," Young said. "He calls me that all the time now. It's surreal."
At Big 12 Media Day in Kansas City before the season, someone asked Young about leading the OU program as a freshman.
"I know it's a lot of pressure," Young said.
Then he stopped himself. He shook his head.
"I don't know why I said pressure. I don't use the word pressure. … I don't use that word. I'm going to hit myself later for saying that."
Young is a student of NBA players and their mentalities, so while he says he doesn't believe in words such as pressure or failure, even he seemed to sense the weight, to see something coming when ESPN, Sports Illustrated, Bleacher Report, SLAM Magazine and others came to town to see Young for themselves. All those stories and this one serve to chronicle hysteria, but they also create it.
The more you score 30 points and dish 10 assists — numbers no one has ever averaged before — the more everyone expects 30 and 10.
"I know," Young told the Tulsa World in January. "That's the tough thing about it. I think I set myself at such a high standard and such a high bar, that if I don't meet that every night, people are going to say, 'Oh, well, maybe that was just a one-game, two-game type of thing.'"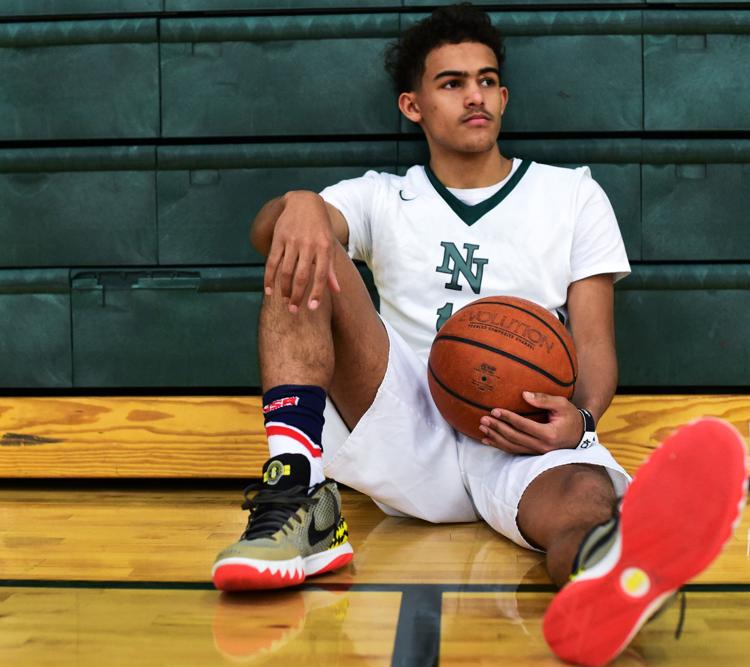 All Trae Young's life, his father tried to prepare him for this moment.
Not just to be a star college basketball player, not just to be an NBA-caliber talent. He wanted his son to be able to handle it.
For most of Trae's childhood, Rayford worked in medical equipment sales. He made a good living and bought his family a big house in Norman. But Rayford is from small-town Pampa, Texas. His father worked in an oil field, and Rayford earned a scholarship to a Division I school despite growing up playing on playground goals without nets.
Early in Trae's life, Rayford and Candice moved their son to a different elementary school, away from the money and white-washed facades. Rayford made it a point to have Trae play basketball in other cities, against kids from north Tulsa and south Dallas. There, Trae was the one who stood out, the rich kid with light skin and nice shoes. But Rayford wanted him to see what life was like outside of the north part of Norman. He wanted him to play tough, play "with his chest out."
"Trae didn't really want for much coming up," Rayford said. "So for him to see another side of life, and even for him to go back to my hometown in little west Texas, it gives you a sense of character. It makes you lie in bed at night and look at the ceiling and think, 'I'm pretty blessed, so I better take advantage of this opportunity.'"
That meant many long drives between father and son, weekend trips to play basketball. On those drives, the two would sing slow jams, and Rayford would talk about his childhood.
The training was demanding. For years, Rayford and Trae would head to the Cleveland County Family YMCA at 6 a.m. and go through a series of drills. It started when Young was about 5 years old: dribbling, shooting, layups. By the time he reached middle school, he put up 100 shots every time he entered the gym, usually at least twice a day. To develop his signature floater, Rayford held up a broom stick and had Trae shoot over it.
There's some discrepancy on whether Young grew up with a basketball goal — there might have been a small one out front early on — but Candice also tried to make home be a sanctuary, away from the pressures of competition, a haven she couldn't have predicted would one day become so necessary.
"Whenever I was home," Young said, "I was just a regular kid."
By Young's sophomore year in high school, he began blowing up on the recruiting scene. He started playing AAU ball for Mokan Elite in Kansas City, flying from Will Rogers World Airport to Kansas City International every weekend, often staying with an assistant coach. People in the Mokan program noticed something about Trae right away. From the first day, he competed like crazy. And unlike so many top prospects, he didn't always act like he had it all figured out.
"A lot of times, there's so many people telling these kids that they're great and telling their parents they're great that they don't accurately reflect on how well or not well they played," said Matt Suther, the founder of Mokan Elite. 'That's something Trae and Ray have always done — analyze the game, look at the areas that they could get better, go back, make adjustments and come back and prove he's improved."
When attention really started to come, Trae didn't exactly breathe it in naturally. His first big TV interview took place in the family's living room, and Young was nervous. He paused and stuttered in front of the camera.
For a long time after games, Rayford and his son would talk and analyze what just happened. Rayford wanted his son to be able to understand and explain basketball. Slowly, those father-son talks turned into mock news conferences.
"If I'd give him a one-word or two-word answer, he would be mad," Young said. "He would ask me to go more in detail. Explain more."
It's interesting when you think about it now. On paper, Young's words can at times seem brash and arrogant. When Oklahoma beat Oklahoma State in Norman, Young got a technical foul for jawing after a 3-pointer.
"Coach kind of got mad at me for getting that tech, but I wanted to get the juices flowing in the crowd," Young said after the game. "This is Bedlam. This is what you play for. You want to be the team that runs the state."
The words read abrasively in print. But that's not how Young speaks. Pull up a video. He's deliberate, speaks at a medium volume. It's like he's trying to figure out how a star athlete should act.
As for the attention, Rayford is the one who got nervous. Before games, he'll plug in headphones and try to block out the noise. The stress of the recruiting process often had his mind racing. But he always reminded his son to enjoy it. So despite the trips and the rising celebrity, Young says the recruitment wasn't a burden. He got offered by Duke, Kentucky and Kansas as a junior.
"I was sitting in Coach K's office, seeing all the pictures on the wall and him telling me Beyonce is the dream person he wanted to meet," Young said  about Duke coach Mike Krzyzewski. "That's like a crazy moment."
Of course, Young ended up turning down chances to play at those basketball institutions. He decided to go down the street, play for a football school that happens to have a college basketball vet named Lon Kruger as the coach. Young could be the face of the program. He'd also be close to home. He'd play at the same school where he used to watch Blake Griffin pack the arena.
"When you've been the ball boy and you've seen the back side of the gym, you know what the back of the Lloyd Noble Center looks like, there's a comfort," Candice said the day Young chose OU.
For all that simplicity, bigger dreams always hung in the background. Rayford had season tickets to Thunder games, and before that, bought tickets to see the then-New Orleans Hornets play in OKC after Hurricane Katrina. He has friends in the NBA from his playing days, and talks to people such as Cleveland Cavaliers coach Tyronn Lue regularly. He wanted his son to see what the NBA was like, to view it as a league full of real people rather than some fictional universe.
When Young was still being recruited, USA Today told the story of the time, after a Thunder game, he met with then-Cleveland Cavaliers point guard Kyrie Irving.
After catching Irving near the team bus, Young and his father walked back to the car, and Young had a realization.
"If I don't make it, maaaaan," he said. "I've gotta make it. I've been exposed to this life for too long … I can't not make it to this level."
Later this season, Young talked about chatting with Chris Paul, another one of the NBA players with whom he's gotten close. Paul was quoted in one article about Young, and talked about telling Young how he could no longer be just a fan of players he'll soon be guarding.
"Even Chris," Young began, then he caught himself. "CP. Yeah, that's crazy. I'm just calling him by his first name."
Now Young can't even go to Thunder games as a fan without getting mobbed. It takes him 30 minutes to get to his seat.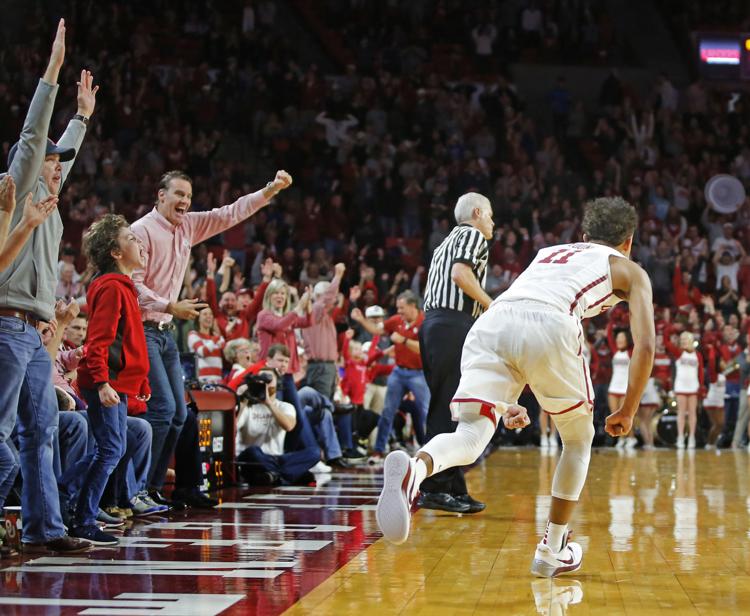 Anyone can handle failure. How do you manage success? How do you be Just a Kid From Norman when you're leading "SportsCenter" every night?
Lurking beneath the surface, that weight was always there.
Two days before OU's game against Oklahoma State, ESPN analyst Jay Williams sat on the sidelines of OU practice at Lloyd Noble Center. As the Sooners were still going through warmups, Young and Williams locked eyes.
"What's up, boss?" Williams said.
Young smiled and nodded to Williams, a former Duke star who went No. 2 overall to the Chicago Bulls in the 2002 NBA Draft. The Bulls gave Williams Michael Jordan's old locker. But Williams admitted the allure of celebrity got the best of him. He partied too much, then ruined his career in a one-man motorcycle accident on the North Side of Chicago. He retired at 21, then spent years battling substance abuse and going through therapy before he rebuilt himself and ended up here, traveling the country and covering young men like he used to be.
Young and Williams later taped a segment sitting on the Lloyd Noble Center floor. They talked about Young's range and jump shot. Then they grew introspective.
"This court means everything," Young said in the video. "This is home. This is a place where I can be myself. Where I can be the real Trae Young. This is something that is never gonna treat you bad. Never gonna lie to you. You're gonna get the real thing. It's all on this court."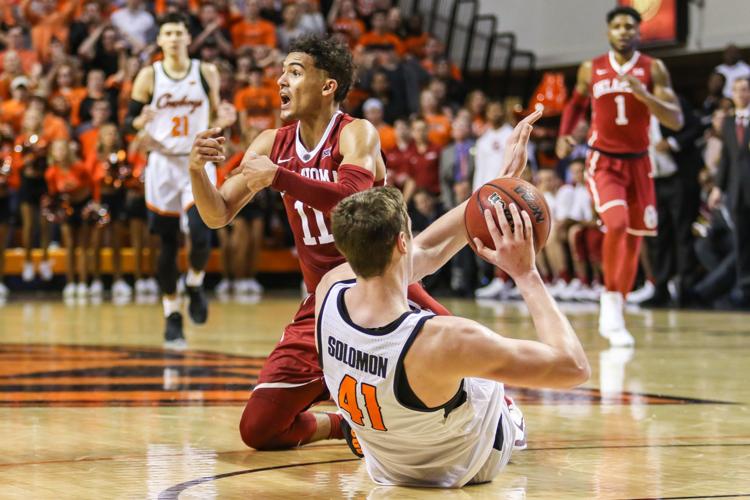 We like sports because they simplify. You cheer your team and boo the opponent. Success is clearly defined every night. You win or you lose.
But sometimes for the athletes we cheer, the game loses its clarifying nature.
When Big 12 games got intense, Young took to breathing exercises he learned in his psychology class. In an overtime loss to Oklahoma State, Young scored 48 points but took 39 shots. He and the Sooners were never really the same again.
Somewhere in this vortex, just being Trae on the basketball court became a lot harder. He had to be Trae Young, 30 and 10, Wooden Award favorite, freshman sensation.
Opposing fans wore beaks and masks to mock his fear of birds. They booed and chanted. They attacked him on social media, and Young saw all of it.
The chants slowly became more profane and more personal. A common pastime among opposing fans is to make fun of Young's hair, which is thin and wispy, and when he starts to sweat, it looks like he has bald spots.
"I'm light-skinned," Young said. "I'm mixed with black and white. My hair is different than a lot of people's. I like my hair. I like the fade. I like the little design I have. I'm cool with it. Obviously my hair is thin on top, so it looks like a bald spot, but I really could care less. If that's what makes them sleep good at night … I'm cool. I'm sleeping good."
ESPN showed his parents in the stands and focused on Young when he was on the bench. His stat line got its own graphic above the score of the game. Every move was magnified and scrutinized.
"If I didn't like somebody and they kept saying their name all the time, I wouldn't like it, either," Young said.
OU's athletic department began the year trying to promote Young and ended the year trying to protect him because being a famous athlete in 2018 is different than 1990 or 2000 or even 2010.
Sure, Young's play wasn't quite as otherworldy once Big 12 teams devised a blueprint for stopping him.
Even Lon Kruger, who has spent 32 seasons as a college basketball coach, had moments where he admitted coaching a player such as Young was a unique challenge.
"That's more on me than him," Kruger said the week after Young's 39-shot game. "Young guy that didn't know what really lie ahead, and we didn't help him there enough with that."
But for all those high-profile moments, there were so many little things few people saw or knew.
Rodney Perry, now an Oral Roberts assistant who coached Young with Mokan, says he thinks Young will be successful for one clear reason. On Perry's teams, he preached the importance of knowing your "Why?"
He wanted his players to understand life beyond basketball, to have a defined reason for why they worked so hard to make a ball go through a hoop.
Not all the players got it, but Young took it to heart. He attributed his why to the memory of his late grandfather, Rayford J. Young, the one who played junior college basketball, then worked in an oil field and raised a Division I player.
Back when Rayford was playing pro ball in Europe, it was Young's grandfather who first put a basketball in Young's hands, who first told him he could achieve anything he put his mind to.
The elder Rayford Young died prematurely at 50 in Pampa, Texas, and every Christmas, the Young family goes to visit his grave.
One day, Young called Perry and asked if he could get a few more bracelets.
Sure, Perry said, but why?
Young told him he left his last one near his grandfather's headstone.
Young tried to maintain structure. Every Saturday night, Candice texted him and reminded him about church. He'd pile in the car with his family and take in a sermon at Victory Family Church in Norman the next morning.
On Selection Sunday, the message was about trials, how in the eighth verse of the Sermon on the Mount, Jesus preached the words, "Blessed are they which are persecuted."
On days away from basketball, Young likes to get a pedicure or go to the movies. But long ago he started waiting to come in until after the previews, avoiding the fans, preferring just to sit in the dark and clear his mind.
He posts videos to Instagram, singing along to slow jams. Before games, he takes in Bobby Brown and Boyz II Men and New Edition. The Monday before OU's team plane headed to the NCAA Tournament in Pittsburgh, Young switched his playlist to Drake.
The only thing I did to end up here was put the work in
And did it with a purpose
…
A lot of people just hit me up when my name is mentioned
Shout out to KD, we relate, we get the same attention
Of course, maintaining relationships is one of the hardest parts about being exceptional. It is lonely at the top.
At home, the Youngs are not some perfect All-American family. They have their struggles and their fights, their flaws they'd rather not read about in the newspaper. Even for Trae and Rayford, there's deep love, but also an intense and competitive relationship neither will fully understand until years from now.
But through this process, this strange semi-separation, Young says his family has grown closer.
"When you're around somebody all the time, you butt heads every now and then," Young said. "That's what happens in every family. … But I think it's gotten even closer and tighter, and I didn't think it could get any closer and tighter than what we already had."
In the locker room, Oklahoma lost eight of its final 10 games, and the questions and rumors started coming. Why doesn't Trae talk to his teammates more? Is he spoiled, above the program, treated differently? Is there a divide in the locker room? Are his teammates jealous?
In January, James, OU's second-leading scorer, offered this.
"It's the same dude since summer," James said. "He hasn't changed at all, and I'm proud of him."
Now, when asked about the team's problems, most players speak in strange generalities.
"I'm not sure how to answer that, to be honest," forward Kristian Doolitte said this week when asked about the team's odd season.
OU assistant Chris Crutchfield, though, offers a reminder about the delicate nature of coaching college basketball. Kruger, Crutchfield and the rest of the OU staff manage a locker room full of boys who are trying to become men, fragile egos and shakable confidence a timeless theme. This OU team has only one senior. Its best player is a freshman who happens to have had his entire world picked apart.
"Even when he was playing well he managed it," Crutchfield said. "And then when people started criticizing him, I thought he handled it well. He stood up in front of the TV and said, 'Hey, I'm 19 years old, I'm gonna make mistakes, I'm not gonna play well all the time. It happens.' … Most kids in this day and age would probably make excuses or point the finger at someone else, and he never did that."
Through all fires, there comes the chance for growth. Rayford says Trae has started doing more of his own laundry, starting to become more of his own person, a thought that is both encouraging and scary.
He still attends his sisters' volleyball games and his 7-year-old brother's youth games.
His sisters tease him about his corny jokes and stubborn nature. Younger brother Timothy shoots around in the OU practice gym.
But Young says he's taken strides, gradually figuring things out on his own, experiencing the good and bad of being 19 years old.
"I had that question coming here," Young said. "Would I be able to experience college life like a normal kid, even though I'm living 10 minutes down the way? But no. I'm just like a regular college kid."
For every day that goes by, Young becomes closer to a life where none of that will exist. Either this year or maybe later (Young says he will sit down with coaches and family after the season) Young will go play for an NBA team, likely far away from his family. Dad won't be there to talk after practice. Mom won't be there for laundry. His brother and sisters will grow up without him there to see the day-by-day. He'll make a lot of money and earn it by dealing with even more scrutiny, every game not just a measure of talent but a statement about Trae Young's market value.
The story does not end here. It won't end for a long time.
But as Trae Young nears March Madness and the media swarm begins again, it's as logical a jumping off point as any.
Sunday in Lloyd Noble Center, OU held its annual end-of-season banquet. After the glasses clanged and the food disappeared, OU watched the NCAA Tournament Selection Show. The players were set up in front of a big screen, and Young sat in the front row, right there for a line of cameras to see.
As the tournament field was announced in alphabetical order, Young slowly grew tense. He put his head down. He prayed to God and thanked his late grandfather.
Finally, the Oklahoma logo appeared on the screen, and Young's teammates jumped up and down in celebration. Young stayed seated, clenching his fists, shaking his arms, eventually mumbling the words, "We're in it" before joining his team.
Of course, when the footage hit Twitter, everything got dissected. Why was Young so serious? Why didn't his teammates join him? Why did OU even make the tournament?
After the drama was said and done, Young stood by his mother and whispered and embraced, one more dream come true, one more challenge ahead.
Tuesday, Young boarded another flight on the OU jet to Pittsburgh for the most important moment yet in a whirlwind year.
There will be many more flights to come, and for every opportunity there will be equally big costs.