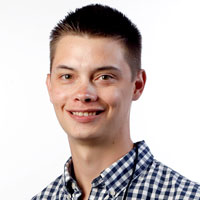 Dekota Gregory
Sports Writer
Bio

Dekota covers the University of Tulsa football team and ORU men's basketball team. An Oklahoma State University graduate, he was an intern for the Tulsa World before joining in 2019.
Tipoff is 7 p.m. Thursday at TU's Reynolds Center
TU's win against UCF ended a five-game losing streak, prompting a new feel in the Hurricane locker room.
After the game, OSU coach Mike Gundy said removing Sanders from the game was only precautionary. 
Les Miles, who coached OSU from 2001-04, returned to Stillwater on Saturday as KU's head coach.
The Spartans beat Midwest City 42-10 on Friday night.
TU is No. 3 in the Kellner Ratings, which rate strength of schedule.
TU and ORU will clash in the Mayor's Cup at 7 p.m. Tuesday. 
View all