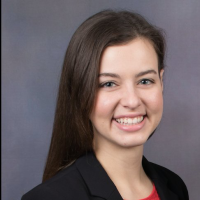 Kelsy Schlotthauer
Staff Writer
Bio

Kelsy graduated Oklahoma State University with a degree in multimedia journalism and joined the Tulsa World in 2019. She covers breaking news and is passionate about people, social justice and law enforcement. Phone: (918) 581-8455
Lt. Shane Tuell, a spokesman with the department, said the officer was working in the field Tuesday when he saw his unmarked car being burglarized. 
Shylah Beall was awarded $3 million in compensatory damages and $2 million in punitive damages after a jury found the John Deere tractor with a front loader her husband, James, purchased and drove in 2014 was not properly balanced with weights when the rollover occurred. 
Adam Ray Hernandez, 34, was shot by troopers Joe Kimmons and Clay Anderson on Wednesday at the culmination of a pursuit, according to the Oklahoma Highway Patrol.  
Foul play is not suspected, Lt. Dedlorn Sanders said, but the Medical Examiner's Office will determine an exact cause and manner of death.
The victim was in the 18-49 age bracket and joined 20 other Oklahomans of various ages who have died of flu-related complications since September, the beginning of the current influenza season. 
Travis Kirkpatrick was chosen after serving as interim director for about three months. 
Pay rates for the jobs available at the Tulsa census office range from $15.50 to $17 an hour, according to the Bureau's website. 
Peter Williams, 46, was booked into Tulsa County jail Tuesday night on a first-degree murder complaint in the shooting death of Demario Johnson, 39, outside the Tudor House Inn. 
The National Weather Service in Tulsa reported the total and said an inch was reported in other places around town. 
David Barnett, CEO and founder of Boulder-based PopSockets, said his company's mission is to create positive impact, and "that means taking responsibility for our products at every stage of their lifecycle." 
View all